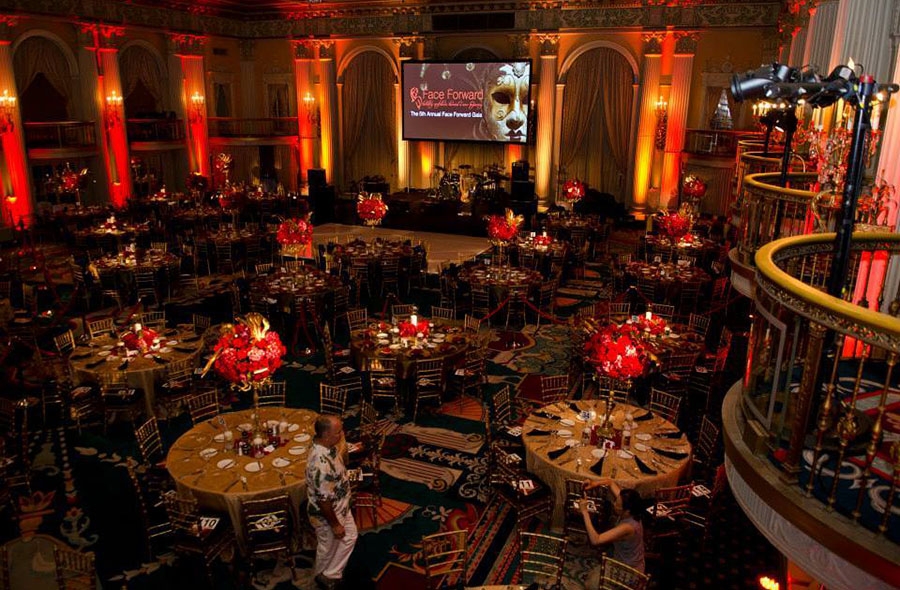 On September 19th, Face Forward will hold its 6th annual fundraising gala themed "Le Bal du Moulin Rouge" at the legendary Millennium Biltmore Hotel in Los Angeles.
Celebrities and business leaders will gather for one night to celebrate the bravery of survivors who have overcome adversity and have reclaimed their lives with the help of Face Forward founders Dr. David Alessi and Deborah Alessi.
The evening will focus on survivors and raising money via ticket sales, donations, as well as live and silent auctions. This year, the gala will feature a stunning cocktail reception at the Millennium Biltmore in downtown Los Angeles, a seated dinner in the Crystal Ballroom, live musical performances by music superstars Chaka Khan and Macy Gray and a Moulin Rouge-inspired ambiance.
Honorary Committee members for the 2015 gala include Bonnie Somerville, Tom Arnold, Missi Pyle, Sharon Stone, Shohreh Aghdashloo, Shaun Toub, Lana Parrilla, Jennifer Coolidge, James Tupper, Anne Heche, Raza Jaffrey and Luis Guzman.
This year's award honorees include Children's Hospital Los Angeles' Karen Kay Imagawa, M.D., Director of the Audrey Hepburn CARES Center that provides a full spectrum of medical and psychosocial support services for suspected victims of child abuse and their families, LAPD's human trafficking unit, and La Toya Jackson, whose personal journey through an abusive relationship serves as an inspiration to all abuse victims. Comedic actress Nicole Sullivan will serve as host for the evening, while Entertainment Tonight's Kevin Frazier and KTLA's Lu Parker will emcee the event.
Founder and CEO of Face Forward, Deborah Alessi is a survivor of domestic abuse and a tireless advocate of this worthy cause. To assist other survivors to receive a second chance at life, Alessi recruited her husband and renowned facial reconstructive surgeon Dr. David Alessi, who comments, "Deborah and I are humbled by the continuous and growing support for our annual philanthropic event. Our wish is to draw attention to the atrocity of the worldwide problem of domestic violence and abuse. Face Forward's annual fundraising efforts enable us to help more and more victims in their journey to achieve both physical and emotional healing and recovery. This year has been exceptional for us with amazing patients and exciting new partnerships which will help us raise awareness and funds to help more survivors.
Domestic violence is a serious issue affecting one in four women and more than four million women in the United States alone. This year, Face Forward has partnered with The Mary Magdalene Project to help victims who have suffered from trafficking and abuse and require surgery. The organization and the gala shine light on a very dark subject and refocus our attention to the hope that lies ahead for survivors, while reminding us that such atrocities still exist and require all of our participation in order to make them end.
Chaka Khan and Macy Gray to Perform at Annual Fundraising Event Benefitting the Survivors of Domestic Violence
To join the fight against domestic violence and attend this year's gala, please visit: www.faceforwardla.org