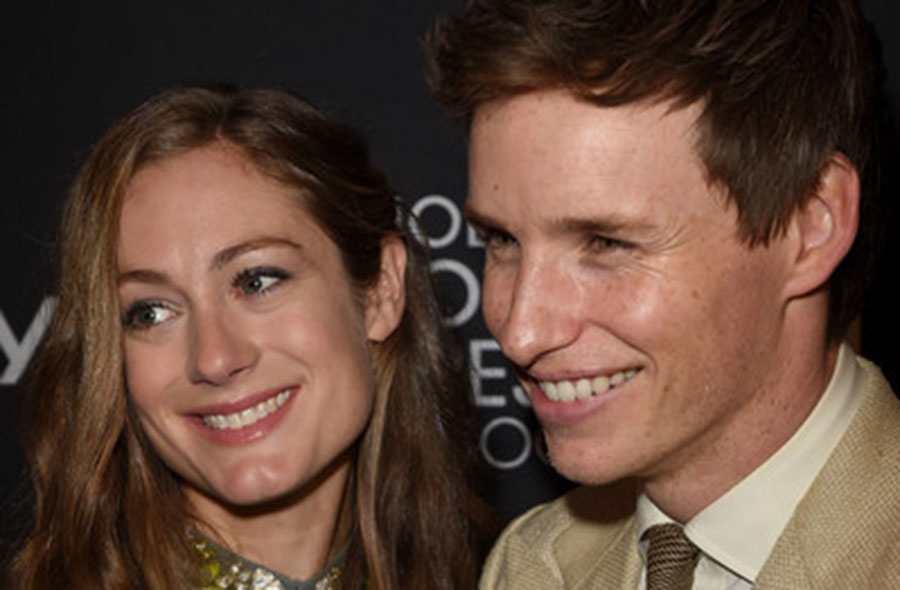 All the ladies love Eddie Redmayne. The Oscar winner could barely move three steps last Saturday night without being hugged or hand squeezed. This was the jubilant scene last at the InStyle and Hollywood Foreign Press Association party hosted by Max Mara at Windsor Arms Hotel .
To clarify, I'm not talking fawning civilian fans courting the handsome redhead; I noticed Hollywood sirens Naomi Watts and Rachel Weisz making a point to get over to Redmayne. Then there was Imogen Poots and Emmanuelle Chriqui congratulating him on his much-touted turn in The Danish Girl, a period drama setting TIFF audiences abuzz. There was also much fawning over his co-star Alicia Vikander, who is nabbing all the best roles in tinseltown of late, starring alongside Matt Damon, Henry Cavill and Bradley Cooper in a new slew of films hitting the circuit.
InStyle hosts the one rare annual TIFF party where emerging stars mingle with screen legends – think Brie Larson getting Awards Season survival tips from Susan Sarandon, or Luke Evans hunting down Martin Landau. At 87, Landau was the aspirational life of the party, here to support his film Remember. The old world gentleman showed his juniors how it's done by kissing actress Sarah Gadon's hand as a proper greeting. Nearby, I overhead Patrick Stewart talking BAFTA politics with Geoffrey Rush, while Francesca Eastwood brushed up on US elections with Sarah Silverman.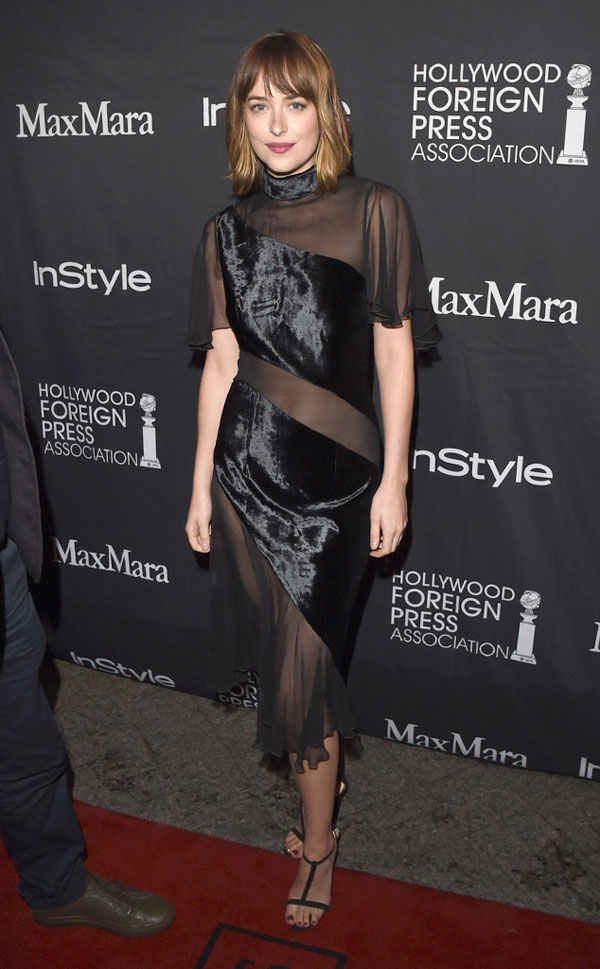 By midnight, the intimate ballroom swells to an optimal civilian-to-celeb ratio—in other words, there's as many of them as there are of us— Tom Hiddleston hugs it out with Eddie Redmayne, Michael Shannon conspiring with Paul Dano by the lobster bar. When sexier-than-thou Dakota Johnson enters the fold in a killer Christopher Kane little black dress, all bets are off. Think daring diagonal velvet stripes in all the right places against a sheer sheath. The see-through effect showcasing her sensational body was positively drool-worthy. As if Christian Grey had chosen it himself.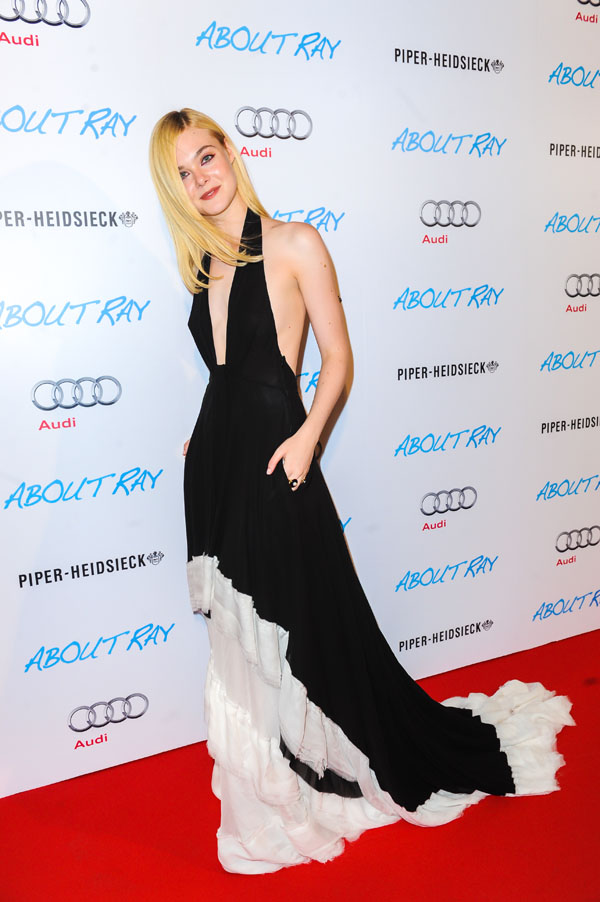 Earlier in the evening, I dropped into AUDI's elegant party for The Weinstein Company's About Ray at Patria on King Street. Elle Fanning, starring alongside Naomi Watts and Susan Sarandon, shines in one of her most anticipated roles to date, playing a teenager struggling with gender identity. Industry veterans at the party raved about cast chemistry in the film and strong roles for women at this year's festival.
Fanning wore an exquisite low-cut and layered black and white gown on the TIFF red carpet while Watts opted for a brilliant pink-and-red pant suit to the showing. The low-cut jacket and straight leg trouser was a savvy take on the polished feminine menswear trend. Sarandon rocked a '70s style white jumpsuit that belted at the waist, pairing it with a period perfect gold necklace.
The terrace of Patria is where all Hollywood power brokers gravitate when it's time to get down to business. The conducive layout gives them room to sprawl out and get downright cozy. One of the more curious and endearing sights of my night was spotting Harvey Weinstein, the ultimate rainmaker, sharing a chuckle with his ethereal daughter Lily. At one point, like a contrarian young heroine in a coming-of-age film – the younger Weinstein put her feet up and started reading an old vintage hardcover from the 1960s while "Pop" talked shop with director Gaby Dellal. Meta doesn't even begin to cover it.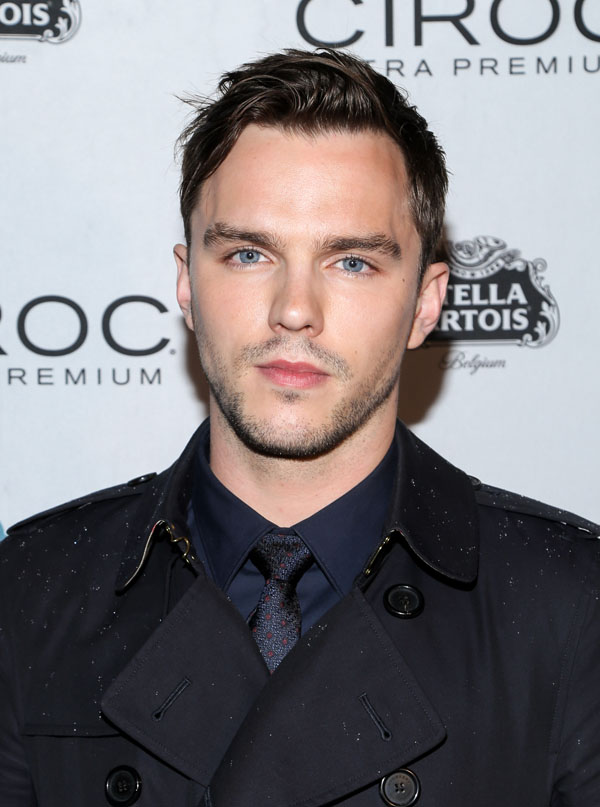 Earlier in the evening, I reunited with Nicholas Hoult and James Corden at the Kill Your Friends party at Byblos on Duncan Street. We talked on the Radiohead playlist Hoult had on repeat while filming this dark evisceration of the Nineties music scene in London. In this comedic satire, frauds, charlatans and bluffers infiltrate the business; where ambition is a higher currency than talent. The Max Max Fury Road star said Thom Yorke's voice was the antidote to the charlatans in the script.
Across town, stars headed to Patria to celebrate the TIFF premiere of Truth. Directed by James Vanderbilt and starring Cate Blanchett, Elisabeth Moss, Robert Redford, Topher Grace, Dennis Quaid and Bruce Greenwood. Elisabeth Moss looked radiant in a green dress with skyhigh turquoise stilettos, stopping to graciously take photos with fans outside of Patria. An upbeat Topher Grace was a fan of Executive Chef Stuart Cameron's signature Spanish tapas such as the Pan Con Tomate. Dan Rather, who the film Truth is based on, was the man of the hour with every party guest vying to speak with him.
Director James Vanderbilt was also in attendance, as well as composer Brian Tyler. Brett Ratner, who was in town to promote his film I Saw the Light also made an appearance. Also in spotted at the party was Piers Handling, CEO of Toronto International Film Festival, as well as Cameron Bailey, artistic director, Toronto International Film Festival.