George Clooney and Sandra Bullock continued their winning streak in Toronto at The Toronto International Film Festival (TIFF) last Friday night. Clooney's dramatic, surprise appearance at AUDI's posh party for Our Brand In Crisis caught even festival organizers unaware.
To AUDI's absolute glee, he didn't simply drop into Montecito restaurant to support the film's world premiere for an orchestrated five minute photo opp. The Crisis co-producer turned the initially reverent scene (when the unofficial Emperor of Hollywood walks into a room, people tend to stop gabbing about their stock options) into a raging five-hour party marathon.
Never once pulling the "Hollywood Brahmin" card, Clooney put himself in the middle of the melee as opposed to hiding behind a velvet rope. This is a testament to the way Warner Bros and Audi run their post-premiere parties; keeping the guest list as insiders and industry only, as well was keeping the number of attendees down. With this set up, Clooney must have felt secure enough to connect with nearly everyone at this intimate gathering. Bullock arrived in a plucky mood, quickly colonizing a corner of the restaurant with Warner Bros President Sue Kroll. Bullock rocked a sleek black David Koma sheath featuring peek-a-boo checkerboard accents, paired beautifully with Anita Ko earrings. Most dazzling of all, her mega-watt smile, painted with a particularly ravishing shade of L'Oréal rouge noir lipstick.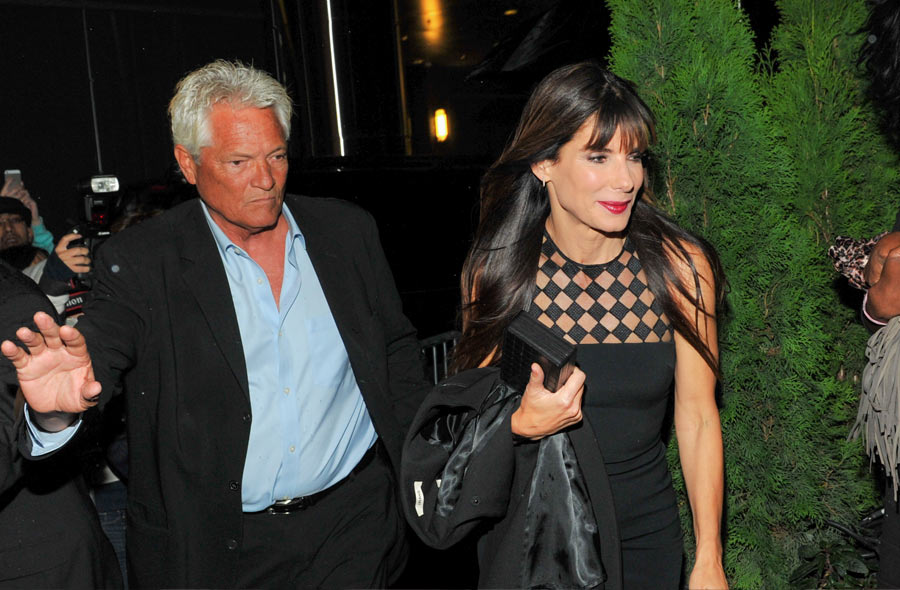 In the film, Bullock plays a ruthless American political spin-doctor-for-hire in Bolivia in easily one of the best female roles of the last decade – originally written for "Gravity" co-star George Clooney. The kindred camaraderie between the pair gave the party for Our Brand is Crisis more of a Catskills summer drama camp reunion vibe than the typical going-through-the-motions affair. Sandra and George proved once again that they are the reigning "work wife-work hubby" royal couple of Hollywood. Clooney's plucky whimsy was in full force as he jocularly riffed on current election with fellow producer Participant Media's Jeff Skoll (Good Night, and Good Luck, Lincoln, The Help).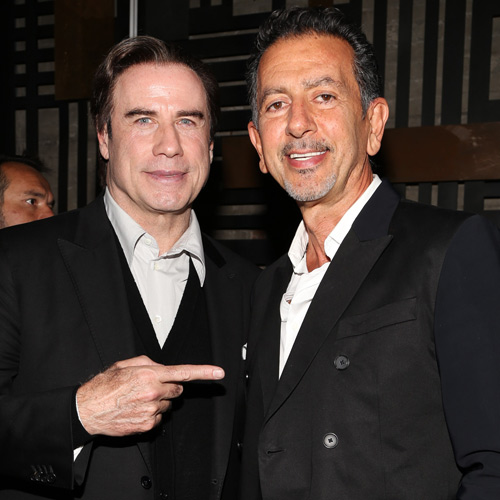 Earlier in the evening, coveted JETSET cover subject John Travolta made an appearance at BYBLOS on Duncan Street at the Gotti TIFF party hosted by CÎROC and Stella Artois.
With Entourage's Kevin Connolly signed on to direct, Travolta is gearing up to play mob boss John Gotti, and he's bringing his wife and daughter along for the ride.
Travolta, who flew into Toronto (by piloting his private plane, of course) to meet with buyers, tells us that Kelly Preston and Ella Travolta will play Gotti's real-life family in the Lionsgate project. The film is being produced by Emmett/Furla/Oasis Films, Fiore Films and Herrick Entertainment. Producer Randall Emmett gave a speech at the celebration thanking both Connolly and Travolta for appearing in Toronto to promote the film with top film industry executives.
The hush hush party sported much testosterone, with only a handful of female guests and about three mob family's worth of men. At one point, Travolta was seated and surrounded by a dozen men at a long table. Bathed in the ambient Francis Ford Coppola-style globe-based lighting at BYBLOS, it was like a tableau from The Godfather – a rather meta moment at the party to say the least. Unlike many stars who do not nibble at these events, Travolta dove into a special menu prepared by Executive Chef Stuart Cameron with gusto.