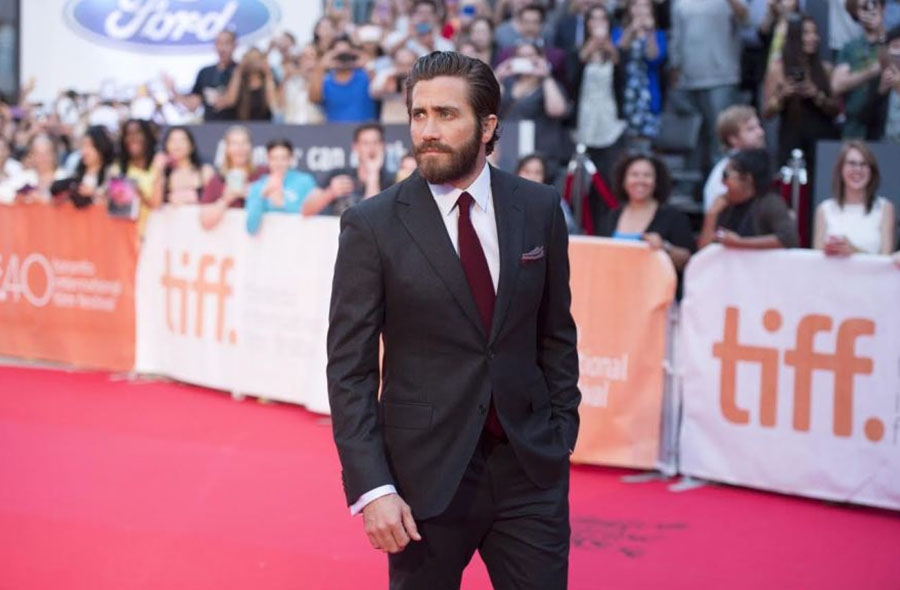 The Toronto International Film Festival kicked off last night with a simmering performance by Jake Gyllenhaal in Jean-Marc Vallee's Demolition.
A most reliable veteran of TIFF, Gyllenhaal made festival history with Brokeback Mountain, and wowed audiences with Nightcrawler, Prisoners, Enemy and End Of Watch. Director Vallee is certainly no slouch either, his Dallas Buyers Club premiered in 2013, with Wild a strong follow up last year.
In Demolition, Gyllenhaal plays Davis, an investment banker, whose wife suddenly dies in a car collision. He struggles to move on with his life and becomes unhinged when what starts as a complaint to a vending machine company evolves into a series of letters revealing deeply personal admissions. The string of odd notes attracts the attention of a customer service rep played pitch perfect by Naomi Watts. Their unlikely bond is at the core of the film, which Fox Searchlight has scheduled for release on April 8.
In the film, Gyllenhaal's character gets a little destructive when taking out his anger on dry wall and furniture. I found it all rather hypnotic to watch, what with all his hyperventilation and sledgehammering in full Brooks Brothers regalia – suspenders and all. With intense roles in Southpaw and Nightcrawler, Gyllenhaal is quickly becoming a master on the nuances of male anger. On the red carpet, he was smooth as silk, rakishly handsome as ever a tailored grey suit, while co-star Naomi Watts dazzled in a pale multi-tiered Balmain dress, Gianvito Rossi shoes, a Lee Savage clutch, and Tiffany & Co. jewelry.
Later in the evening, I popped into the debut of Mongrel Media's "Mongrel House", a cunningly smart pop up at the Campbell House Museum – a prime, central piece of real estate in the Entertainment District never before tapped for TIFF. Running through September 17, Mongrel House serves as a main hub for events hosted by the distributor in celebration of their 20 films at the festival. Kicking off with an Opening Night Party, the house drew key industry executives eager to talk shop and sales right alongside too-cool indie filmmakers enjoying a cold brew in the outdoor biergarten. I spotted The Daughter co-stars Geoffrey Rush and Odessa Young savouring nibbles from feasTO's dumpling stand. For those last minute touch ups, junket-wilted stars can hit the onsite L'OREAL Paris makeup studio.
The night featured a sweet, toe-tapping set by Universal Music artists Rah Rah and Royal Wood, as well as artisanal food stations from Cheese Works, Philip's Ice Pops and Station Cold Brew. We can't wait to see which celebs hit Mongrel House's karaoke room and ping pong lounge this weekend. Rachel Weisz, Rachel McAdams, James Franco, and Saoirse Ronin are just a few celebrities who are expected to celebrate their film premieres at Mongrel House.
Across town, Toronto Life's Best Dressed 2015 Party in the Trump Hotel Grand Ballroom was in full swing by the time I turned up. This event launches the latest edition of the magazine's Stylebook, a chance for the who's who of the Toronto social scene mingle with TIFF celebrities. The party was a multi-level spectacle of eclectic sights and sounds – from roaming "Oyster Girls" shucking fresh oysters to order to Toffee Liquid Nitrogen Ice Cream.
I caught up with Dean and Dan Caten, designer founders of DSQUARED, an international fashion house favoured by the likes of Madonna, Britney Spears, Justin Timberlake, Nicolas Cage, and Lenny Kravitz. I bumped with the identical twin brothers last at Naomi Campbell's legendary birthday party in St Tropez back in the day, at the tail end of the Cannes Film Festival. They were both in high spirits last night, taking in the buzzing scene alongside fellow design provocateur Kirk Pickersgill of renowned label Greta Constantine.
Last Wednesday night, while we were swooning over Diana Ross and James Franco in equal measure at the AMBI Gala, TIFF's most devout donors were invited to an intimate sit-down with Oscar Winner Natalie Portman at TIFF Soiree. The ever-ingenue looked absolutely stunning in a light floral Christian Dior dress with flowing bell sleeves (fitting, as she is the face of the brand), an ethereal choice for this retrospective on her career. Festival Director Cameron Bailey engaged Portman onstage in a revealing exploration on her early work as a child actor up through her directorial debut premiering at TIFF, the adaptation of Amos Oz's A Tale of Love and Darkness.
Portman made another glam red carpet appearance last night, this time for the premiere of A Tale of Love and Darkness. The 34-year-old wore a blush nude, lace Lanvin gown. She paired the one-shoulder, grecian dress with a star shaped brooch and diamond earrings. A slick ponytail which showed off her natural makeup, a muted palette of neutral tones save for her rose pink lip.