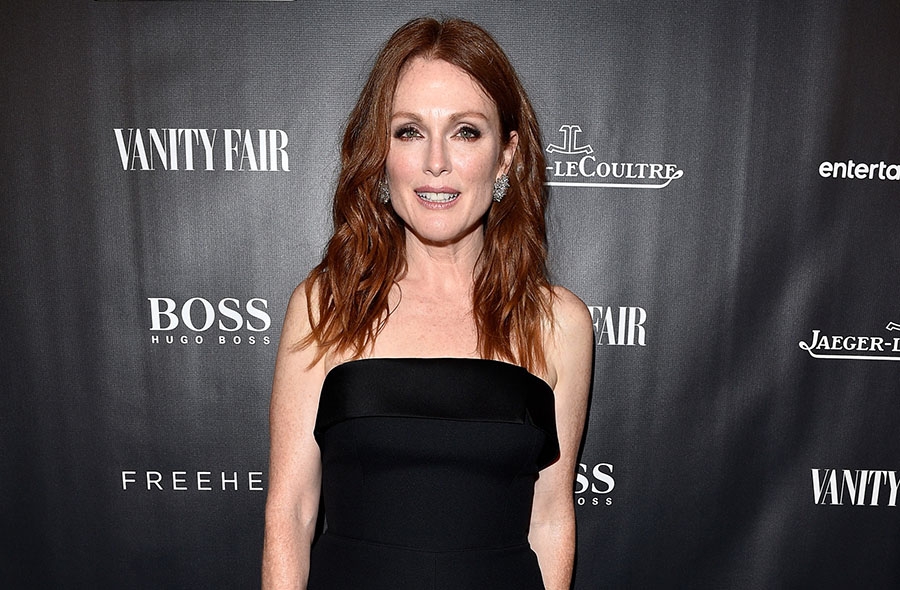 Anchored by a bravura performance by Oscar Winner Julianne Moore, Freeheld was the hottest ticket in town last Sunday at the Toronto International Film Festival. You can imagine the premiere party at Montecito on Adelaide was a rather coveted invite.
Hosted by Vanity Fair and presented by Hugo Boss and Jaeger-LeCoultre, the party took a playful turn as co-stars Moore and Ellen Page gushed over each other. Given how supportive this cast has been, I wouldn't be surprised to see them collaborate on another film in the near future. With soulful solidarity and intense eye contact, Page and Moore hugged it out and were soon joined by co-star Michael Shannon.
Fresh pasta bar and tomahawk ribeye bites? Hugo Boss and Jaeger-LeCoultre sure knows how to nourish an audience about to go into an emotional Hoover Dam of a drama. Having screened the film in press previews, I suspect they won't have much of an appetite after all the weeping when the dam breaks. Shannon was certainly not shy about chowing down on Montecito's savory hand crafted canapes, passed by a pirouetting staff amidst a snafu of partygoers. The 6'3" Boardwalk Empire star towered over the majority of the crowd, but crouched down like a champ for photos alongside Page, a wee 5'1", and equally petite Ruby Rose of Orange Is the New Black.
Vanity Fair's senior West Coast editor Krista Smith hosted festival elite in celebrating this momentous film. While Freeheld director Peter Sollett was locked in a huddle with Lionsgate chief marketing officer Tim Palen, Montecito owner Ivan Reitman held court in the next booth, showing wellwishers the wall art – in this case large scale photographs from behind the scenes of Ghostbusters, Animal House and Meatballs. Many of the fest's brightest lights dropped in to pay their respects to this landmark film, including The Martian's Donald Glover, Spotlight director Tom McCarthy, and Brie Larson, who is gaining Oscar buzz for her fearless performance in Room.
The most meaningful guests showing their support? The real people behind the true story of Freeheld, which is based on the 2007 documentary of the same name, about New Jersey policewoman Laurel Hester's fight to extend her death benefits to her partner, Stacie Andree. Andree, played by Page in the film, enjoyed the building anticipation for the screening alongside Hester's police partner Dane Wells (played by Michael Shannon).
Earlier in the evening, GREY GOOSE vodka and Soho House Toronto hosted a private party for the North American Premiere of Equals. Partnered with Grey Goose, Soho House private member's club is the ground zero for the most exclusive, star-studded festival parties of the last five years. Even before the splendid house was built in the hub of the Entertainment District, Soho House was wheeling out a 50th Birthday cake for Colin Firth on the eve of the world premiere party for The King's Speech at their TIFF pop up. Talk about once-in-a-lifetime memories; one of my very nearest and dearest festival moments.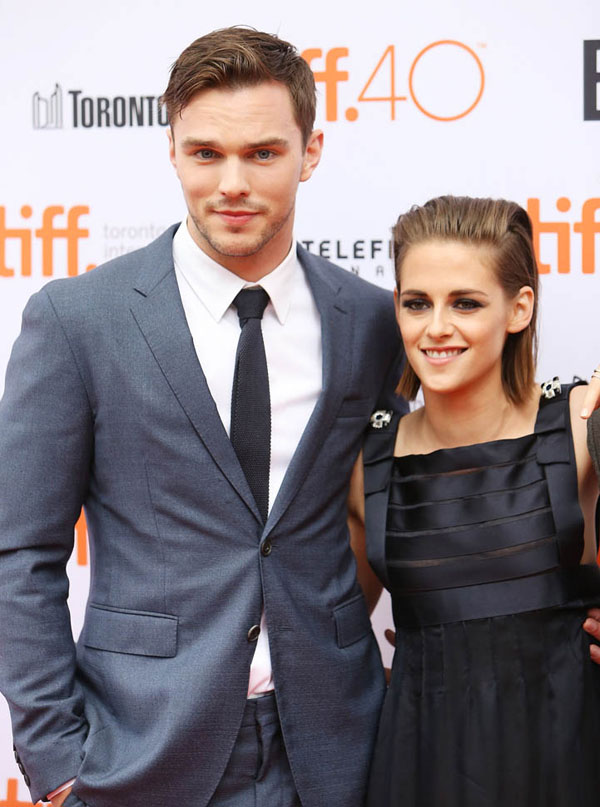 For the Equals cocktail party, Soho House and Grey Goose cultivated a most civilized atmosphere – perfect for the premiere of a sci-fi love story starring Kristen Stewart and Nicholas Hoult set in a dystopic future, where emotions have been bred out of the human race. Stewart was confirmed to make an appearance but had to rush off to catch a flight back to the set of her new Woody Allen film. Swoon-worthy leading man Nicholas Hoult and director Drake Doremus did show up to kick back and enjoy Grey Goose Global Ambassador Joe McCanta's series of signature cocktails created especially for TIFF 2015.
Hoult confided to me that he was amazed that the throng of teenage girls screaming his name on the streets of Toronto could reach such a feverish pitch. "I mean, a lot of them are tiny – so tiny lungs you would think," he reasoned. "But no, it was like a wall of sound. Moreover, you know, the mothers got in there too for full sonic boom," he recalled with a fond chuckle. The handsome British actor has lit up the red carpet for both his films here, causing gridlock and mayhem after global fame with Max Max Fury Road.
After chatting with Hoult's lovely parents on the joys of Muskoka (they spend time there in the summers, on the same lake as Cindy Crawford and husband Rande Gerber, I spotted Hoult striking some slick moves when the DJ played "Jolene". He dances so smooth, not a drop of his Grey Goose Au Cinema cocktail slipped out of his glass. Now there's a consummate pro.