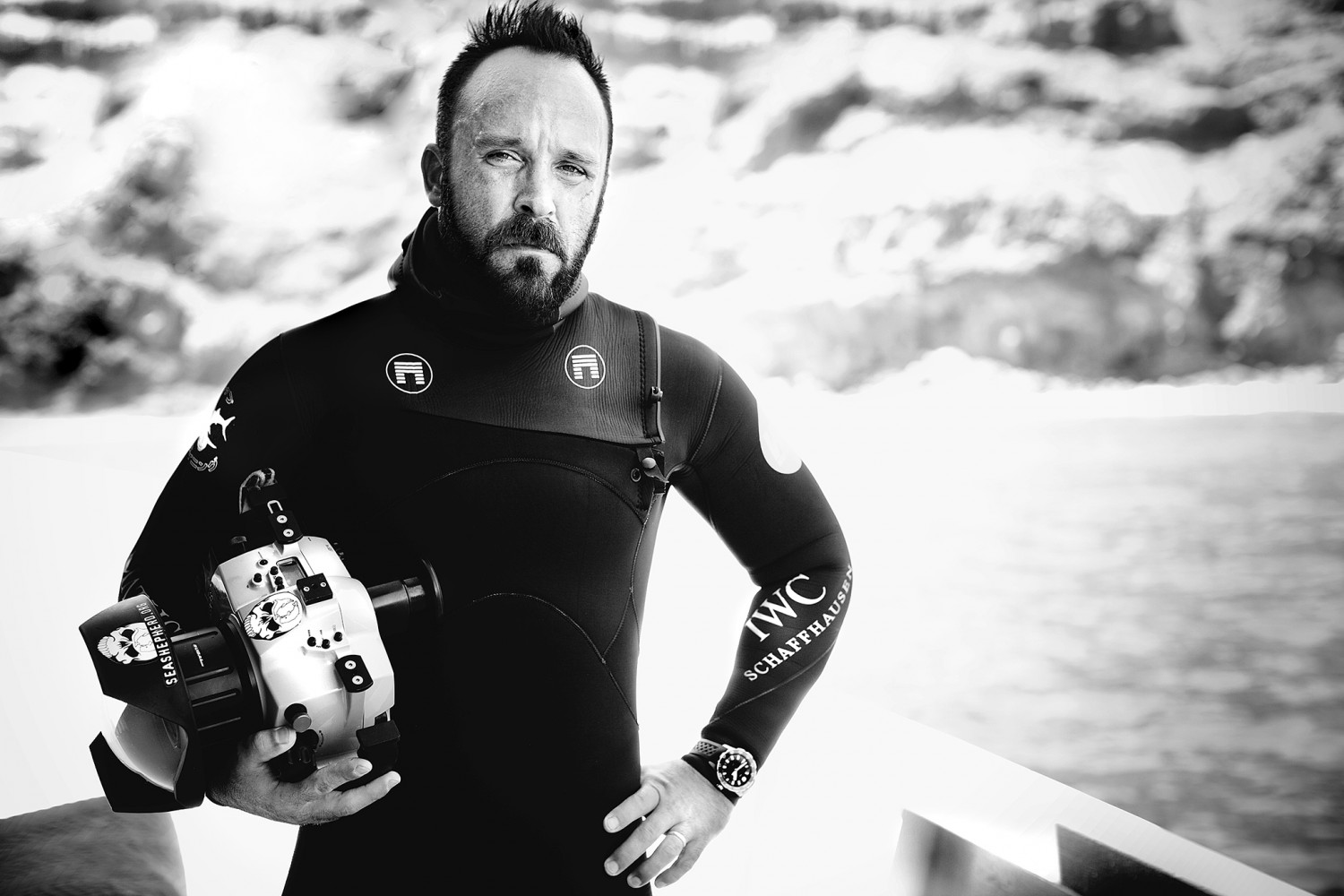 Most preeminent celebrity photographers like to stay firmly within their comfort zone: being chauffeured to lavish shoots at expensive studios or plush, catered locations surrounded by sycophantic assistants. But not Michael Muller. He is the type of artist who has never taken the easy route. How else could you explain how at the height of his power, after he had fought and clawed to establish (and reestablish) himself as one of the most gifted and respected photographers in the business — a man singlehandedly responsible for Hollywood's most striking and memorable movie posters — Muller decided to embark across the globe on a series of death-defying dives to compile his stunning new Taschen book, Sharks: Face-to-Face With the Ocean's Endangered Predator.
On a sunny spring afternoon, I am greeted by Muller at the door of his spacious Studio City home. With his convex fauxhawk and beard that would make King Leonidas proud, he looks every bit the part of a rock star photographer who Green Day once delayed Lollapalooza for because he was running late. Yet as I am led outside and past the pool where his young girls are swimming, I am reminded that today he is a family man. Inside his expansive home studio the walls are littered with movie posters and pictures of celebrities like Brad Pitt and Scarlett Johansson Muller has shot. It is a true artist's den, and a million little creative artifacts abound, including a very realistic, miniature statue of Iron Man beside a massive computer monitor where the terrifying visage of a white shark awaits more fine-tuning.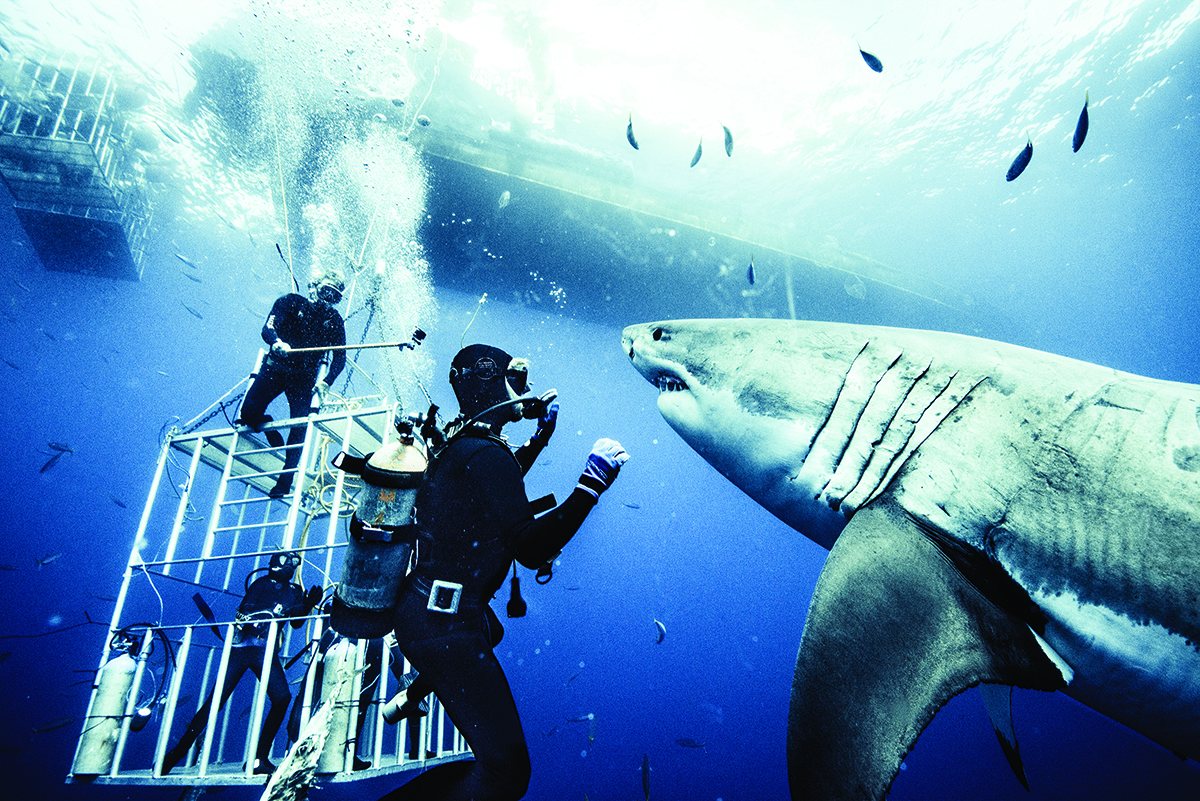 The statue a reminder of Muller's friendship with Robert Downey Jr., a man whom he has photographed countless times, and in person, Muller's affectation is a bit like the surfer version of Downey's. Thoughts flow with a mellow rapidity in a mesmerizing stream-of-consciousness. Each idea dives abruptly into the next, only to possibly resurface later. There is an underlying sense that once he gets revved up, there is no stopping him. Soon he is off and reflecting on his unique childhood growing up in Saudi Arabia. "Photography was a hobby of his," Muller says of his father, an engineer who when Muller was in the third grade, was tasked with the world's largest construction project overseas. "He was always taking pictures, and so he got me my first camera: a waterproof Minolta Weathermatic."
"We lived right on the Persian Gulf, so there was a lot of snorkeling and diving," Muller recalls."I was in the water a lot, so one day I took a picture of a shark." He showed the image to his friends who were ecstatic. "That's when I really saw the power of a photograph," he says. So when he started high school back in the States, Muller and a friend raised enough money to compile a snowboarding calendar. Soon — when he wasn't competing against Lance Armstrong in triathlons ("I was fifth in the world and had like 15 sponsorships," Muller tells me) — he was hustling record labels for press passes to shoot bands like the Rolling Stones when they came into town.
Shortly after he graduated high school, he abandoned triathlons (which he didn't see as a viable long-term career) and moved to LA and to pursue photography full-time. After one fruitless semester of art school, Muller (who was self-taught and had no formal training) started shooting local models he had met through a friend. "I treated every one of those like it was the cover of Vogue," he says. "I would get six different looks on six different blocks — I would make this one look like Paris, this one look like New York — and I was shooting every single day: two, three people a day."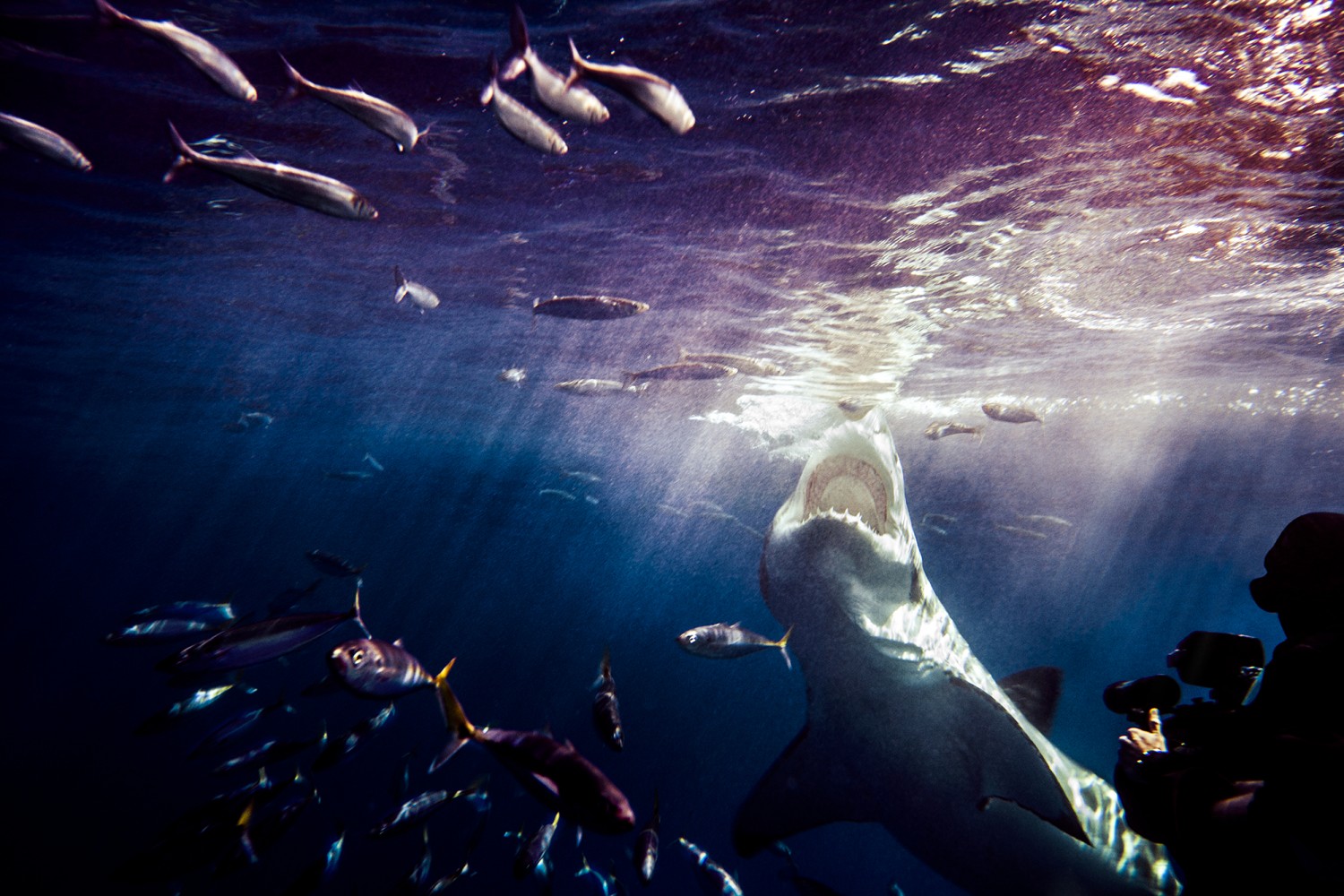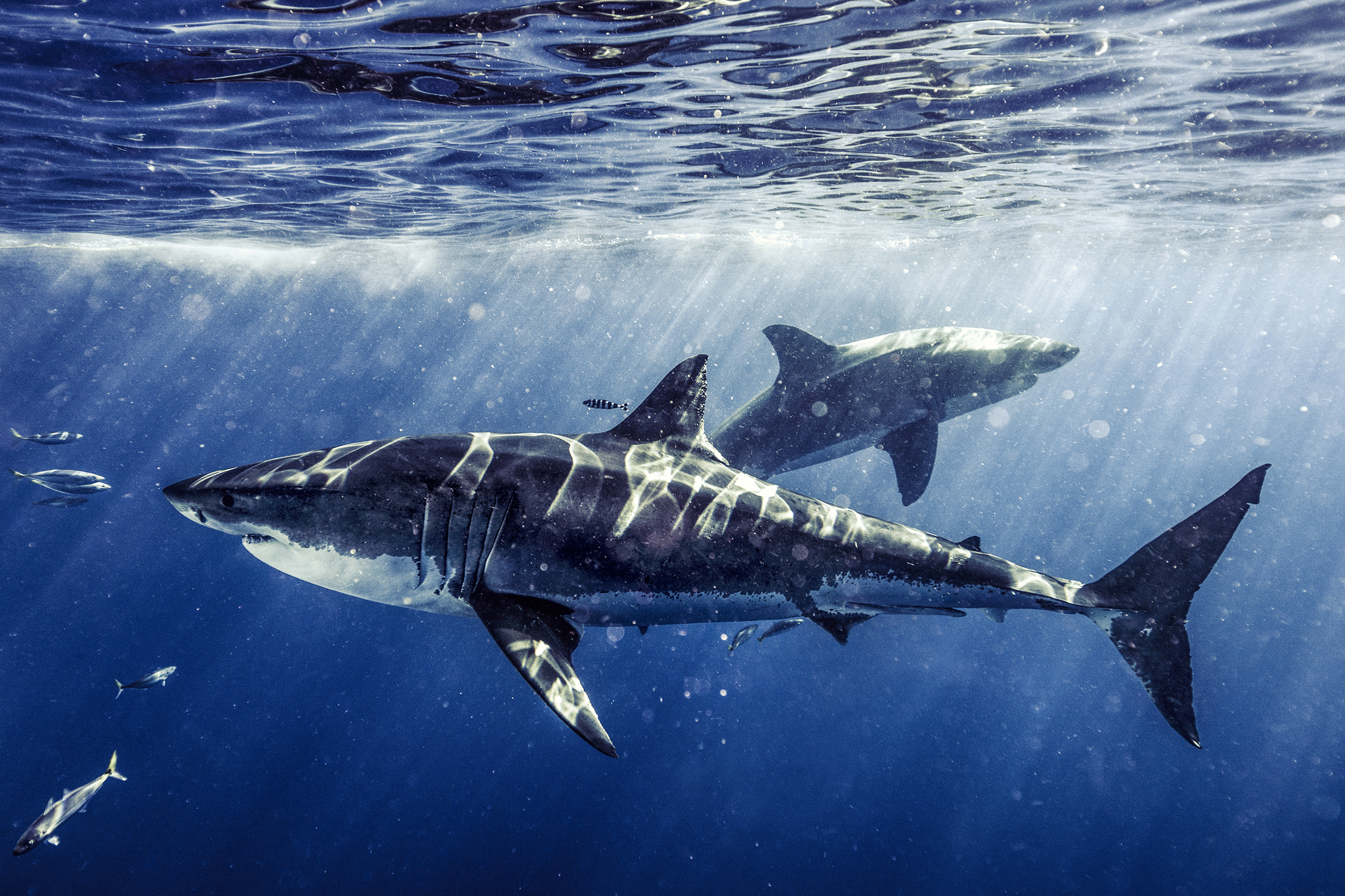 Soon Muller found himself entrenched in the Young Hollywood scene of the early '90s. "We would go to Hermosa, and everyone was there; it was Leo [DiCaprio] and Drew [Barrymore], and I got to shoot them all." Before he was old enough to drink, Muller had an agent and a reputation as one of the most coveted young photographers in town. Some of his images (like one of Juliette Lewis downing a carton of milk), became iconic. He was touring with rock stars and partying with A-listers. But it was too much, too fast, and Muller quickly found himself jaded and battling addiction. A dark period ensued.
By the time he had cleaned up, all the agents who were in love with him in the Nineties were giving him the cold shoulder. This ignited a fire ("I am going to show you," he recalls thinking), and Muller became a man possessed. He shot incessantly, whatever he could, just like in those early days. For the first time in his career, the former prodigy started implementing lights, thus revolutionizing his work. And "within a year or two, all those agents who blew me off started calling, like 'let's go to lunch,'" he says, laughing. "Every one of them!"
Fast-forward fourteen years and Muller is the man Marvel calls when they need to shoot the poster for the new Captain America, or Gucci picks when they need to hawk their latest fragrance campaign. He's the guy Rihanna enlists to shoot her new album cover and be her personal tour photographer for three months, or Facebook brings in when they are acquiring Instagram and need someone to create a series of image filters that could rival Instagram's in just a week's time. (Facebook ended up scrapping Muller's 100-plus filters when they bought Insta, so Muller decided to release his own successful app, MullerPhoto, which gives the editing power to user.) He had seemingly conquered it all…except for one thing.
"Since '92, a Taschen book was a dream of mine," Muller says about the publisher renowned for their definitive compilations of artists' works. For Muller, a Taschen book embodied the ultimate testament to his nearly thirty-year career. But he didn't want to do just another monograph ("too predictable," he tells me), so in thinking outside the box, he remembered the image that started it all. Muller had already shot colossal campaigns for Speedo over the better part of a decade, and in the process pioneered revolutionary new methods of underwater photography implementing massive lighting setups. He figured it was time to venture out of the pool….
"You can't bring a shark into the studio, so I had to bring the studio to the sharks," Muller says, smiling mischievously. And so began a two-year expedition across the globe (armed with a patented, seven-bulb, 1200-watt plexi-encased strobe lighting rig developed with NASA engineering) in search of the most incredible shark images ever captured by man (like the first-known photograph of great white breaching at night). But there was a greater purpose at hand. "I was off the coast of Guadalupe, hanging out of a cage staring into the eyes of a gargantuan great white," Muller recalls. "And I felt this unmistakable connection to this creature. I realized that it wasn't just some mindless killing machine. And I felt sad, because unless we do something, my daughters aren't gong to be able to see these beautiful creatures in the wild."
Sharks' 334 pages are crammed with vibrant images, each bursting with Muller's unmistakable flair, and each as captivating as the ones featured in this issue of Jetset. Since its March release, the book has already become one of Taschen's most successful titles ever. But moreover, Muller hopes that it helps paint the titular predators with a new brush, and that people who buy it gain a better understanding of the endangered species. (The images are accompanied by essays from Philippe Cousteau, Jr. and marine biologist Alison Kock, who discuss the dire need to preserve our "oceanic kingdom.") "I'm proud to do my part to make some sort of a difference," Muller says. Yet it is clear that through his legacy of remarkable pictures, he already has.