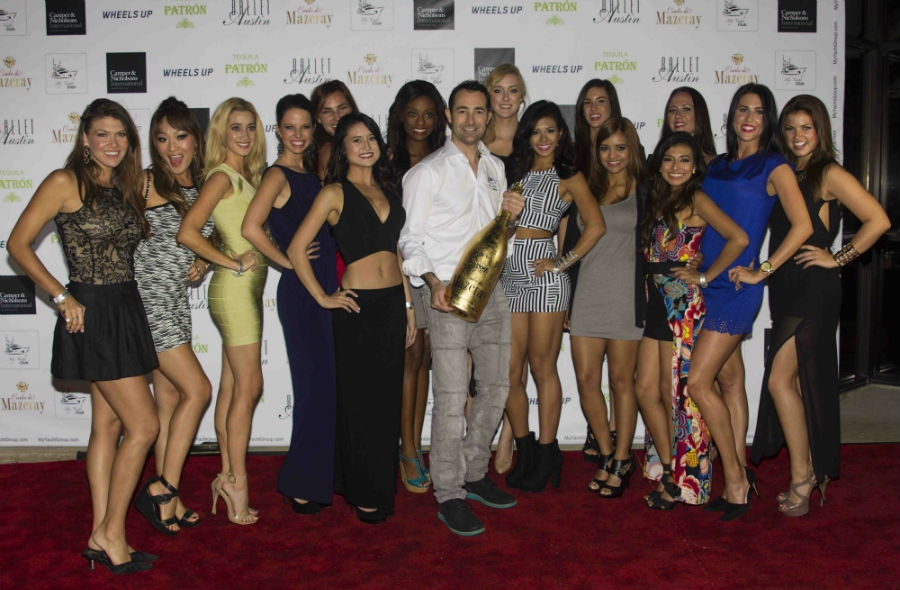 Thousands of Formula One fans descended on Austin November 15th through 17th to witness the U.S. Grand Prix. Unlike other sporting events in the city, F1™ brings with it fans from around the world, including many of the "rich and famous" who attend an array of glamorous parties.
My Yacht™ Group, the luxury international events producer, returned to the Ballet Austin complex over F1™ weekend to produce its exclusive "Monaco-style" nightlife experience, My Yacht Club, a three-night sophisticated party with drivers, celebrities, models and fans.
Notable attendees included American actors Matt LeBlanc (Friends, Episodes), Rick Yune (Olympus Has Fallen, The Fast and the Furious) and Nichole Galicia (Django Unchained); New Zealand actor Manu Bennett (Arrow, The Hobbit, Spartacus), John Paul DeJoria, co-founder of Paul Mitchell Systems and Patrón Spirits and Oscar-winning sound designer Per Hallberg (Braveheart, Gladiator, Bourne Identity). Sauber F1 driver Nico Hülenkenberg stayed through the night on Sunday evening and former World Middleweight Champion Jake LaMotta ("Raging Bull") enjoyed the scene with his wife Saturday night.
My Yacht Club | The Ballet Austin Complex
My Yacht Club transformed the Ballet Austin complex in downtown Austin into a sophisticated nightclub featuring two custom rooms – the Patrón Grand Prix Lounge and the Monaco Dance Room, complete with a floating aerialist serving shots of Patron XO. The new Methusalem V16 Ultimate Table, was sold for $50,000 and featured two custom-made 24-karat gold leaf wrapped, hand-embossed six-liter bottles of Comte de Mazeray champagne. Only 20 bottles were produced; one has been signed by all attending celebrities and given to Ballet Austin for a future fundraising auction.
It's estimated that more than 1,400 guests attended My Yacht Club over the course of the weekend. Other notable attendees included Miss Texas and Miss Oklahoma USA and Circuit of the Americas Executive Vice President, Bruce Knox.
"We were thrilled with the buzz around town and amazing turnout," said Nicholas Frankl, My Yacht Group CEO. "My Yacht Club once again enthralled F1 fans and party goers from around the world. It was great to have friends such as Matt LeBlanc and Rick Yune return, along with an array of new guests who had the time of their lives."
My Yacht returns to Sea Level December 1-5, 2013 with My Yacht Miami at Art Basel.