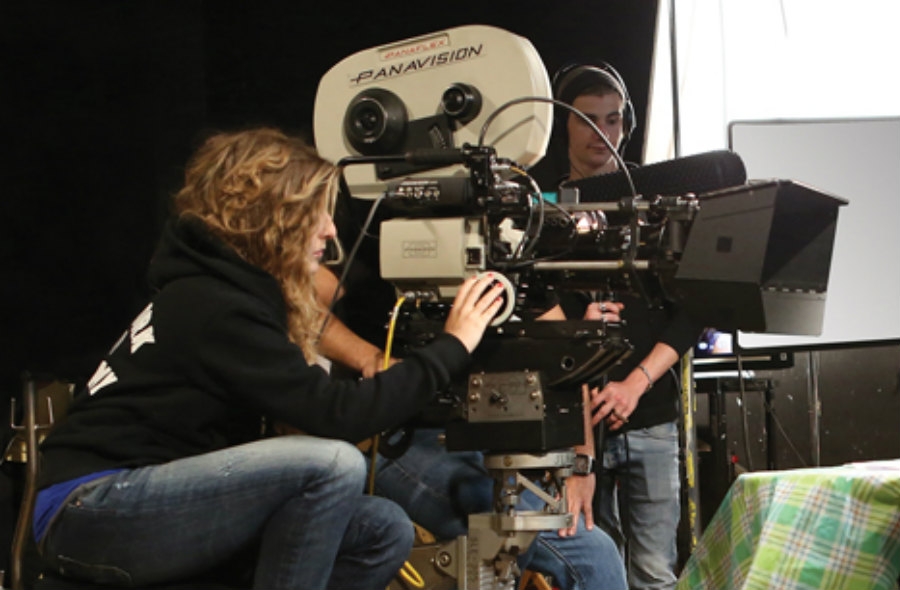 Looking for an immersive filmmaking or acting program for your son or daughter?
The New York Film Academy is an international film and acting school offering hands-on programs for individuals of all ages and experiences. Our Degree, 1 and 2 Year Conservatory programs, Short-Term Workshops and Summer Camps are designed equally for beginners as well as people with experience.
New York Film Academy students are immersed in an intensive, collaborative environment that stresses hands-on learning. Choose from a variety of courses taught by award-winning faculty in Filmmaking, Acting for Film, Producing, Photography, 3D Animation, Cinematography, Game Design, Documentary Filmmaking, Broadcast Journalism, Musical Theatre, Screenwriting and Digital Editing.
Steven Spielberg, Martin Scorsese and Susan Sarandon are three Hollywood luminaries among countless industry icons that have chosen to send their sons and daughters to study at the New York Film Academy. However, it is important to note that some of the best work coming out of the New York Film Academy is from students with absolutely no connection to the entertainment business.
Summer Camps
Voted a Top 20 Summer Camp in the United States, the New York Film Academy offers a wide array of programs that attract teens and tweens from across the globe. Boys and girls will have the opportunity to learn the in's and out's of filmmaking and acting, while operating state of the art, professional-grade equipment. Whether it's behind the camera, performing in a scene or shooting beautiful images, students are immediately immersed in their craft from day one. Students come from all over the world to feel the energy of this exhilarating, fast-paced industry, but most importantly, to have fun.
Teens (ages 14-17) and tweens (ages 10-13) can choose from a variety of summer camps, spanning one to six weeks in length. Whether choosing to enroll in Acting for Film, Filmmaking, Screenwriting, Musical Theatre, Digital Photography, Music Video, 3D Animation, Video Game Design or Broadcast Journalism, students all strive to do their best independently and collaboratively.
Each filmmaking student will write, shoot, direct and edit his or her own film. Students will maximize their film set knowledge by directing a series of films in crews of four and take the role of different film crew positions.
During the hands-on camera class, students will learn to use the Arriflex 16-S or a 24P digital video camera, depending on their choice of camp. Editing classes help students edit their films with Final Cut Pro digital editing systems on Apple computers. This comprehensive curriculum ensures teens and tweens are constantly learning and interacting with each other all while having fun.
Adult Programs
The New York Film Academy offers numerous degree programs, including: Two-Year Master of Fine Arts, One-Year Master of Arts, Three-Year Bachelor of Fine Arts and a Two-Year Associate of Fine Arts. In addition to the several degree programs, 1 and 2 Year Conservatory programs and short-term workshops are available for adults.
For many students, the time and tuition required to complete a four-year university degree is unattainable and daunting. The accelerated three-year bachelor of fine arts degree programs give students a well-balanced liberal arts education integrated with intensive professional training.
Collaboration among students is encouraged and often acting and film students work in conjunction to gain additional film set experience. The learning style emphasized at NYFA prepares its students looking to launch a career in the industry and help them understand the rigors and nuances of a professional film set. Most importantly, personal attention and limited class sizes are two benefits that add to the successful dynamic of the school and overall quality of learning.
NYFA students learn by doing. For example, our filmmaking students will each write, shoot, direct and edit 8 films and work on crews of 28 or more in the first year.
The New York Film Academy has partnered with the New York Jets and Rolling Stone Magazine to offer unique programs, such as sports photography and music video production. Again, these curriculums are thoughtfully designed and constructed by expert industry photographers and music video makers.
Alumni
The New York Film Academy is proud to have educated countless notable alumni who are actively pursuing their dreams in the industry. We regularly hear from our NYFA graduates on their ongoing success and offer their stories to inspire other students.
Some recent outstanding alumni include:
Acting Conservatory grad, Camilla Luddington, who plays Dr. Jo Wilson on Grey's Anatomy. She also starred in Showtime's Californication and was on six episodes of HBO's True Blood.
Filmmaking graduate Julie Pacino (daughter of Al Pacino) formed a production company, Poverty Row Entertainment. Her feature film, Billy Bates, was screened at Sunshine Cinema earlier this year.
Acting graduate, Vibish Sivakumar, plays Ravi Patel in Oscar winning director Ang Lee's, Life of Pi.
Producing graduate, Emily Morrow, is the assistant production coordinator for Twilight: Breaking Dawn Part 1 and 2.
3D Animation graduate, Kemer Stevenson, has created Visual Effects and 3D Animation for films How to Train Your Dragon, Monsters vs Aliens, Megamind, Happy Feet, The Golden Compass, Evan Almighty, The Incredible Hulk, and Night at the Museum.
Locations
Over the past 20 years, the New York Film Academy has built a reputation as one of the premier film and acting schools in the world. The demand to study with us from across the globe has resulted in the international expansion of over 18 locations.
Locations include: New York City, Los Angeles, Abu Dhabi, Australia, Florence, Paris, Harvard University in Boston, Disney Studios in Florida, South Beach in Florida, Cancun, Rio De Janeiro, Beijing, Kyoto, Shanghai, Mumbai, Jakarta, Moscow, Madrid and Seoul.
Each location offers it's own unique facilities, which can inspire children and adults alike. For example:
Whether it's a famous landmark or a typical neighborhood scene, New York City offers film, acting and photography students countless locations to create the perfect film set or capture an amazing photograph.
Los Angles has inseparable ties to the film industry. New York Film Academy's Los Angeles location is adjacent to the Universal Studios backlot where in-class production exercises are shot.
The New York Film Academy has teamed up with the Abu Dhabi Authority for Culture & Heritage and established a branch campus for the rapidly growing film industry. Programs are full-time with rigorous schedules, but students will not miss out on the culture and beautiful scenery around town.
The Gold Coast, Australia's "destination for fun", is home to New York Film Academy's Australian campus. Based at Queensland's Village Roadshow Studios, students study on the backlot where hit films like The Chronicles of Narnia: The Voyage of The Dawn Treader, Daybreakers, Peter Pan, Pitch Black, Fools Gold and many more were filmed.