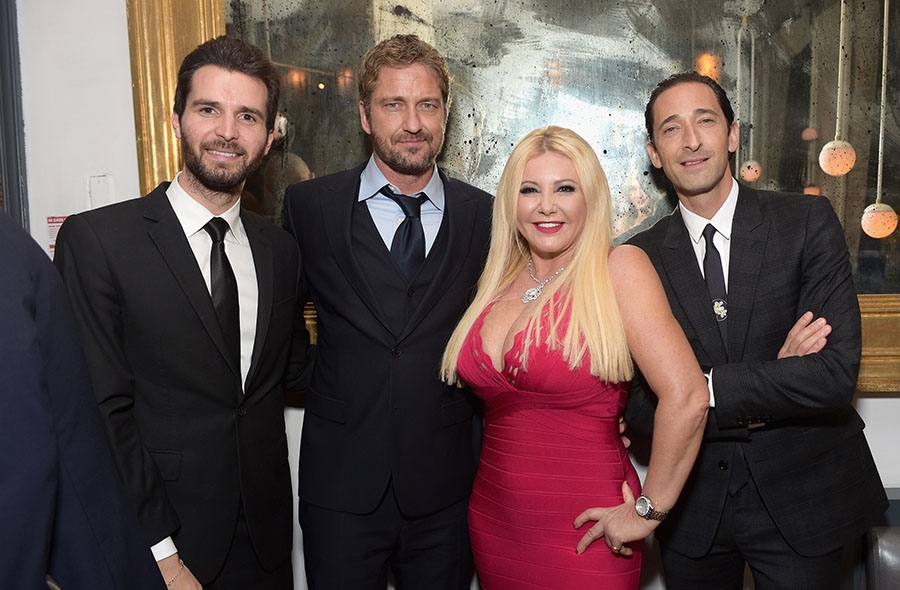 No one does smouldering eye contact quite like Gerard Butler. At an intimate dinner for the cast of Septembers Of Shiraz, I melted under the intensity of Butler's gaze as we compared notes on Iranian architecture and the cinematic quality of light in Sofia, Bulgaria (one of the key locations in the film).
Adrien Brody and Salma Hayek star in this adaptation of the critically acclaimed debut novel by Iranian American author Dalia Sofer, about a secular Jewish family caught up in the maelstrom of the 1979 Iranian Revolution.
The swish seated pre­screening dinner, hosted by French luxury brand GREY GOOSE vodka at Byblos, celebrated the world premiere with stars Hayek, Brody, Shohreh Aghdashloo, Alon Aboutboul, producer Gerard Butler, AMBI Group's Lady Monika Bacardi and Andrea Iervolino, Millennium Films Chairman Avi Lerner and director Wayne Blair.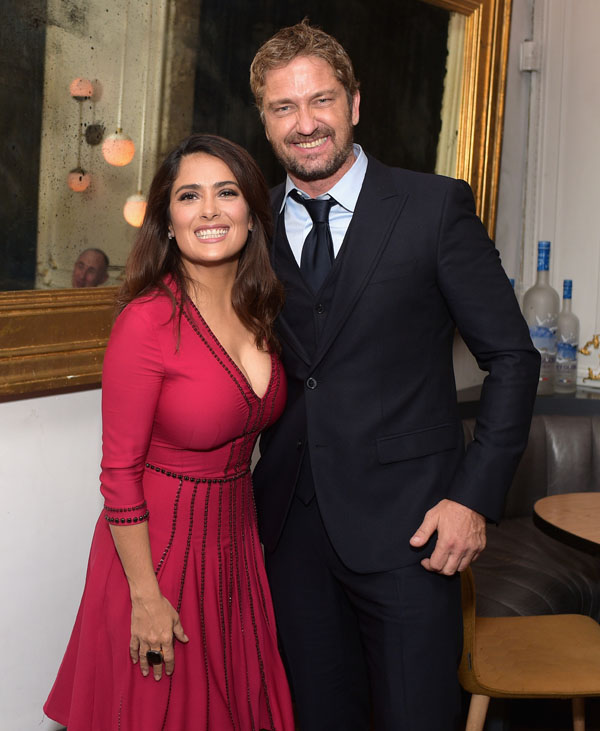 Guests were served a GREY GOOSE Le Fizz cocktail upon arrival and treated to an extraordinary six­course mezze style feast of char grilled Cornish hen, local Roma salad, sweet jeweled basmati rice and blood orange rose water Sorbet. After dinner, I caught up with Salma Hayek. Her favourite topic? Little Valentina of course. Speaking on her daughter's lack of an accent she tells me, "My husband is the thickest French, and of course my heavy Mexican, but by some miracle," Hayek exclaimed, "Valentina has nothing of it!"
Hayek is married to billionaire François-­Henri Pinault, heir and CEO of Kering, the French luxury goods holding company owner of Gucci, Yves Saint Laurent, Alexander McQueen, Balenciaga among others. Needless to say, the actress is always well dressed. Tonight was no exception, Hayek lit up the red carpet in a spicy, bright ruby red cocktail dress. The evening before, Salma sat down on stage with TIFF artistic director Cameron Bailey at her In Conversation with Salma Hayek panel at the Glenn Gould Studio at CBC in support of Septembers of Shiraz.
Actor Houshang Touzie (Argo) joined wife Shohreh (of 24 fame, who does fine work in Septembers of Shiraz) for dinner, and mingled with fellow cast prior to departing for the premiere film screening at Roy Thomson Hall. Later at the after party, Salma and Shohreh joined Adrien at his table where spent the rest of the night in deep conversation. Gerard Butler was the life of the party, working the room and mingling with well­wishers. At one point in the evening, he put his slick Dolce&Gabbana suit to drool­worthy, eye­popping use grooving to song­of­the­moment, "Can't Feel My Face" by The Weeknd.