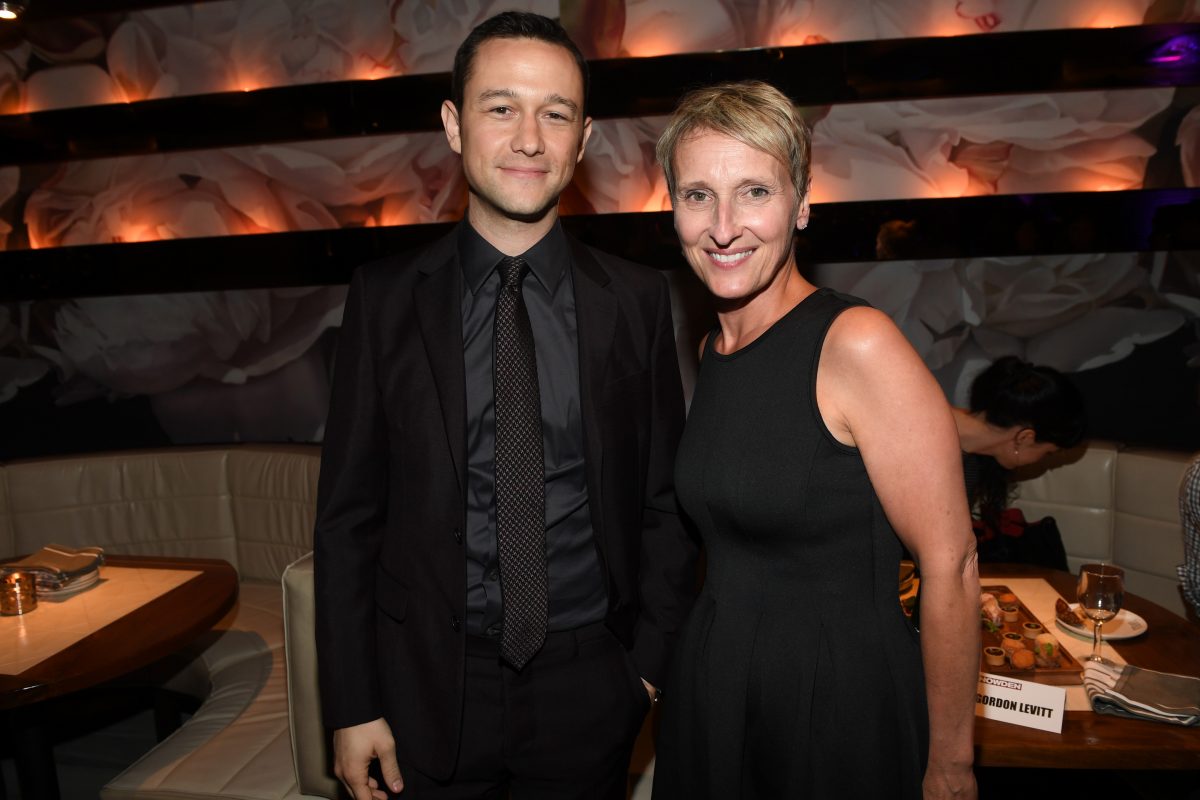 The Nespresso Audi hosted premiere bash for Snowden was buzzing. Oliver Stone's latest biopic enthralled Toronto critics and audiences alike last night. The emperor of conspiratorial left-wing political thrillers arrived at the party with aplomb, posing for photos on the red carpet before hitting Lavelle's exclusive rooftop. The Oscar winning director celebrated in style over Ristretto-infused cocktails with his cast Joseph Gordon-Levitt, Zachary Quinto, Shailene Woodley and Melissa Leo.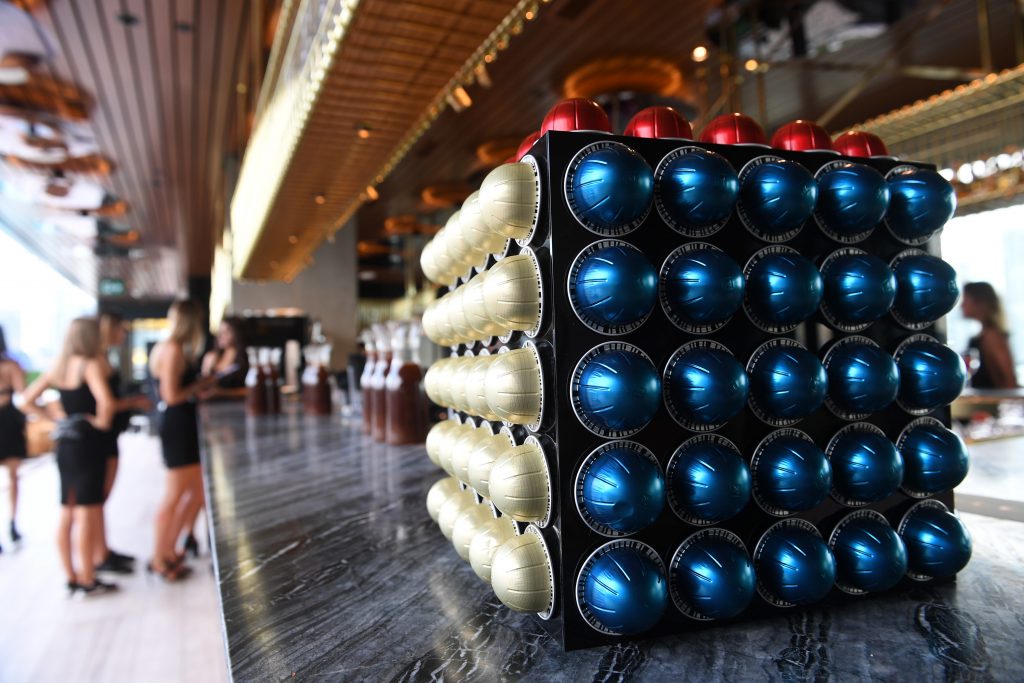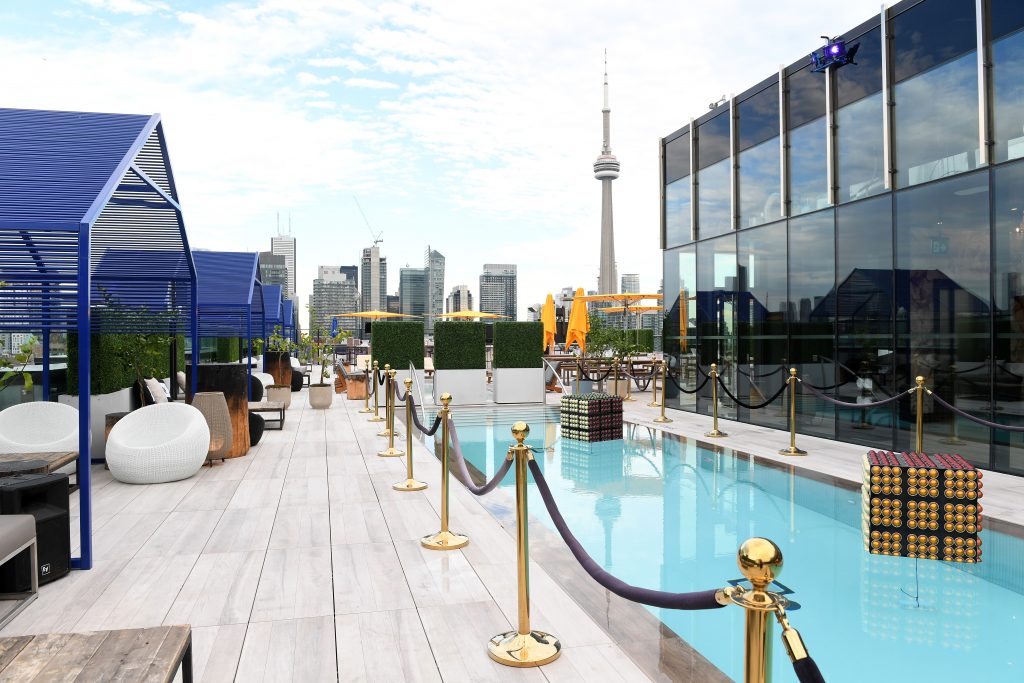 Gordon-Levitt chatted amicably with industry executives, making his way around swimming pools accented with Nespresso clad floating cubes especially for the event. In catching up with Gordon-Levitt on his latest coveted role, I gleaned that exploring Snowden's extreme patriotism with nuance was most vital to the actor. "One kind of patriot believes everything their country does is right, no questions asked," he explained. "Snowden was the kind of extreme patriot who can only exist in a free country, who holds the government accountable." In response to a question on the physical part of the role, he reflected on the surreal boot camp mornings with Stone. "My first hurdle was the military drills," he mused. "Waking up to a ropes course with the director of Platoon was a trip."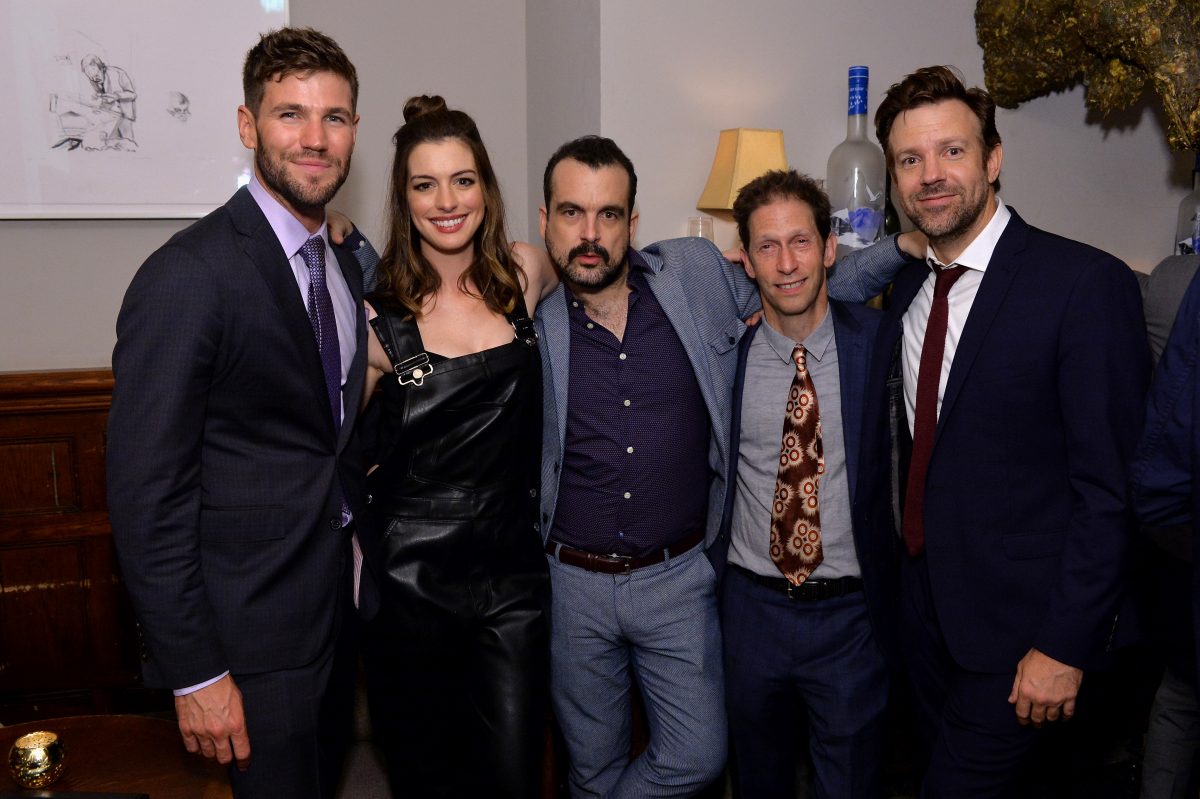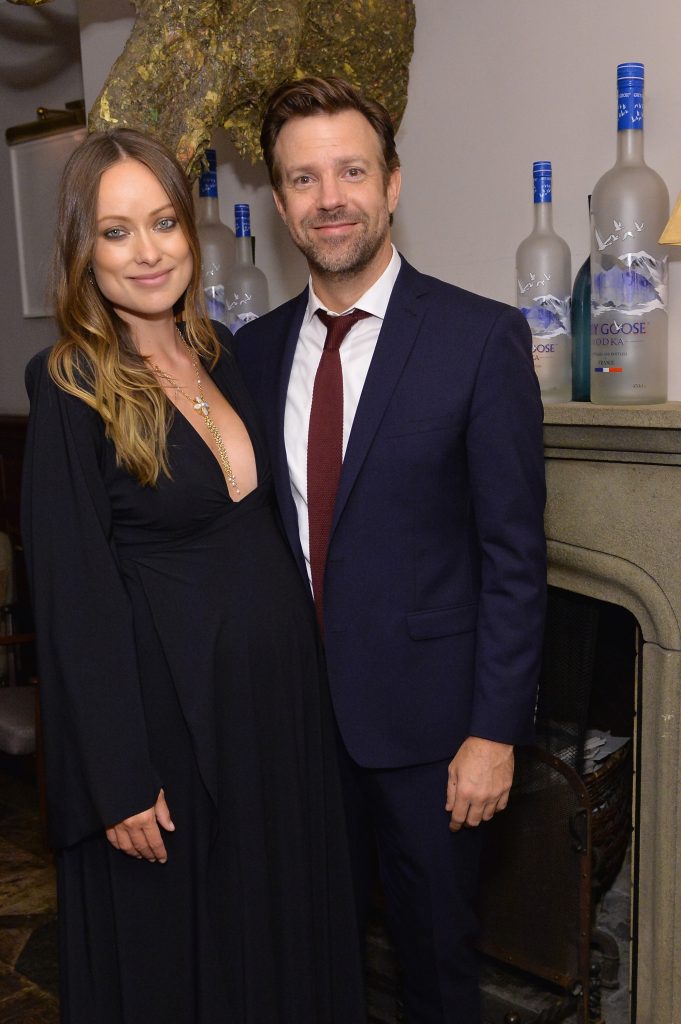 At around midnight, I caught up with Anne Hathaway and Jason Sudeikis at the GREY GOOSE vodka and Soho House Toronto hosted private party for their new film. Colossal is a genre-defying effort to stay the least, dropping anchor in the eccentric corner of the cinematic spectrum occupied by Swiss Army Man and Being John Malkovich. This is a flick that takes pleasure from venturing where movies aren't supposed to go. Hathaway confided to me that the script gave her chills, "a wild beast that picked me up and dangled me over the precipice so many times I couldn't resist it." The Oscar winner went on to reminisce over on-set anecdotes with rising co-stars Tim Blake Nelson and Austin Stowell.
Olivia Wilde and Elizabeth Olsen added chic star power to this hopping cast party. Wilde looked luminous in a custom Greta Constantine gown paired with Brian Atwood heels. Hathaway went with a Rodarte dress and Francesco Russo sandals for the official red carpet, then opted to change into cool black leather overalls for this after party. Towards the end of the festivities, Hathaway jumped up on the sofa to give Wilde a great big bear hug. The mom-to-mom moment made even more endearing as it became clear Anne was giving Olivia's growing baby bump a wide berth. Hathaway's exuberance was infectious last night, inciting giggles and from her normally stoic director Nacho Vigalondo.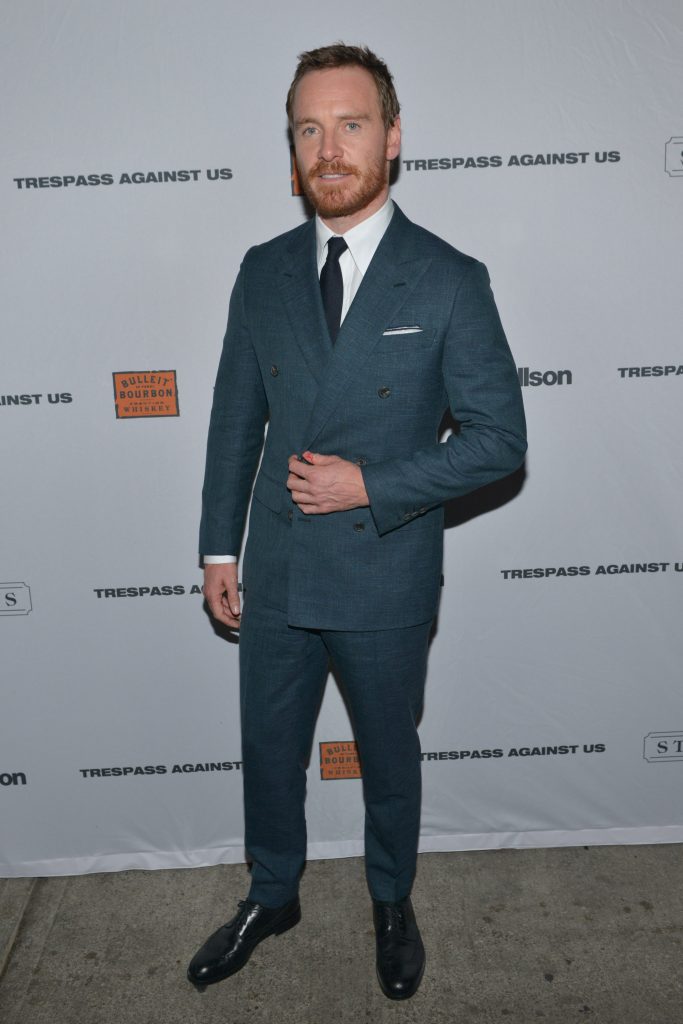 Down the street at STORYS, Michael Fassbender graced the red carpet to celebrate the premiere of Trespass Against Us. Directed by Adam Smith and co-starring Brendan Gleeson, the cast dined on a special menu prepared by Executive Chef Stuart Cameron. Fassbender looked sharp in a cerulean blue suit and mingled with party guests inside the event. Lyndsey Marshal graciously took selfies with fans on the red carpet, before posing for photos with writer Alastair Siddons. Actress Bryce Dallas Howard stopped by for a cocktail, while singer Kiesza partied on the dance floor with music executive Jeffrey Remedios, swaying to her hit song Hideaway.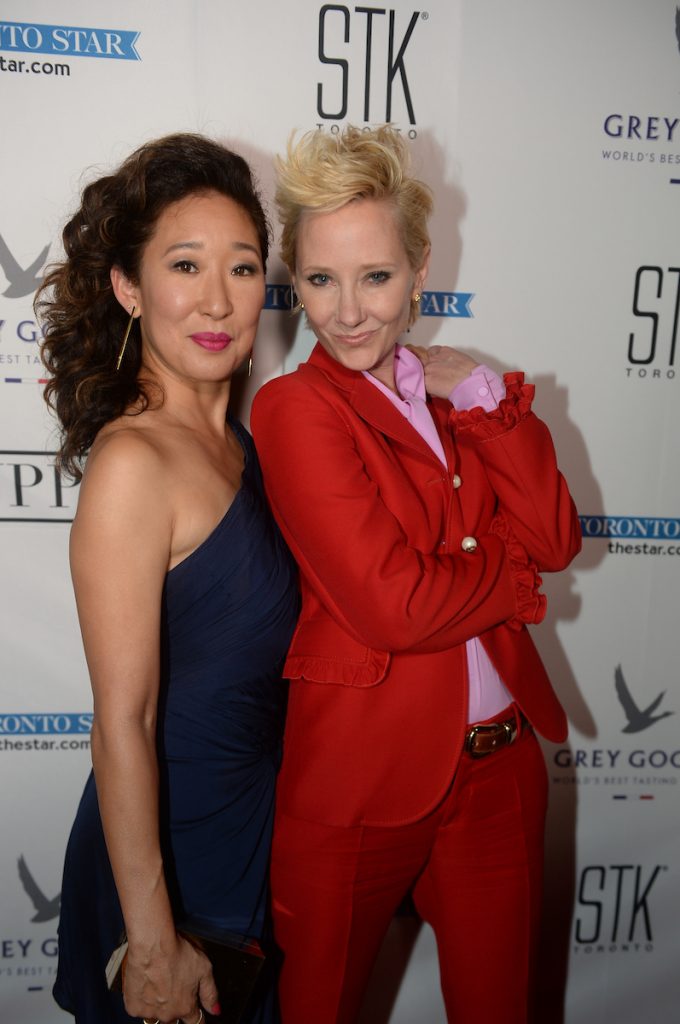 Earlier in the evening, I sped uptown to Toronto's Yorkville neighbourhood, home to the first Canadian location of STK Restaurant (the upscale American steakhouse chain owned by The ONE Group). The premiere party for MPI Media Group's Catfight was in full swing, with co-stars Anne Heche and Sandra Oh taking full advantage of the luxurious venue's signature oval booths.
The already buzzy atmosphere was kicked up a notch as Heche took off her fitted jacket and started playing bartender in her sheer pink blouse and slim ruby red pants. The Donnie Brasco star got cozy next to the fireplace, savoring plates of braised short rib with jalapeno grit croquette and crispy rock shrimp with chili remoulade. STK Toronto proved a fabulous host, kicking off a weekend of private TIFF events at STK's newest North American location which will open to the public later this fall. Ever the foodie, Oh even made her way into the kitchen, praising the kitchen team before diving into a perfectly seared steak prepared for her by Executive Chef Tommy McHugh.