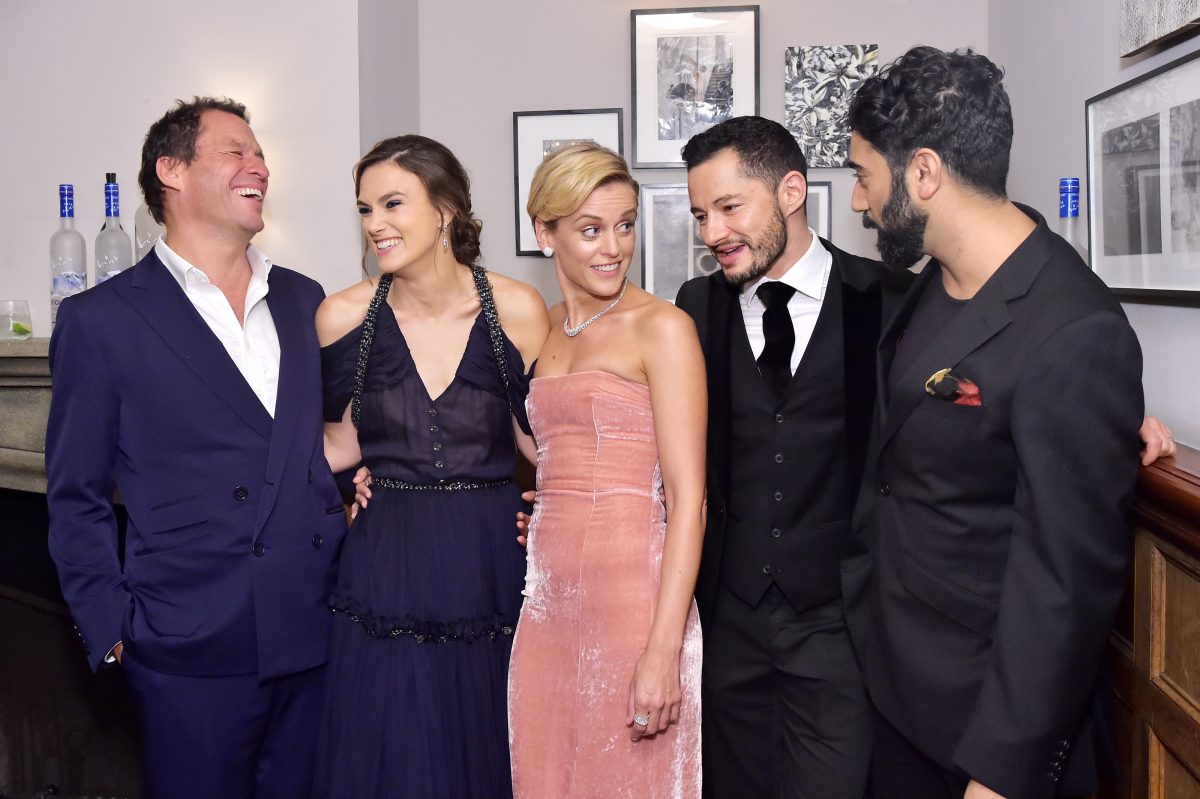 TIFF's hottest cocktail soiree turned into an all out dance party starring Keira Knightley and Dominic West, taking over the main floor at Soho House. Knightley and West rose to their feet in high style as Grey Goose hosted the premiere after-party for their new drama Colette. On arrival, we were transported to the golden age of 1930s jazz – exclusively by female artists, a pitch perfect choice given the film's thematic ethos. I spot Keira early on, looking sublime in Chanel, a dramatic black gown that stunned from every angle. The luminous leading lady perched on a sofa by the fireplace, preferring to engage in deeper, one one conversations.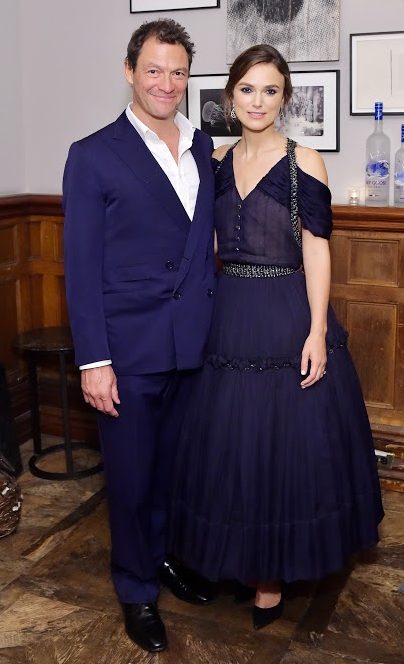 As the clock struck 9 pm, the energy shifted as DJ Zen Freeman's playlist kicked into high gear, and the dazzling array of Grey Goose cocktails took hold. Dominic enjoyed not one but two flutes of 'The Sequel' – an elegant twist on the espresso martini made with Grey Goose, sherry, crème de cacao and single origin espresso, garnished with grated rich dark chocolate. I suspect this shot of single origin espresso had a little something to do with the sudden injection of moxie and mojo in the cast. West got the serious dancing started, swiveling his hips like a seasoned pro.
As the grand finale of a series of A-list events hosted by Grey Goose, this was quite the capper. The stars themselves led the way to the wild, let-your-hair-down vibe, a rarity in the routine protocols of film festival parties. Keira slyly slipped the carefully placed pins out of her signature mahogany locks, twisting it up in a topknot like a late night party gladiator. I relished seeing this stylish power move unfold, a visual signal that shifted the mood off the charts in the feel-good stratosphere. The first floor of the private club erupted into a full-on dance party; Dominic slipped off his suit jacket and started shimmying with guests next to the grand piano when Rosamund Pike arrived. Keira was delighted to reunite with her Pride and Prejudice co-star, showering Rosamund with kindred affection.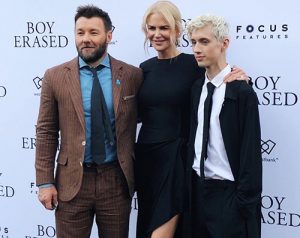 Earlier in the evening, Nicole Kidman lit up the Serpentine Pavilion by Denmark's Bjarke Ingels, a traveling exhibition which arrived in Toronto just in time to be the most prestigious event venue at this year's festival. With this architectural marvel as the backdrop, Westbank and Focus Features toasted Boy Erased in grand style, with the Oscar winner making a seamless entrance in a svelte black asymmetrical dress. Kidman, ever the consummate doyenne, gracefully included much-younger castmates in conversation, such a class act.
Nicole posed for photos with Troye Sivan, who lent his acting talents to the upcoming film, based on the true story of author Garrard Conley's experience inside of a gay conversion therapy camp. While most know him as a popstar, Sivan got his start in the entertainment business as an actor appearing in films like X-Men Origins: Wolverine. Turns out Troye has also contributed a song to the film's soundtrack, proving his acting chops right alongside a stellar singing voice.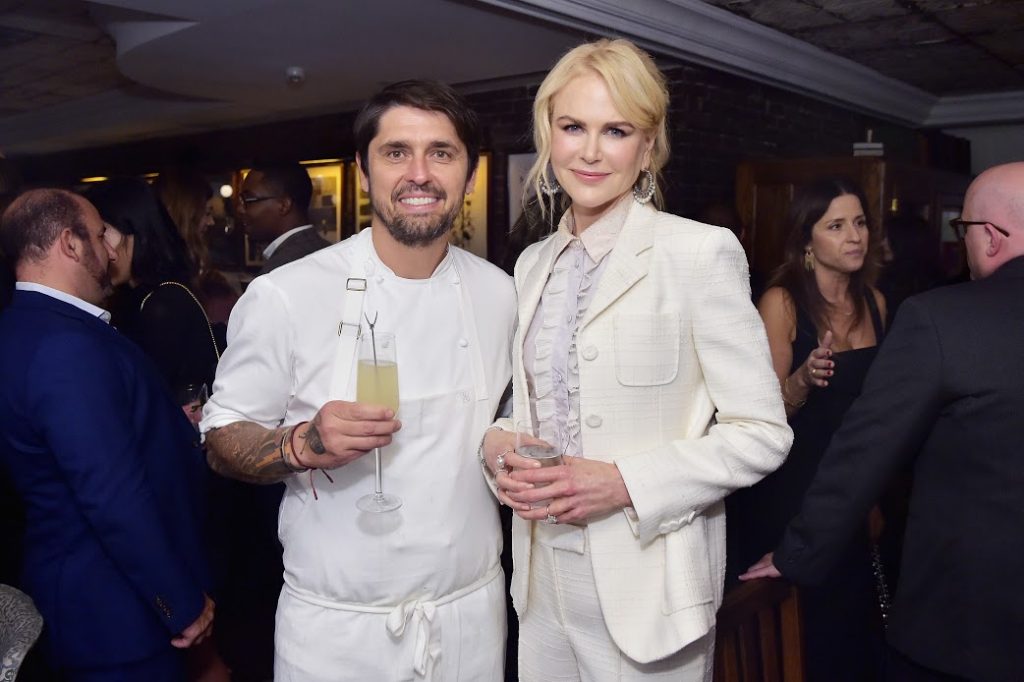 The night before, Grey Goose vodka and Soho House Toronto had the distinct honour of hosting Kidman at a private cast dinner for the premiere of her new film Destroyer. The evening featured a pitch perfect bespoke menu designed by Chef Ludo Lefebvre, the trailblazer of the pop-up dining scene in Los Angeles. Nicole arrived just before dinner was served, taking time to thank Lefebvre for making the evening so special. Director Karyn Kusama enjoyed catching up with her cast at the long harvest table, sharing time with Tatiana Maslany, Sebastian Stan, and Shamier Anderson.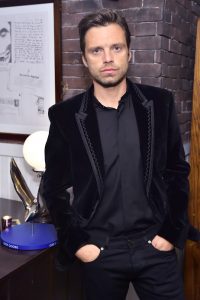 The star chef served up robust recovery proteins like salmon with sorrel sauce and steak au poivre alongside easy sharing plates of lighter sides like market vegetable ratatouille and rice pilaf, perfect for the unique specifics of festival party dining. Appetizer bites like crispy tapioca with passion fruit and parmesan proved full of flavor but not fussy, easy to nibble on while seamlessly elegant. Chef Ludo is an ongoing favourite of Grey Goose, and has partnered with the brand for film festival and elevated dining experiences across the globe.
Another highlight of TIFF's top social festivities was RBC House's Her Smell cocktail party with cast members Elisabeth Moss, Cara Delevingne, Amber Heard, Ashley Benson, Agyness Deyn, Gayle Rankin, Dylan Gelula and Director Alex Ross Perry. Upon arrival, Cara Delevingne made her way to the ladies room for a quick wardrobe change worthy of Paris Fashion Week, swapping a long sleeve sequin dress into a chic, spaghetti strap little black dress. Amber Heard and Elisabeth Moss soon joined Cara and Ashley at their lounge table. The powerful female cast arrived ready to rock the red carpet, taking the glamour inside as Agyness Deyn, Dylan Gelula and Gayle Rankin joined in for photos and cocktails.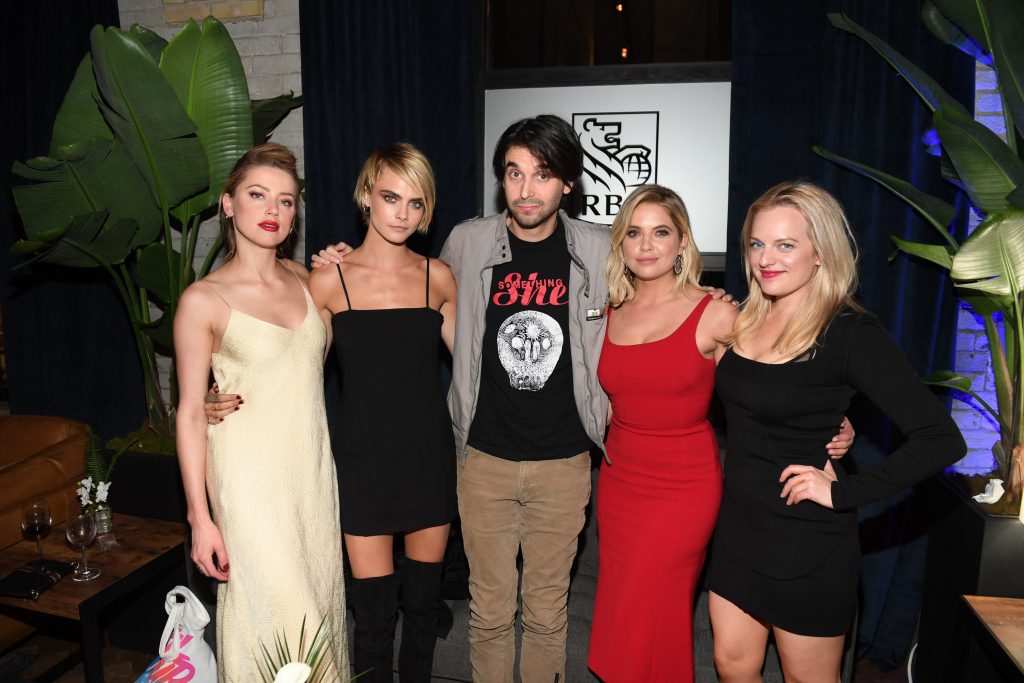 Colette cast photo credit: Stefanie Keenan, Getty Images for Grey Goose
Boy Erased photo credit: Getty Images for Focus Features and Westbank
Destroyer cast photo credit: Stefanie Keenan, Getty Images for Grey Goose
Her Smell cast photo credit: Sonia Recchia, Getty Images for RBC