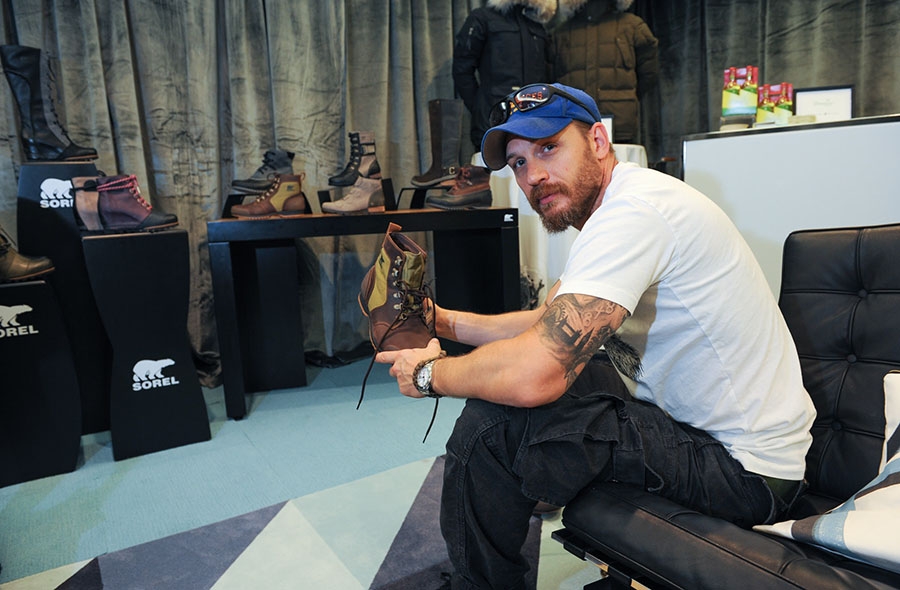 The Tastemakers Lounge is a coveted gifting suite at TIFF, featuring celebrity favoured lifestyle sponsors, giving festival talent a chance to "go dark" and have a proper cocktail away from the paparazzi.
Think of it as a top shelf bar set up just for you and your fellow co-stars, but with cool gear in your own size that you get to take with you.
Presented by SOREL and ELLE Canada, Tastemakers at the InterContinental Toronto Centre celebrates talent in style with the ELLE Canada portrait studio. Talent that visited or were gifted this year include Salma Hayek, Keir Gilchrist, Kate Winslet, Liam Hemsworth, Liev Schreiber, Adrien Brody, Kate Mara, Elle Fanning, Chiwetel Ejiofor, Sarah Silverman, Michael Caine, Idris Elba, Emmanuelle Chriqui, Tom Hardy, Jason Ritter, Allan Hawco, Sarah Gadon, Kristen Stewart, Julianne Moore, Kiernan Shipka, Sir Patrick Stewart. With a full range of lifestyle sponsors – fashion, health, beauty, pampering – the Tastemakers Lounge is a perennial hotspot for talent and top influencers.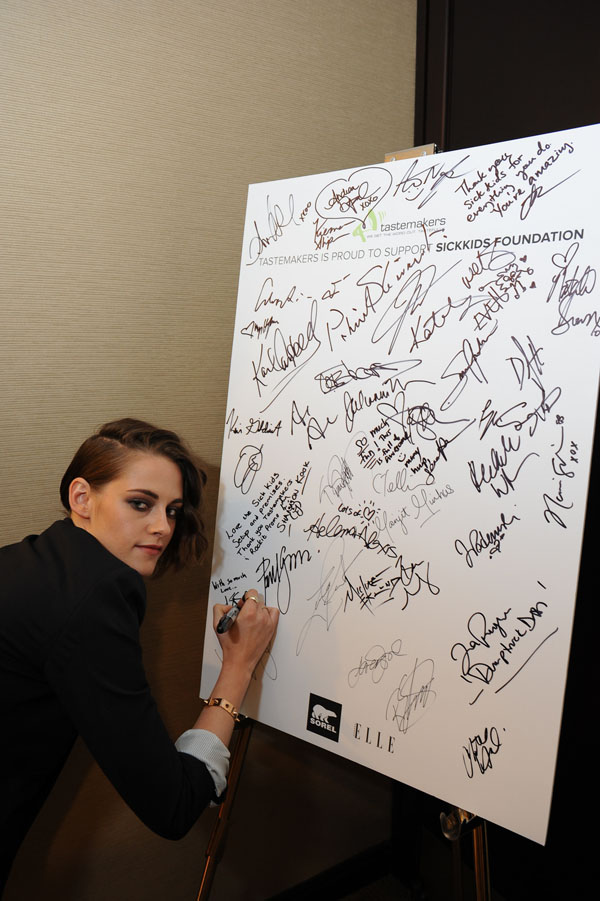 Over the course of its eleven-year tenure, Tastemakers has hosted and gifted many notable names including Woody Harrelson, Brad Pitt, Ellie Goulding, Ethan Hawke, Elisha Cuthbert, Colin Firth, Kat Dennings, Freida Pinto and Samuel L. Jackson, among many others.
Founded in 2005 by Debra Goldblatt-Sadowski (president and founder of Tastemakers and rock-it promotions) and Leesa Butler (VP operations of Tastemakers and president and founder of Divine Lab), the Tastemakers Lounge invites talent to take a break from exhausting junkets to enjoy unique brand experiences.
SOREL joins the Tastemakers Lounge for the second year in a row, now as a title sponsor. SOREL boots are a staple for talent and the style-conscious alike. Guests of the lounge will snag a pair of the iconic boots from the fall 2015 collection. SOREL Marketing Specialist Heidi Janzen was on hand for a second year, building a rapport with the likes of Liam Hemsworth. He enjoyed his time with Janzen so much that he Instagrammed a selfie in his hotel suite with his pants off and his SOREL boots on! Heidi is truly a top ace in this super-charged celebrity atmosphere, hosting elite guests with aplomb and meeting every footwear challenge.
Made with heritage expert craftsmanship, flawlessly constructed using a combination of felt, wool and premium leathers, SOREL will offer guests a personalized boot fitting with a variety of its classic looks, as well as new styles that express the season's hottest trends. The brand is also launching a new line of apparel – European goose down with 800 fill – and guests of the Tastemakers Lounge will get an exclusive sneak peek of this exciting new line.
British actor Tom Hardy (Legend, Mad Max Fury Road, Dark Knight Rises), chose to spend a very special day with Tastemakers – his birthday – and celebrated in style with a pair of Ankenny Mid SOREL boots. This season's SOREL designs made such a strong impression that he even re-visited the lounge later in the day to request a pair to bring home to his wife, Charlotte Riley. He was thoroughly impressed with Sahajan's Ayurvedic skincare line. In addition to those goodies, he carried home a packed swag bag filled with bottles of Plan C, Phantom Glass, Rhone Valley Wines, Pommies Cider, Remy Cointreau.
Salma Hayek poked her head into the lounge, and excitedly made her way around the room to check out goods from Tweezerman and Sahajan. She took off with a classic canvas Hudson's Bay tote, after signing the Tastemakers board in support of SickKids Foundation.
Room star Brie Larson also stopped by, quickly nabbing a pair of 1964 Premium Wedge style boots from SOREL. A fan of Ayurveda, she absolutely swooned over the Sahajan line, requesting extra samples of each product in the collection to pocket. Sahajan, a first-of-its-kind Ayurvedic and organic beauty brand, made in Canada, will be giving guests a chance to sample and interact with the entire collection. The products are designed for women who are mindful of the health of their skin and hair and will also be included in the gift bag.
The Rémy Cointreau Group created three specialty cocktails for the lounge, each featuring a different spirit and refreshing flavour profile (The Rickey, the Botanist Basil Gimlet and the Black Barrel Daisy) and gifted their premium liquor to attendees. The perfect thirst-quencher on a warm day – the Black Barrel Daisy featured Mount Gay Black Barrel Rum from Barbados and a mix of lemon and lime juices, crushed raspberries and a splash of soda. Rather than a local craft beer maker, organizers put a spotlight on the up-and-coming alternative: cider. Pommies is made north of Toronto, launching their signature original dry cider a few years ago and introducing an even drier version, "Farmhouse," earlier this year. A great find for anyone who doesn't like excessively sugary tasting beverages. And for health conscious stars like and Kate Mara and Emmanuelle Chriqui, Pommies nailed the brief.
Guests collected goodies in iconic HBC striped tote bags provided by Hudson's Bay Company, so all jet-setting guests can take a piece of Canada with them wherever they go.