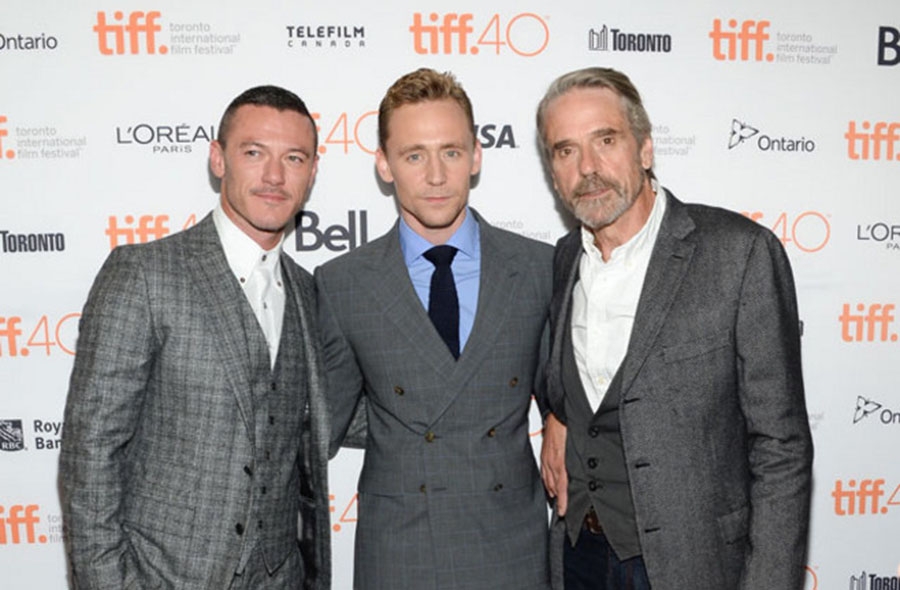 Jeremy Irons loves a good smoke. In classic British elite fashion, the premiere party of TIFF's most polarizing UK film was a split level affair last Sunday night. High Rise, starring Tom Hiddleston, Sienna Miller and Jeremy Irons, is a futuristic fable about civil war breaking out among residents of a super-sized London skyscraper.
While the film's younger stars – Hiddleston and Luke Evans – preened in their VIP booth, as if waiting for Patrick Demarchelier to turn up and validate their sartorial splendor (which, given how devilishly cover worthy they looked, works for me), Irons ruled the roost in his own speakeasy at the top of the Byblos Building.
In a staging area on the 4th floor reserved for odds and ends like electrical cables, deep fry units and excess hummus, the Oscar winner hid from the curious eyes feasting upon his junior co-stars one floor down. The divine comedy and cool glamour of it was almost too much for me. With the rain pelting down outside and paparazzi swarming the building, this was the only way to enjoy a good old school smoke and stay dry. Leave the electronic smoke to the kids downstairs.
When I pulled back the staging curtain, I spotted Irons in a haze of tobacco smoke. Sitting across from him, legendary producer Jeremy Thomas (The Last Emperor, A Dangerous Method). Compared to the throbbing dance music downstairs, you could hear a pin drop in this room. I caught up with the gentlemen briefly; I've known and admired Thomas since I covered the Young Adam premiere in Cannes a decade ago. I excused myself quickly as the man who played Claus von Bülow with such panache has a way of unraveling your senses with his eyes. It's unnervingly sexy. There's a reason Irons has been repeatedly cast as aristocrats and nobility; there is an unmistakable air of grace in his every gesture.
The host of this haute party, Michael Achenbaum, CEO of the Gansevoort Hotel Group, greeted industry and media elite as they arrived. The dashing hotelier will be spending a lot more time in London as he gears up to launch The Curtain Hotel and Private Members' Club next year. In addition to 120 rooms, 6 oversized suites and a 5000 square foot rooftop lounge and pool, The Curtain will feature a rooftop pool, a wellness spa, a Michelin chef, whisky bar, gym facilities, screening room and visual art co-curated by Steve Lazarides and legendary music photographer Mick Rock.
Given Achenbaum's success with two of New York's most fashionable hotels — Gansevoort Meatpacking and Gansevoort Park Avenue (attracting pop culture royalty such as Angelina Jolie and Brad Pitt, Jay Z and Beyonce) — he is sure to win over a few bonafide royals once The Curtain opens. I'd wager Prince Harry and Princess Beatrice will be game to toast this new venture to forge interdisciplinary collaboration in the tech and creative industries.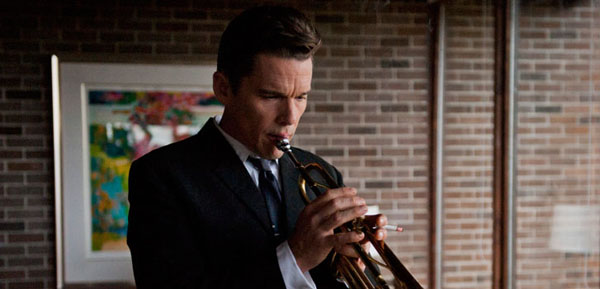 Across town, Ethan Hawke celebrated with castmates at the Born to Be Blue bash hosted by Men's FASHION Magazine at The Citizen on King West. The perfect marriage of host and film, the party was a swirling, lively affair sporting one of the best dressed guest lists of the festival. Hawke puts those chiselled cheekbones to work in this biopic on legendary trumpeter Chet Baker. Co-stars Carmen Ejogo (Selma) Callum Keith Rennie (50 Shades of Grey) got well into the groove alongside director Robert Budreau, who appears on the cover of the fall edition of Men's FASHION.
Guest noshed on deep-fried pickles and oysters shucked personally by the night's executive chef, Jacob Wigglesworth, Other notables in the house included designer Kirk Pickersgill of Greta Constantine; model Paul Mason and FASHION Magazine Editor-In-Chief Bernadette Morra. Holding court in the VIP, St. Joseph Media, Senior VP Lilia Lozinski and Men's FASHION Editor-In-Chief David Livingstone.
The evening's highlight was a hoppin' brass set by the Born to Be Blue band, a local jazz quartet featuring Kevin Turcotte, who played the trumpet parts for Ethan Hawke's performance in the film. Oscar-nominated director Deepa Mehta and her Beeba Boys cast stormed the scene. The Sikh gangster flick features Waris Ahluwalia, Gabe Grey and Ali Kazmi, who all turned up to the rager in razor sharp red carpet regalia.