A reaction to the Charleston Church Massacre of June 17, 2015, "The Mess We Made" released late last year by New York blues/soul artist Tomás Doncker (www.tomasdoncker.net), offers a timely commentary on the issues and realities facing modern day America.
Known for his strong political activism, Doncker's latest EPK features eight tracks leading with "Same Ol Dolls," a hip hop inspired blues song; followed by the impassioned "Church is Burning Down," the first single of the release.
One of the most poignant tracks on the release is "Don't Let Go" addressing issues of homelessness and hunger. Also notable is the soulful rendition of U2's "I Still Haven't Found What I'm Looking For."
The release ends on a hopeful, more optimistic note with the gospel inspired "Time Will Tell" encouraging us to unite for positive change.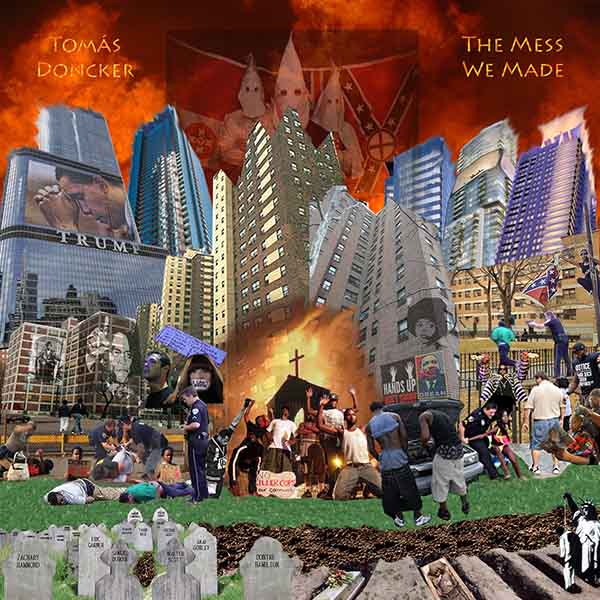 The talented musician, singer/songwriter, Dancer was a key figure in New York's "No Wave" downtown scene in the 1980s, incorporating blues, jazz, punk and funk. He soon expanded his reach internationally recording in Japan with jazz pianist Masabumi Kikuchi, as well as collaborating with Boosty Collins, Yoko Ono, The Itals and Prince Charles Alexander. Over the years, he has worked with music icons Ivan Neville on his solo release "Thanks," Bonnie Raitt, Meshell Ndegeocello and Living Colour lead singer Corey Glover.
In 2010, Doncker performed for the first time in China as a headline act at the Shanghai Folk Festival, part of the Shanghai World Expo, and in 2014 he collaborated with legendary, Pulitzer Prize-winning poet Yusef Komunyakaa on "Big Apple Blues," released via True Groove Records, of which he is also the founder.
Doncker is clearly a rare talent in today's arts and culture scene, providing an important voice in our volatile times. Looking forward to experiencing his message "live" when he tours this spring.