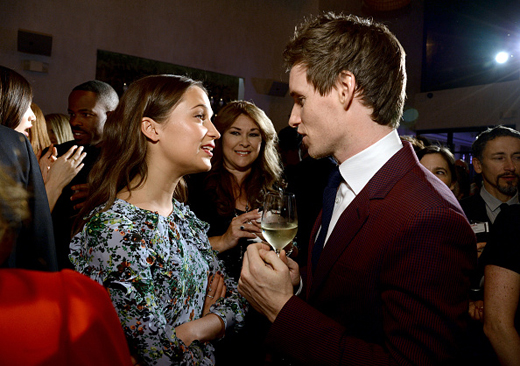 On the town with Eddie Redmayne, Idris Elba, Jessica Chastain and Emma Stone
Ask any Hollywood insider, the best part of the Oscars is the lead up. The hot anticipation, the jittery nerves, the feeling that anything can happen. Like the intoxicating consummation of a new romance, it's the playful build up over a chain of events that fans the flames. This year's warm up events proved an exemplary precursor to a night of big surprises. Of all the swish soirees JETSET attended, the following earned top marks for building the most momentum.
Michael Sugar Pre-Oscar Party hosted by Grey Goose
Talk about a sugar rush. Spotlight producer Michael Sugar held court at Sunset Tower in West Hollywood mere hours after the film took four Independent Spirit Awards, including best feature. Cast members Liev Schreiber, Michael Keaton and Mark Ruffalo celebrated into the wee hours with the Anonymous Content inner circle.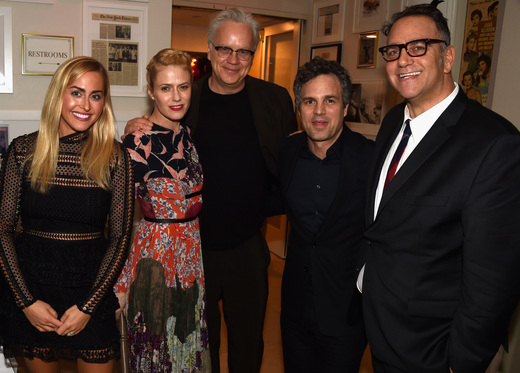 On arrival, guests were greeted with an array of Grey Goose cocktails, including Le Fizz,"the event's signature sparkling drink, served in a champagne flute with a Goose embellished metal swizzle stick. Grey Goose celebrates those who achieve the extraordinary within the film industry with the launch of its Awards Season Cocktail Collection. Created by master mixologist Grey Goose Ambassador Joe McCanta, the collection is a tribute to the top cinematic achievements of the year.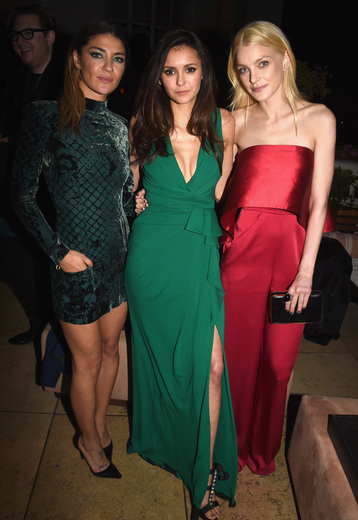 We admit, we got all warm and fuzzy watching Emma Stone catching up with her The Help co-star Octavia Spencer, who won an Oscar for her performance in the period film in 2012. On the terrace, step-and-repeat stalwarts Jessica Szohr, Nina Dobrev, Jessica Stam stuck a series of savvy poses for the house photographer. Olivia Wilde arrived in a breezy satin bomber jacket, chatting with friends at the bar.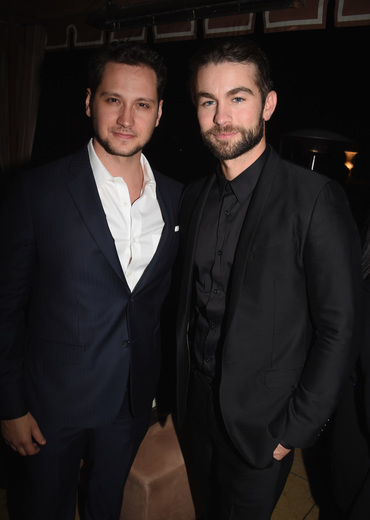 Patrick Stewart and Meg Ryan locked in deep conversation, while Tim Robbins went straight for the sliders and truffle fries. Alexander Skarsgard physically towered over the crowd, but was charmingly down to earth as he got Camilla Belle giggling. We also spotted Casey Affleck, Anthony Mackie, Zach Braff and Famke Janssen. Dancing broke out at around midnight, as DJ Spider mixed Grammy-nominated hits with old-school David Bowie.
Man candy at this party came in the most delicious shapes and sizes. Chace Crawford, Matt McGorry and Sebastian Stan had all the ladies sneaking peeks in their direction – most were covert and coy, but a bit of outright gawking broke out once the cocktails set in and Chase got especially jovial. At one point, the hot trio got into a huddle trying to decide whose house they should go to for a night cap.
Film is GREAT Oscar Reception
As we arrived at the Film is GREAT party, throngs of Idris Elba stalkers and Eddie Redmayne evangelicals had already been milling around for hours to catch a glimpse of two of the UK's most bankable exports. Academy Award winner Redmayne and British Consul General Chris O'Connor co-hosted The Film is GREAT bash last Friday at Fig & Olive in West Hollywood. The Brits certainly had a lot to celebrate; the UK consistently features as the country with the most Oscar nominations outside of the US.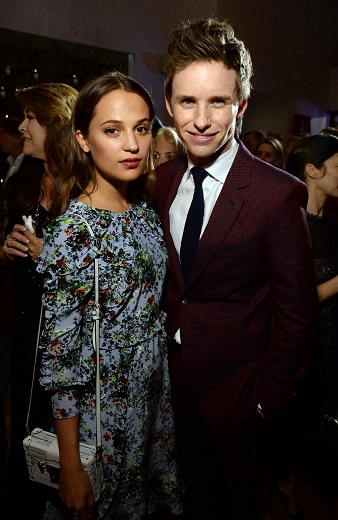 Inside, we spot talent making themselves right at home in the chic setting – leaping over coffee tables and barreling into the charcuterie spread like a varsity rugby team on spring break. The dashing Redmayne anchors the room with aplomb, surrounded by a coterie of very-excited-but-playing-it-cool young women. Oh yes, this guestlist certainly boasts its share of scene stealers, but the vibe here is refreshingly laid back – not a nagging handler in sight.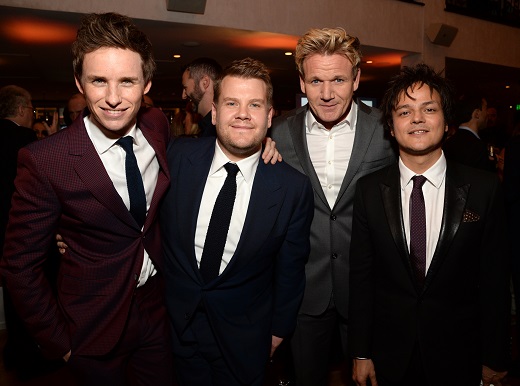 Master of Ceremonies James Corden had to hush the raucous crowd more than once; there was such palpable buzz in the air once Elba and Alicia Vikander arrived. The evening featured a special musical performance by jazz-pop singer-songwriter Jamie Cullum and menu prepared by superstar Chef Gordon Ramsay.
Redmayne was effusive in his high praise of his fellow Brits. "What I think is extraordinary this year is that out of 24 categories of nominations at the Oscars, there are Brits in 21 of them… It shows the depth and the breadth of skills in our country."


We also spotted Naomi Campbell, Minnie Driver, Cat Deeley, The Danish Girl director Tom Hooper, who won an Oscar in 2011 for directing The King's Speech, and cinematographer Roger Deakins, whose nod for Sicario is his 13th Academy Award nomination.
Cadillac Oscar Celebration
Carrying on like kids around a campfire, Modern Family stars Jesse Tyler Ferguson and Ty Burrell traded quips with show creator Steve Levitan at Cadillac's Oscar kickoff last Wednesday. The brand celebrated the start of Hollywood's biggest weekend with a buzzy cocktail party to fete the 88th Academy Awards. Held at Hollywood's iconic Chateau Marmont, the exclusive event united the industry's top brass in addition to Oscar nominee Arthur Max (Production Design, The Martian) along with Christoph Waltz, Kate Walsh, Kelly Rowland, Abigail Spencer and Paul Wesley.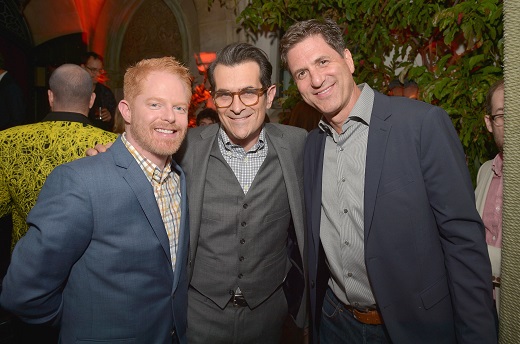 Cadillac is the official vehicle sponsor of the Academy Awards, debuting an all-new series of its "Dare Greatly" ads during Sunday's telecast. Celebrities were chauffeured to the event in the all-new 2016 Cadillac CT6, the design features of which won a lot of praise on Instagram that night.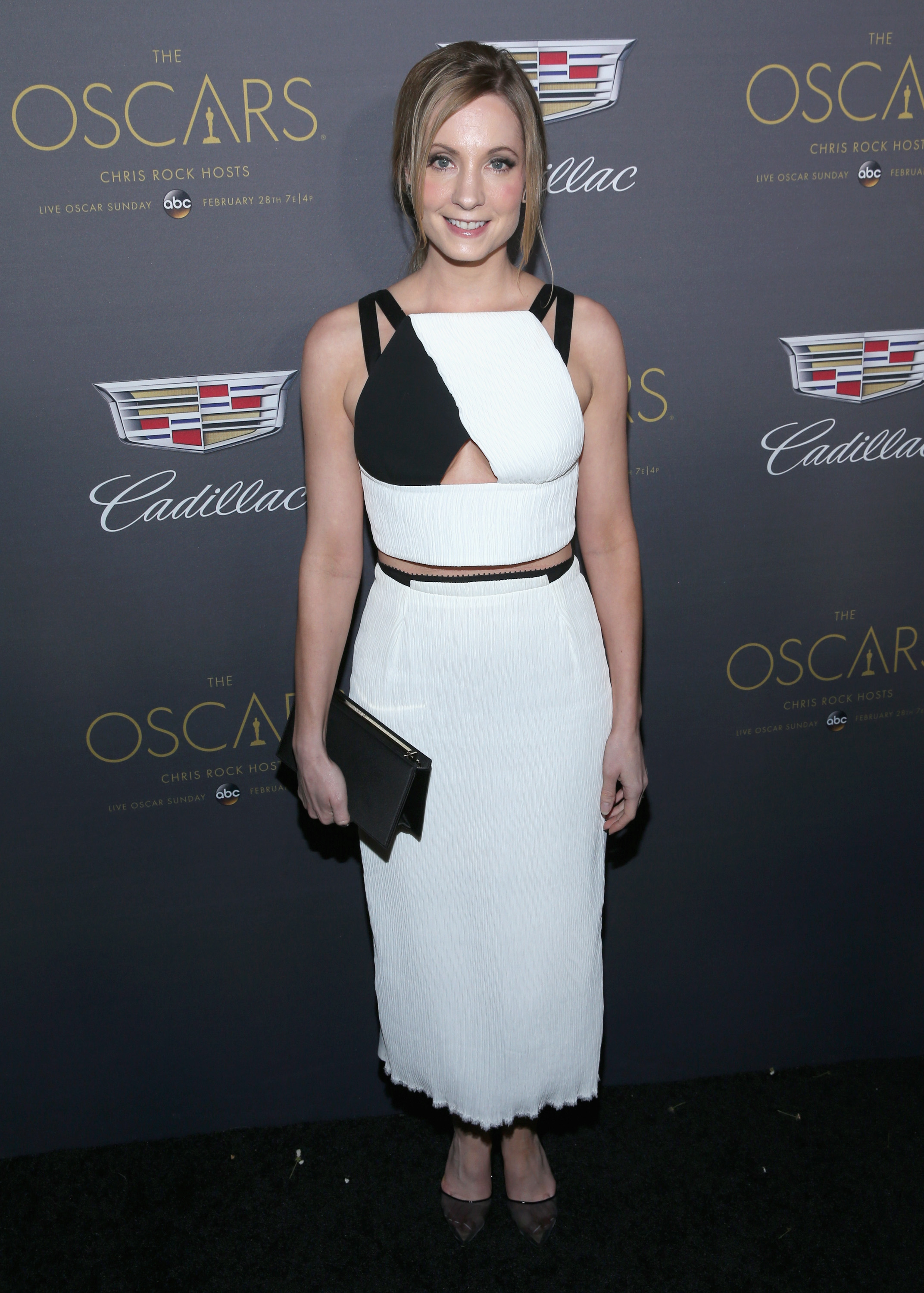 Joanne Froggatt turned heads in a black and white Roland Mouret cocktail dress and reflected on the finale of Downton Abbey, revealing that she thinks all of the show's characters end up in a great place. Later in the evening, she joked around with Allison Janney. Samantha Barks talked about how she was rooting for her former co-star Eddie Redmayne, while her beau Jack Fox was clearly on team Leo.
Piaget Private Party
Luxury watch and jewelry brand, Piaget, co-hosted the Film Independent Spirit Awards for the ninth consecutive year, paying tribute to the top talents in independent film. The night before the Spirit Awards, they hosted an intimate gathering at a rather ravishing private residence in the Hollywood hills. Philippe Léopold-Metzger, CEO of Piaget, took the occasion to make meaningful remarks on the power of cinema and Piaget's intention to strengthen its longstanding ties with Hollywood. Actress Jessica Chastain, Piaget international brand ambassador, attended the event; she enjoyed mingling with guests, drinking in the rarified atmosphere, not to mention the divine panoramic views.
Many in attendance were adorned in Piaget jewels and watches, including the Extremely Piaget, Possession and Rose jewelry collections. Extremely Piaget is the perfect embodiment of jetset 70s Hollywood glamour, more relevant in pop culture than ever. Piaget has elevated fine jewelry and watches to an absolute art since its founding in 1874. Renowned for avant-garde designs and ultra-thin movements, Piaget is one of the only remaining watchmakers that crafts its own cases, bracelets and movements. In 2014, Piaget enhanced its presence in the US with the opening of its first boutique in Beverly Hills on Rodeo Drive.