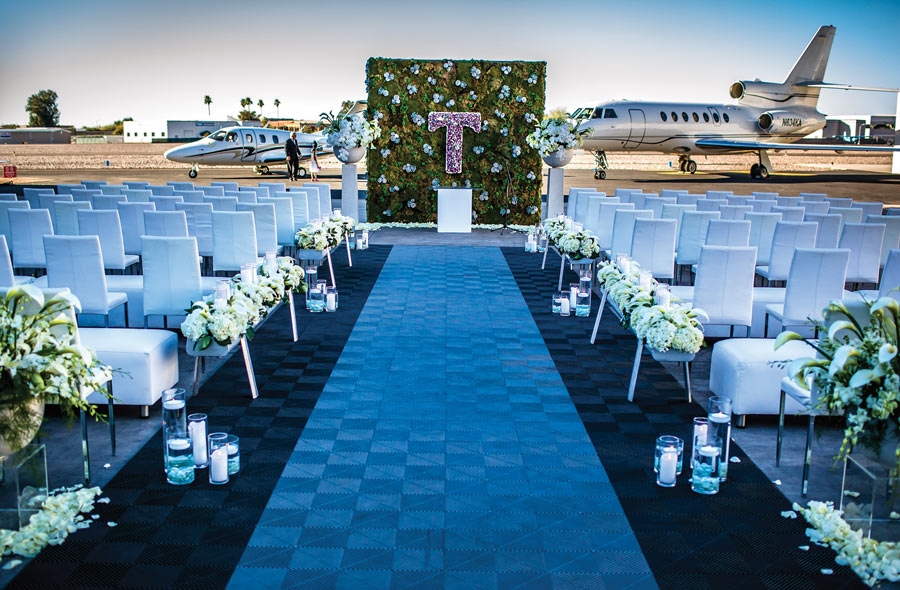 Allow your mind to wander into a stratosphere of glitz and glamour and over-the-top opulence for a moment, and visualize what you might consider to be the ultimate dream wedding for a couple who is truly in love.
Now, add an open checkbook, a $26 million jet used as decorative prop inside a private hangar that sprang to life like a movie set, perfect weather, gourmet food, top-shelf cocktails and enough beautiful flower arrangements to redecorate Maui. It took incredible cooperation and coordination from an allstar roster of service partners to bring this fantasy to life this February in Scottsdale, Arizona, for the ultimate dream wedding of Jetset Magazine Creative Director Toby Thompson and his fiancé Heather Washington. And we haven't even begun to describe the magical matrimonial memories that occurred the day before or immediately after this ultra-first-class affair.
There were some key ingredients needed for this unforgettable weekend to be pulled together. It started when some of the top affluent lifestyle vendors in Phoenix and Scottsdale were asked if they would vow to step up with some of their world-class service, hospitality, talents and creations, and they collectively all said, "I do." The quarterback and ringleader of this ultimate dream wedding experience, Amy Mancuso of Amy Mancuso Events, handled every deal with professionalism and military-like precision, weaving in opulence and extravagance while never losing the warm, personal feel that the wedding weekend had throughout. That premise was at the heart of everything, and she surrounded it with glitz and grandness and enough sex appeal and style to make everybody's head spin. Every vendor was exemplary, delivering spectacular results, and the coach running the show and designing the game plan was Amy.
The journey down the path of planning this event could have been daunting, simply because of the number of vendors needed to pull it off, but Arizona Weddings magazine was another amazing performer in this dream-come-true scenario. With their sterling reputation throughout the Southwest, they were the perfect partner on so many levels, one being the fact they had real clout recommending and finding the appropriate match when it came to flowers, menu and wedding cake design, entertainment, transportation and any other detail that was required. Read on to see how our incredible team of wedding professionals put together a truly unforgettable event.
Friday, February 6th, 2015: The day before the wedding Toby and Heather live in the Scottsdale area, but they have friends and family scattered throughout the country, and when they all convened in the Valley of the Sun, the headquarters for the wedding was the Fairmont Scottsdale Princess. This iconic, AAA Five Diamond resort offers an incredible mix of beauty, phenomenal service and luxurious amenities that made it the perfect place for the wedding party to stay. On Friday, the day before the wedding, the group was wined and dined and treated to a blissful spa day in the awardwinning Well & Being Spa at the resort. It started with a delectable Spa Cuisine menu for lunch that featured Shrimp Succotash, Crab Cakes, Thai Chicken, Lettuce Cups and flavored teas.
Brad and Angelina, George and Amal and William and Kate would be envious of what was next on the itinerary, as the wedding party donned white terry robes and ventured to the open air rooftop pool where they were treated to a celebratory champagne toast at their private poolside cabana on a sun-splashed, gorgeous winter day in the desert. Toby and Heather enjoyed a side-byside Signature Massage, the perfect way to let loose of any prematrimonial jitters that most couples experience.
The rest of the afternoon was all about relaxation and hanging out with friends and family at the resort's main pool, then they all retired to their spacious suites to unwind and decompress, knowing that the main event was just hours away.
Saturday, February 7th, 2015: Wedding Day
Show Time. The day the bride and groom had been anxiously awaiting had finally arrived, and this fairy tale wedding was about to become a reality. But first, as anyone who has been through a wedding day knows, there were some preparations to take care of. Celebrity makeup artist Heather Wilson and stylists from Artistry on Location transformed the already-gorgeous bride-to-be and her bridesmaids into beacons of beauty who would be equally ready for any Hollywood red carpet event.
The photographers who captured every moment were bona fide wedding experts. Ben and Kelly Koller of Ben and Kelly Photography not only instinctively knew how to capture every magical moment, but they were oh so adept at seemingly being everywhere, never missing a perfect photo opportunity, yet always remaining unnoticed and unobtrusive. Their breathtaking photos speak for themselves, as you can see by the results in this story. Their skills alone will make the memory of the day live forever and truly bring a larger-than-life feel to the entire experience.
The pre-ceremony wedding photos were taken on this sunkissed Scottsdale day on the meticulous grounds of the Princess. They were followed by the arrival of two stretch limousines dispatched to pick up the wedding party and deliver them to the site of the ceremony and reception, Aero Jet Services' private jet hangar at Scottsdale Airport. The site of the ceremony had to meet several criteria. It needed to raise the bar on the 'wow factor.' It had to be something that normally you could not attain, and it had to be capable of providing a dramatic finish to the entire weekend. The Aero Jet Services hangar was the perfect choice.
For the ceremony area, Kevin Reed of Your Event Florist started with a large, blank canvas of cement, and he created a custom, 12 ft. x 12 ft. natural living wall to serve as a backdrop and bring a softened, natural ambiance to the site. It still allowed guests to feel like they were in a jet hangar, but brought beauty to the expansive area and gave the guests a focal point. The custom wall was covered with green moss and assorted silver-painted succulents as a nod to Arizona living, and was further enhanced with the couple's "T" Monogram made of orchids. The remaining décor for the ceremony site was done in all white per the specifications of the bride and groom to provide an elegant, but natural setting for the ceremony.
A step-and-repeat backdrop with a custom logo for the event was staged at the entrance, and a professional photographer was on hand to snap photos of all incoming guests to set the tone that this wedding was going to be unlike any other. Commencing in late afternoon, just prior to sunset, beautiful classical string music by Cindy and Robert Leger of Ocotillo Music established the perfect mix of romance, love and laid-back Arizona fun. The alluring sonority of a finely-played cello and the bright tremolos of the mandolin filled the air and set the mood for the ceremony that was about to begin.
Candles and grand, ornate and stunningly beautiful white floral arrangements lined the walkway which lead to a custom-crafted altar. Two private jets flanked the guest seating area and altar, shimmering in the late afternoon glow of a picturesque Southwest sunset and providing the ultimate backdrop. The excitement mounted as the ceremony climaxed with the "I do's," and as Toby and Heather strolled back down the aisle, now as newlyweds, it was time to get down to the serious business of throwing a wedding reception that would continue this ultimate dream wedding in appropriate fashion.
The reception started with top-shelf cocktails from Pour Masters in the open bars along with hors d'oeuvres, including Spicy Ahi Tuna Tartare and Eggplant Caponata Eggrolls from Ciao Baby Catering. Approximately an hour later, two immense sliding doors that guarded the contents of Aero Jet's hangar opened simultaneously, like giant curtains being pulled back to start the Oscars. What bombarded the guests' senses next was a jaw-dropping wave of astonishment as the interior had been completely transformed into a party/reception space that looked like a cloud met a fairy tale and landed on the trendiest hotel on the Sunset Strip.
Top-of-the line vendors such as Kool Party Rentals for the tables, chairs, lounge furniture and drapery; and Classic Party Rentals for the china, glassware and flatware helped create the setting. Elegant drapery framed the entire hangar and vibrant uplighting highlighted the signature purple theme and created a warm, intimate atmosphere. Aero Jet even staged a Dassault Falcon 20 inside the hangar in the middle of it all to add to the ambiance.
Majestic floral compositions graced each table, all designed and created by Kevin who drew inspiration from the esthetic of Amy's wedding décor concept, which was a theme of modern, white elegance for the ceremony and rich, luxurious purple for the reception.
Two styles of centerpieces were custom created. One design utilized 100 purple Bombay orchid strands, each with 100 handstrung orchid blooms for a total of 10,000 blooms. Tall glass vases were filled with roses, hydrangeas and orchids in shades of purple, fuchsia and red, and set atop mirrored tables. Petite versions of this floral design were replicated throughout the hangar.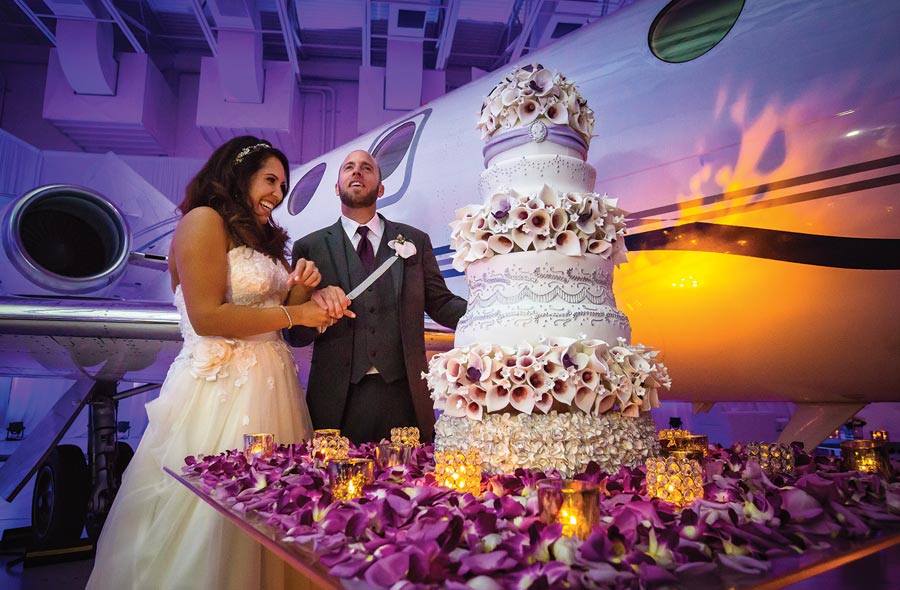 The couple strived to offer their guests fare and libations that were in keeping with this opulent celebration, and they succeeded, since attendees raved about the sit-down dinner. "The food was phenomenal!" was a quote heard frequently from table to table. The Roasted Pear Salad with Baby Greens and Balsamic Roasted Pears was exquisite and the Marcela Wine Reduction Chicken Breast served over Seven Herb and Parmesan Risotto was divine, all courtesy of Ciao Baby Catering.
The five-layer wedding cake consisted of red velvet cake with cream cheese filling, and chocolate cake with salted caramel filling. Elegant hand-folded and hand-painted ruffles and edible silver accents, understated lavender draping and floral and sparkling elements covered the entire cake. It featured over 350 handcreated and hand-painted sugar flowers. The detailed filigree design made from royal icing gave the cake a feminine, elegant and flawless look. Tina Cubbon, owner of Pixy Cakes, and Tricia Callahan, her head decorator, enjoyed making this challenging work of art come to life.
After two full days of excitement and Jetset-worthy service, opulence, pampering and pleasure, Toby and Heather stood together as a married couple inside this pristine airplane hangar with their closest family and friends. Now it was time to look forward to the honeymoon, which Toby had gone to great lengths to keep the precise details of from Heather as if he were storing nuclear launch codes.
The coup de grace to the weekend was yet to come, and it was time for the final ultimate dream wedding surprise to reveal itself. With music playing in the background and a crowd of well-wishers shouting out their goodbyes, the newly-married couple walked about 50 yards to where a sleek and sexy Citation 500 awaited them with a full tank of fuel, two bottles of cold champagne in the passengers' deck, a suitcase full of clothes and a pilot ready to whisk them away on their final surprise.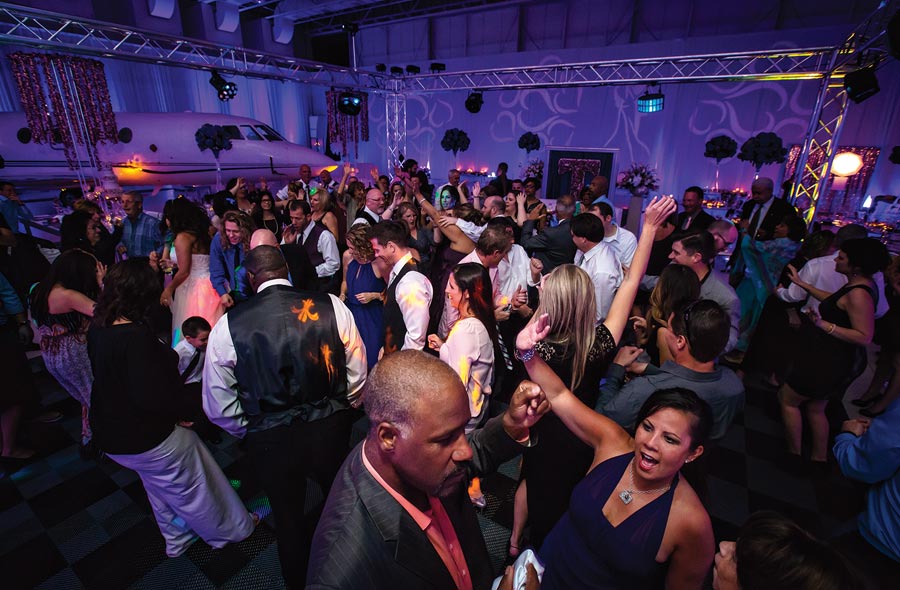 The star-kissed night sky night made the moment feel like it was fit for a king and queen. Toby and Heather turned one last time to wave goodbye, then stepped inside the private jet. Once the cabin door closed behind them, the Citation taxied slowly down runway one of Scottsdale Airport and received an immediate okay to launch into the night sky. Destination: Las Vegas, for a three-day honeymoon where they celebrated the beginning of their new life together and marveled at how their dreams of having the ultimate jetsetter wedding really came true.
Additional photos below. Click on image to zoom.
Each of these vendors made an extraordinary contribution toward making our ultimate dream wedding a spectacular success. Jetset is extremely proud to have worked with these talented and creative professionals and we encourage you to consider them when planning your own special events.
Producer
Arizona Weddings
480-451-1059
Planner/Designer
Amy Mancuso Events
Amy Mancuso
602-482-7792
Accommodations
Fairmont Scottsdale Princess
480-585-4848
Venue
Aero Jet Services
480-922-7441
Photography
Ben & Kelly Photography
602-909-3618
Makeup
Heather Wilson
602-750-2379
Hair
Artistry on Location
480-628-2639
Florist
Your Event Florist
Kevin Reed
480-203-2740
Caterer
Ciao Baby Catering
480-636-1634
Wedding Cake Design
Pixy Cakes
623-907-9778
Ceremony Music
Ocotillo Music
Cindy & Robert Leger
480-559-3656
Tables/Chairs & Drapery
Kook Party Rentals
888-525-5665
China/Glassware/Flatware
Classic Party Rentals
800-678-3854