Yes, I am among the tens of millions of people who have sung along (albeit not well) to "Chicken Fried," "Free," "Highway 20 Ride," and many more of Zac Brown Band's mega hits.
Brown's songs have an inescapable power that has captivated plenty across America. Equally powerful is the story of the man beyond the music and his awe-inspiring commitment to helping others.
One need only to attend a Zac Brown Band concert to experience how Brown and his team beautifully weave a tapestry of social good, sonic exuberance, and purpose in life into a fine work of art. Whether it's with a tribute to the military or his passion project, Camp Southern Ground, Brown has perfected this integration like a fine artist, masterfully uniting others to join in his pursuit of social impact for the greater good.
Brown's genuine commitment to purpose rings through as he shares his personal experiences as a camp counselor and just how much a positive camp experience can have in transforming a child's life. Time and time again, the Grammy Award-winner brims with emotion as he reflects on the camp, which serves children ages 7-17 by teaching them healthy life skills including nutrition and physical exercise.
But this is not just any camp. Committed to children with both typical and special needs, the camp offers activities to challenge, educate, and inspire children with diverse abilities from all socioeconomic backgrounds, races, and religions. Aside from the many traditional camp activities that foster youth development and create teachable moments for campers, the camp also embraces the latest innovative therapies and technology. They have specific treatments and programs designed for children affected by neurobehavioral disorders, including Asperger's, Tourette's, and autism spectrum disorders, as well as learning differences such as ADD/ADHD and dyslexia.
Invariably, concert after concert, fans are touched by the incredible work of the camp and becoming part of the growing Southern Ground community.
Authentic From the Start
Fresh off the mega success of his debut album, The Foundation, I had the opportunity to collaborate with Brown in 2010 as part of a GRAMMY in the Schools promotion. From the word "go," he was all-in, offering to meet and perform for kids at schools with heart and meaning. At the time, Brown commented on harnessing the power of music. But he also made a commitment to do more. And do more he did, transforming 400 acres of dirt nestled on farmlands just outside of Atlanta into what just five years later has become Camp Southern Ground.
"Time and time again, the Grammy Award-winner brims with emotion as he reflects on the camp, which serves children of ages 7-17 by teaching healthy life skills including nutrition and physical exercise."
In unison with the construction of the camp, Brown has shown a laser focus to spread the word and invite his fans to support the organization. If you attend a Zac Brown Band show, you'll witness the dedicated approach Brown orchestrates, as Camp Southern Ground is fully-integrated into the concert, with:
An "Eat and Greet" event pre-show for special guests – no standard meet and greet, as Zac, the band, and Chef Rusty Hamlin cook up a special meal for guests, serve them personally and provide a once-in-lifetime hangout.
$1 ticket from each concert ticket sold donated to Camp Southern Ground.
Video messages played to promote Camp Southern Ground during the concert.
Personal moments shared by Brown as he talks about his vision in between songs.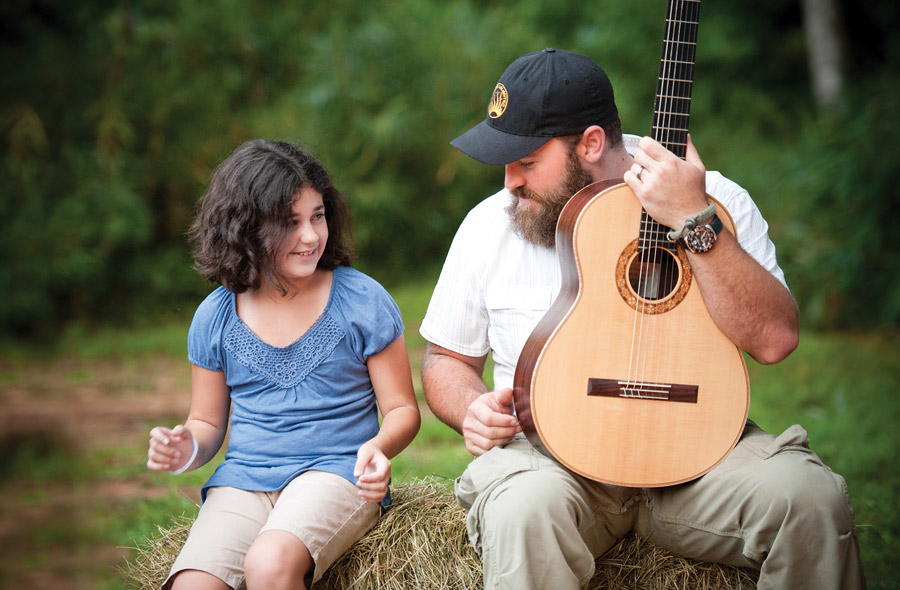 Beyond his passion for the Camp, Brown and his band are deeply committed to supporting military families and veterans. From appearances at USO Shows to lyrical references in his music to special tribute performances, Brown has always made our veterans a central focus in his career. He currently hosts an activation booth at concerts that allows fans to pledge support for the Warriors to Summits program, which empowers veterans and transitioning service members with disabilities (as well as the dependents of the fallen) to break through barriers by walking, climbing, and other activity events. Always mindful of integration with his concert experiences and leveraging the power of music for purpose, Zac Brown is a shining example of what artists can accomplish when they devote themselves to a greater good.