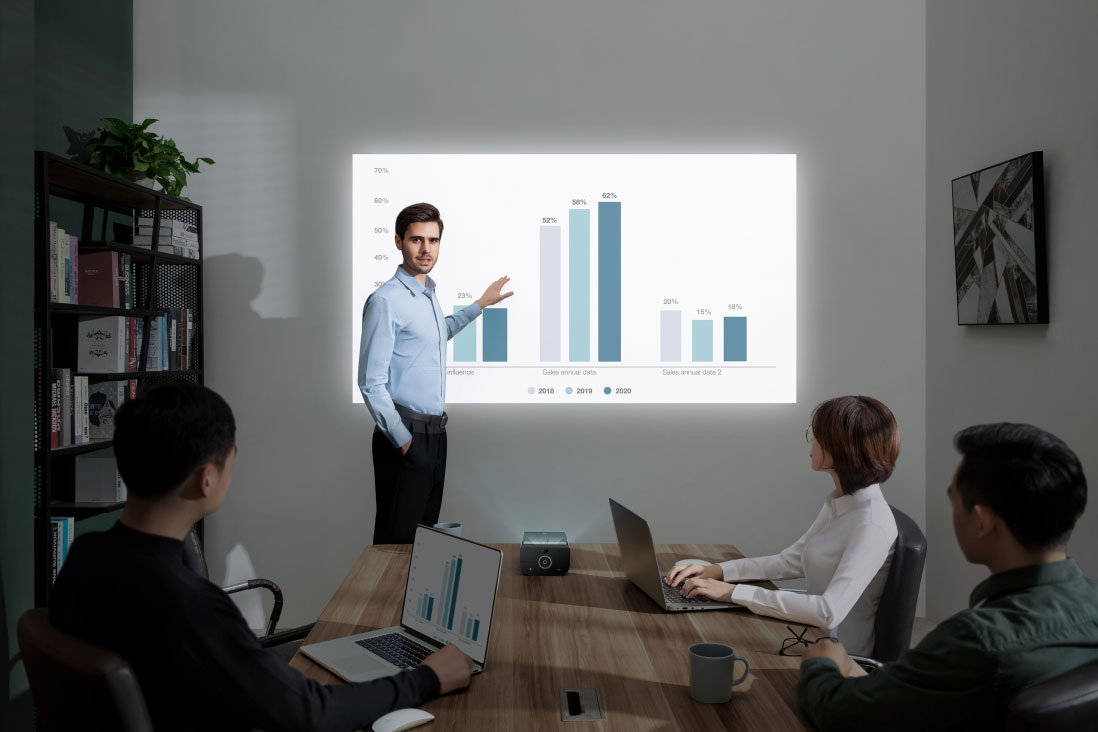 The second generation Hachi Infinite M1 projector system not only projects a screen up to 100-inches on walls but turns any flat surface into a multi-interactive touchscreen. The smart device was introduced at CES 2020 Innovation Awards where it received rave reviews and was selected as an Honoree for outstanding design and engineering in consumer technology products. The portable projector and smart home entertainment system has expansive uses, from watching movies or projecting video calls as a standalone projector to using it as a business tool or playing interactive games as a touchscreen.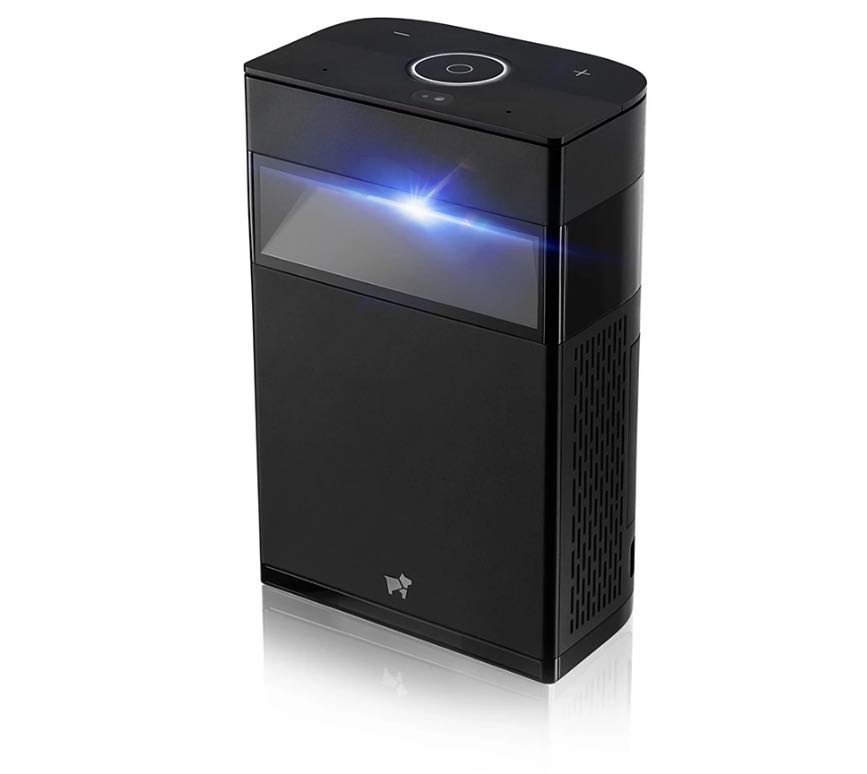 The 10-point fingertouch technology called AnyTouch turns the projector into a 23-inch interactive and collaborative touchscreen and is one of the many aspects that set this product apart from projectors with basic capabilities. Some additional innovations found in the Infinite M1 include:
Upgraded processor to Qualcomm Snapdragon SDA 670 – AI engine with supporting 6GB Ram and up to 128GB of storage
Built-in 2 x 5W speakers provide excellent home theater quality sound
Cinema screen with up to 100 inches at a distance of only 50cm
600ANSI lumens HD display with bulbs that last 20,000 hours (about ten years)
Built-in Android OS 9.0 with all-new custom UI
Diffuse reflection imaging to protect against eye strain
Because the system works on an Android 9.0 operating system, users are able to access streaming services like Netflix and any Android app ever made to play games, work, watch movies, entertain, cook, work out, or educate creating an immersive experience for both adults and kids without connecting to your phone or tablet. The system has a control interface like a tablet, built in Wi-Fi, and Bluetooth allowing it to be paired with other smart devices. The Hachi Infinite M1 features 128G of built-in storage, and an HDMI and USB port to connect to your laptop when necessary.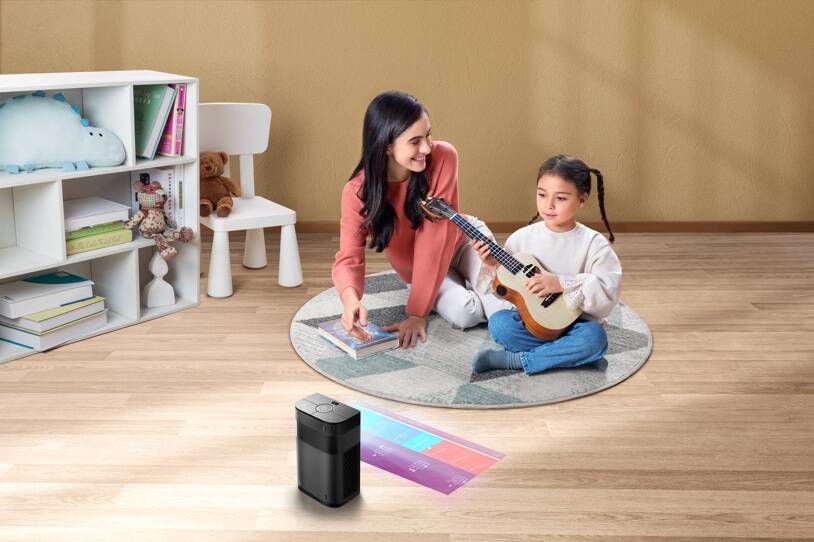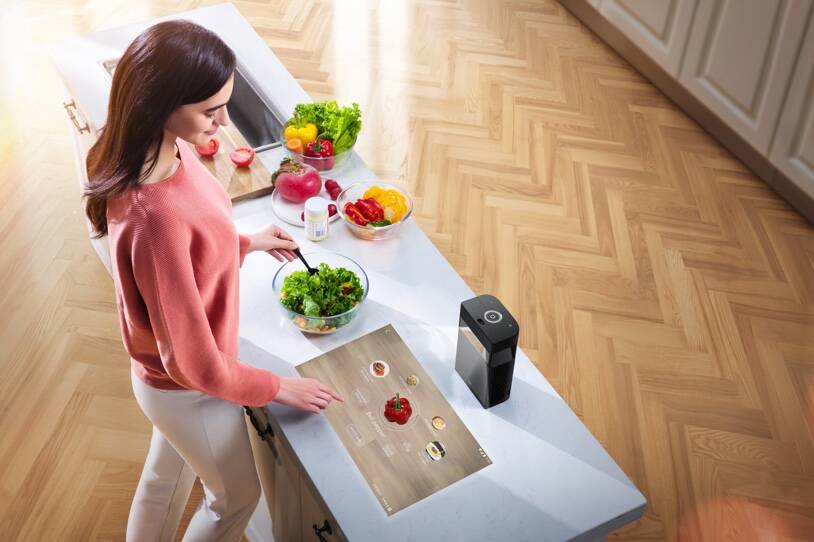 The small form projector measures 3.15 x 8.46 x 5.43 inches and weighs 2.86 pounds. With two to three hours of battery life as well as many plug-in capabilities, the small form Infinite M1 is extremely portable. The super sleek design has one visible USB-C port, while the HDMI, additional USB-C, and 3.5mm headphone jack are secretly tucked behind a door at the back of the device. It comes with a sleek rechargeable remote and has voice control capabilities.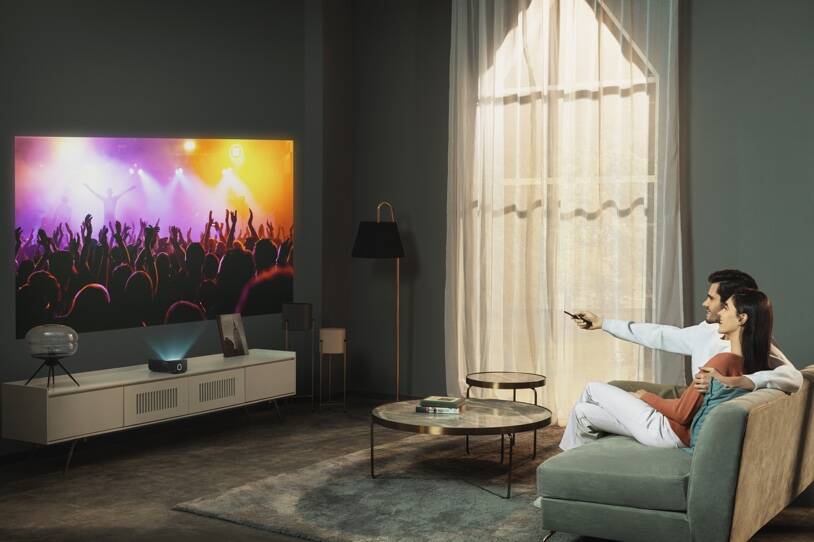 Wireless screen casting allows for convenient presentations and functional demos in any location making it a savvy business tool as well. "This feature makes the device a functional tool for retailers, museums, etc. to leverage and provide visitors with an interactive experience in these locations," said Tang Song, VP of technology at Hachi.
To learn more about the Hachi Infinite M1, visit the Hachi Smart website.