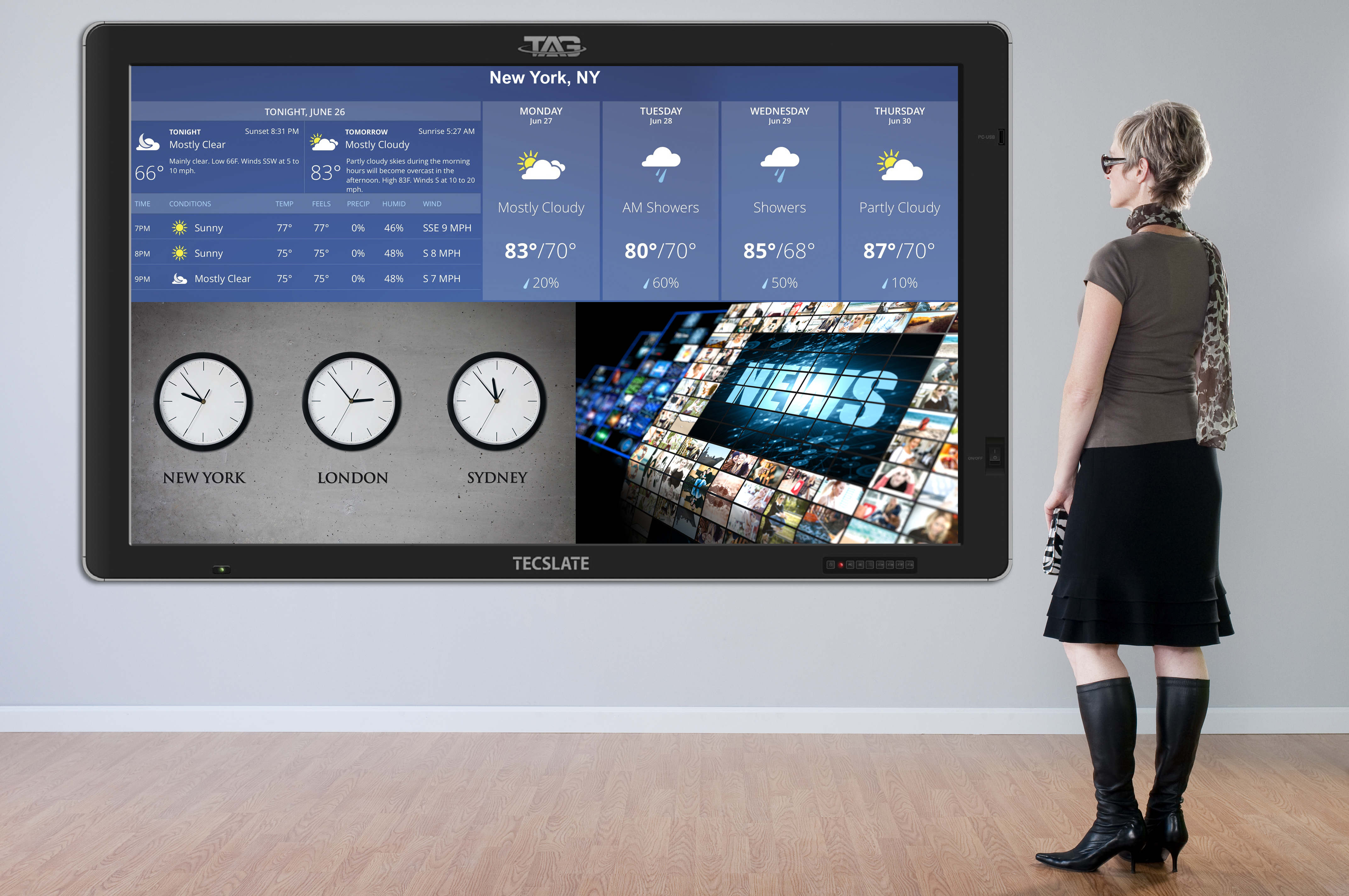 By this time you have probably got an idea of what the TAG TECSLATE™ can do for you and your every day technology needs. It has been featured in Jetset Magazine Issue 4 2015 "The Future is Here – Revolutionize the Way You Work and Play" and Issue 1 2016 "Tomorrow's Technology…Today – Spending Time with the TAG TECSLATE", and now again in Issue 3 2016. The challenge behind describing such a device is to show it's many features so it doesn't only look like a television. The picture of a TAG TECSLATE™, alone, does not do it justice.
Special Features
TECSLATE Pro Interactive Software – The ultimate collaboration software, it allows you to annotate and collaborate from multiple locations. All annotations and changes to documents, images and spreadsheets can be saved directly in that program.
SplitView Screen Partitioning Software – Enables a true multi-monitor experience, Terminal Services, Remote Desktop, as well as other visualization, remote desktop and thin client technologies. SplitView provides several productivity boosting enhancements such as the ability to move windows efficiently between multiple monitors.
Digital Signage Software – Digital Signage is used typically to inform or advertise. There are major benefits for digital signs over traditional static signs, including the ability to update content remotely over the Web, adapt the screens to your viewers and even interact with your local audience.
Tablet / Laptop Screen Mirroring – Enables wireless sharing of videos, music, photos, web pages, and many types of documents from your phone/ tablet/laptop to the TAG TECSLATE™.
Product Specs
• Available in 65-inch & 84-inch
• Brilliant 1080P LED or 4K
• 10-Point Multi Touch Screen
• Anti-Glare glass for effective indoor or outdoor usage
• Finger or Stylus Input
• 16 GB Ram
• Includes the latest Microsoft Windows™ software
• 64bit OS
• Video Conferencing
• Low Power Consumption
• Intel® Core™ i7 Processor
• Intel® Video Card
• 1TB Hard Drive or 256 SSD
• Multiple Inputs/Outputs
• Mounts on wall or wheeled stand for mobility
Simply calling it a "tablet" is like calling a Bugatti a "car". The TAG TECSLATE™ and its many features and functions have made it a game changer in technology for the way people do business.
"I was in search for a cutting edge, interactive, game changing technology that was versatile for the many various needs for my clientele and came across the TAG TECSLATE by TAG Global Systems. There is no better device currently on the market at this price point that compares to the TECSLATE. Whether for your business, school, and municipality of nonprofits, the TECSLATE will take your operations to the next level. The TAG Team was knowledgeable and great partners to work with."
– John Lek, SVP and General Manager,
Green Dragon Tavern & Museum
The TAG TECSLATE™ provides solutions for, simply, doing business faster by convenience. Two of the greatest features are how fast and large the TAG TECSLATE™ is to be able to conveniently download your desired software and view it on a large scale. Some people call it a computer, a whiteboard, a large-form tablet, and a television…and it is all of these things in one device, plus more!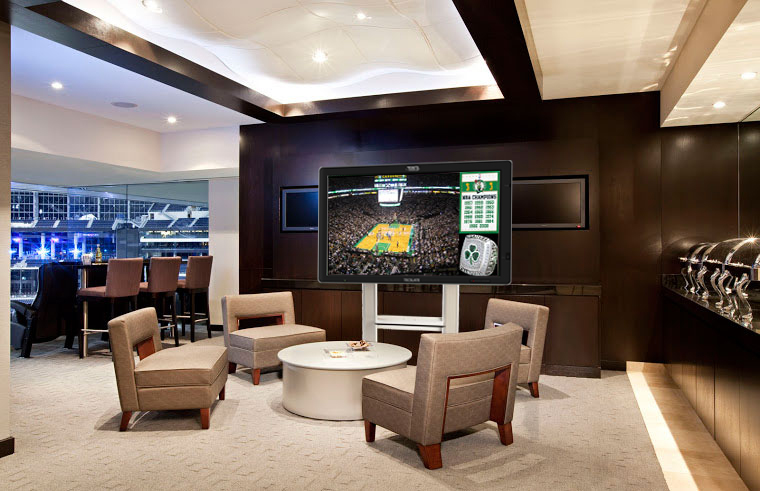 Today, various businesses are adopting video conferencing to do work by means of having remote staff within their companies. It is said to be the way of the workforce today! This is a testament to the advance mobile technology needs the TAG TECSLATE™ brings to the market. The TAG TECSLATE™ is designed around the anticipation of telecommuter's growth for mobile technology. The mobile stand for the device is uniquely designed to make it convenient to move around from building-to building.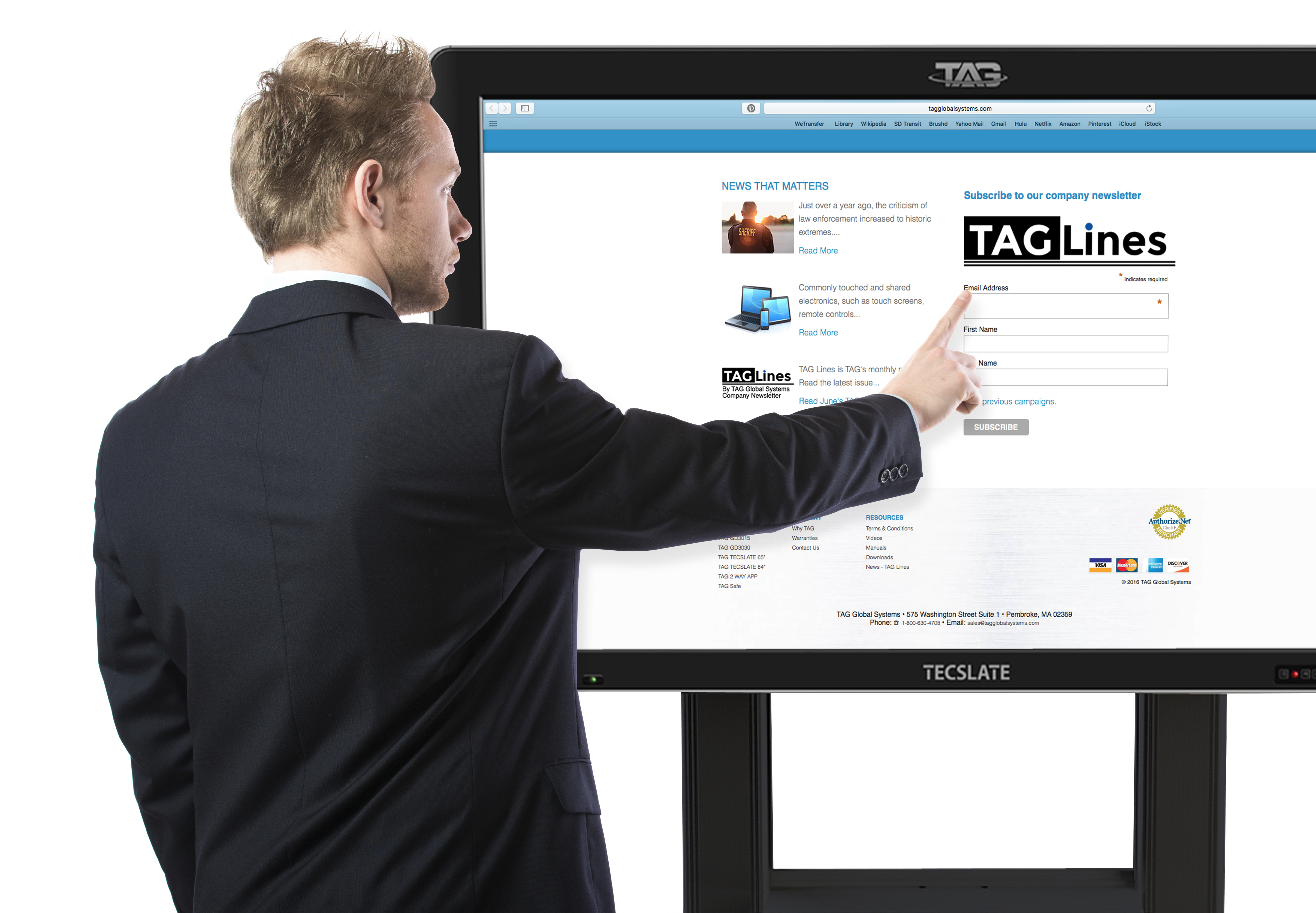 It is also a one-off feature on a conference wall. Video conferencing capabilities allow telecommuters to see the entire room of people with the supplied HD camera in real time.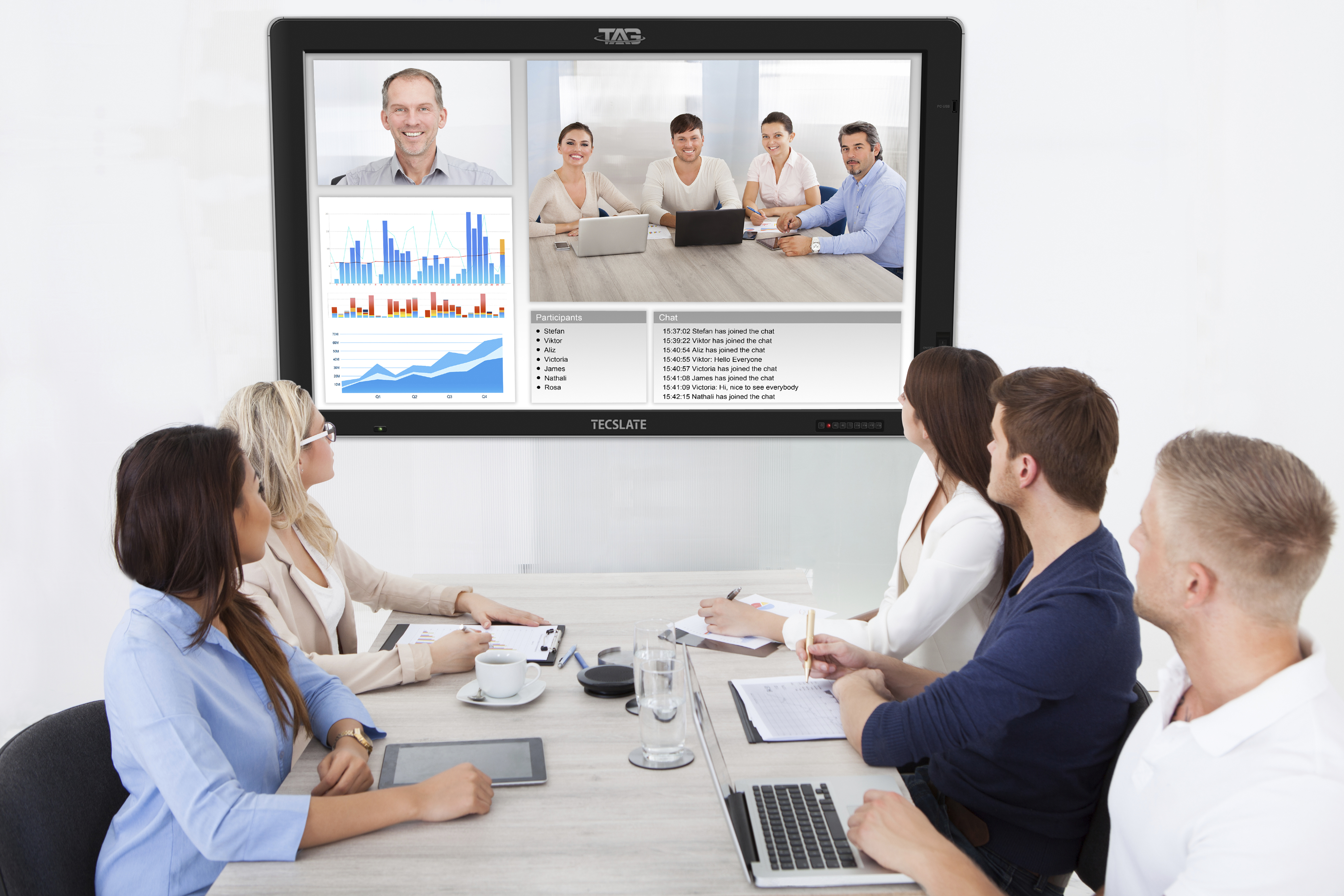 "This is a great product/tool. We use this for many meetings with our membership and stakeholders on a regular basis. The ease of mobility by having the device mounted on the stand has been a great value."
– Athena Hutchins, P.E., NITTEC
Do you remember…when mobile devices, such as our personal phones, took over work done on desktop computers, phone books, print maps, and more? The TAG TECSLATE™, in its large form, can be your all-in-one device that removes projectors, overhead screens, laptops, whiteboards, TV remotes, and easel used today in the workplace.
Do me a favor…picture what your needs are today for effective integrated media systems in your business area. Do you spend multiple dollars on technology to have a complete system in place? If so, a TAG TECSLATE™ is your answer to cut cost and increase productivity with an upgraded modern design to make any setting sleek and sophisticated.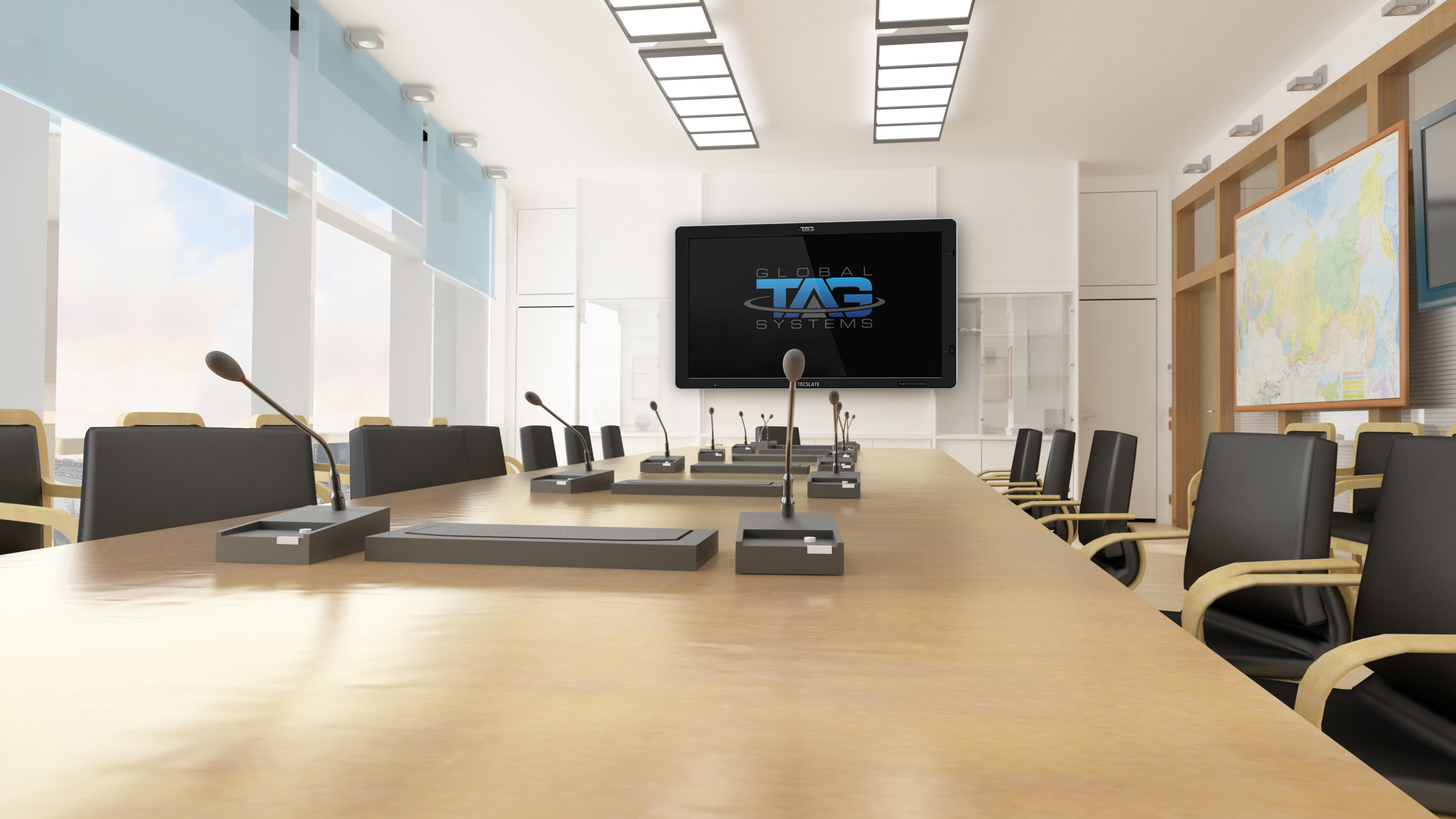 "As a co-working space for tech and non-profits startups, Canopy Somerville is always looking for tools that provide multiple purposes and differentiates our space in the highly competitive shared workspace market. The 65″ TAG TECSLATE does exactly that for our team and the entrepreneurs in our space, by providing a visual impact for pitches, a magnet for presentation during demo events and the mobility we desire for the multiple users in a co-working space."
– Simon Towers, Co-founder of Canopy
The Company
The TAG TECSLATE is a product by TAG Global Systems (TAG) – a leader in the industry for advance technology. TAG is sought out to fulfill the unique need for the technology enthusiast. TAG has spent years listening to client's feedback to provide innovative, high quality technology products to maximize their technology investments as today's entrepreneurs in technology.
With that being said…The TAG TECSLATE's newest feature is the TECSLATE Pro software. The software is equipped on the device to annotate and collaborate from multiple locations. All annotations and changes to documents, images and spreadsheets can be saved directly in that program.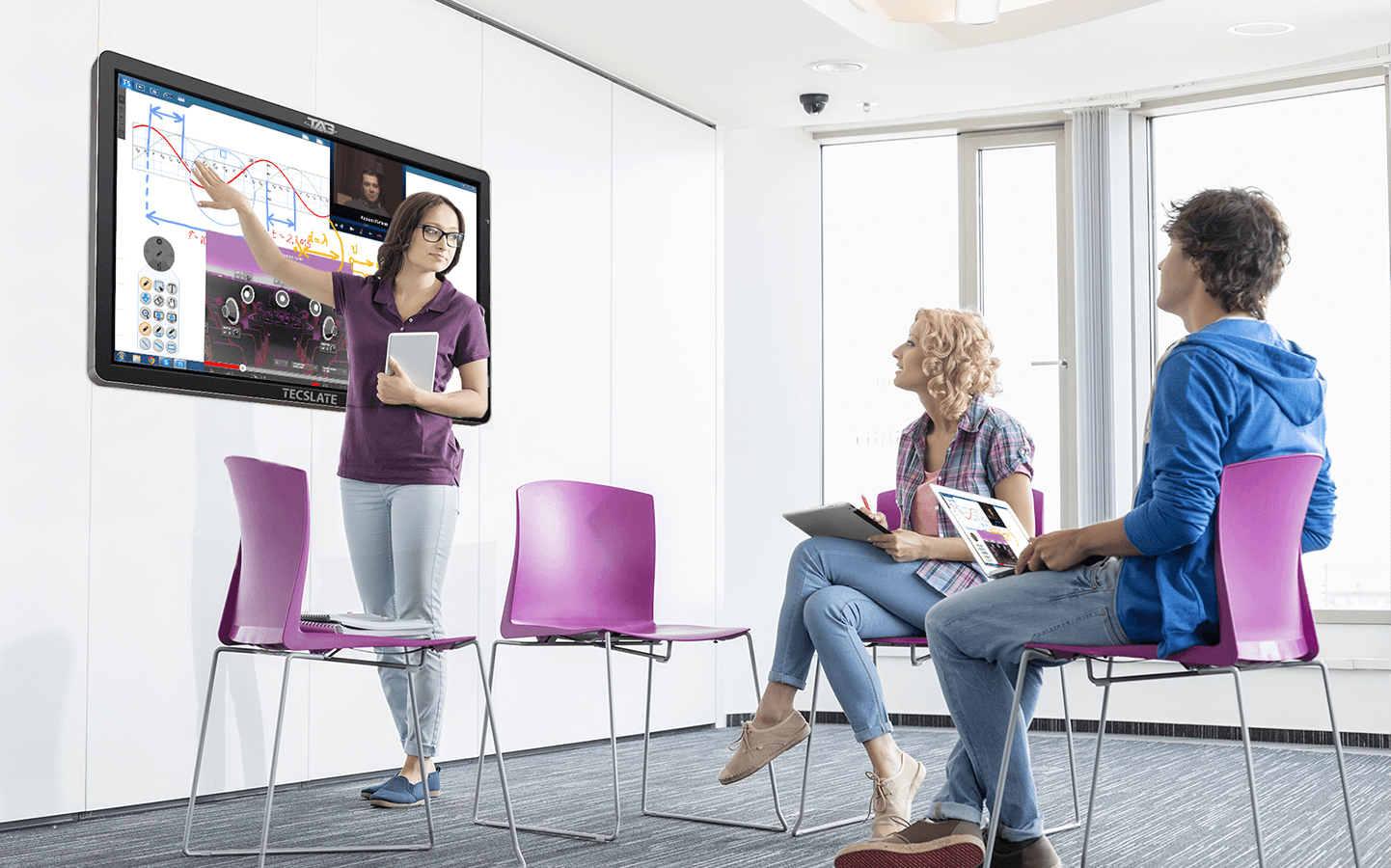 TECSLATE Pro software is designed to be a familiar Windows™ experience. The drag and drop feature allows you to move pictures, screenshots, and documents to the work area by touch or wireless mouse for quick annotating on an infinite canvas. The software is great for professionals collaborating and sharing of information.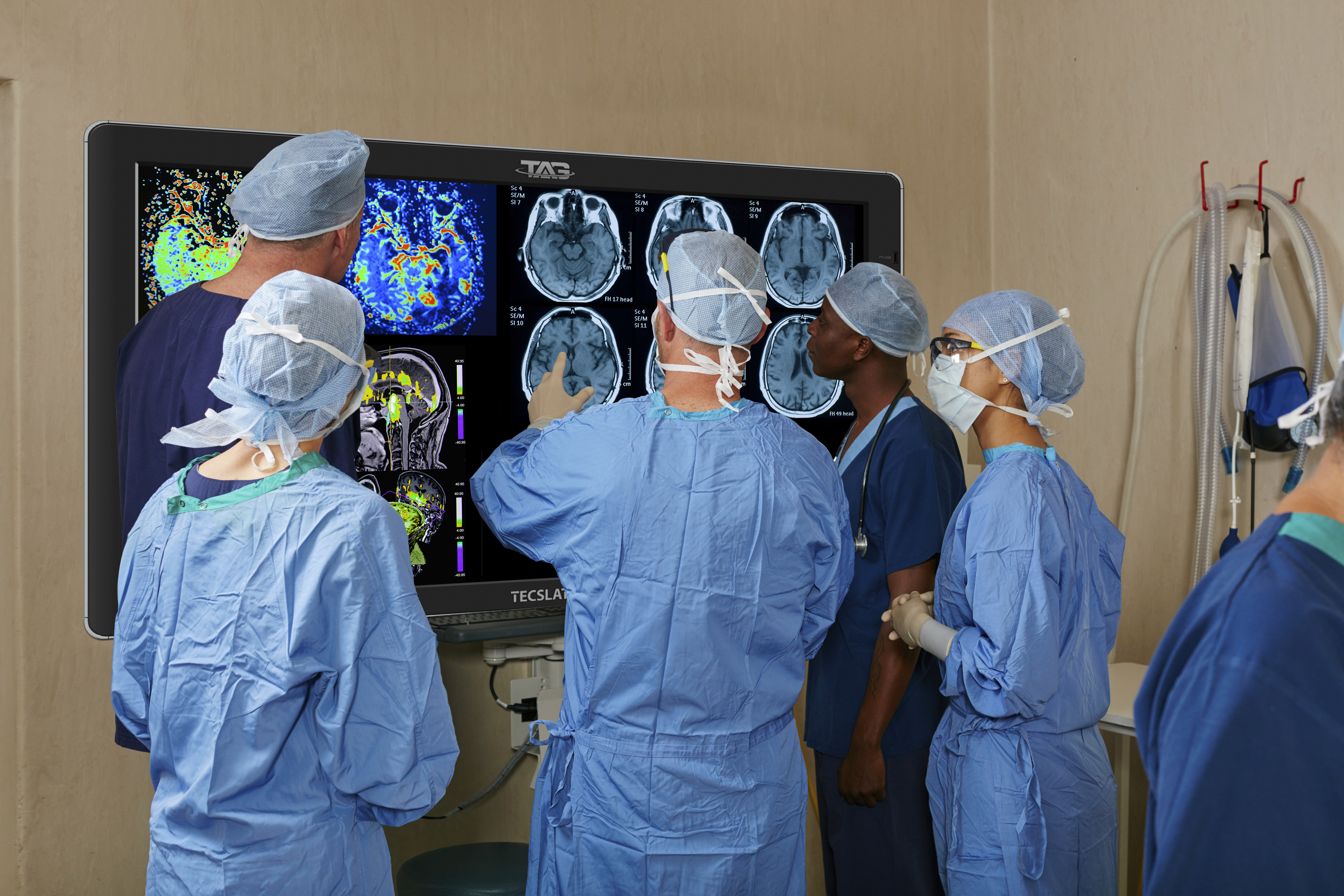 "TECSLATE Pro has increased our meeting productivity by 28%"
– Jessica Foreman, Oil Industries

"TECSLATE Pro has reduced travel expenses by 40%"
– Darren Thomas, President Unlimited Gym

"Create powerful slides in minutes"
– Alex Terrell, CEO Smart Co.
The TAG TECSLATE™ can keep you connected in every situation, as it is a large form computer. With the latest Windows™ software, you can download your favorite applications.
As mentioned earlier, experiencing the TAG TECSLATE™ is the only way to truly appreciate its capabilities. The device is a frontline technological solution for any business, luxury, or personal setting.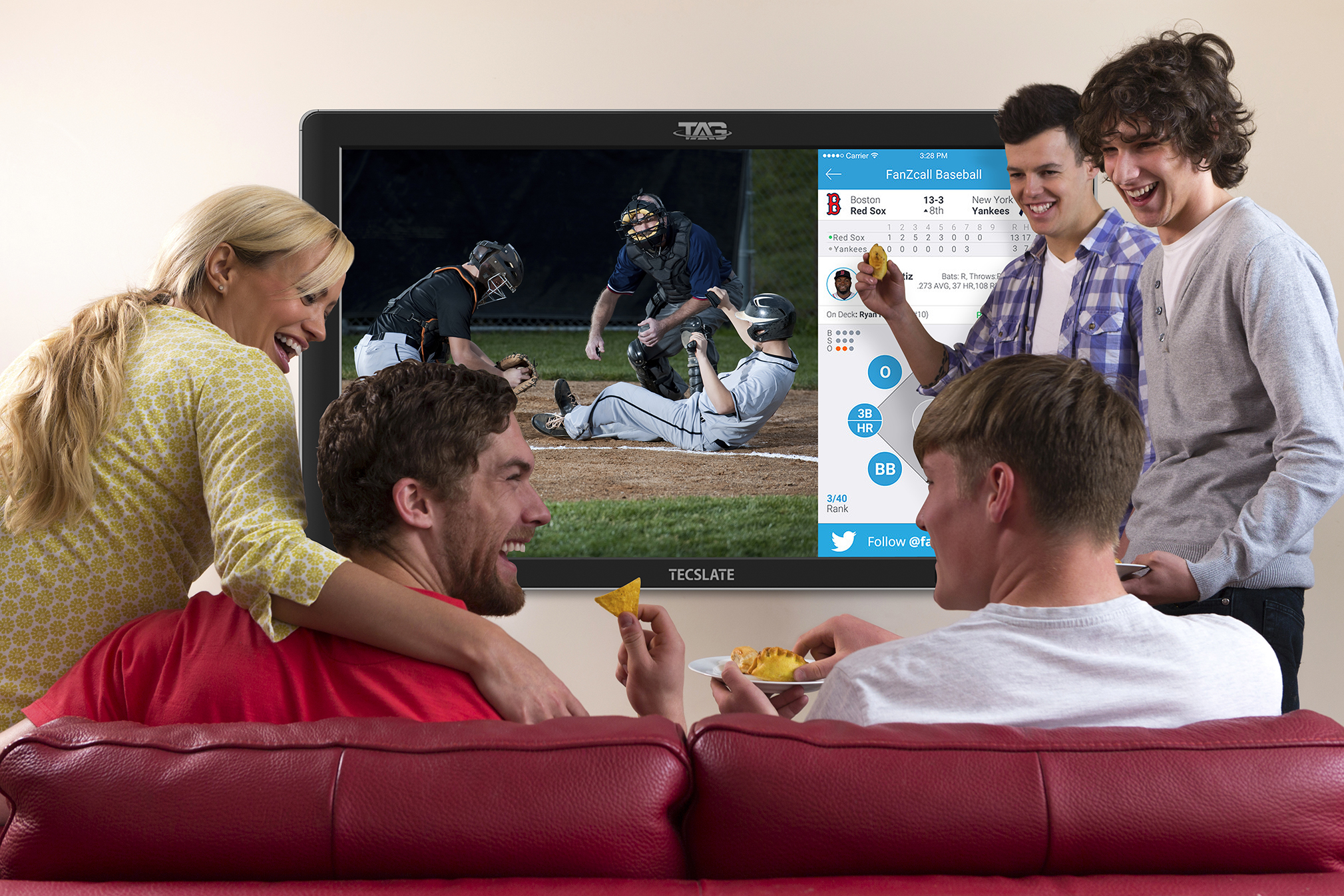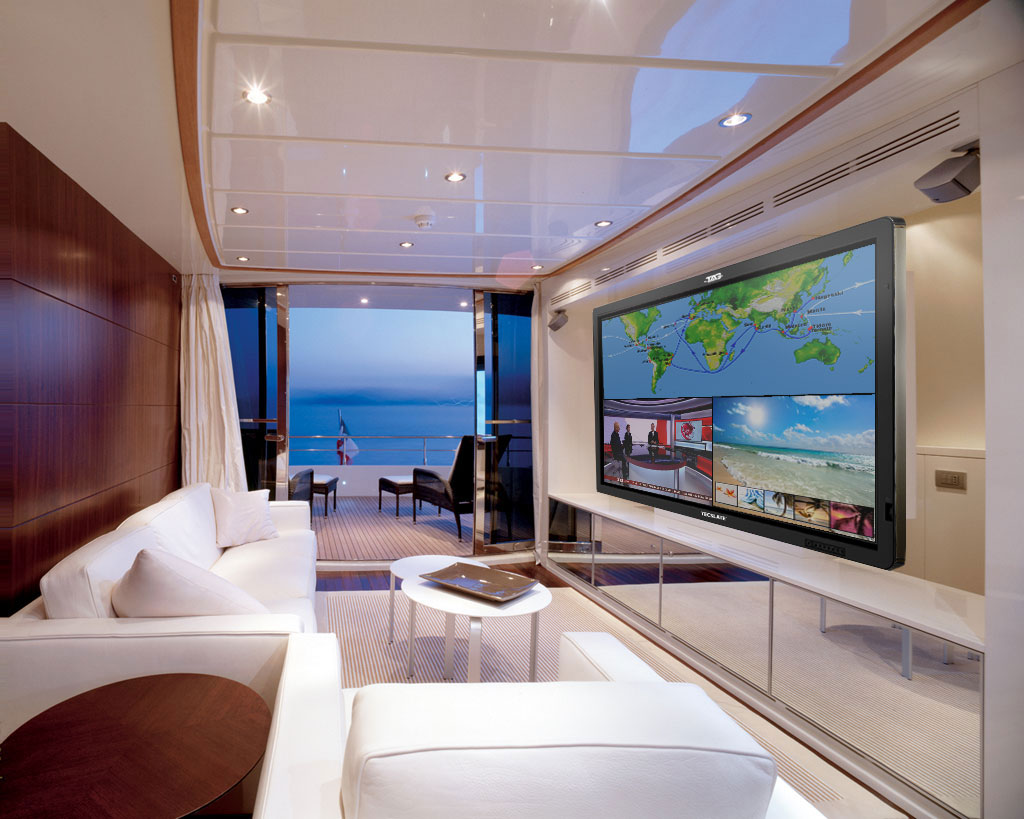 Integrate the TAG TECSLATE™ in your world whether it be work, play, or your every day technology needs and you will experience the life-changing convenience it brings to your practice. Like most advance technology, it will be hard to go back to your old way of doing business. Why would we ever go back to a flip phone? That is the feeling you will get with a TAG TECSLATE™.
"Tomorrow's technology is offered today to give convenience and luxury to our business, high-end-users," says Dov Koplovsky, CEO and President of TAG. TAG's philosophy is one of a solution-driven culture that adds value. The company builds brand loyalty by delivering solutions as a trusted advisor to fulfill a unique need. "Our proven practice of delivering tomorrow's technology today, time-and-time again, is exactly what builds that loyalty," Koplovsky adds.
For more information and pricing contact:
1.800.630.4708 [email protected]
www.tagglobalsystems.com