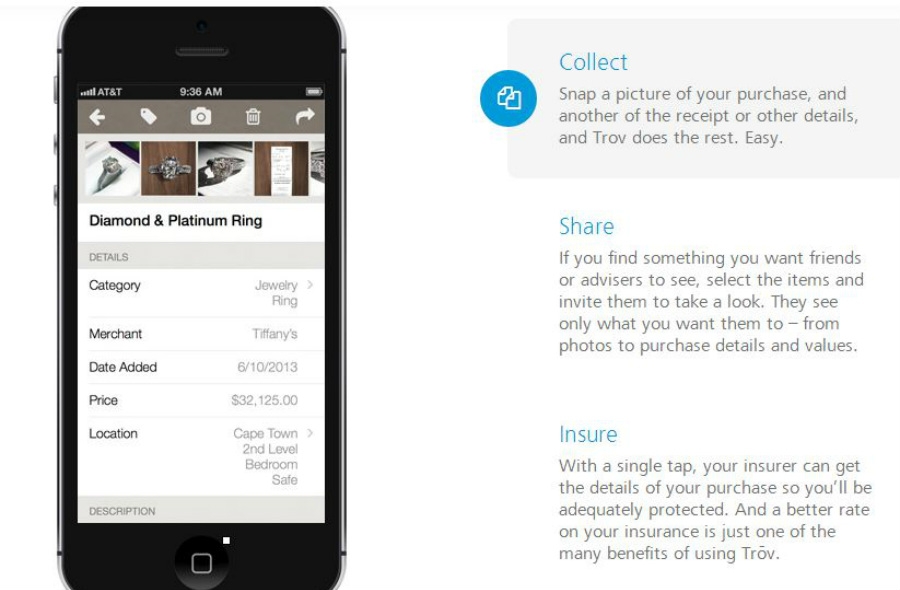 California-based Trov has been quietly building a way for individuals to take stock of the assets that often go uncounted, those tangible assets that include physical possessions and general stuff, including wine and Faberge eggs and all the other wonderful things that the very wealthy tend to accrue.
Today the company announces its total investment raised to date of $6.8 million, across both a Series A and Series B round.
Trov's round is led by Dr. Gordon Bell, a Microsoft research and longtime Valley fixture, along with a number of other private angel investors. The money will help the company hire more engineers, and partner with more companies to offer benefits to its members, as well as expand sales efforts. The startup's target market is a very specific bunch; it includes the top high net worth individuals in the world to start, with plans to begin targeting slightly less afluent (but still wealthy, relatively speaking) indivduals down the road.
Why is Trov limiting itself to high-income targets? Because it serves a very specific function, which is appraising and tracking the value of tangible assets, as in not your prized Xbox or that plaster Elvis bust you got from the flea market. The company partners with accredited appraisers and property and casualty insurance (P&C) companies to itemize a member's stuff, and then tracks the value of it over their lifetime using "algorithms and eyeballs," Trov founder and CEO Scott Walchek told me in an interview. This has benefits for members and Trov's partners.
"We're targeting the high net worth by achieving distribution through their influencers," he explained. "The influencers who get the most benefit from an activated Trōv are the property and casualty insurers and the wealth managers. The P&C insurers get benefit because we are for the first time adding transparency to the changing value of the things that they are insuring."
The P&C partners get better insight into what they're insuring, which allows them a higher degree of accuracy, and the wealth managers get a better look at what their clients are specifically passionate about, in addition to achieving a more complete and accurate picture of their clients' treasure hoards, so that they know what they're working with. Members benefit from this by getting the best coverage for their assets from insurers and better service from a variety of professionals, including wealth managers, but also real estate agents, auction houses and more. And as with all things designed for the super rich, there are a number of assorted perks associated with Trōv memberships, too, likewise enabled through partnerships Trov has made.
Ultimately Trov is about data and shedding light on an area that's not been well-documented in the past. It's a service that I may never use, as my finest bottle of wine is a $3 bottle of beer, and my most expensive art piece is a $30 framed print from a comics convention (the frame is worth more). But insurance companies are a powerful ally that seem very interested in what the startup has to offer, and with their help, signing up the wealthy to catalogue their many less-quantified riches could be a very profitable enterprise.
Follow Trov on Twitter @mytrov