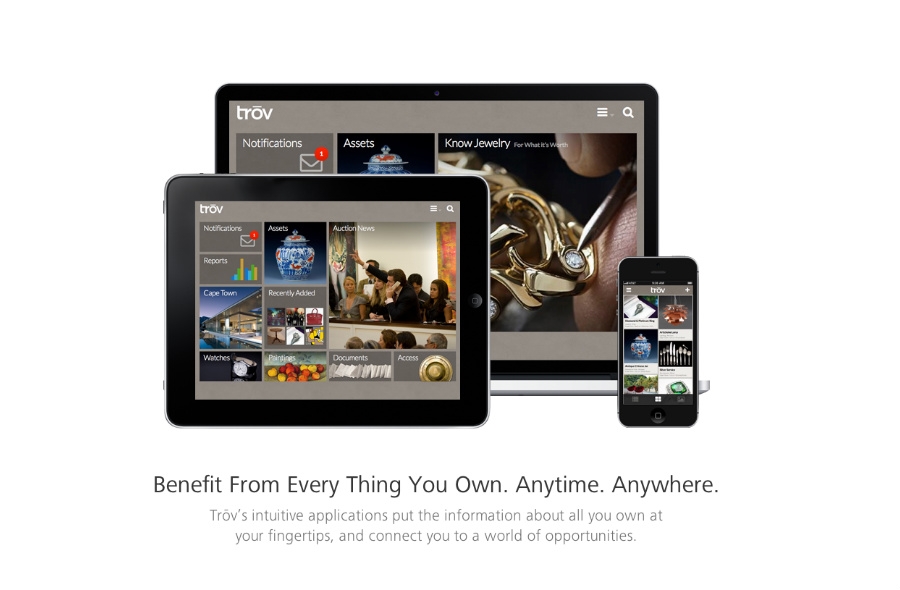 Leading insurers to offer significant policy discounts to Trov users.
Today Trov, whose applications help people collect and benefit from the information about every thing they own, announced the leading private lines Property & Casualty (P&C) insurers have agreed to provide discounts to policyholders who manage their tangible wealth in a Trōv. ACE, AIG, Fireman's Fund, Hiscox UK and PURE will provide significant discounts for qualifying policyholders who activate a Trōv to collect and manage information about their property and possessions. Trōv's technology and processes provide transparency into the value of insured items, enabling insurers to reduce risk and better protect clients' possessions through just-right insurance policies.
"This is a turning point for insurance carriers, for whom active management of valuables and contents is now a reality," said Scott Walchek, founder and CEO of Trov. "Trōv exposes changes to the values of insured items, and connects insurers to policyholders' acquisitive lives to ensure tangible assets are always accounted for and – with accurate insurance-to-value – always protected."
Trōv is a private cloud-hosted digital locker where detailed data about users' property and possessions is uploaded, regularly valued, securely managed and selectively connected to partners who offer advantages to Trov members. Qualified appraisers and insurance risk managers use Trōv's professional application, "TrōvCollect", to gather detailed information about tangible assets and assess value when they are in clients' homes. Additionally, new acquisitions can be automatically added to a personal Trōv at retail point-of-sale, via electronic receipts, and – soon – through Trov's mobile application. As items are added to a Trōv and/or values change, the policyholder is notified – and can automatically alert his broker to ensure that the items are properly insured.
"The bottom line for ACE and its clients is – with more information about their valuables, clients can make better decisions about how to insure them," said Bob Courtemanche, Chairman, ACE Private Risk Services. "We can use real-time valuations to help our clients maintain the right amount of coverage and also decide what items should have the added protection of a valuables policy. This could be a key differentiator for ACE and for the individuals who depend upon us to protect their most valued possessions."
"We are excited to work with Trōv and our mutual customers to help them manage their tangible wealth," said Jerry Hourihan, executive vice president and CMO, AIG Personal Lines. "Instead of storing this information on spreadsheets, hard drives, or in file cabinets – data about tangible assets will live in Trōv's private online digital locker, where clients will be able to manage new purchases and monitor changes in value of their tangible assets. Working with Trōv to maintain a complete updated record of their property will make the insurance process, including claims settlement, more efficient and seamless."
"Trōv provides Fireman's Fund's Prestige Collections policyholders with a way to easily collect, manage, and track the changing values of their possessions," said Michelle Impey, Fine Art Director at Fireman's Fund Insurance Company. "This technology will enable these clients to gain visibility into what they own and what it's worth so they can better protect their prized possessions."
"In addition to helping PURE members achieve proper coverage limits by offering details about the changing values of their collections, Trōv also supports PURE's commitment to providing an exceptional claims experience," said Martin Hartley, executive vice president and Chief Operating Officer with PURE. "Members who use Trōv benefit from having a digital catalogue of their tangible wealth, which makes the claims process easier and more seamless in the event of a loss."
Justin Gott, Head of Art and Private Client at global specialist insurer Hiscox, explained: "The Trōv process enables our UK retail customers to keep an accurate and hassle-free inventory of their possessions, and that helps us to ensure their specific insurance needs are met and that any claims they make can be settled quickly. Trōv's innovation and technical nous, teamed with our understanding and experience of dealing with often unusual or complex insurance needs, means that through our collaboration we are able to provide our customers with an unparalleled level of cover and service."
Trōv has also partnered with the nation's leading national and independent insurance brokers to promote its applications for improving asset protection. Hub International, Lockton and Willis are among the national brokers recommending Trōv to their clients, while scores of the most prominent independent brokers have also announced their support for Trōv's products and services.
For a list of participating insurance carriers and brokers, see Trōv.com/partners. To activate a Trōv, contact your broker or visit Trōv.com.
About Trōv Inc.
Trōv creates applications that help people collect and benefit from the information about every thing they own. The data is stored in a personal Trōv – a private online digital locker where their information is organized, valued, securely accessible, and selectively sharable. Members receive unique benefits from Trōv partners, including the world's leading insurers, wealth managers, luxury retailers, financial services, auction houses, appraisers, and more. Trōv is privately funded, and headquartered in the San Francisco Bay Area with offices throughout the U.S. For more information, visit Trōv.com or follow us on Twitter @myTrōv.