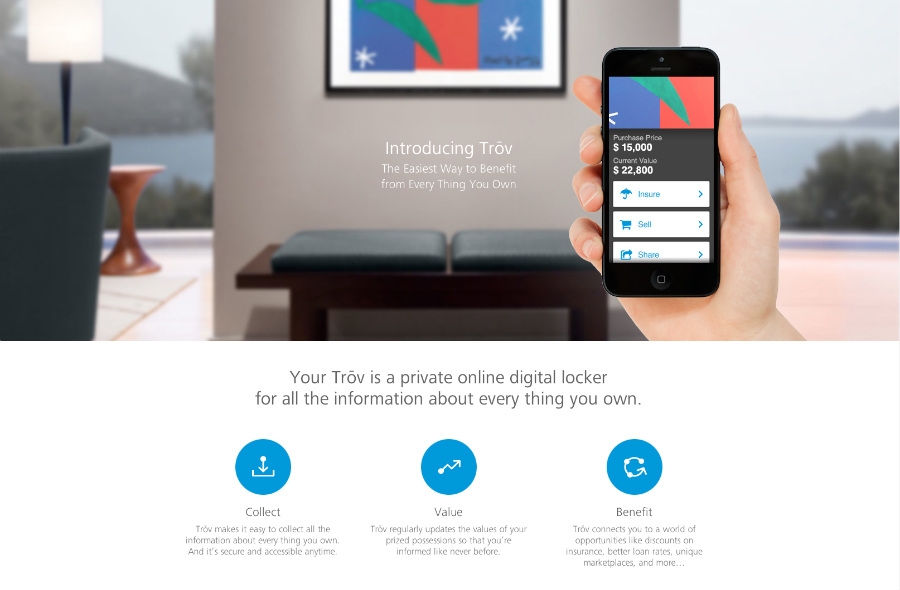 Today Trov®, whose applications help people collect and benefit from the information about every thing they own, announced it has completed its Series B funding.
The round brings the company's total capitalization to $6.8 million. The fresh capital will enable Trov to grow its engineering team, expand its Member Benefits program, and build market presence. Trov's applications are built around a personal digital locker where information about possessions is collected, regularly valued, and connected to a growing eco-sphere of partners who provide benefits for its users. In its first year of operations, the company has amassed a database of over 238,000 unique assets with total replacement value of greater than $1.2 billion, and customers throughout the U.S. and U.K. "The information about what people own is laden with unrealized value, and Trōv is creating new opportunities for our members to liberate that value," said Scott Walchek, founder and CEO of Trov. "This funding will help us raise market awareness and expand our engineering efforts so that we can make it easier for people to collect and benefit from the information in their Trov".
Trōv Names Board of Directors and Advisory Board
Trōv also announced its Board of Directors and Advisory Board, made up of esteemed executives who have developed some of the world's most useful technologies and contributed to many industry defining companies. The Board of Directors includes Dr. Gordon Bell, technology luminary, leading voice in the life-logging movement, and principal researcher at Microsoft; Todd Ruppert, former president of T. Rowe Price International and current CEO of RTR International; Thomas Handler, chairman and partner of Handler Thayer, LLP; and renowned private equity professional Dr. Anthony Melman, CEO of Acasta Capital. Trov's Advisory Board consists of leaders from diverse industries including retail, manufacturing, software, art advisory and insurance; and includes executives from eBay, SalesForce, Flextronics, Harper Collins, and Autodesk, among others.
"The impact of authenticated, secure and permanent digital identities of one's possessions is far reaching for evolving industries and enabling new forms of commerce" said Gordon Bell, Trōv director. "Capturing and registering lifetime possessions will enable 21st-century commerce in unique and disruptive ways, from insurance and exchange, to financial services and other industries."
"Trōv provides its users with complete information about what they already own, and gives them the ability to share their data with the merchants of their choice," said Advisory Board member Jim Nordstrom. "This company has the opportunity to really improve the shopping experience, and I'm delighted to help them navigate the emerging world of the data-equipped customer. Shoppers are going to love Trov."
Trōv is achieving initial adoption in the U.S. and Europe by partnering with global leaders in property and casualty insurance. Both policyholders and their agents are alerted when possessions increase in value, and when new items are added to a Trōv that need protection. This increased visibility into the status of personal property will have profound impact on risk management and service levels for insurers.
As Trōv achieves its objectives within the insurance market, it will extend its offering to wealth management and other industry sectors for which the management of tangible assets provides unique value. Trov expects that its applications and accompanying benefits will appeal to the mass affluent, but its initial target audience is the world's nearly 30 million high net worth individuals.
About Trōv Inc.
Trōv creates applications that help people collect and benefit from the information about every thing they own. The data is stored in a personal Trōv – a private online digital locker where their information is organized, valued, securely accessible, and selectively sharable. Members receive unique benefits from Trōv partners, including the world's leading insurers, wealth managers, luxury retailers, financial services, auction houses, appraisers, and more. Trōv is privately funded, and headquartered in the San Francisco Bay Area with offices throughout the U.S. For more information, visit trov.com or follow us on Twitter @mytrov