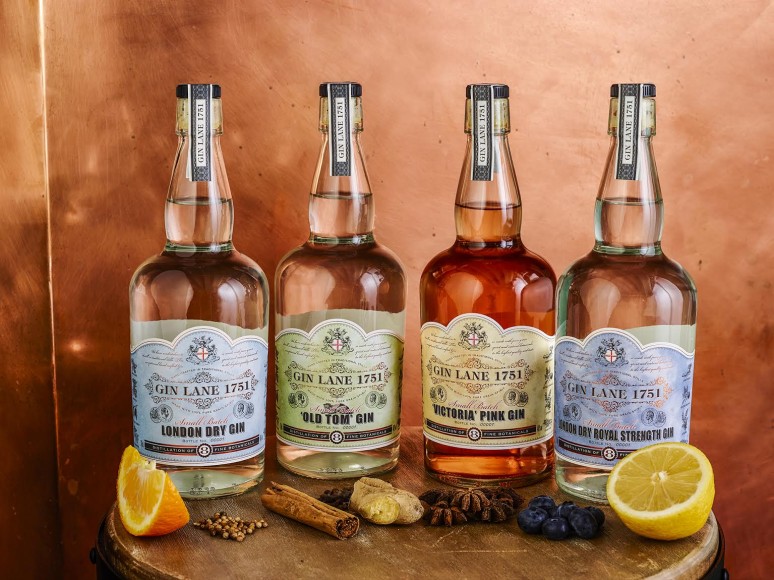 A group of passionate drink industry veterans known as The Bloomsbury Club, launched a mission to recreate a range of London Gins with historical accuracy and relevance to the Victorian era. With this in mind, they forged a partnership with 8th generation distiller, Charles Maxwell of Thames Distillers, based in Clapham, London, and the rest as they say, is history.

Currently featuring four crafted varietals, Gin Lane 1751 is the embodiment of a classic Victorian style gin, taking its inspiration from the Gin Act of 1751. Around this time, gin drinking was perceived to be a problem, and by the 1740s the British were consuming 8,000,000 gallons per year. At the time, this was commonly regarded as one of the primary causes of crime in London. It was estimated that in some parts of the city, over a quarter of the houses were gin shops. In 1751, the government took action and greatly increased duties on gin. The sale by distillers and shopkeepers was now strictly controlled, and these measures effectively reduced the consumption of gin in Britain.
The eighth and final Gin Act of 1751, amongst other restrictions, levied an unusually high tax for bar owners delivering the libation per serving. Perhaps more tellingly, they were no longer able to extend credit to those desperate for a dram—as was extremely common at that time. The result—gin was now becoming too difficult for London's poor to get a hold of, as it was now cost prohibitive to many. Now that the small-scale, back street distillers had all but gone away, the gin being produced under the new act was of a much higher quality—a whole new era was in its infancy and to this day, we are the lucky recipients.
It is this era that was firmly behind the inspiration of my favorite of their offerings, 'Victoria' Pink Gin. The tradition of blending gin with bitters was first created by the British Royal Navy to balance out sweet and dry gins and possibly more importantly, it was said to help cure sea-sickness. Made in pot stills in small batches, it's pinkish hue is derived from the botanicals and bitters used to mellow the spirit's strong juniper profile. With this offering, Gin Lane 1751 has created a well-balanced spirit with juniper that is still clearly at the forefront, but the addition of a harmonious balance of herbal and spiced bitters delivers a flavor profile that truly satisfied. Full-bodied and smooth, this unique gin can most certainly be enjoyed neat, with lime and a splash of tonic, or in a wide variety of creations in the hands of talented mixologist.
Enjoy these specialty cocktails for the changing season:
Pumpkin Spice Gin Sour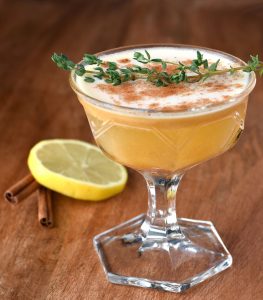 Ingredients:
2 oz of Victoria Pink Gin
Half of a lemon juiced
1 tablespoon of pumpkin butter (like apple butter)
1 egg white
Dash of cinnamon
Thyme for garnish
Directions:
Put first 4 ingredients in ice and shake for a minute, pour through strainer into coupe glass, gar-nish with cinnamon and thyme.
Apple Cider Gin Fizz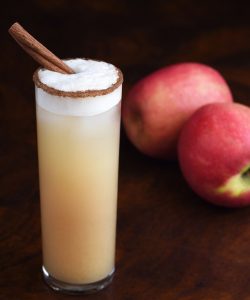 Ingredients:
2 oz of Victoria Pink Gin
1 oz of apple cider
1.2 oz of brown sugar simple syrup
1 egg white
Dash of half and half
Club soda
Cinnamon sugar for glass rim
Cinnamon stick for garnish
Directions:
Rim glass with cinnamon sugar. Place first five ingredients in shaker, shake vigorously for a couple of minutes, pour into glass and top off with club soda. Garnish with a cinnamon stick.
Gin Lane 1751 quietly launched last summer and can be found on the east coast, as well as in the U.K., Spain, Germany and Italy.