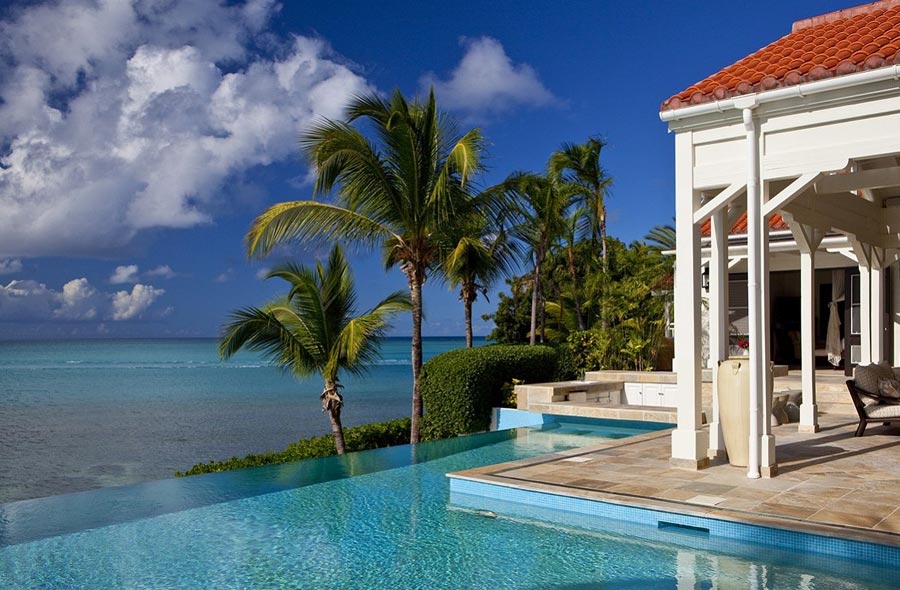 One fateful day in 1684, Sir Christopher Codrington, an early and enterprising entrepreneur, came to Antigua to discover if the island would support the sort of large-scale sugar cultivation that already flourished elsewhere in the Caribbean.
His initial efforts proved to be quite successful, and industrial Antigua was born. By the middle of the 18th century, the island was dotted with more than 150 cane-processing windmills, each the focal point of a sizeable plantation. Today, almost 100 of these picturesque stone towers still remain, although thankfully, they now serve as houses, bars, restaurants and shops.
I ventured to the beautiful island of Antigua to explore some of the finer hotels that this idyllic paradise has to offer – and fine is exactly what was delivered. Since 1962, Antigua's Curtain Bluff, a classic Caribbean resort that is well suited to those looking for a bit of a social scene and a wide array of activities, has never lost its original intimacy and charm. Proprietor Chelle Hulford still lives on the top of the hill in Bluff House, greeting guests like old friends and hosting the resort's weekly cocktail party at her home. This is a type of intimacy and innate hospitality that seems to seep from every pore of this landmark location.
Flanked by water on both sides, Curtain Bluff sits perched above the surf and juts into the sea between two beautiful beaches – one calm and ideal for swimming, the other washed by ocean surf. The resort's 72 rooms and suites, all with captivating seascape views, are spread out along the Surf Beach and meander up the bluff. The resort offers two restaurants: the open-walled Tamarind Tree serving breakfast and candlelit dinners, and the Beach Café & Bar, where barefoot-casual lunches are enjoyed just steps from the sand and the inviting water's edge. Of note is the extensive 20,000 bottle wine cellar – arguably the island's largest and most impressive.
High above the harbor and easily accessible by car or on foot via the Lookout Trail, Shirley Heights, a former fortress and now a live music venue, offers superb views across the Caribbean to Montserrat and Guadaloupe.
Next it was on to The Inn at English Harbour. Elegant and exclusive, The Inn offers the perfect balance of Colonial-style building and luxurious, contemporary comfort. With only 28 rooms dotting an impeccably-landscaped 19 acres, there is a real sense of privacy and seclusion. Perhaps this is why it was recently visited by the Prince and Princess of Monaco, who, in fact, were so enamored with a couple of the staff members, that they invited them to be their guests at Monaco's Grand Prix – an invitation that was happily accepted.
With a serene white sand beach and the whisper of English Harbour's cooling trade winds, true relaxation is in abundance. All of the rooms are well appointed with a spacious private veranda and the charm and sophistication that you might expect from a hotel bearing their moniker. With well above par dining, a spa and a nice array of water sports, you won't feel the need to stray far, but if you feel like exploring, jump onto the water taxi for a three-minute ride to Nelson's Dockyard. Built in the seventeenth century, Nelson's Dockyard is the largest of Antigua's National Parks and is still a working dockyard for numerous yachts and ships, as well as home to Antigua's famed Sailing Week. Fully restored to their original splendor, eighteenth-century buildings house modern amenities such as shops, hotels and traditional marina businesses, and just outside, historic forts dot the landscape.
Moving on, we boarded a private ferry for a seven-minute ride to the famed Jumby Bay, as this private island is accessible only by boat. Situated on 300 gorgeously manicured acres, Jumby Bay offers an opulence that shines brightly. This exclusive resort is pristine at every turn and is a naturalists dream, as the level of environmental consciousness is indeed impressive. Add to that three powder soft white sand beaches, world-class hospitality and a reputation for providing discerning travelers with distinguished amenities and you may start to understand why in 2012 alone, Jumby Bay was honored with accolades that include the AAA Five-Diamond Award, Andrew Harper's Hideaway Report Grand Award and Travel + Leisure's 500 World's Best.
Dining at Jumby Bay is indeed special, and the four available choices, including The Verandah, The Pool Grille and The Beach Bar will certainly keep the budding epicurean on their toes. If it is a fine dining experience you are after, The Estate House, a stylish Spanish Colonial plantation house situated on the western edge of the island, is where you want to be. Surrounded by a dreamy garden of palm trees, hibiscus and wild orchids, this classic colonial house (c. 1830) was once the centerpiece of the island sugar plantation. Now it's a sanctuary of civilized dining, highlighted by romantic sophistication and Mediterranean-inspired cuisine.
If it is the pinnacle of relaxation that beckons you, Sense, A Rosewood Spa® at Jumby Bay, offers an elegant, open-air sanctuary that embraces the stunning natural surroundings. With a choice of exotic treatments with names like the Island Embrace and the Sea Coral & Coconut Ritual, all of your senses will be heightened and a Zen-like peacefulness virtually ensured.
Christopher Columbus landed here. The Lignum Vitae, or "tree of life," grew here. Emancipated slaves gained freedom early here. The island has been claimed by royalty, possessed by smugglers, and in 1915, owned by an unusually free-spirited, pipe-smoking woman. When it was a private estate, partygoers waded into the surf at night carrying lanterns, scooping up lobsters for dinner. Elegant women with skirts hoisted, gentlemen with clenched cigars… laughing and chasing lobsters in what is still the clearest water in the Caribbean. The island has always been provocative, coaxing its visitors to live large and sensually. This spirit persists at Jumby Bay in a setting that is unearthly in its beauty and captivatingly human in character.