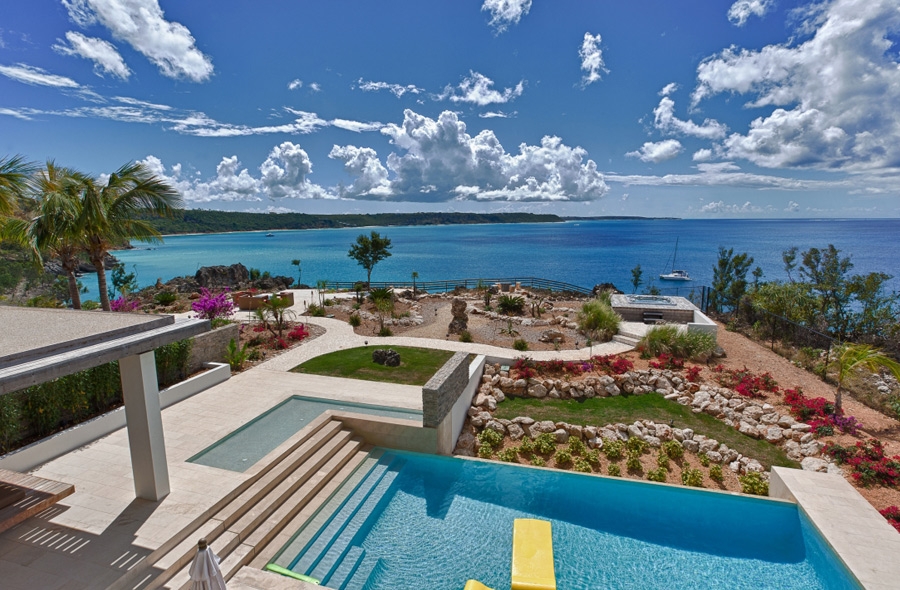 Submerged in decades of rich history and teeming with exciting local culture, Anguilla is a shining example of Caribbean hospitality for those in the know and a new favorite for many first timers.
Home to a beautiful array of uncrowded, white sand beaches whose surrounding waters twinkle with magical hues of cerulean and turquoise, Anguilla's idyllic 35 square miles lay in wait for those with the wherewithal to make their way onto her shores.
Anguilla was first colonized by English settlers from Saint Kitts in 1650, and the people here are warm, kind and extremely hospitable. My home for the week was Ani Villas, the first of a collection of remarkable properties being developed in some of the world's most exotic locations. Perched on the breathtaking cliffs overlooking Anguilla's Little Bay, this property encompasses only two private villas which can be enjoyed individually, or together, sleeping up to 24 guests. With its dramatic cliffside setting and views, this exquisite piece of land had a wow factor before I even entered the grounds. The fact that it includes the facilities and amenities of a world-class resort within your own private enclave should make it no surprise that it was featured in Caribbean Travel + Life as one of the top 30 villas in the world. With a limited number of resorts and hotels on the island, Ani Villas has more of an "off the beaten path" feel, yet is still quite easy to reach.
The villas are staffed with a friendly, knowledgeable and highly-trained service team, including a concierge, butler, private chef, housekeepers and security to cater to every need of those seeking the most exclusive and pampered vacation experience. Recent additions even include a full-time tennis pro, as well as a children's activity coordinator. The sublime meals created by Ani's own Chef Kelston "Sweets" Connor will make the thought of leaving difficult, as you could comfortably while away your time on the property swimming, playing tennis, shooting pool or simply lounging with a cocktail — but if the beach is your desire, you will be regaled with a lavish beach experience. Your private team will prepare tents, chairs, umbrellas, food, drinks and snorkeling equipment — making any one of Anguilla's world-famous beaches your own. No need to worry about the set up or break down — the staff will handle this before and after your arrival and are available to service you for the day or leave you be, if it is privacy you crave. If you want to dine on the beach, your private chef can prepare a picnic lunch, or even set up a full blown BBQ with dining table, chairs, wine and anything you can imagine.
For those seeking the assurance of a wide array of culinary choices, there are a surprising number of fine dining restaurants catering to the most discerning of palates. Similarly, for the vacationer who likes to stay on the move, there is also an ample selection of activities, including water sports, boating, spas, shopping and a variety of excursions.
If you want to get out and socialize, there is a long list of possibilities. The Pumphouse can be counted on for some live reggae and a light bite, or head on over to the Sunset Lounge at the Viceroy to enjoy endless views and a variety of tapas and sushi, as well as a fine collection of aged rums, Cuban cigars and cocktails from an inspiring drink menu.
"The fact that Ani Villas includes the facilities and amenities of a world-class resort within your own private enclave should make it no surprise that it was enshrined as one of the top 30 villas in the world."
Want to raise the bar on your getaway to an even higher level? Ani Villas has teamed up with Moët Hennessy to offer the ultimate connoisseur's beach escape. This exclusive offering includes a weeklong stay at Ani Villas for up to 14 guests, roundtrip private jet service from the continental United States or Canada and a Moët Hennessy Champagne expert to present a bespoke list of Champagnes and select wines. Chef "Sweets" will deliver a mind-blowing array of culinary experiences paired with a selection of wine and Champagnes from top maisons Moët & Chandon, Dom Pérignon, Veuve Clicquot, Krug, Ruinart, Cloudy Bay and Numanthia.
You will enjoy the Moët Ice Mead's Bay Beach Butler Barbecue, a traditional Caribbean beach barbecue on Mead's Bay, with butler service, musicians and a Moët Ice Impérial experience, as well as the Rosé Sunset Cruise, A private Caribbean sailboat on which Ruinart Rosé Champagne is enjoyed en route to a private island where Anguilla's freshest seafood will be served and paired with the best Cloudy Bay and Numanthia vintages. For the Dom Pérignon Little Bay Cliffside Reggae Splash, Chef Sweets will serve seven courses to be paired with seven vintages of Dom Pérignon and a night under the stars dancing to a live reggae band.
Whether you're looking to lounge your days away at the beach, challenge your sense of adventure, or are seeking true, pampered downtime, this is the ultimate in Caribbean beach destinations for a sophisticated, but laid-back luxury traveler. The recipient of Condé Nast Johansens' Best Villa Award for Excellence in both 2013 and 2014 and one of Islands Magazine's "Twenty of the World's Greatest Escapes," Ani Villas, Anguilla should make its way onto your list of vacation destinations.