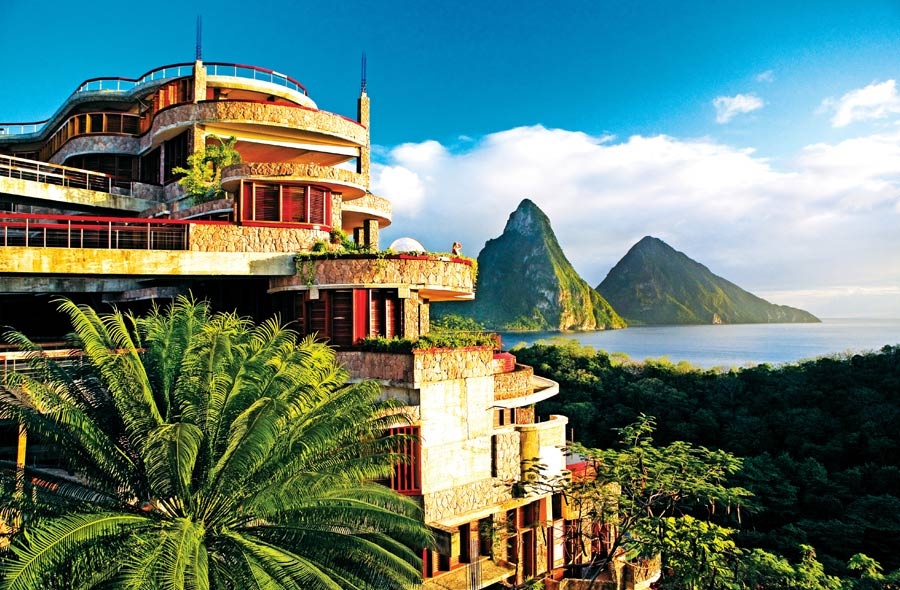 Situated on the idyllic island of St. Lucia, in a tropical setting of unparalleled beauty, architect Nick Troubetzkoy has created Jade Mountain—a uniquely natural resort offering a true separation from the working world—no telephones, no televisions and no clocks.
Rising majestically above the jointly owned 600-acre beach front resort of Anse Chastanet, amidst a cornucopia of organic architectural design, Jade Mountain celebrates St. Lucia's stunning scenic beauty. Rave reviews have been coming in waves since they first opened their doors in 2006. Visitors have reported being awestruck by the remarkable combination of architecture, artwork, scenic views and water and the fact that it was voted one of the most romantic places on earth, comes as no surprise to anyone who has been fortunate enough to experience this utopian destination.
In 1974, when Troubetzkoy first encountered this extraordinary property that is now home to both Anse Chastanet and Jade Mountain, there was almost nothing there—a handful of small bungalows nestled into the rainforest across maybe five acres of land. Troubetzkoy now owns over 600 acres and one of the finest resorts on the planet. Jade Mountain's 26-room paradise stands as the Caribbean's crest of opulence for the entire world to admire.
With a 9,000 foot runway, St. Lucia's Hewanorra Airport can accommodate any and all comers. A welcome home for private jet travelers, upon landing, Jade Mountain staff will greet you for the 45-minute drive to the resort, or they will be happy to pre-arrange a 6-7 minute helicopter ride that will touch down at the private Jade Mountain helipad.
One of the most extraordinary attributes of Jade Mountain is their array of private, suspended infinity pools. These are certainly among the most ambitious watershape compositions ever attempted. In all, the mountainside resort encompasses 26 interwoven vanishing-edge pools, suspended on the side of an ultra-modern, luxury hotel, each one with its own shape and unique aesthetic scheme.
Water shape designer Skip Phillips states "For starters, it stands as perhaps the most extensive and spectacular all-time use of the vanishing edge—ever, anywhere—all set in one of the most unusual buildings ever imagined for a resort property, in a location that is almost indescribably beautiful."
Each infinity pool 'sanctuary' at Jade Mountain is a carefully designed, individual work of art. The adventurous journey to your private haven is via a long suspended sky bridge which is yours and yours alone. Your entry door is a massive rough-hewn slab of exotic tropical hardwood and your first step inside creates an instant spiritual uplift. The infinity pool in front of you is a luminescent Persian carpet floating you out into space, to hover over the Caribbean Sea, hypnotized by St. Lucia's magnificent Piton Mountains.
All of the sanctuaries have the fourth wall open to the views, while at the same time, the design provides complete privacy. The sanctuary I inhabited during my stay, was approximately 1600 square feet, which along with the infinity pool, had a gorgeous elevated Jacuzzi, an aptly appointed two-sink bathroom and a cozy living room area. The thing that is remarkable is that although the fourth wall is open, you are set high enough up on the mountainside that the cooling trade winds eliminate the need for air conditioners—another remarkable result of Troubetzkoy's wizardry.
One of the more significant highlights of staying at Jade Mountain is that each and every guest is provided with their own private majordomo—a butler that is at your beck and call throughout your stay. You seamlessly communicate with them with the use of a Firefly (cell phone device) and they will accommodate your every whim. They cater to the mind, body, spirit and senses of their guests and assure that all of your needs are met. This is comfortably ensured by an unparalleled worker to guest ratio of almost 6-to-1.
Jade Mountain is undoubtedly home to the finest dining that I have experienced in the Caribbean. The Jade Mountain Club which caters exclusively to its resident guests boasts celebrated James Beard Award winner, Chef Allen Susser's, "Jade Cuisine." Open for breakfast, lunch and dinner with a menu reflecting seasonal changes of flavor, as well as daily, just-caught treasures from the ocean, the dining experiences are superlative. Add to that Beverage Director and Sommelier, Eric Stoles' beautiful wine and spirit list, live entertainment ranging from one of the island's foremost jazz musicians to a classical acoustic guitarist and your experience is sure to be unforgettable.
The 600-acre resort estate includes the old colonial plantation of Anse Mamin. Originally a sugarcane plantation in the 18th century, its fields were eventually turned toward cocoa bean production. The cocoa trees are still numerous and signature estate chocolates are produced for the enjoyment of all. Anse Mamin also provides a wonderful, organic resource for the restaurant including indigenous ingredients like turmeric, cashews, tamarind, mango, avocado, oranges, tangerines, guavas, papaya, coconut, breadfruit, yams and sweet potatoes. Add to that Jade Mountain's organic farm, Emerald Estate, located in the Soufriere hills which provides vanilla beans, bay leaf, nutmeg, cinnamon and sour oranges, as well as micro greens, vegetables and herbs and you have a first-class resource whose bounty is eagerly hand-picked each and every day for the culinary discretion of the Chef.
Want to dine in your sanctuary? Your majordomo will be happy to arrange just that. Or how about a private dining tent at the water's edge on the beach featuring an exquisite food and wine pairing experience? Jade Mountain guests can also dine at any of the restaurants of Anse Chastanet, located directly below the resort and easily accessible by foot, or by the resort shuttle. Each and every one of these restaurants receives the finest produce from the organic farm. An enticing selection of menus include Apsara, a St. Lucia- East Indian restaurant, Emerald's, a strictly vegetarian restaurant and the casual Jungle Grill for laid back, day time dining on the beach. You can also stretch out on one of the many private lounge chairs and when you are ready for a snack, or a tropical cocktail, simply plant your yellow flag in the sand and just like magic someone will be at your side to take your order.
Jade Mountain is an adult-only resort that provides an ideal vacation for snorkelers, nature lovers, scuba divers, bird watchers and those who simply wish to get away from it all. If you must connect, wi-fi is available resort-wide. The estate is graced by two beautiful, natural, soft sand beaches surrounded by an abundance of pristine coral reefs. The Jade Mountain concierge is available at all times and will be happy to custom-tailor day excursions with one or more of their carefully selected tour guides. Take a daytime adventure trip into the rainforest, botanical gardens, the drive-in volcano, or the sulphur springs for an unforgettable experience. There are also deep sea fishing excursions, boat shopping trips to the capital and hiking tours up Gros Piton.
Jade Mountain guests can also choose from a carefully selected menu of spa treatments available in the privacy of their infinity pool sanctuary or in Jade Mountain's boutique spa, Kai en Ciel. The spa offers a large and varied menu highlighted by classic body and beauty treatments, as well as ayurvedic and holistic services.
For the more active type, group or private yoga classes and an array of fitness options are also available. Jade Mountain's fitness studio features Cybex cardio and strength equipment. Additionally, the estate bike trails at Anse Mamin are available for independent jogging in the morning and afternoons and there are daily escorted walks and hikes available throughout the 600-acre estate.
Since opening in fall 2006, Jade Mountain has been consistently recognized not only as one of the Caribbean's top luxury suite resorts, but also as one of the World's most unique tropical escapes imaginable. Voted one of the Top 10 Hotels for Romance in the World in Trip Advisor's 2012 Travelers' Choice Awards and both 'Best Luxury Resort' and 'Best Romantic Resort' in Caribbean Travel + Life, you are certainly in good hands. The service at Jade Mountain consistently reflects a sense of warm professionalism and genuine hospitality and once you step foot on this exquisite slice of paradise, you may never want to leave.