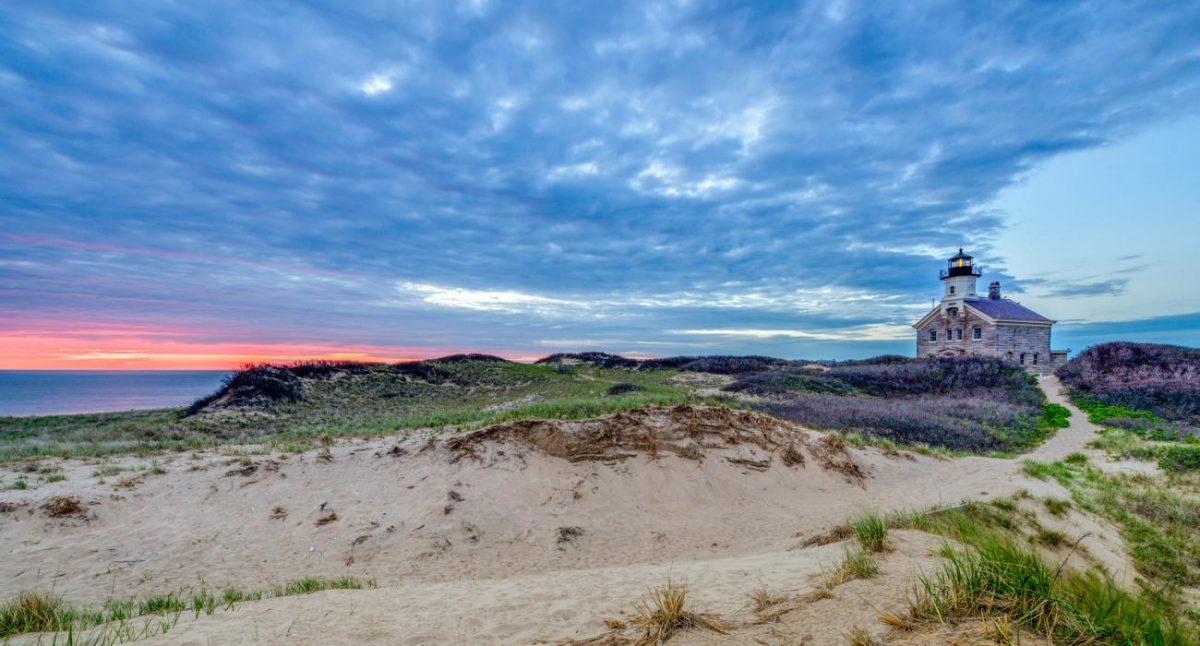 Described by The Nature Conservancy as "one of the last 12 great places in the Western Hemisphere," my recent experience on Block Island significantly exceeded my expectations. Located approximately 14 miles east of Montauk Point and 13 miles south of mainland Rhode Island, Block Island covers only about ten square miles. Named after Dutch explorer, Adriaen Block, the island is home to a small airport, but most visitors come via the ferry system from either Point Judith, RI, New London, CT or Montauk, NY. Also a popular boating destination, during the summer months the marinas and harbor are dotted with a wide array of private boats.
We boarded the high-speed ferry in New London, Connecticut, and just over an hour after departure, we landed on the shore of this extraordinarily welcoming island. Its 1800s red-brick Southeast Lighthouse sits atop the dramatic clay cliffs of Mohegan Bluffs, overlooking a rocky beach below. After effortlessly grabbing a taxi at the port, less than five minutes later we were strolling through the doors of 1661 Inn.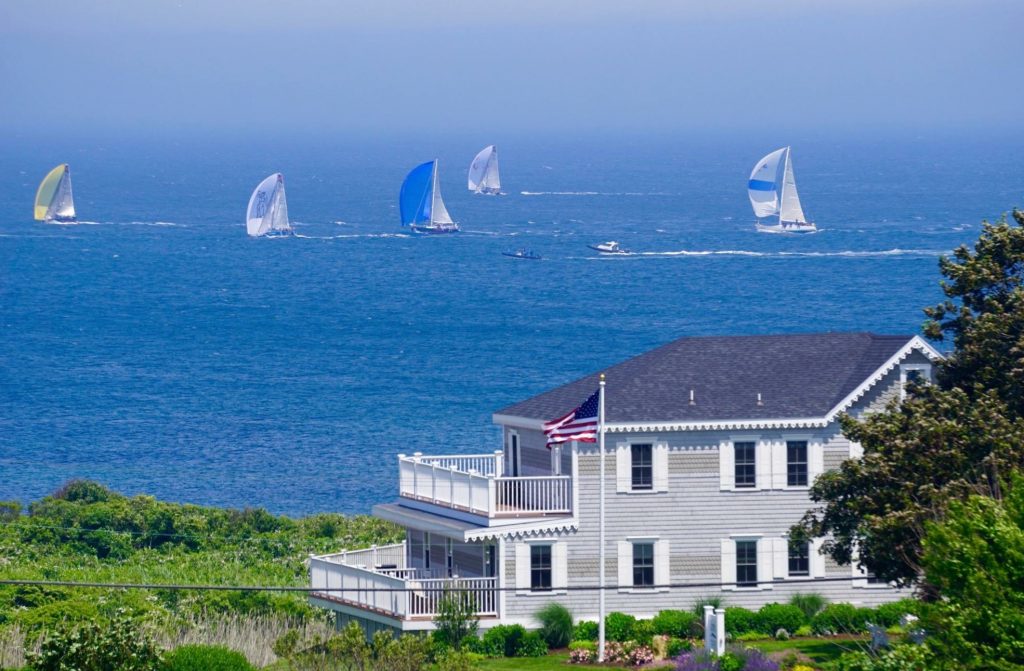 An intimate collection of 73 rooms and suites spread over nine distinct properties in a resort-like environment, 1661 Inn has been owned and operated by the Abrams and Draper families since 1970. The main building features nine rooms named after Block Island's founding families, many of which feature ocean views and expansive decks. This boutique inn boasts more than 350 years of history and is ideally situated to highlight dramatic, panoramic views of the Atlantic Ocean.
From the moment you enter, the feeling is that of being warmly received into someone's home. Rita Draper seems to float through the lobby like a 90-pound ballerina greeting guests. She also can be found walking table to table during the traditional New England buffet breakfast on the outdoor dining porch, to share a beautiful arrangement of what was just freshly harvested from their rather impressive vegetable and wildflower gardens.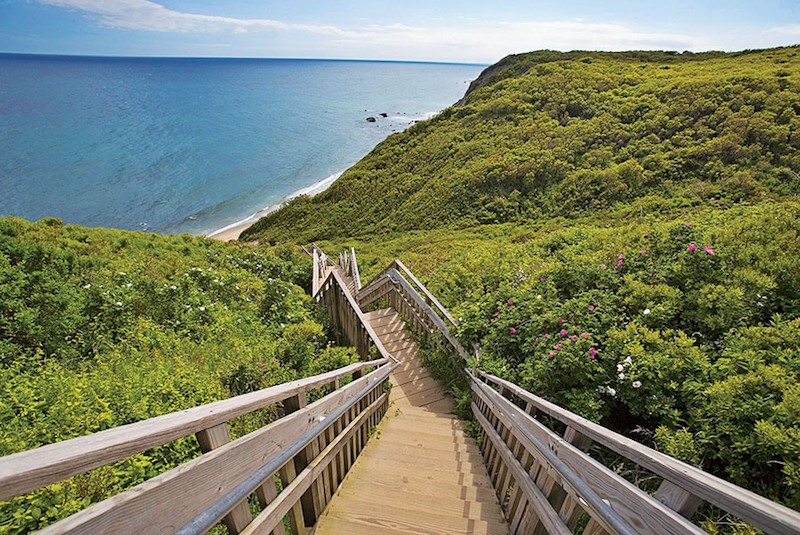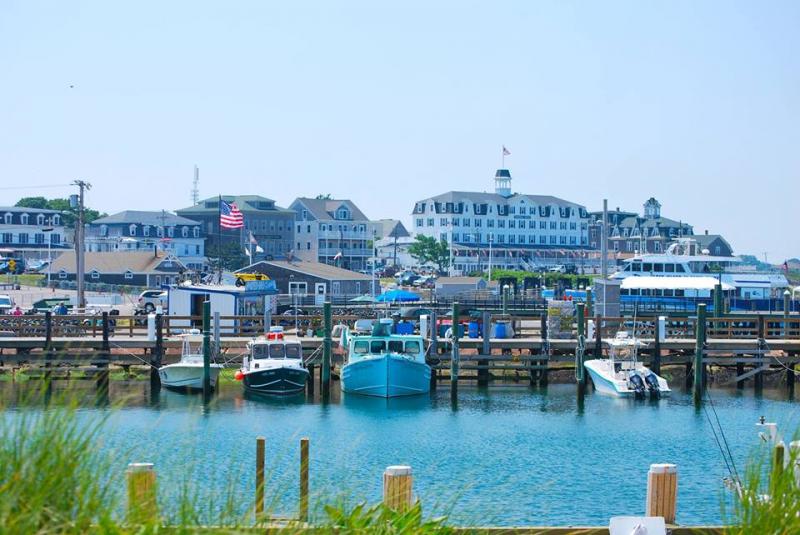 The adjacent 1661 Farm and Garden is the holder of one of only two zoo licenses in the state of Rhode Island. With that said, this is by no means a typical zoo. A variety of animals, including camels, llamas, pygmy and fainting goats, black swans, a zebu, lemurs, red kangaroos and a yak that will come when called by his name, "Justice" call this idyllic piece of property home.
The grounds also house Elevation Studio—Block Island's original yoga and movement class studio founded in 2005. Yoga classes run daily, all season long and include Pilates, Tabata and Rasa Yoga, as well as everyone's favorite—Alpaca/Goat Yoga. Yes, you get to practice yoga with alpacas and goats!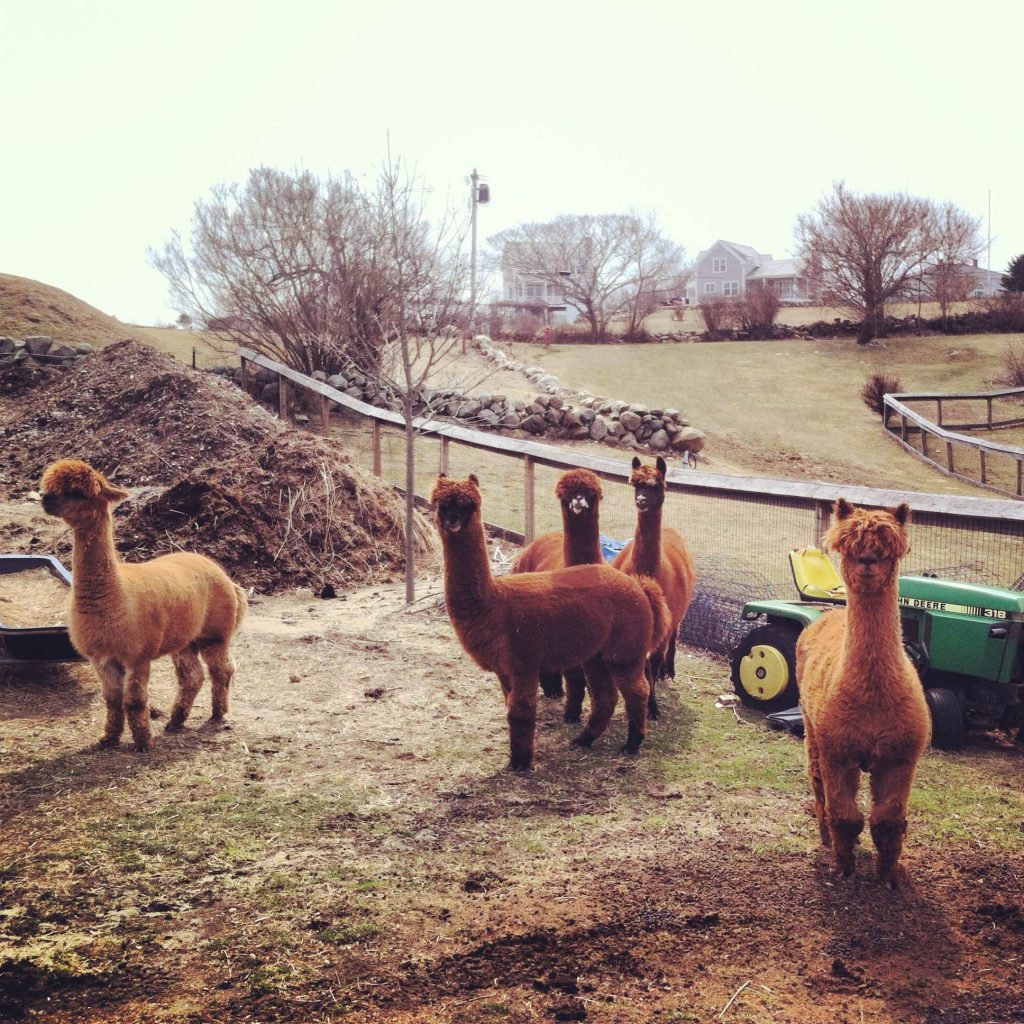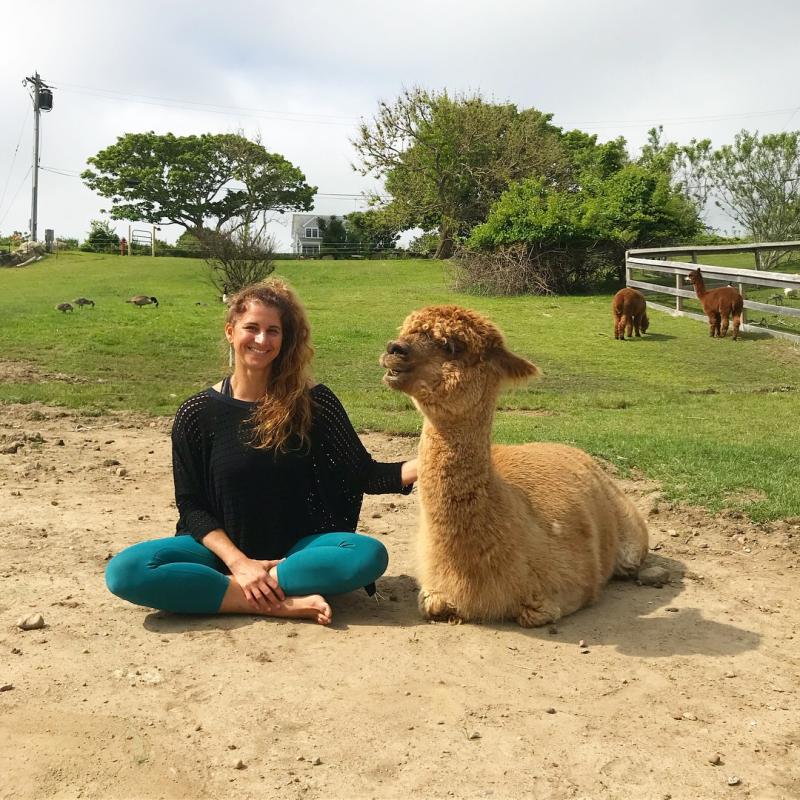 North Light Fibers has a location set amidst the 1661 Farm and Garden. Their micro-yarn mill that produces handcrafted artisanal yarns made 100% on Block Island, is just up the hill where alpaca roam freely around the yard. Fall and spring knitting retreats are held here, bringing people from all over the country. Their natural fibers are handled over 20 times from shearing and dyeing to carding, spinning and plying to create deep-hued and heathery color blends.
The island offers a wide array of things to keep you busy, depending on your interests. Famous for its 17 miles of beautiful beaches and spectacular bluffs, Crescent beach is the most popular. Two historic lighthouses date back to the 1800s; the North Lighthouse Station and the Southeast Lighthouse Station—both of which are open to the public.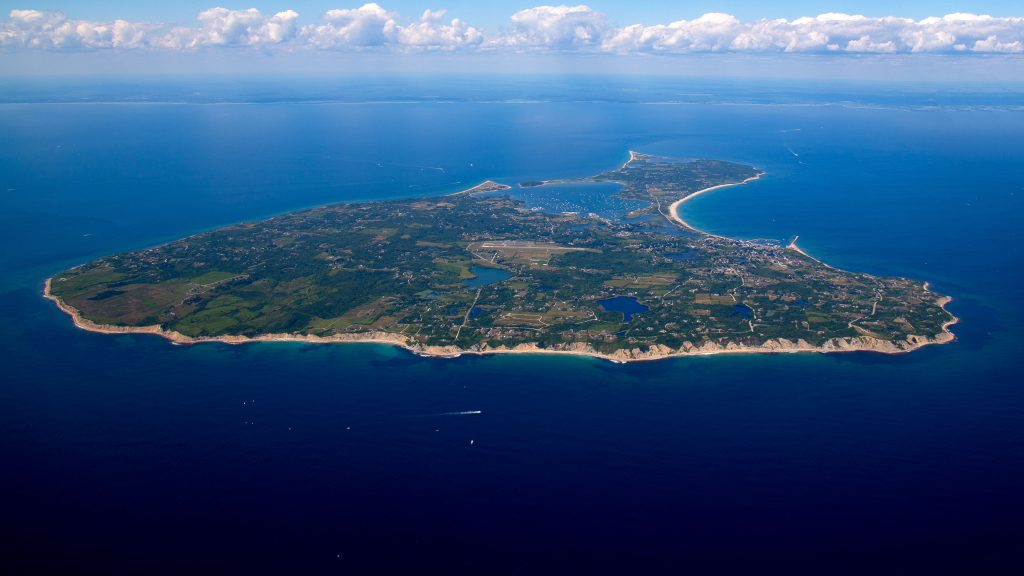 The Mohegan bluffs on the south end of the island deliver one of Block Islands most spectacular vistas. A 25-minute walk or a quick bike ride up Spring Street in town takes you to this magnificent, sweeping view. Also noteworthy is the island's northern tip which features Sachem Pond, home to gulls and swallows.
Just about 100 yards up the road from 1611 Inn, you'll find Spring House Hotel. Highlighted by a massive wrap-around deck overlooking the Atlantic Ocean, the ambiance here is truly spectacular. This was the perfect spot for enjoying a glass of wine and a delicious meal of chilled local oysters and some exceptionally well-executed Neapolitan pizza. Featuring a full-sized outdoor bar, GQ voted Spring House Hotel the "best place to drink a gin & tonic in the world."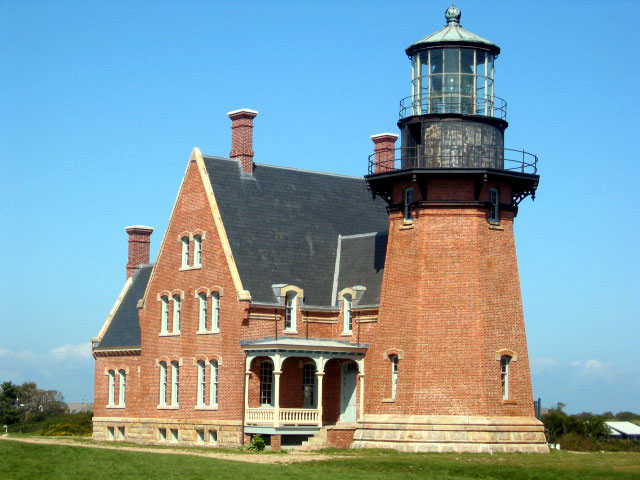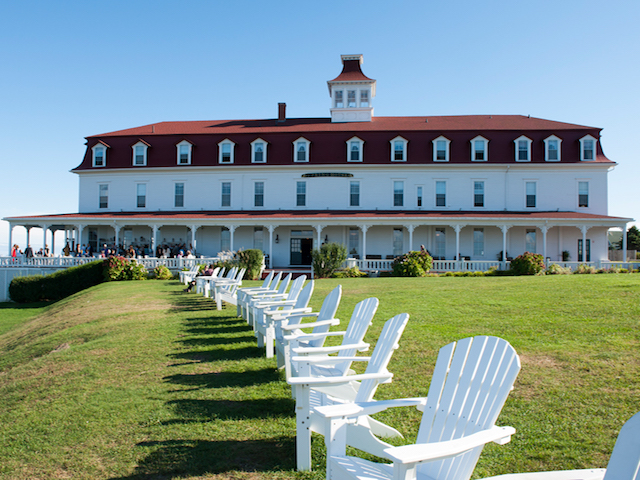 When it's time to shop, rest assured that Block Island has a vast array of specialty shops, satisfying even the most seasoned consumer. One thing is for sure—there is a wide range of options to keep yourself busy and entertained. Whether you live in southern New England or are just visiting the area, a trip out to Block Island is certainly worth the effort.