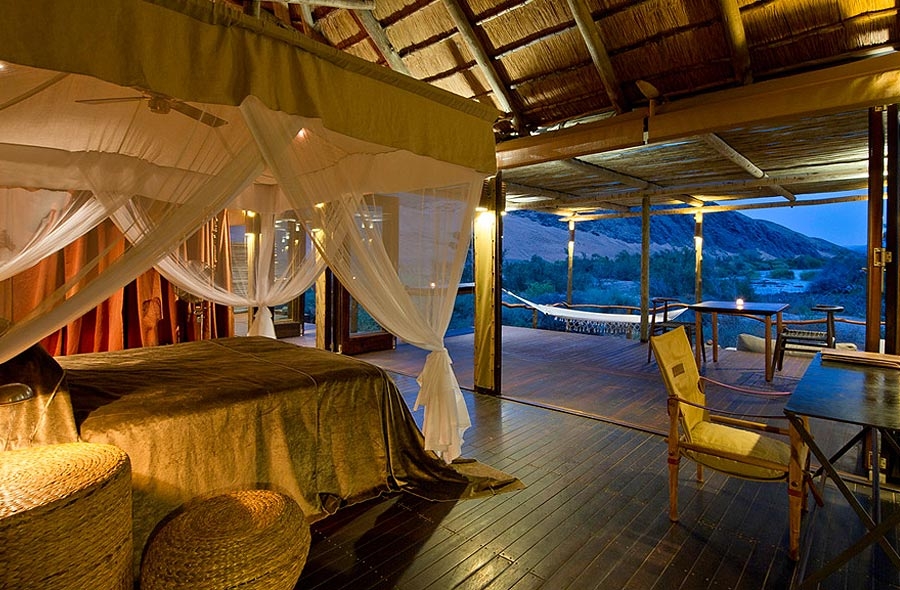 The high sand dunes on the northern tip of Namibia give an awe-inspiring view of Angola's majestic Serra Cafema mountain range.
This is one of those moments that you remember forever – one that creates an entire body smile that seems to last for weeks. It was here that my exploration of Southern Africa's top safari camps began.
To say that Southern Africa delivers a kaleidoscopic view of a global ecosystem would be a beginning – but there is much more to it. My experience with the diversity of the landscape and the accompanying wildlife is worthy of a book – but this is your book to write, as the experience is unique to each individual, yet interestingly, seems to inspire many similarly.
After flying into the small Namibian city of Windhoek and being refreshed from a restful night at The Olive Exclusive, a beautiful boutique hotel, I joined my bush pilot via Wilderness Air for a flight to what is undoubtedly one of the most secluded areas in Southern Africa. Located along the banks of the Kunene River, Serra Cafema Camp delivered an extraordinary beginning to what would prove to be an extremely memorable trip. The river is the only permanent source of water in the region, creating a lush oasis which separates Angola and Namibia and appears as a winding band of green surrounded by the lunar-like landscape of the Namib Desert.
Morning elephant tracking was an amazing experience as we got up close and personal with a group of 15 of these colossal, yet elegant creatures, as was the boat trip exploring the river for wildlife including crocodiles and a wide array of water birds. Next, it was on to a quad bike excursion through the rolling dunes of Hartmann Valley, taking in spectacular views of the exquisite landscape, as well as visiting a Himba settlement – one of the last true nomadic people in Africa who, for many centuries, have lived a relatively isolated existence.
After a couple of days absorbing the beauty of Serra Cafema, it was off to Okahirongo Elephant Lodge located inside the Purros Conservancy. You can take a quick flight, or if you are up for an adventure, do like I did and embark on an eight-hour drive in a private safari vehicle across the desert (with a guide, of course) to take in the landscape and the wildlife. We did not see a single car throughout this journey and were navigating roads and river beds not be to be found on any map – an adventure, for certain.
Often described as one of the last truly wild areas in the northwest of Namibia, here elephants, black rhinos, lions and other African animals live in a desert environment. The beautiful Okahirongo Elephant Lodge is one of the most remote locations in the world and is stunningly situated along the banks of the ephemeral Hoarusib River.
After a delicious breakfast that would satisfy even the most stringent epicurean connoisseur, we again boarded our private safari vehicle and headed east into the wonderful and diverse region of Damaraland – an area enriched with vivid displays of color and magnificent rock formations. It is the sheer vastness of the area, as well as the scenic splendor, that will reward and astound you, giving one an authentic understanding of the word "wilderness."
Mowani Mountain Camp is ideally located in this beautiful region and just a short drive from local attractions like Twyfelfontein, a site that has been inhabited for 6,000 years, first by hunter-gatherers and later by Khoikhoi herders. Both ethnic groups used it as a place of worship and a site to conduct shamanistic rituals. In the process of conducting these rituals, at least 2,500 rock carvings were created – it is perhaps the largest and finest collection of petroglyphs in Africa.
The camp is nestled amongst a gorgeous array of giant granite boulders, overlooking the Aba Huab riverbed where desert-adapted elephants often traverse. The thatched, dome-shaped structures echo the shape of the boulders amongst which they are built and truly disappear into the exquisite landscape.
The Namibian portion of my safari ended at Okonjima, home to the AfriCat Foundation which focuses on the research and rehabilitation of Africa's big cats. Close encounters with leopard and cheetah are an unforgettable highlight, and activities for the adventurous include tracking cheetah on foot.
Okonjima Luxury Bush Camp is comprised of eight beautiful, African-style chalets, as well as The Grand African Villa that was the choice of Brad Pitt and Angelina Jolie during their visit. Spectacular at every turn, this private property is home to one of the area's only watering holes, attracting a wide array of wildlife that can be viewed right from the picturesque windows of the master suite.
With the cherished memories of Namibia in my rearview mirror, it was now time to head into South Africa to explore what they had to offer for the seeker of high-end safari experiences. After a refreshing night in Johannesburg and an incredible evening which included a spectacular meal and a good night's sleep at the Gatsbyesque "54 on Bath," it was a quick flight, delivering me back into the bush.
When it comes to luxurious South African safaris, there is but one word – Singita. Located within the famed Kruger National Park (consisting of nearly 5 million acres), this is the real deal. It's home to an impressive number of species, including 34 amphibians, 114 reptiles, 507 birds and 147 mammals. Singita's camps and lodges are opulent at every turn and capture two of the top ten spots on Travel + Leisure's top 100 list.
After a night at the beautiful and decadent Singita Lebombo, which includes access to a complimentary 5,000 bottle wine cellar and a nice selection of Cuban cigars, it was off to Sabi Sands Game Reserve for one night each at Singita Boulders Lodge and Singita Ebony Lodge. Each one of these exquisite locations was completely different from the other, and each extraordinarily special in its own way.
Next was a quick stop in Livingstone, Zambia for a tour through Victoria Falls, one of the Seven Wonders of the World and a stay at Toka Leya Camp. Situated on the banks of the Zambezi River, this proved to be a very special site as we joyfully observed no less than 40 elephants frolicking in its water and on its banks.
The final leg of the journey began at Botswana's Selinda Reserve which has been documented to hold up to 9,000 elephants and all of the major predators, including lion, leopard and cheetah, as well as giraffe, buffalo and a wide variety of antelope.
My home for the next couple of days was Zarafa Camp, a Relais & Chateaux property that redefines the luxury wilderness experience and is situated on a gorgeous lagoon that acts as a magnet for the local wildlife. This exclusive location has only four spacious guest rooms, each with a lounge, as well as your own private plunge pool. It evokes a sense of old-style safari that combines the comforts and eco-sensitivities of the 21st century.
The last stop was the Okavango Delta – the largest inland delta system in the world, offering spectacular game viewing, including elephant, lion, zebra, leopard and giraffe. Mombo Camp, on the northern tip of Chief's Island within the Moremi Game Reserve, delivered a wonderful experience under large shady trees overlooking an open floodplain. This area boasts enormous concentrations of game and large predators and boasts the number one spot on Travel + Leisure's top 100.
Throughout the journey, the cuisine was consistently and refreshingly top-rate and the service genuine and inspired. If you are looking for more than a vacation, rather a true life-changing experience, this is a great place to start. For me, it was a labor of love which was expertly executed by Africa Adventure Consultants – 17 days, 16 flights, 15 game drives, 10 safari camps, 4 countries and 2 hotels for one unforgettable experience.