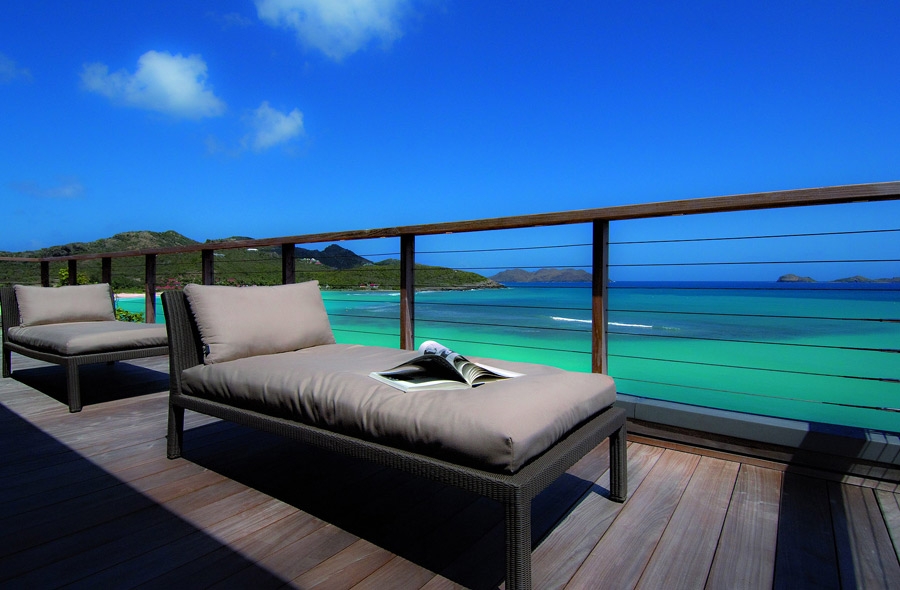 In 1945, the first plane to touch down on the island of Saint Barthélemy was piloted by the eccentric and celebrated adventurer, Remy de Haenen.
He later would create the infamous runway in Saba, which remains the shortest commercial runway in the world.
Erected in about 1950 on a rocky promontory on St. Jean Bay, Eden Rock was built as de Haenen's private home and became a bolt-hole for his Hollywood friends. In its heyday in the fifties and sixties, he was visited by Greta Garbo, Howard Hughes, Robert Mitchum and other colorful guests, including the Rockefeller and Rothschild families who became so enamored with the island that they purchased land and built homes. This set a precedent of opulence and style that continues to this day.
Today, Eden Rock — St. Barths is surely one of the most enviable locations in the world. The ambiance of luxury and privilege has stood the test of time and permeates every nook and cranny of what is not only St. Barths' first hotel, but certainly its five-star crown jewel.
Transformed from its humble beginnings atop a rocky outcropping into an absolutely top notch resort that boasts 34 unique rooms, suites and villas, it delivers an extravagant, yet laid back European island experience that is world class at every turn. A driven commitment to creating a unique holiday for the world's elite vacationers is surely the reason why Eden Rock tops the list of every important travel magazine on the planet.
Owners David and Jane Matthews stumbled upon their dream home while island hopping on a friend's yacht — serendipity! With no original plans to turn this paradise into a hotel, it is quite possibly this lack of experience as hoteliers, or a corporate hospitality background, that puts the soulfulness into this extraordinary property. Surrounded by gorgeous white sand beaches, sparkling blue sea and a lovely coral reef teeming with wild sea life, one thing is for certain—this natural environment was certainly handled with care and respect.
With no two rooms alike, even the well-traveled globetrotter is sure to find something that will satisfy their soul. In the original house on "the rock," you will be pampered to your heart's delight by an attractive French staff that is extremely well versed in the art of hospitality. Revel in the magic of the Greta Garbo or Howard Hughes suite where both icons once stayed, or opt for the newer garden cottages where you will be delighted by two levels of cozy sophistication.
When it is time to dine, you are in extremely capable hands. In 2012, Eden Rock partnered with world-renowned culinary icon Chef Jean-Georges Vongerichten. Their two restaurants on the property, On the Rocks and the Sand Bar, are a "must try" for anyone visiting St. Barths. Jean-Georges' new menus feature French cooking with both Asian and international influences. An on-property garden grows organic herbs and tomatoes, and everything that can be created from scratch is done so each and every morning.
Sand Bar, the more casual of the two, offers a delectable array of selections, from their first-rate breakfast buffet to an unparalleled Caribbean lunch menu. The Black Truffle and Fontina Pizza was one of my favorites, as was the St. Barths Lobster Salad which was enjoyed more than once with a crisp glass of Chardonnay.
The more sophisticated On-The-Rocks Restaurant is an extremely romantic and soulful spot highlighting Jean-Georges at his very best. Perched high above the coral reef, this fine dining establishment was a delightful place to gently let the night slip away, while indulging in extraordinary dishes, paired with elegant selections from the well-endowed wine list.
If you are seeking the absolute pinnacle of opulence, choose one of the two estates the hotel added in 2009: Villa Nina (with an in-house art gallery) and Villa Rockstar. I opted for Villa Rockstar and was easily won over by what is quite possibly the most extraordinary beach house in the Caribbean. This over-the-top 16,000 square-foot mansion features four master suites, butler service, a cinema, a gym, an office, garages and cars, and a pool table. It also offers a superbly equipped Schiffini kitchen, a 12-seat dining table and both a swimming and spa pool. Surrounded by 10-foot walls, it is extremely private and secure — yet opens directly onto a vast beach of white coral sand and gorgeous blue-green waters. I chose to slum it in the Freddy Mercury Suite, which other than being an extremely comfortable and beautifully laid out living space, has been designed with a spectacular circular bathroom finished in exquisite hand-cut, pure white gold.
Of particular interest to many, the villa is home to a fully-equipped recording studio, including amongst its gear, the actual 1973 Neve Music Recording Console used by John Lennon to record his timeless ballad "Imagine." This is an absolute wonderland for family or friends and has been used as a relaxing creative enclave for the likes of Kenny Chesney, who recently used Villa Rockstar to finish up an album.
I was so extraordinarily satisfied being on the Eden Rock property that I was tempted to stay put for the duration, but felt it only prudent to venture out and have a gander about this famous enclave so adored by the jetset elite. Zooming out of the Rockstar garage in my Mini Cooper, I happily coasted mile after mile of quaint, laid back European sophistication.
After exploring a nice selection of the eclectic shops lining the streets of St. Jean, I decided to head over to Hôtel Le Toiny and experience Restaurant Le Gaïac. At the helm of this distinctive property is Chef Stéphane Mazieres, who became the first chef in the Caribbean to be awarded the prestigious Relais & Châteaux Grand Chef Taittinger Award in 2009. Offering innovative contemporary French cuisine and served amidst a beautiful open-air restaurant, this proved to be an extremely worthy detour and another "must try" for St. Barths epicurean adventurers.
An island of tremendous beauty and sophistication, St. Barths left me feeling that I had truly discovered paradise — a paradise like no other and one that I expect to be returning to time and again. With world class establishments like Eden Rock and the overall friendliness and warmth of its people, I find it quite impressive that this island has been kept so soulfully intact. I will miss you, St. Barths.