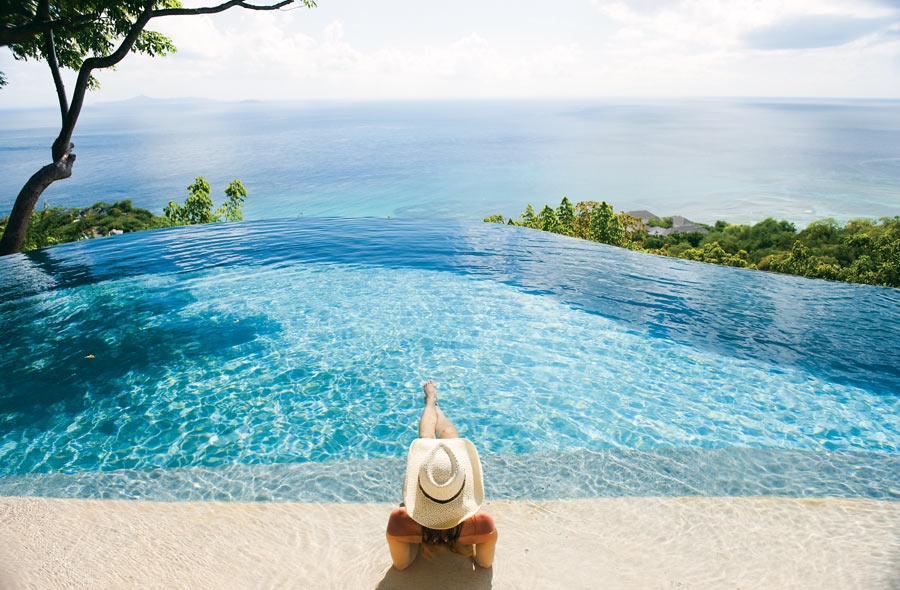 There is just a sense that all is okay from the moment your feet hit the ground on this rather unique and tiny Caribbean island.
At only 1.5 miles wide by three miles long, it is a getaway for a privileged few – a sure sign that you have arrived. Situated off of the Venezuelan coast in the West Indies nation of St. Vincent and The Grenadines, and encompassing only 1,400 acres of surprisingly lush terrain, Mustique is a haven for the well-to-do. Maybe it's the extremely unusual presence of the large vein of quartz that was recently discovered, but one thing is for sure – Mustique has a magical quality unlike any I have experienced.
With arguably the highest concentration of wealth on the planet, Mustique is a true haven for those in the know – a connoisseur's Caribbean experience of down-to-earth opulence and serenity. This is not a place to go for those who wish to "be seen" – this is where to go to disappear. Privacy is of paramount importance, and it is this very feature that attracted the likes of Mick Jagger, Shania Twain, Paul McCartney and Tommy Hilfiger, all of whom have homes on the island. Out of the 100 privately-owned villas, 74 luxury residences are available for rental.
Each villa has its own distinctive style of architecture, interior design, swimming pool(s), landscaped gardens and amenities, and includes a minimum of three dedicated staff (chef, housekeeper and gardener). Some villas are beachfront and others are nestled high on lush, tropical hillsides, offering soft breezes and exceptional panoramic views, and all are just minutes from white sand beaches, the waterfront village and a multitude of recreational activities.
Security on the island of Mustique is something that is taken very seriously and has been extremely effective. A 25-person staff headed up by Scotland Yard veteran Simon Humphrey is responsible for the island's reputation for having virtually no crime and has the acumen to sniff out paparazzi and handily rid the island of them. The security staff is acutely aware, at all times, of the coming and going of each and every individual. This is what makes it a top destination for the likes of Prince William and Princess Kate, whose visit earlier this year continued a royal tradition that began when Princess Margaret was given 10 acres as a wedding present in 1960.
"Mustique Is A True Haven For Those In The Know – A Connoisseur's Caribbean Experience Of Down-To-Earth Opulence And Serenity."
Ever since she built her stunning villa, Les Jolies Eaux, the island has been known as a sanctuary for royals and celebrities. People of this caliber go about their business without as much as the turn of the head. This was clearly articulated by the ease with which music legend Bryan Adams – also a long-time homeowner – slipped on and off of our flight from Mustique to Barbados.
I chose to spend my time at L'Ansecoy, a three-bedroom Moroccan-style hillside villa with breathtaking views. After rambling down a long winding driveway, you are greeted by your personal butler who will be at your beck and call for the duration. Also on staff are a full-time maid, chef and gardener. The villa is owned by the proprietor of New York's world-famous Le Bernardin restaurant, and the in-house chef spends two weeks of every year in New York City training under the tutelage of famed Chef Eric Ripert.
The results are stellar and certainly make this a top choice for the globetrotting epicurean. Not your cup of tea? Take a dozen of your closest friends and go stay at Tommy Hilfiger's palatial spread. Known as Palm Beach, this masterpiece is opulent at every turn and will impress even the most well-traveled jetsetter.
If a villa is more than you need, the Cotton House hotel is well-equipped to handle the demands of the experienced traveler. Originally an 18th century cotton warehouse and sugar mill, it was carefully restored by the late British designer, Oliver Messel. Today, this beautiful 13-acre retreat is a member of Leading Hotels of the World and is recognized as one of the Caribbean's most refined luxury resorts.
"Mustique Is An Island That Is In A Class Of Its Own… A True Gem Sparkling Amidst A Cerulean Sea."
With only 17 rooms and suites, this boutique hotel is elegantly designed and equipped with contemporary comforts, including flat-screen televisions, wireless Internet, stocked mini refrigerators, a pillow menu, complimentary pressing and unpacking service and twice-daily housekeeping. Eleven rooms have their own plunge pools and the two-bedroom "Residence" has a full swimming pool and its own 24-hour butler.
Mustique is deeply committed to preserving its natural beauty, and a sure sign of this was the recent appointment of environmental guru Stuart Ward to the COO position of the Mustique Company. Overseeing the entire island, right down to every staff member of the villas the company manages, this man has blood that runs green and his awareness of environmental impact is second to none. The plans he outlined for us over a bottle of rosé while we picnicked at Macaroni Beach were inspired. It will certainly put Mustique on the map for eco-tourism and assure a sound legacy.
Well fortified from a spectacular seaside lunch, we climbed into our mule (a souped-up golf cart and the motor vehicle of choice on the island) and headed to the cricket field. Here we mingled with the locals, drank beer and cheered on the local team who were thankfully victorious.
Mustique is an island that is in a class of its own. What you will not find here is congestion, traffic lights, beach vendors or litter. A haven for those looking to connect with nature in the most luxurious way, Mustique boasts that 70 percent of its guests are repeat visitors – an impressive number that speaks volumes. Although private jets cannot land at Mustique's tiny, quaint airport, it is a quick and easy flight from either St. Lucia or Barbados. With an equestrian center, serene beaches, a world-class spa, tennis, water sports and an array of excursions, Mustique is a true gem sparkling amidst a cerulean sea.