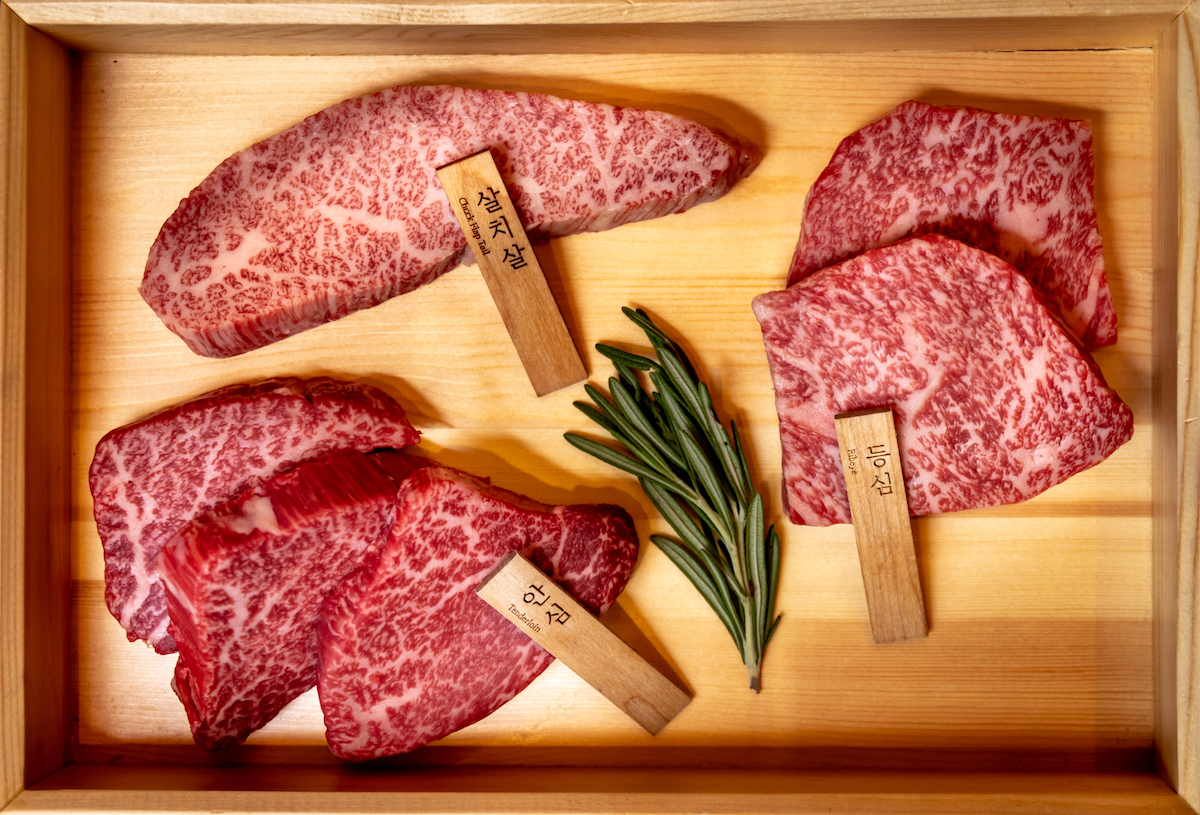 The Finest, most sought-after Wagyu beef In the world can now be found on the edge of Manhattan's Koreatown neighborhood. Situated just blocks from the Empire State Building, HYUN is treating lovers of high-end beef to an opulent, elevated experience that is sure to impress even the most adept connoisseur.
The brainchild of entrepreneur and restaurateur, Jae Kim, HYUN is showcasing Japanese A5 Wagyu beef that is flown in from Japan in the form of whole cattle—a practice and commitment to quality that is quite simply unprecedented. Wagyu beef comes from the same breed cattle as Kobe Beef (Kuroge Washu) but from a different part of Japan. What HYUN is delivering to its customers is also rated higher—whereas Kobe Beef can come from cattle that have been rated at either A4 or A5, A5 Wagyu constitutes a guarantee of only the highest quality. It is this commitment to present only the finest beef that the world has to offer which is at the foundation of HYUN and is clearly responsible for their rapidly developing loyal following.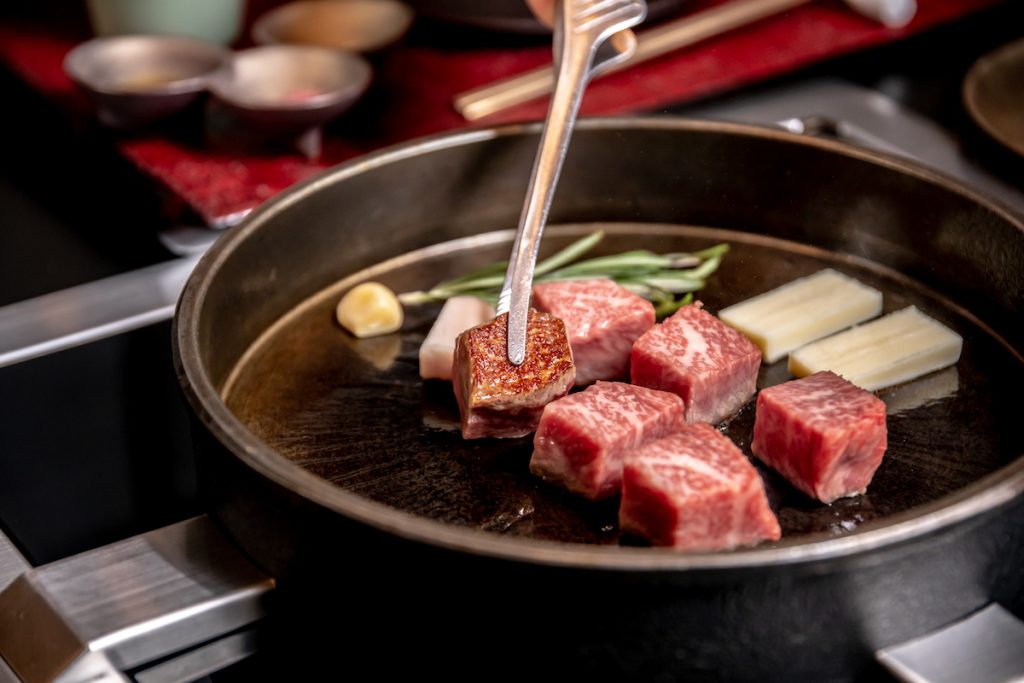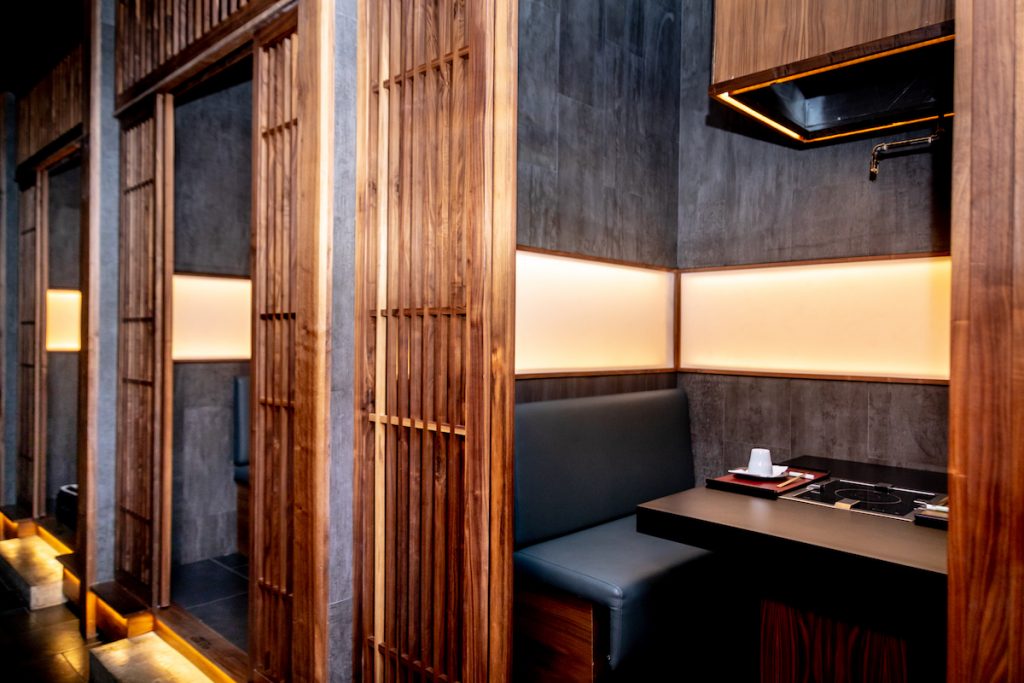 The dining experience is one that is truly intimate. Seating maxes out at a mere 40 people in a narrow and sleek environment that is rife with privacy. Upon entering, we were ushered into a raised, elegant booth with a sliding door to assure privacy—a private dining suite if you will. The table is adorned with traditional hand-forged ceremonial brassware known as Yoo-Ki and is centered around an electric-grill. The dining experience is personalized with the assignment of a server who also functions as your private chef. When the tabletop grilling commences, it is the use of a traditional Korean cast iron pan that is front and center.
Euikyu Bang (previously of Michelin-recognized New Wonjo), oversees the team of chefs in the kitchen, as well as the servers to ensure a meal of the same exacting standards as the beef itself. The meal begins with a number of delicious and elegant dishes setting the expectations for what's to come. The Galbi Mandoo, leaf mustard kimchi, tofu (made fresh in-house in batches daily), and starch noodle stuffed dumplings wrapped in thinly sliced Japanese A5 Wagyu short rib are a palate tantalizing lead up to the main event.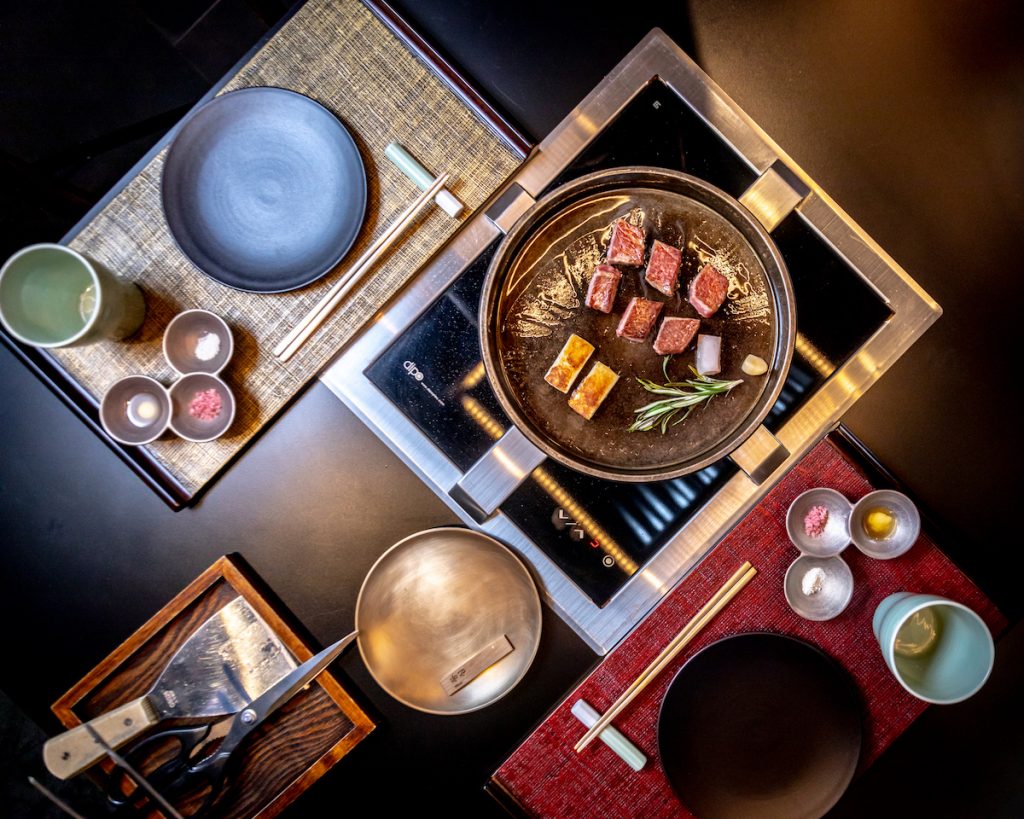 With an unparalleled option of thirty different cuts of Wagyu, as well as daily specialty cuts, the decision is one that may require some pondering. Once your choices have been cast, your cuts arrive and the preparation begins with your server placing a cube of Wagyu fat, a sprig of fresh rosemary and a clove of garlic into the cast iron pan, seasoning it for the arrival of your chosen treasures. The visuals and aroma of this alone, if you are not already excited, is sure to get your tastebuds standing at full attention. As an accompaniment to the pan-seared meats, there are different house-made salts such as truffle and Pinot Noir to lightly dust each and every delicious morsel.
Along with an impressive curated list of sakes and wines, there are creative cocktails to enhance your meal like the unique Mountain Water (Hakkaisan Junmai Ginjo, green chartreuse, citrus, honey, and matcha powder).
If you wish to finish off your beef connoisseur's extravaganza with a sweet treat, the options are the Hodo Gwaja (mini pastries filled with sweet red bean paste and large walnut chunks), or the homemade Shiso Sorbet—both of which are the perfect, understated ending to an extraordinary experience.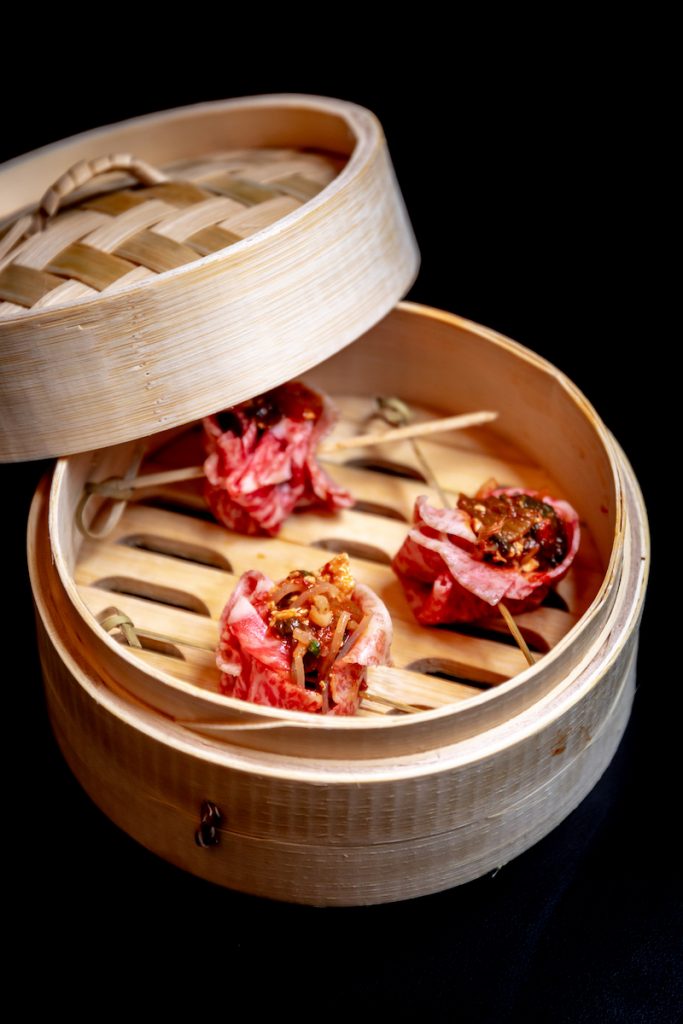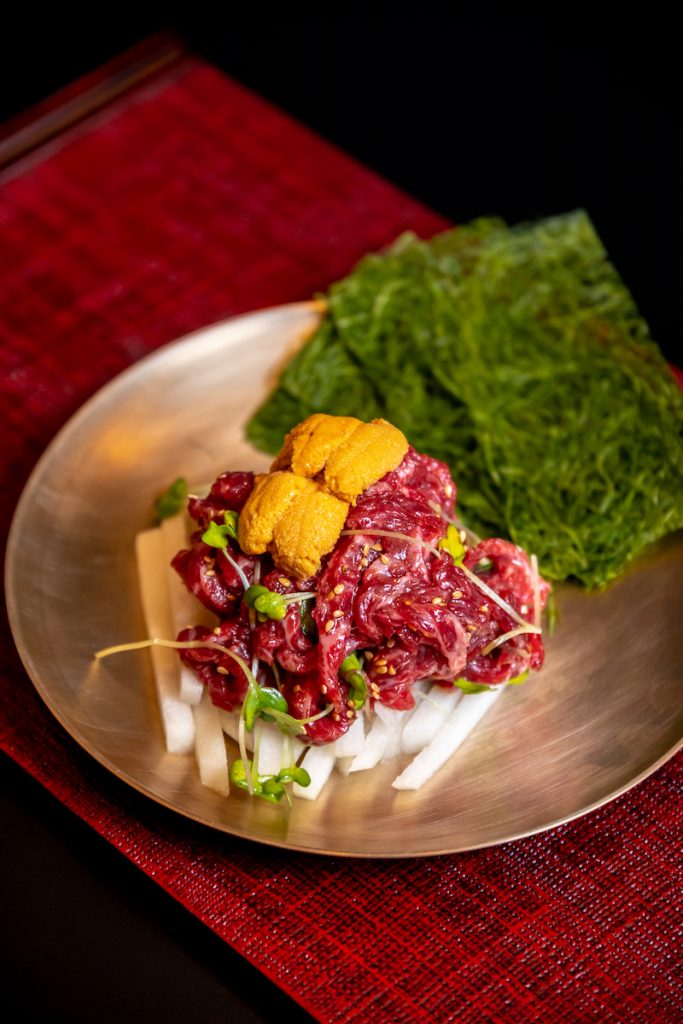 Looking back on this very unique offering, it left me wondering why a dining experience of this sort is now only first appearing on Manhattan's culinary landscape—but very happy that its day has come. The HYUN team is effectively changing the way people think of Korean barbecue, by delivering elevated dishes that are clean and natural in flavor, using only the finest luxury ingredients at every turn.