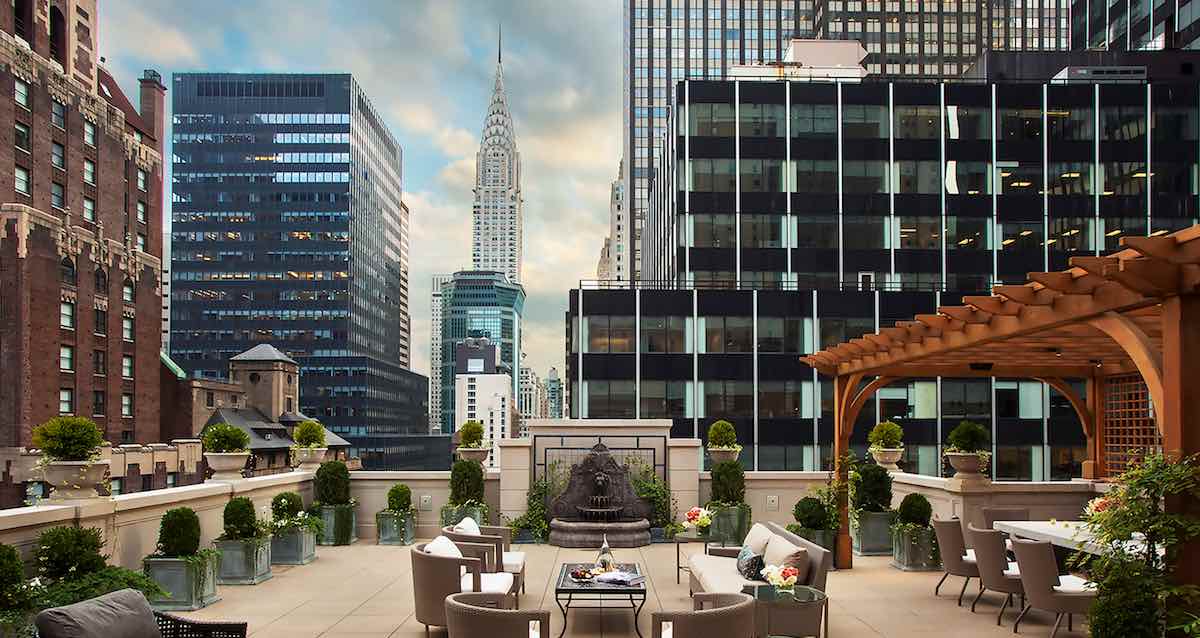 It had been more than five years since I had checked into the InterContinental Barclay and certainly the first time since their jaw-dropping $180M renovation. This was a project that covered more than 420,000 square feet of interior space which has all been totally and meticulously redesigned.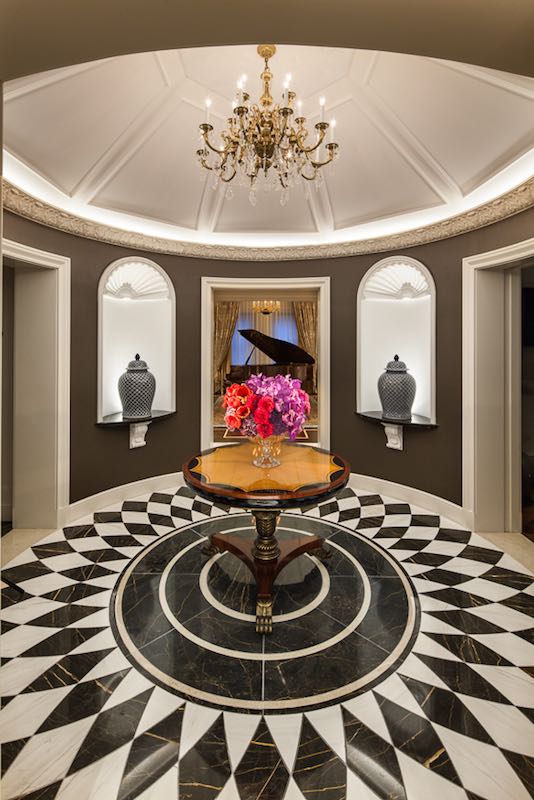 Originally opened in 1926 and well known as one of New York's first 'Railroad' hotels, the Barclay has hosted legendary guests including Perle Mesta and Ernest Hemingway, and has even served as the New York headquarters for a presidential campaign. Its home in Midtown East is one of the most important and influential neighborhoods not just in Manhattan, but in the world. It was in this era that the Vanderbilt family decided to electrify its railroad tracks and place them underground sparking a building boom on the streets north of Grand Central Terminal. This gave rise to a new level of Manhattan luxury including opulent Park Avenue penthouses, gleaming skyscrapers, and some of the most elegant hotels in the world—including the InterContinental Barclay whose construction was funded by the Vanderbilt family.
The modern version of today's InterContinental Barclay features traditional Federalist decor and local 1920s-inspired artwork, while simultaneously incorporating contemporary touches like a fully equipped fitness center. Crossing the elegant lobby, one can readily hear languages being spoken from around the world, which sets the tone for this cross-section of well-heeled global citizens. The convenient midtown location provides easy access to many highlights that the city has to offer. Just a brief stroll from Rockefeller Center, the beauty of Central Park, or the lights of Broadway, you are right in the heart of the action.
The suites at the InterContinental Barclay have been meticulously designed to feel like a luxurious Park Avenue apartment, providing a welcome respite for guests seeking a residential-style oasis amidst the bustling, high energy of Midtown Manhattan. The design components are elegant while maintaining a sense of comfort and warmth.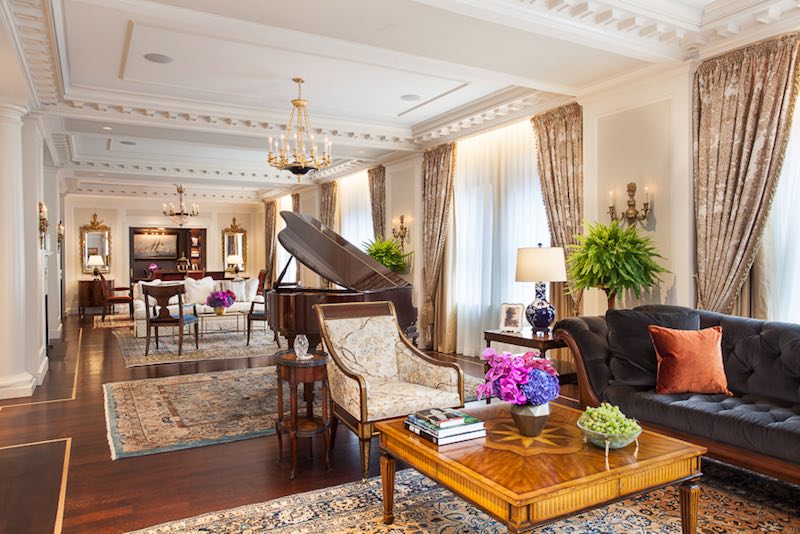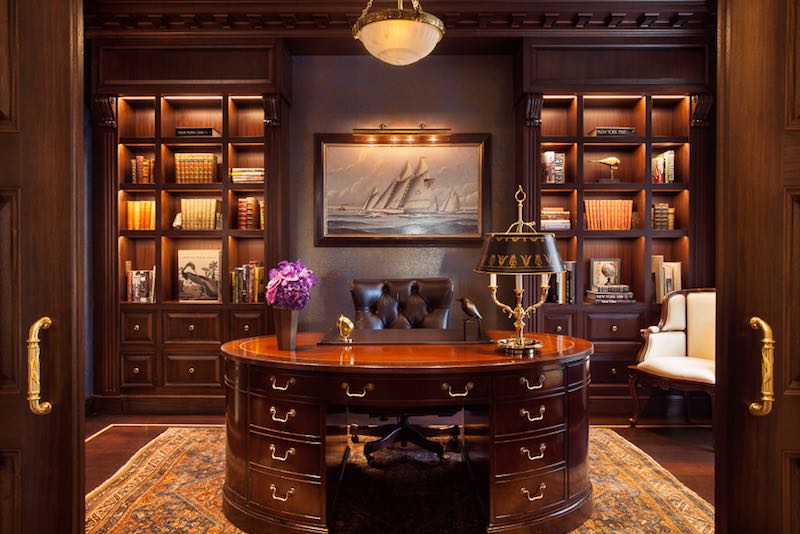 The 3,300-square-foot Presidential Suite is extraordinary at every turn and maintains a sense of history as its marble hallways have been walked by the likes of Bill Clinton and Barack Obama. Highlighted with regal accents, and elegant furniture, the space is one that manages to be luxurious, yet welcoming. Not surprisingly, an office fit for the leader of any nation offers plenty of space to conduct global business, while a baby grand piano sits as the focal point of the living room and beckons one to entertain 20 or 30 of their closest friends.
Upon entering the master bedroom your focus is immediately drawn to a stunning chandelier hanging above an inviting king-sized bed that promises an elevated quality of sleep. The environment of opulence continues through the dressing room and into a sprawling bathroom fit for a statesman. With a deep-soaking, porcelain tub and an invigorating steam shower to refresh before heading out into the city for a night on the town, your every need is certain to be met.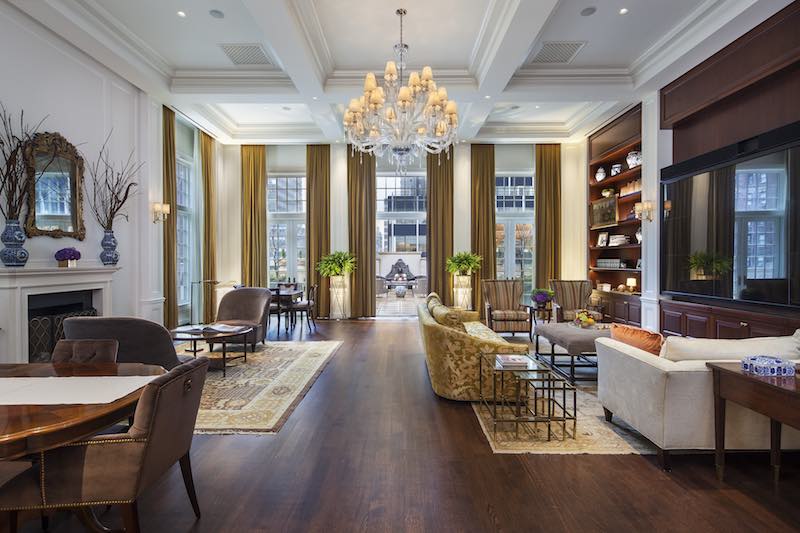 As we rise up in elevation, sitting as the crown jewel atop this gorgeous hotel is the grand six-room Harold S. Vanderbilt Penthouse. With epic views of the Chrysler building, the penthouse features a private 1,300-square-foot rooftop terrace—a magical location for an elegant evening soirée.
The indoor portion is an extremely well-appointed 2,700-square-foot space that can comfortably accommodate six overnight guests and many more for a catered sit-down dinner, or cocktail party. Floor-to-ceiling windows create a palatial living space, and a true king-of-New York feel. Plush accommodations, a massive television screen, and a formal dining table highlight the sprawling living area. The space also boasts two bedrooms—the primary equipped with a plush king-size bed, as well as a second room with two double beds. The master bath features a bright and spacious marble interior with gold fixtures and is sure to satisfy the spa-like desires of many of its inhabitants. The Penthouse Suite effectively transports its guests to their very own, opulent, classic New York City residence.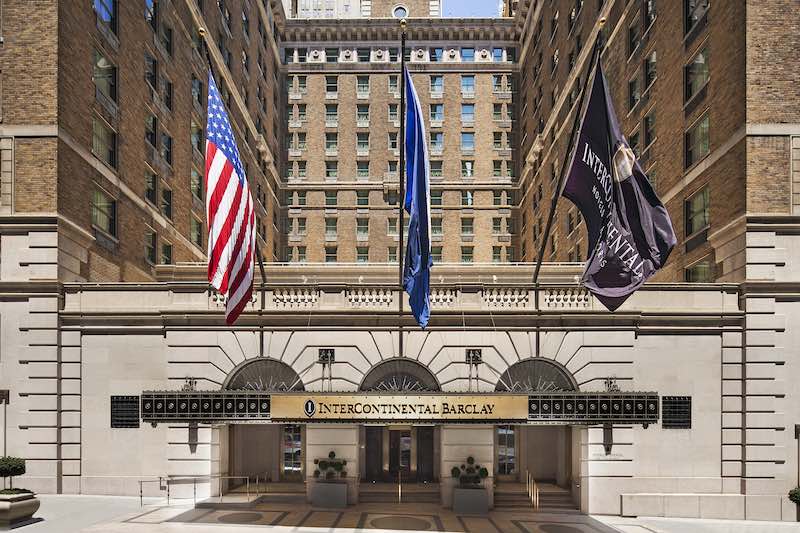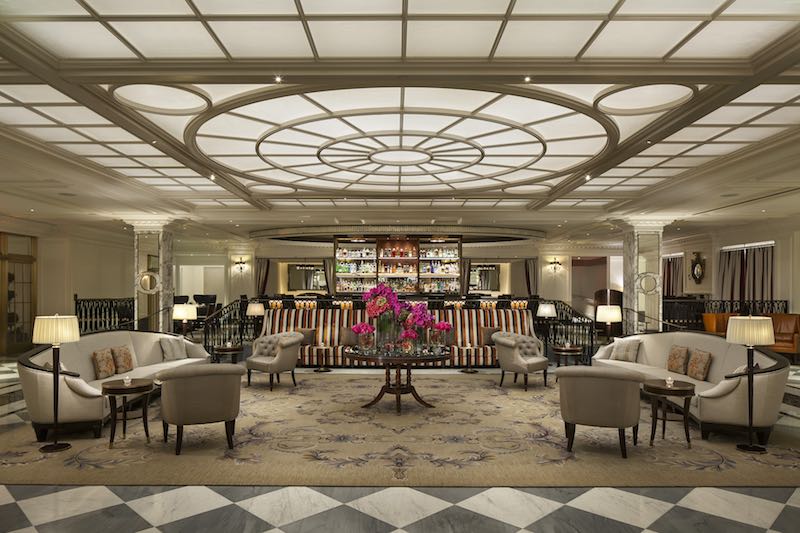 After a busy day enjoying everything that the city has to offer, The Parlour is a popular meeting spot for both hotel guests and New Yorkers alike. Located off the hotel's elegant lobby, it is renowned for its outstanding American and Continental cuisine. The buzz of New York can be felt each night at its luxurious lobby bar, which is the perfect place to relax and unwind after a busy day in the city. It carries a rare selection of vintage beverages and is a great place to sample a wide array of varietals and hand-crafted signature cocktails. The lounge-like environment is an extremely comfortable and intimate hideaway, often playing host to live jazz on Wednesdays and its slight elevation above the hotel lobby provides a perfect location for some world-class people watching.
The staff at the InterContinental Barclay has an "old school" style to their level of service and our every need was attended to from the moment that we arrived, to our seamless departure. With fastidious attention to detail, the InterContinental Barclay takes sophistication to the next level. With over 42 languages spoken amongst the staff, the hotel lives up to its namesake.