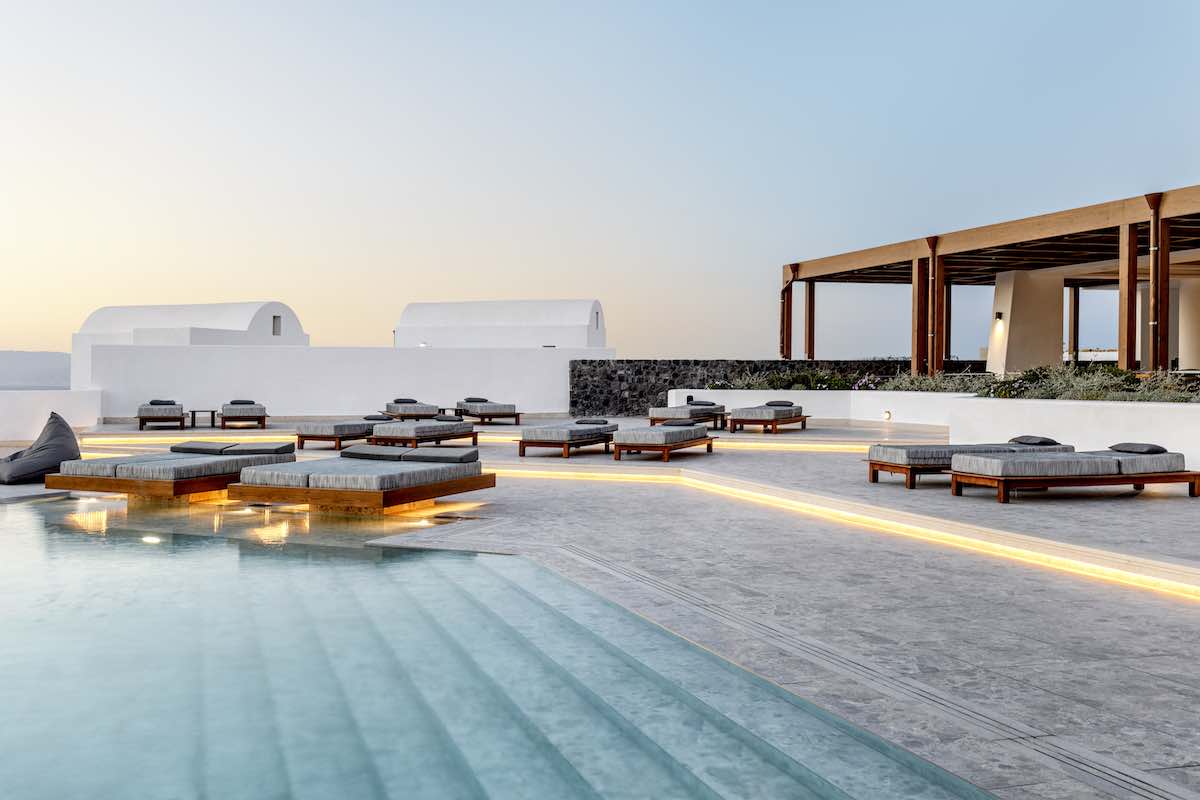 Nestled in the heart of the enchanting Oia, Santo Pure Oia Suites & Villas, formerly known as Santo Maris Oia Luxury Suites & Spa, welcomes the 2023 season with an air of rejuvenation. This year, it emerges as an even more captivating destination, boasting a tantalizing new culinary maestro, enticing wellness packages, and an unwavering commitment to sustainable living. And that's not all –  Santo Pure has unveiled an additional 20 sumptuous suites, expanding its already impressive roster to include 83 suites and two opulent villas.
A Haven of Tranquility
Situated just a leisurely five-minute stroll from Oia's bustling caldera, Santo Pure offers a haven of space, serenity, and pure relaxation from the very moment you arrive. The resort's sprawling layout, divided into six distinct neighborhoods, features Mediterranean gardens surrounding six sparkling pools. Santo Pure exudes the charm of a traditional Santorinian village, seamlessly melding classical Cycladic architecture with contemporary black lava and soothing white tones.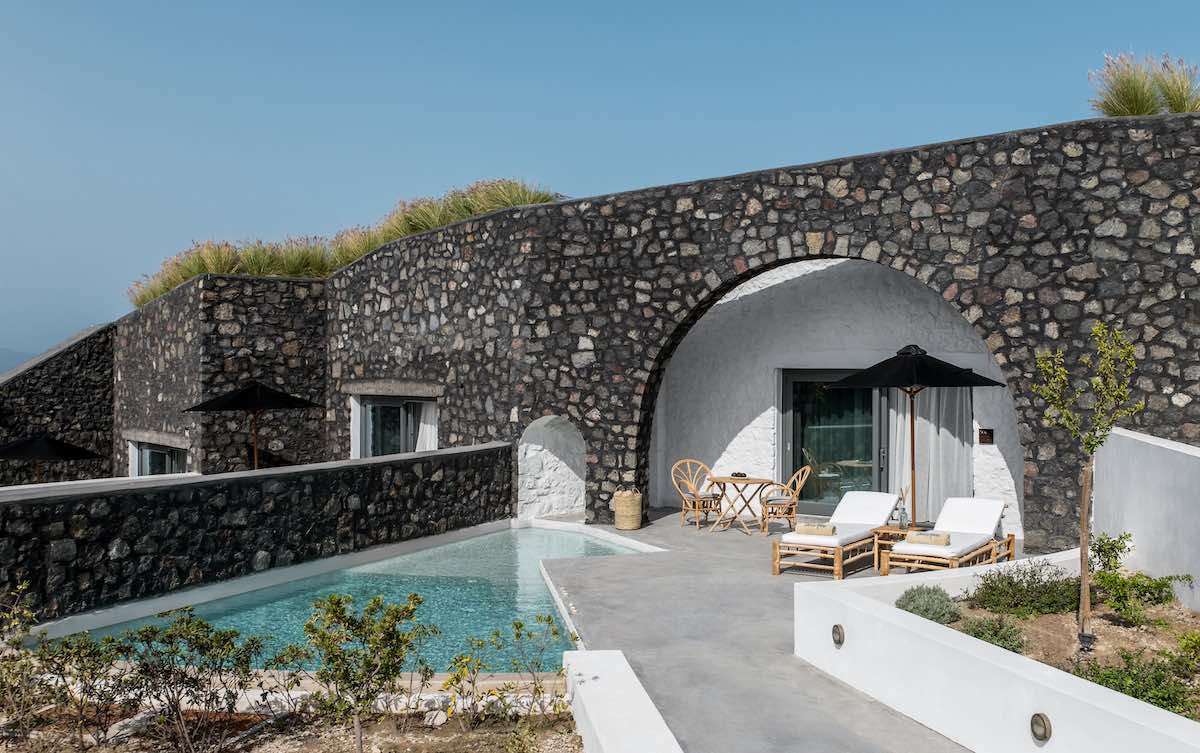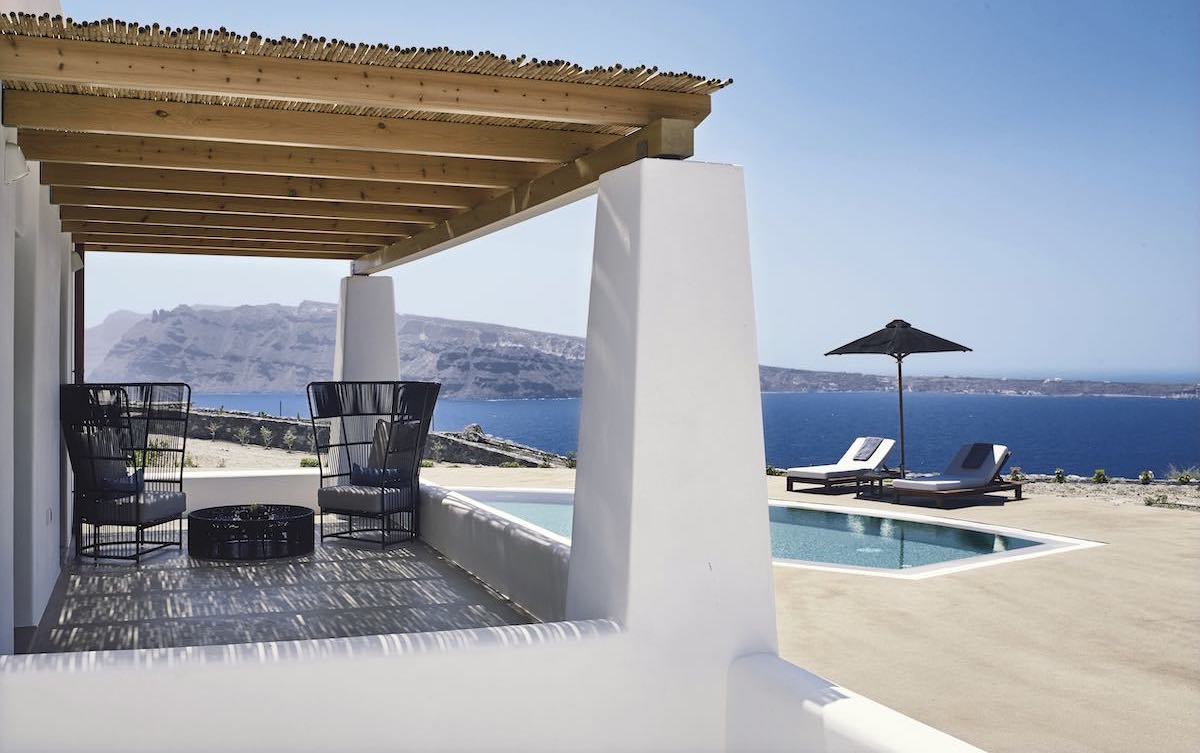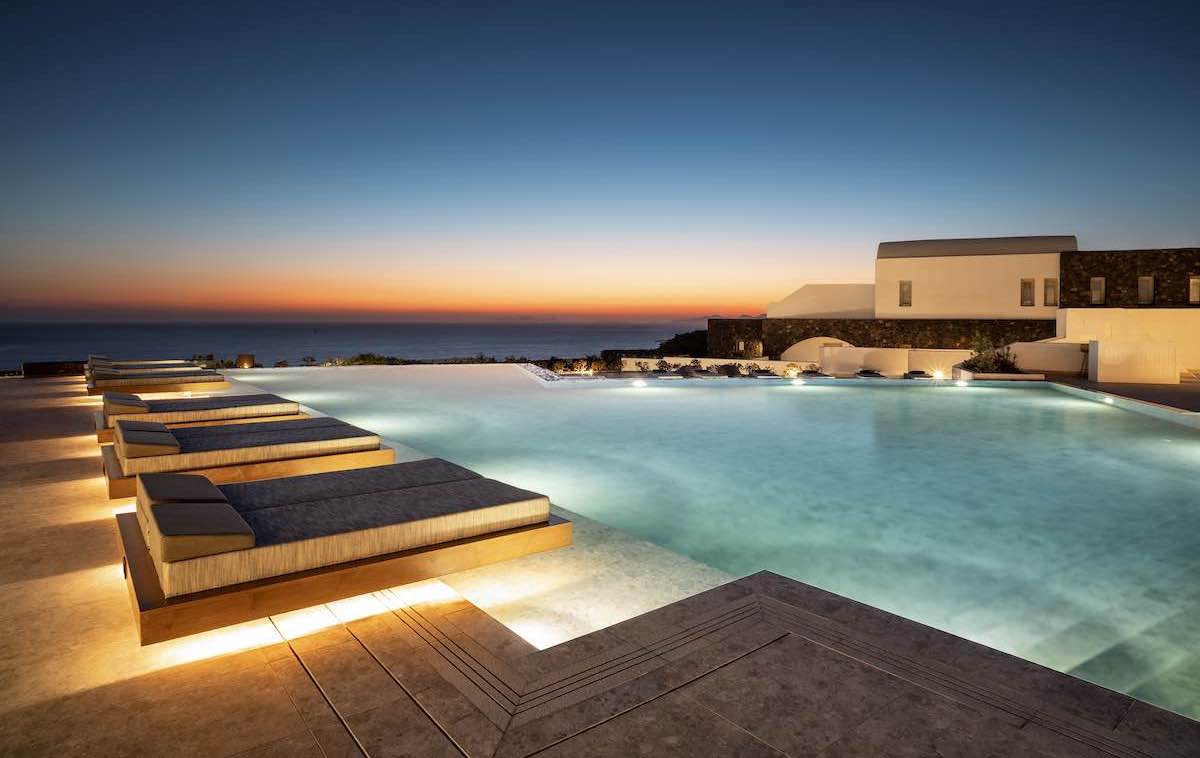 Embrace Wellness, Embrace Nature
In 2023, Santo Pure invites you to elevate your well-being with an exclusive Wellness Package that can enhance any room selection. These carefully curated inclusions place the essence of natural wellness at the core of your stay, allowing you to reconnect with nature, relax, and rejuvenate. Enjoy a range of amenities in your suite, indulge in specialized spa treatments, partake in invigorating outdoor activities, and savor outdoor yoga sessions framed by breathtaking views of the Aegean Sea. The package's crown jewel is a five-hour guided bicycle tour to the hidden gem of Thirassia, a neighboring island waiting to be explored. Along the journey, you'll immerse yourself in the local way of life, with stops at charming bakeries and Mitato, an age-old winery serving delectable local and Cretan delicacies, along with wine, raki, and other delightful refreshments. And don't forget the award-winning spa and wellness treatments at Anassa, one of Santorini's largest and most prestigious spas, where serenity knows no bounds.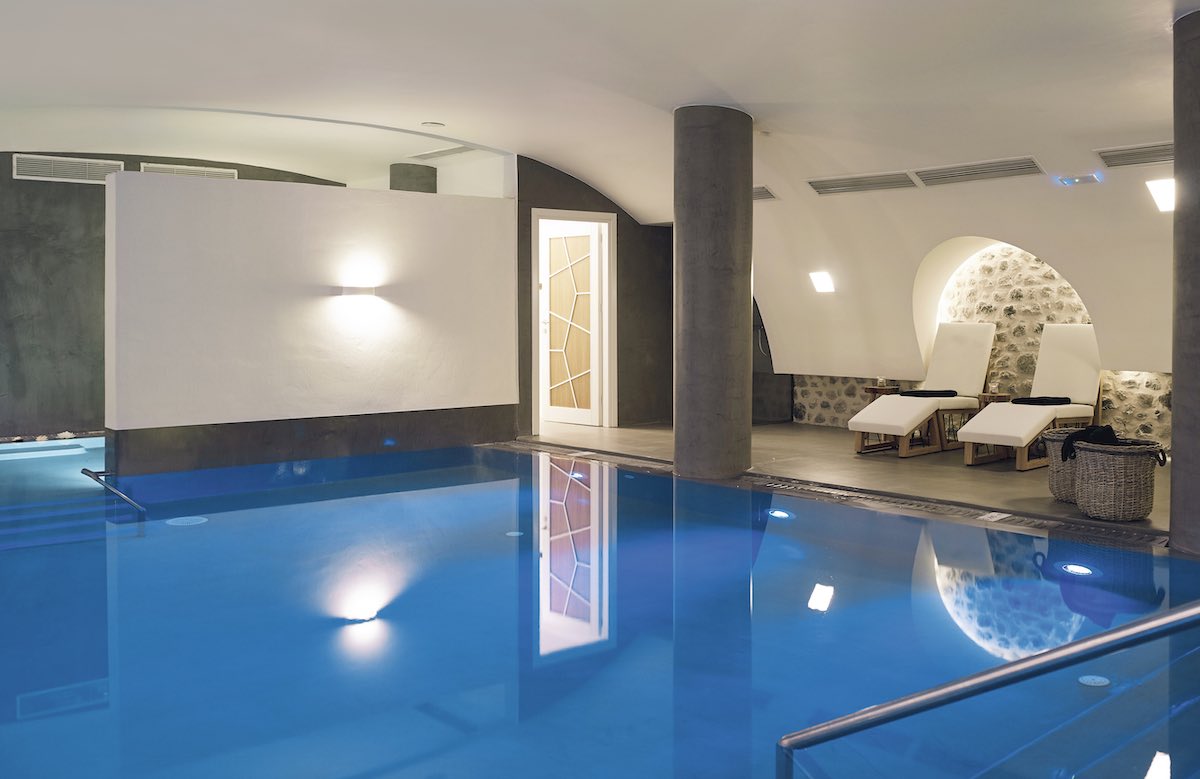 Culinary Excellence with a New Maestro
Alios Ilios, the resort's esteemed fine-dining restaurant, reopens under the culinary helm of the brilliant Head Chef, Andreas Vgenopoulos. With a remarkable 22-year career spanning five-star establishments across Greece, Sweden, Austria, and France, Chef Vgenopoulos brings a wealth of experience to Santo Pure. His new seasonal menu draws inspiration from Mediterranean and international flavors, offering dishes such as Calamari paired with bulgur, blood orange, pine nut, cuttlefish ink cracker, and green apple, and Fagoteli featuring lime, dill, blue cheese, and Greek caviar in a sumptuous beurre blanc sauce – available à la carte or as tantalizing 11, 9, or 7-course tasting menus. Alios Ilios provides an elegant yet laid-back setting, where guests can relish awe-inspiring sunset views over the Aegean Sea. For a more casual dining experience, indulge in the all-day menu and sunset libations at Akratos Poolside Bar, all rooted in the resort's sustainable ethos of farm-to-table dining. Santo Pure is committed to minimizing waste by utilizing herbs, fruits, vegetables, and nuts sourced from its own organic gardens and creatively upcycling ingredients, such as banana peels transformed into delectable biscuits, reducing food waste.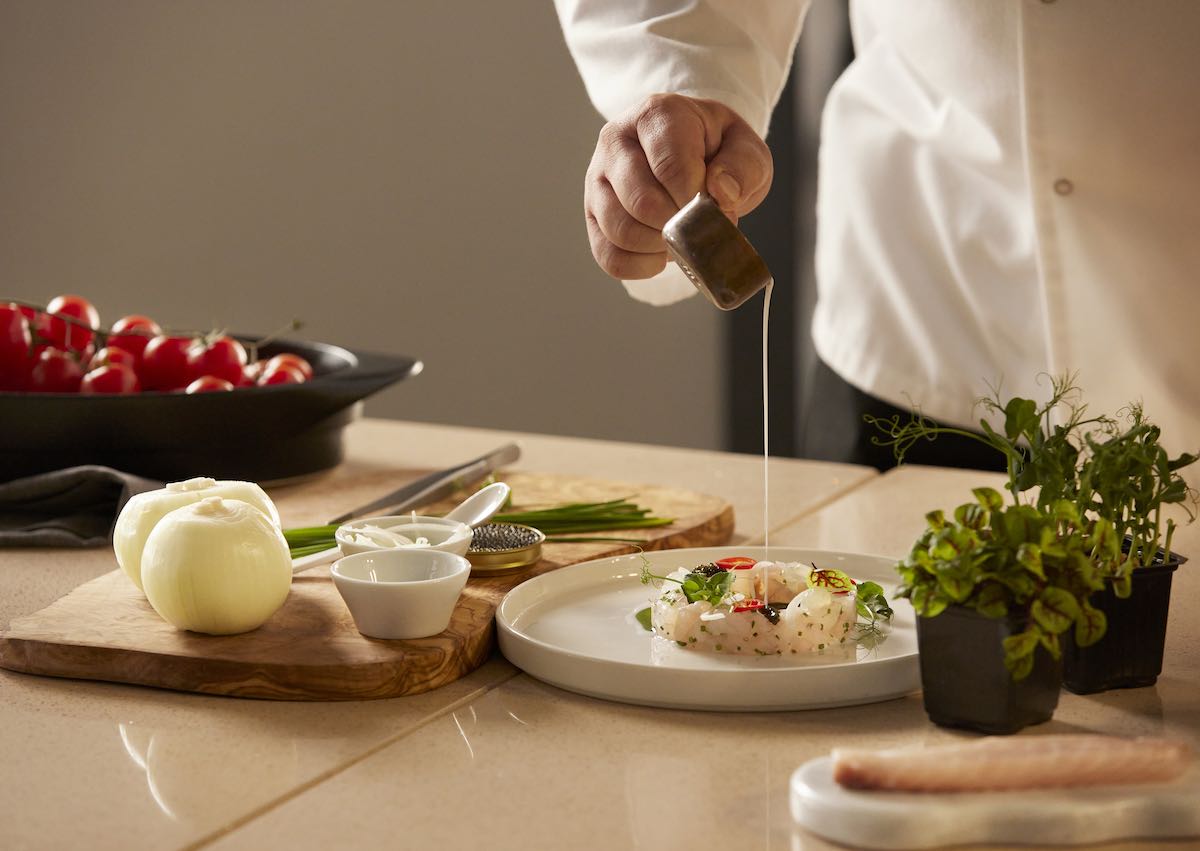 Bespoke Experiences and Local Discovery
Santo Pure curates bespoke experiences that immerse you in the authentic essence of Santorini, offering unique and unexpected encounters with the island's nature, beauty, and culture. Take to the skies on a helicopter tour for panoramic views of the mesmerizing whitewashed houses and vibrant beaches. Capture the island's true essence on a photography tour, where every shot is a masterpiece in its own right. Or embrace the rejuvenating power of water with a Caldera sailing adventure, revealing the most picturesque coastlines the island has to offer. For a land-based exploration, embark on a horseback ride through lush vineyards, hike across the island's scenic trails, or kayak amidst verdant volcanic formations, underwater caves, reefs, and lush seagrass meadows.
Santo Collection: A Symphony of Sustainably Minded Luxury
Santo Pure is a proud member of the newly launched Santo Collection, a consortium of thoughtfully designed and environmentally conscious luxury properties in Santorini. This exclusive collection also includes the existing five-star boutique resort, Santo Pure, The Villas by Santo Collection – two new independent four-bedroom luxury villas set to debut on July 1st, and Santo Mine, the Collection's newest gem, a 37-suite luxury resort opening soon.
Elegance in Every Detail
The 20 new suites at Santo Pure have been meticulously designed by LAB 11, featuring a rich primary color palette of dark grey and adorned with basaltic rocks, ochre accents, volcanic ash, and white lime. Exquisite decorative marble surfaces seamlessly blend with these elements to create a harmonious and cohesive aesthetic. The primary objective of these newly designed suites is to envelop guests in an unassuming yet unmistakable aura of luxury, all steeped in the principles of wabi-sabi. Each suite offers a generously spacious open-plan living area, a king-size bed, and private terraces from which to savor the awe-inspiring vistas. Here, you can bask in the splendor of Santorini's famed sunsets away from the crowds, reveling in the intimacy of your private haven.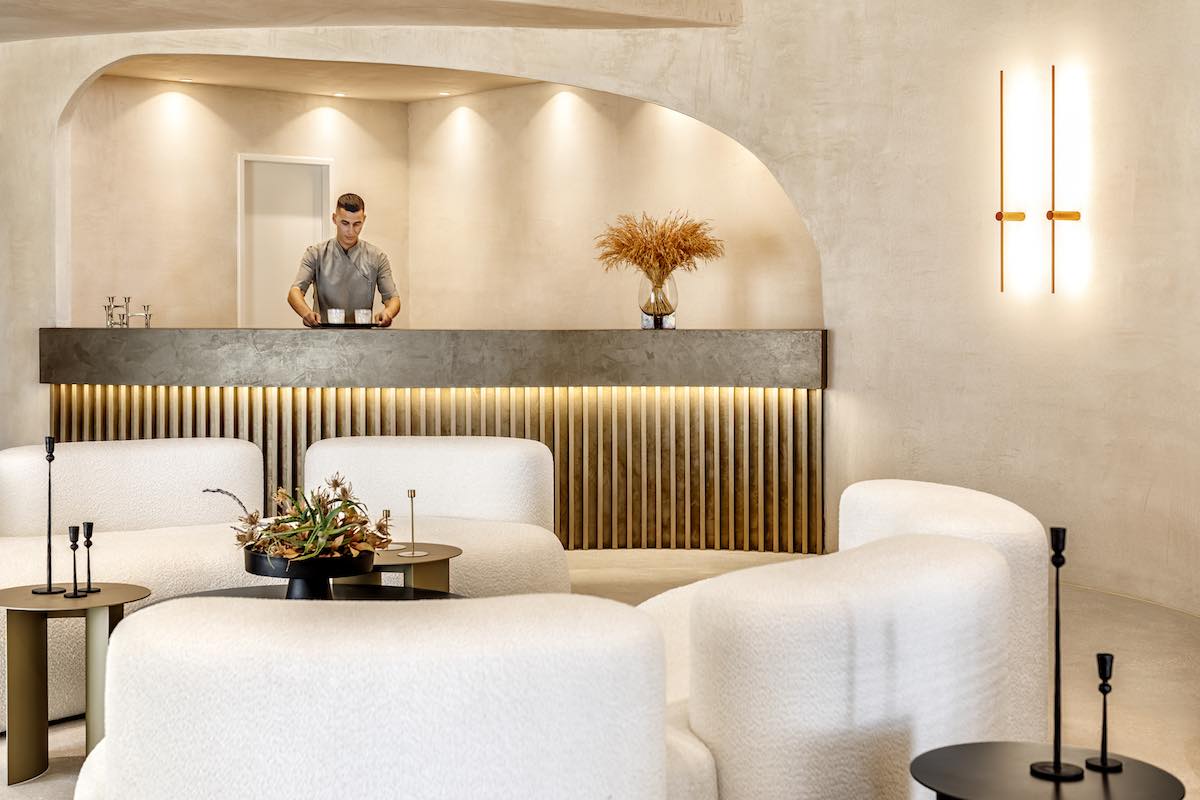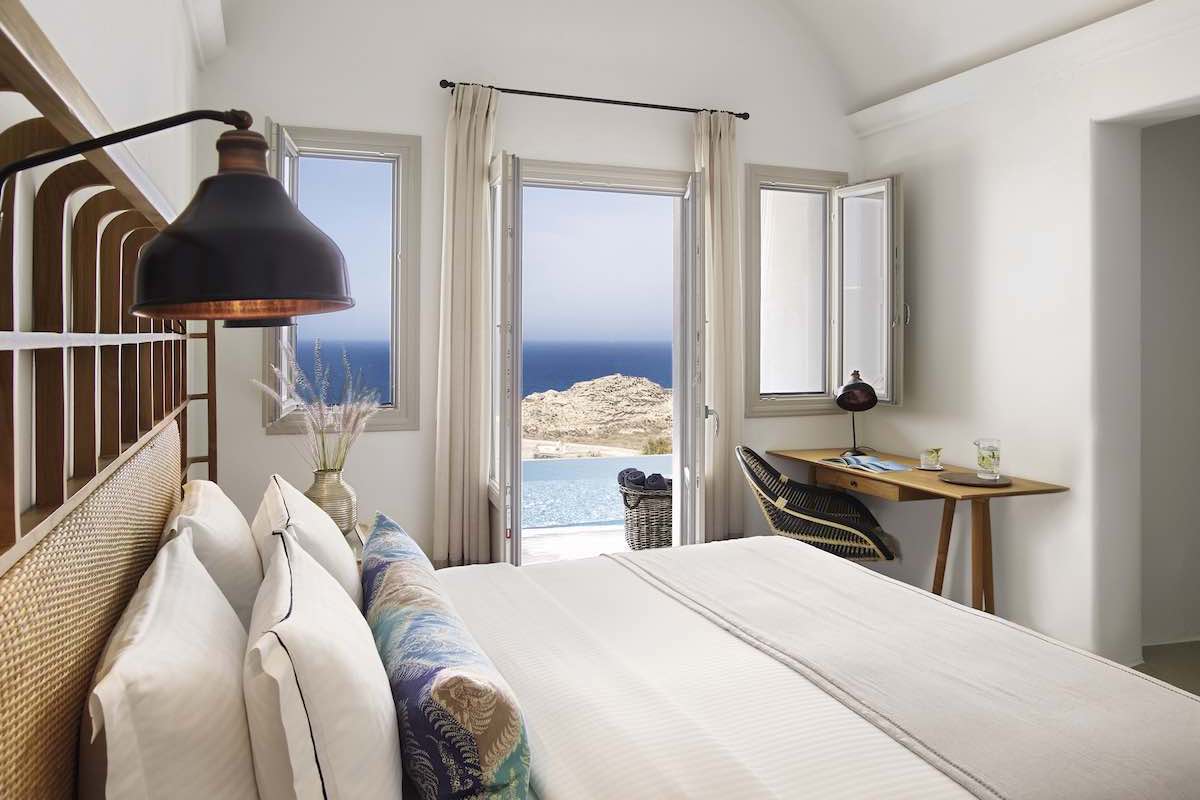 With its renewed sense of purpose, this Santorinian gem redefines the art of relaxation, culinary excellence, and well-being, all while preserving the island's natural beauty and culture. From the enchanting landscapes and bespoke experiences to the sumptuous suites and farm-to-table dining, every aspect of Santo Pure has been carefully crafted to offer a timeless retreat.