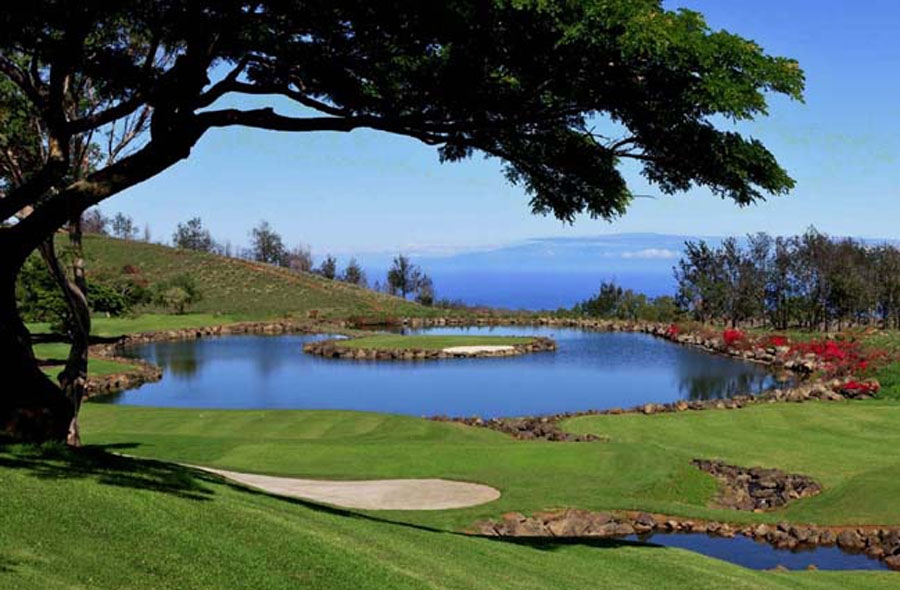 Aloha and welcome to the Big Island Country Club, one of the most unique Hawaii golf courses, where you'll find cool air, light winds and a magnificent setting that will inspire your game.
Big Island Country Club is the perfect course for a Hawaii golf vacation. With five sets of tee boxes, the Par 72 course is challenging but enjoyable for novices through expert players. Designed by famed golf architect Perry Dye, the course features wide fairways and water in play on nine of the 18 holes. Situated on the lower slopes of Mauna Kea mountain, the course offers Hawaii visitor and resident golfers a cooler climate with refreshing air and sweeping vistas of mountains and the ocean.
"The Big Island Country Club is a place that is the in the know spot to golf on the Big Island. It has evolved into a bird sanctuary with (beautiful) mature trees, wonderful waterfalls, panoramic mountain and coast views and cool golf weather." – Perry Dye, Big Island Country Club architect / designer.
A Dye-designed Golf Course for Every Level of Playing Ability
Since the day the Big Island Country Club opened to rave reviews in 1997, it has been on the "must play" list of the golfing visitor to Hawaii's Big Island. That's not only because of its spectacular location and scenic beauty, but equally because of its well-deserved reputation as a course that welcomes both the novice player as well as the low-handicap expert. The course is simultaneously enjoyable yet challenging, and is designed for every level of playing ability. Designed by famed golf course architect Perry Dye, son of Pete Dye, the par 72 course has all the popular attributes and interesting features that make his layouts so popular to golfers of varying skills: wide, gently rolling bermuda grass fairways, medium-size undulating Bent grass greens, and an abundance of water.