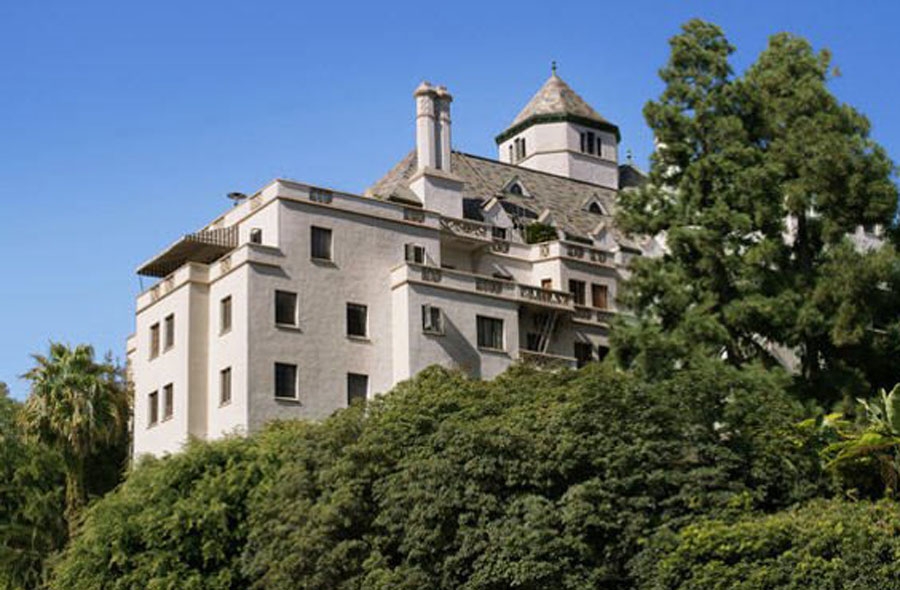 Each of the sixty-three rooms, cottages and bungalows are a home of their own. The majority have full kitchens, sitting areas or living rooms, some have formal dining rooms, balconies and private terraces.
The scale is gracious from a long gone era, perfect for hosting an impromptu party-thick soundproof walls-(after all the hotel was built as the first earthquake proof building in LA) ensure privacy. There is a simple perfection to these spaces, elegant simplicity, and room to move-the white curtains billow seductively with the softest of breezes. The balconies offer the perfect perch for looking out or being above it all- with views reaching from the wide panorama of the spreading city to the twinkling lights of tinsel town, down the pulsing beat of sunset strip and deep into lush green of the hotel garden.
At night one can unwind to the soporific lullaby of gentle conversation, laughter and clinking glasses wafting up from below through an open window or drift into a deep and sentient sleep in the deep luxe of sheets simultaneously soft and crisp head cradled by the most perfect pillow. This is dreamland.
Features and Amenities
Heated outdoor pool for guests only surrounded by gardens and a large sun patio
Intimate dining room and garden terrace serving breakfast lunch and dinner
Bar Marmont
Fitness room
Valet parking
24-hour concierge service
24-hour room service
Complimentary wireless internet access
42-inch flat screen televisions, DVD players and DVD library
HDTV
Movies on Demand
Multiline telephones with conference, fax and modem capabilities
Facsimile and PC equipment available
Direct dial lines available upon request
Cellular phones available by arrangement
Professional audiovisual equipment upon request
iPod docking stations
Complimentary CD library with over 200 titles
Complimentary issues of The New York Times or Los Angeles Times delivered daily
In-room safes and hotel safe deposit boxes
Fine European linens
Cashmere throws
Personalized stationery
Maid service twice daily
Same-day dry cleaning and laundry serviceLimousine and chauffeur-driven cars by arrangement
Secretarial and translation service
Multilingual staff
Catering for all occasions
Packing and unpacking service
Private trainers and massage therapists by arrangement
Babysitting services
Crib/rollaway/steamer/ rolling rack rentals available at $30.00 per day
Frette baby linens
Pet amenities
24-hour shoe shine