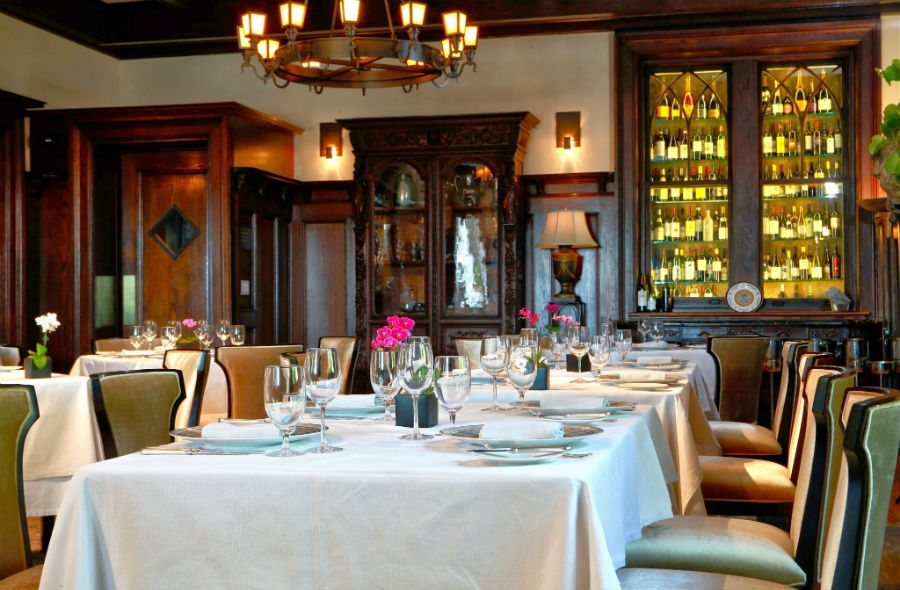 Equus restuarant is a respite of casual luxury and superb cuisine evocative of the Gilded Age of the late 19th century.
High above the Hudson River, guests enjoy innovative, sumptuous meals that are meticulously prepared and presented under the careful and creative direction of a celebrated and award-winning Culinary Team of two accomplished and internationally acclaimed chefs. Their combined accomplishments, wisdom and techniques create a uniquely modern Auberge-style, natural French-inspired cuisine based on locally sourced ingredients using the finest quality and freshest ingredients that can only be experienced at Castle Hotel & Spa.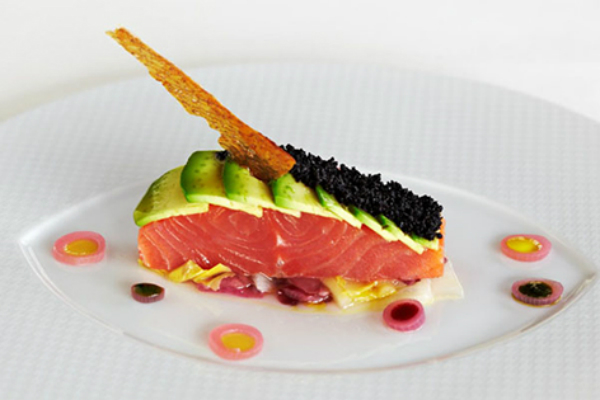 Equus, whose name is an homage to the horses that played an integral role in the early lie of the castle, received the highest rating of "EXCELLENT" from The New York Times in spring 2014. The Zagat-rated, award-winning restaurant, offers a unique dining experience with its stunning décor and masterful food presentations. Creativity abounds under the masterful direction of our Culinary Team and their modern Auberge-style culinary flights or à la carte options. Carefully collaborated wine pairings make your dining experience truly memorable. These gourmet pleasures can be enjoyed in any one of three rooms, each with its own distinct décor and atmosphere. They include the Garden Room, offering breathtaking views of the Castle's gardens, Hudson River and Manhattan skyline; the Oak Room, with its rich wood panel accoutrements first owned by Louis XIV brought intact to New York when the Castle was first built a century ago, as well as the Library, the original study and library of General Howard Carroll, ensconced with mahogany book shelves and working wood-burning fireplace.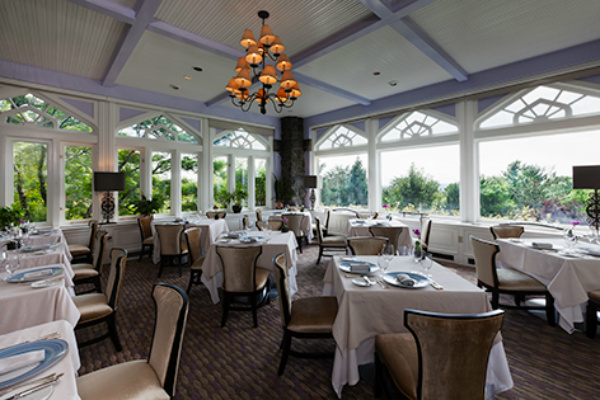 From the beginning, the Oak Room, historic in its own right, served as the family dining room. Legend has it that the room's wainscoting was brought over to Tarrytown from General Carroll's house in St. Germain, outside Paris. Louis XIV had presented this house to James II when he fled to France after having been deposed in England. It was in this room that James' grandson Prince Charles Edward ("Bonnie Prince Charles") and Angus MacDonald, representing the Scottish highlanders, plotted the unsuccessful uprising of 1745 in the British Isles to overturn the German king and restore the lineage of James II.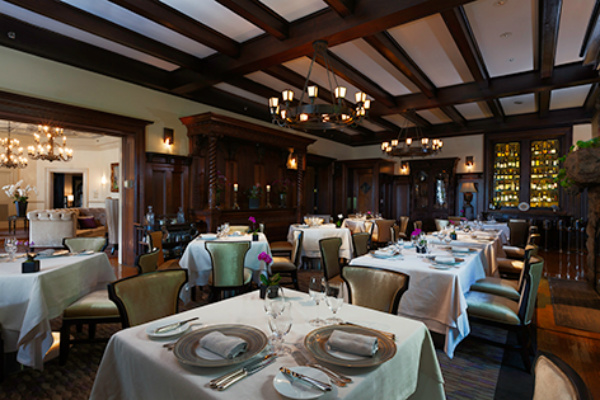 The Grotto or Poolside Bar offers a complete all-day menu from Equus, as well as cocktails and snacks. A popular summer series of Poolside Pairings from Equus includes inventive pairings with local wine, champagne, beer, sake, tequila, spirits, and other favorites. The spectacular setting of the Poolside Grotto enhances a delightful summer evening highlighted by magnificent hilltop views, dramatic waterfall, hot tubs, and superbly matched food and beverages.
The General's Bar and Tapestry Room offer a warm and gracious living room setting for an aperitif, cocktails or after-dinning refreshment.

The Wine Cellar
The original wine cellar, cherished by the Carroll family 100 years ago, still stands today. The cavernous, climate-controlled wine cellar, two stories beneath the Equus kitchen, and includes more than 300 bottles of carefully chosen wines ranging from $20 to more than $1300. A well balanced list includes wines from some of the most respected vineyards of the world. Guests are invited to start their dining experience in the Wine Cellar, selecting their favorite bottles and hors d'oeuvres.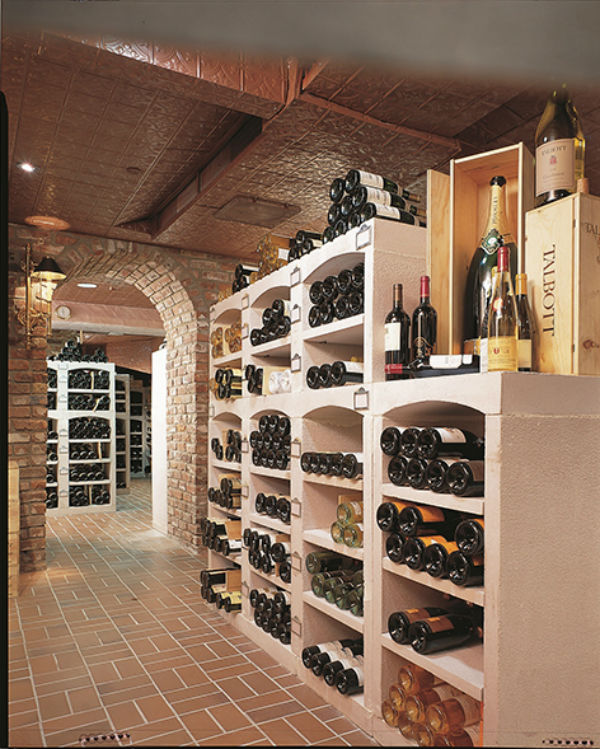 The celebrated Equus cuisine is an notable ingredient of the aura and mystique of Castle Hotel & Spa. From a glamorous garden wedding on the manicured lawns to a dramatic ballroom reception, Equus restaurant is a part of every event and special occasion at Castle Hotel & Spa. Memorable weddings at Castle Hotel & Spa all feature the cuisine from Equus restaurant served in The Great Hall or Caramai Ballroom.
The Great Hall
The 1,500 square-foot Great Hall is perhaps the most spectacular meeting and event space at the Castle Hotel & Spa featuring 40-foot vaulted ceilings and original Gothic windows with heraldic motifs. Recently renovated, this spacious yet intimate room is filled with fine architectural details and complemented by leather panels on the ceiling, meticulous carvings in the foyer, and a grand balcony overlooking the room. The Great Hall accommodates up to 150 guests for seated dining, 120 guests for seated dining with dancing or 200 for an elegant standing cocktail or station buffet reception. The room also seats 175 people in a theater-style setting or 100 people for a classroom-style presentation.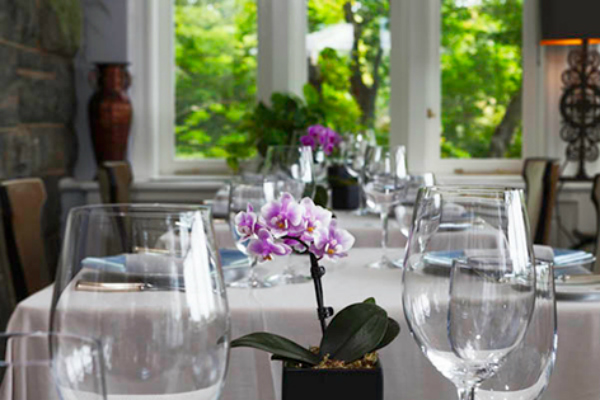 The Caramai Ballroom
The graceful atmosphere of crystal chandeliers and artistic moldings encircle the entire 1,500 sq-ft Caramai Ballroom that is soaked in abundant natural light. The recent renovation features carefully selected colors and fabrics that bring new and modern colors tones that accentuate the preserved moldings and other fine accents that have made this elegant setting the ideal setting for social gatherings, romantic weddings, and special occasions for 100 to 150 guests.