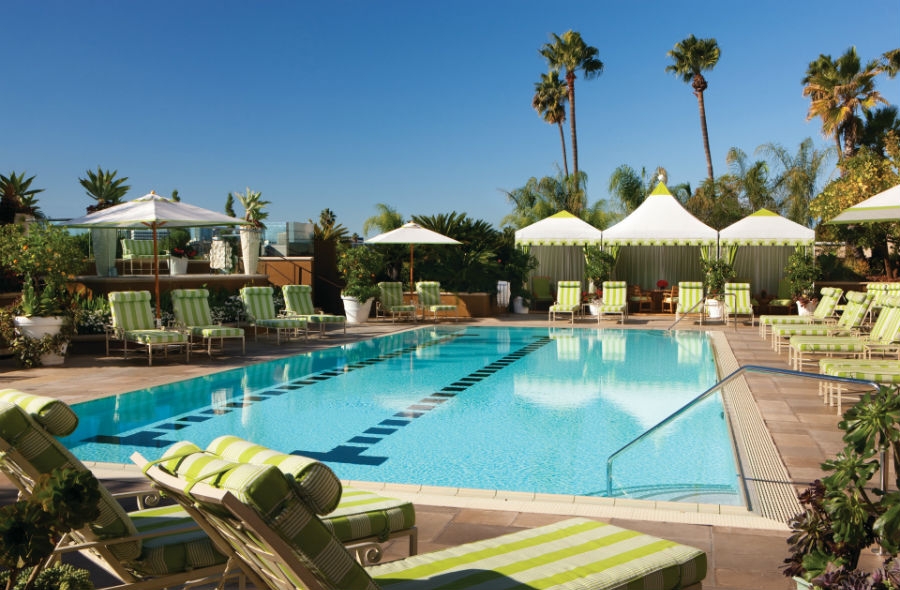 It begins during your approach from the meticulously manicured, tree-lined streets of Beverly Hills, continues as you arrive at the hotel that has mastered a mix of opulence, energy, service and discretion for 25 years, and continues throughout your stay at the Four Seasons Los Angeles at Beverly Hills. What I'm referring to is a calmness and ease and joy you feel as a guest of one of Southern California's true luxury hotels. Befitting the show business wheeling and dealing and celebrating that is done throughout this hotel located on Doheny and Burton Way, there's an omnipresent vibe throughout the property you get from a staff that has been as perfectly cast as an Oscar-winning Hollywood classic. It's the secret sauce in a truly divine experience that goes along with the standard amenities the Four Seasons is famous for.
If you're looking to partake in the shopping Mecca that is Beverly Hills, being situated just minutes from Rodeo Drive and Robertson Boulevard means you are in the heart of some of the finest shopping in the world. The hotel offers complimentary car service to any location within two miles, at any time.
The hotel is also home during Hollywood awards season to many of the most prominent movers and shakers in the industry, and while the staff works around the clock to cater to the A-List crowd, it's a type of service and attention they bring to all their guests. For instance, the hotel claims perhaps the most famous and accomplished manicurist in town, (Genia), an extraordinary seamstress (Adela) as adept at tailoring couture as she is at fixing an errant hem, and a full-service concierge team that knows how to knot a bow tie and essentially satisfy almost any request.
Another subtle treat of the Four Seasons Los Angeles at Beverly Hills is the fact that every room and suite has a balcony that features dynamic views of the Hollywood Hills, downtown LA, or Century City and Beverly Hills. This is a big deal, especially when the setting is as spectacular as the views from your room, or from the fourth floor pool and Jacuzzi.
The hotel just oozes a cosmopolitan, California cool vibe throughout every square inch, and they place a very focused emphasis on technology. Each of the 285 guest rooms and suites is equipped with an iPad2 which is the master control for their ICE (Interactive Customer Experience). The ICE allows each guest to customize their stay and reach all areas of the hotel, including ordering in-room dining, restaurant reservations, valet parking, airport transportation, spa treatments, housekeeping requests, researching information on cultural and entertainment attractions and much more.
A special charm this hotel offers for experienced luxury travelers is a very attractive unpretentiousness. The service offered is exceptional; the comfort of the bedding and furnishings inside the suites and rooms is top notch. The off-the-beaten path location is an added plus, since you are still just steps from the center of the universe, but there's a Zen-like vibe emulating from the incredible amount of impeccably manicured floral arrangements and botanical splendor.
Located just off the hotel's main first floor entrance is the award-winning modern Italian restaurant Culina, a chic destination where sophisticated cuisine and levity join hands. There's a reason the accolades and awards have rolled in since the restaurant opened in 2010. Chef Meredith Manee brings a career-long reverence for ingredients to the Culina kitchen. Based on the seasonality vital to authentic Italian cuisine, her bright menu introduces modern techniques and preferences that lend lightness to each dish. Central Coast produce and proteins pair with the artisanal specialties only Italy can deliver, such as Parmigiano-Reggiano and prosciutto. Aged balsamic vinegars with their aromatic woody essence are procured direct from Modena, while first-press olive oils are bottled by Monini of Umbria under Culina's own exclusive label. They are also available for purchase at the restaurant.
Culina's carefully composed wine list features over 200 labels, and most of the selections may be ordered by the carafe. Each night, a rotating menu offers 12 wines available by the glass.
The wait staff is knowledgeable, personable and meticulously trained, and enhances your dining experience with their casual charm and encyclopedic knowledge of the menu. We strongly suggest you either have a cocktail on the courtyard, or if it's a typically beautiful LA night, you can dine outside. Silent movies are showcased post sunset on the waterfall, yes, the waterfall, and you have an incredible opportunity to see and be seen while you wine and dine.
You don't have to be nominated for an Oscar, Emmy, Writer's Guild Award or Grammy to enjoy all the Four Seasons Los Angeles at Beverly Hills has to offer. You just need to be in Southern California, and in the mood to be treated like you were.