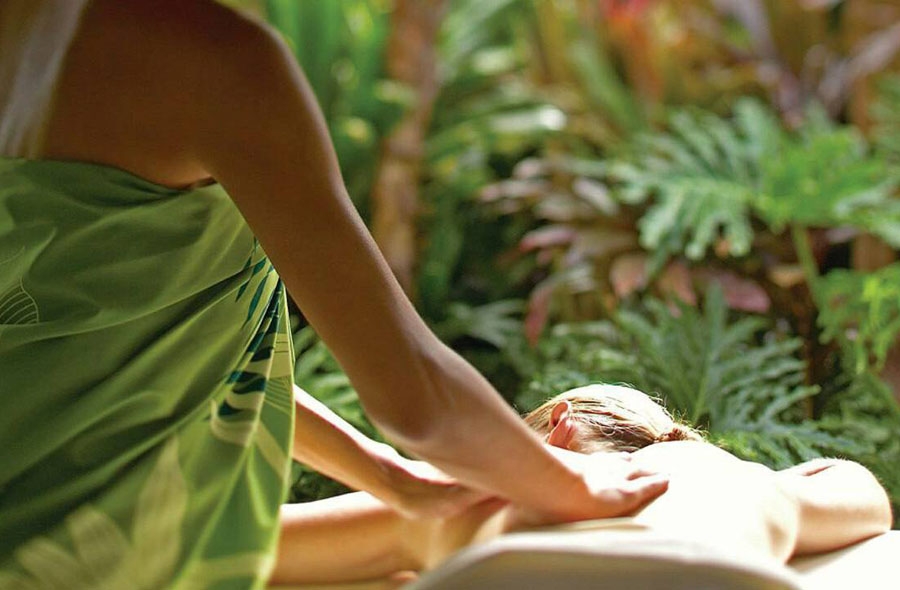 Hualalai Spa in Kona, Hawaii offers a unique experience at The Apothecary. Choose soothing elements of Hawaii to personally suit your needs.
A variety of ingredients, including black lava salt, hibiscus and crushed macadamia nuts along with your preferred scented oil and botanicals, are mixed especially for you to create a fully personalized spa treatment. At Hualalai Spa on the Big Island we honour the healing traditions of Hawaii with a full complement of salon and skin care services, body treatments and massage therapies.
he 28,000-square-foot (2,600-square-metre) Hualalai Spa integrates tropical gardens with cool interior spaces and feels distinctly Hawaiian. Enjoy relaxing by a quiet stream in the open-air Waiea (Water of Life) garden. Or savour the lap pool, whirlpools, saunas, steam rooms and cold plunges, all set amidst lush greenery. Your choice of massage and body treatments may be enjoyed outdoors in our exotic new hales, secluded for privacy.
Extend your spa experience with a visit to the Hualalai Sports Club, which offers a resistance and strength training studio featuring the latest in workout equipment.
COUPLE'S HALE
Unwind in the new couple's hale, which features dual outdoor showers, a hinoki (Japanese cedar) soaking tub and a private garden for dining.
MASSAGES
Custom-tailored to promote relaxation and rejuvenation, our massages incorporate a wide varierty of signature techniques.
BODY TREATMENTS
Moisturise, cleanse and soften your skin using indigenous ingredients blended to meet your individual needs.
IN-ROOM MASSAGE AND SPA SERVICES
All massages, excluding the hot stone massage and body treatments, are available in guest rooms. Select hairstyling and nail-care services are also available by appointment in the privacy of your guest room. Additional fees may apply. Please contact the Spa Concierge for details.
HEALTH & WELLLNESS SERVICES
A wide range of services are available, from acupuncture to nutrition evaluation.