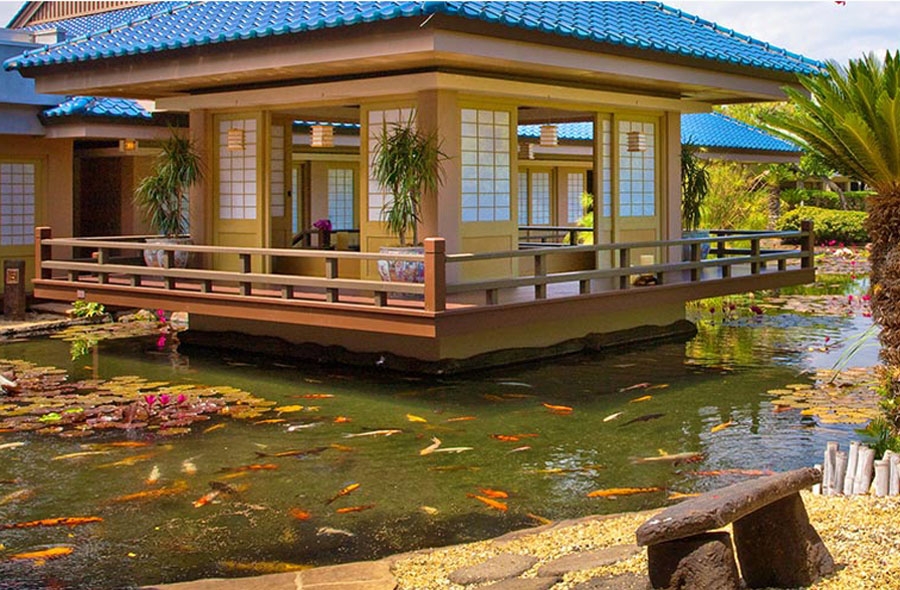 Discover Imari, a captivating Japanese restaurant, featuring three distinctive styles of Japanese cuisine.
Indulge in the Big Island's only location for Teppanyaki dining. Experience chef artistry at the Sushi Bar with exquisitely prepared fresh delicacies. Delight in a wide variety of a la carte Japanese dishes which have been delicately given a hint of a Hawaiian twist by our creative culinary team.
Family Style a la carte
Enjoy the casual environment of our a la carte dining space overlooking the serene Japanese garden. The Imari culinary team has created a family style menu filled with Japanese dishes with a delicate Hawaiian twist using locally sourced ingredients where possible. The "Izakaya" style dishes have been designed for sharing multiple dishes between family and friends.
Teppanyaki
Sit back and watch the amazing show as our talented Teppanyaki Chefs show off their skills and prepare exotic dishes right before your eyes. Savor delicacies such as filet mignon, jumbo shrimp, scallops and succulent chicken served with stir-fried vegetables and steamed rice prepared for you in a style you will never forget.
Sushi, Sashimi & Innovative Rolls
Check out the open kitchen and Sushi bar where Chef Toshi Kobayashi displays unique flair with his Japanese culinary skills. Savor the delicately prepared unique flavors of sushi and sashimi, with a wide choice of very exciting and innovative rolls.