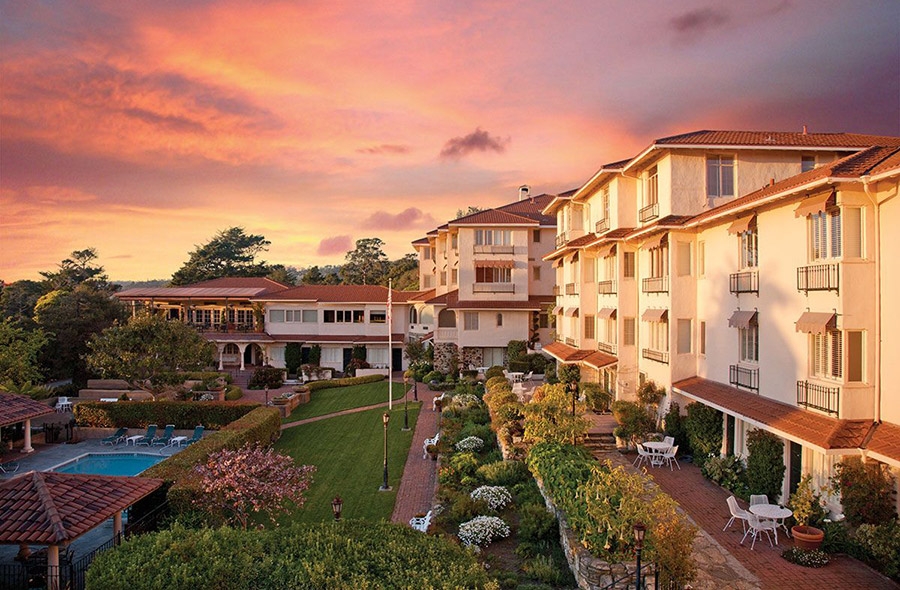 Once a luxurious mansion built in 1905 by an artist as a gift to his wife, a member of the Ghirardelli family, for over 100 years La Playa Carmel has been known as the "Grande Dame of Carmel."
Now after a multi-million dollar renovation La Playa Carmel features all the comforts of today, while maintaining the charm and romance of the yesteryear.
Located in the heart of Carmel-by-the-Sea, La Playa Carmel is just two blocks from the beach, village shops, art galleries and restaurants. Anchoring Carmel's most prestigious residential neighborhood, guests of the 75-room La Playa Carmel Hotel are treated to commanding ocean views and the sounds of the Pacific, award-winning gardens, intimate patios, secluded courtyards, and a tranquil terrace swimming pool.
Inside this Carmel luxury hotel, the lobby features charming and cozy spaces, with the fireside lounge overlooking stunning ocean views. An adjoining patio is the perfect setting to enjoy a glass of wine at sunset or coffee at sunrise.
In this vibrant and charming city by the sea, there is much to experience. Whether you are partial to art, theater, wine, cuisine, hiking, golf or simply taking in the spectacular beauty of Carmel by-the-Sea, there's always something interesting happening. World-class golf, sailing and more are just minutes away.
The new La Playa Carmel features 75 guest rooms with spectacular ocean, garden or estate views and no resort fee.
Reflecting a sophisticated beach cottage style, each hotel room is as unique as its past, yet modernized for today.
From the lush gardens and hand-laid brick patios, to the stunning views and ambient sounds the Pacific, weddings at La Playa Carmel, California hotel promise new memories infused with old world charm.
La Playa Carmel…where innovation begins and icons are born. As the birthplace of the Macintosh Computer, La Playa Carmel is the ultimate getaway for meetings & corporate retreats.