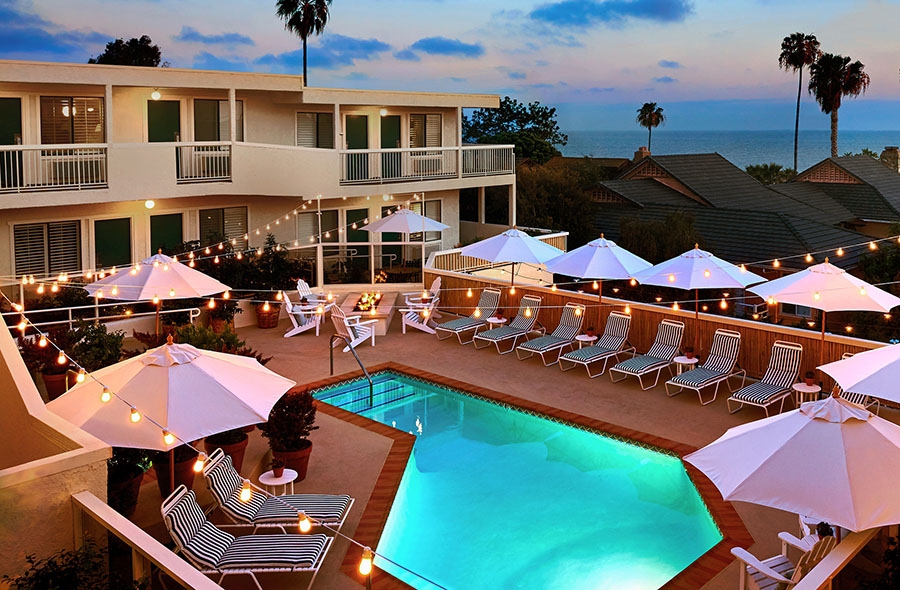 Following a $1.5 million reinvention of all guest rooms and public spaces – including the lobby, an expanded pool deck and brand new meeting space – guests of Laguna Beach House will be immediately immersed into Southern California Surf Culture.
Chic coastal décor and vintage furniture create the look and feel of an open, airy Laguna beach cottage with a palette of natural, warm colors with vibrant pops. Our convenient location is within a short walking distance to Main Beach and downtown Laguna Beach. Personalized service and attention to detail provide for the ultimate Laguna Beach getaway. Beginning with complimentary coffee at daybreak, a nightly wine hour at sunset to cookies and milk before bedtime, guests of Laguna Beach House are treated to all the comforts of home amidst the calming breeze of the Pacific Ocean.
Stay Steps from the Beach in a Laguna Beach Cottage
Your quintessential California beach cottage awaits, featuring 36 deluxe guest rooms designed specifically to reflect the laid back California vibe, with beach accents abound. Crisp white shutters open to let in the natural light, keeping the clean, white guestrooms bright and airy. Plus, No Resort Fee!