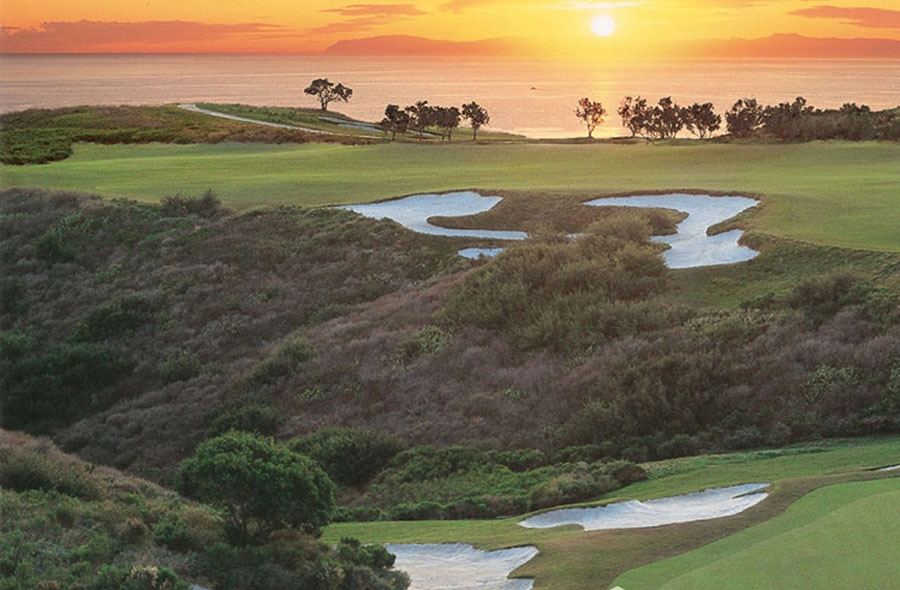 The fundamentals of golf may not vary, but the way you experience the game certainly can. Tom Fazio designed these 54 holes of golf, including 18 holes at nearby Oak Creek Golf Club, and our 36 championship holes on the Ocean North and Ocean South courses, to be unlike any that you've ever played before.
To further enhance your game, add Pelican Hill's unmatched service and amenities; professional forecaddies, luxurious locker rooms, practice facility, shoe attendants, club cleaning service, golf shop and golf academy.
OCEAN NORTH COURSE
Deep ocean views to the horizon guide all 18 tee shots on the North Course. Open canyons and elevated plateaus with a palette of a hundred colors contrast the distinct edges of the fairways and greens. One can feel complete isolation on this course – save for the sound of birds' wings and the refreshing perfume of unique flora. With several holes on the cliff's edge, the Pacific Ocean draws focus from the green beckoning players to experience one of the finer points of the course.
OCEAN SOUTH COURSE
Ocean South is a flow of contrasts: from brush gardens framed by sage and eucalyptus trees to the greens dropped at every side by deep chasms. The sheer variety of vegetation on the South Course makes playing it quite the experience surrounded by appealing hints at florals and the ocean as they breeze through the course. Several holes permit 270 degree views of the vast Pacific, with the sight of seabirds and sailboats guiding the fresh ocean breeze. As enjoyable to play as it is beautiful, this is one of the most pure exaltations of Fazio's design philosophy.