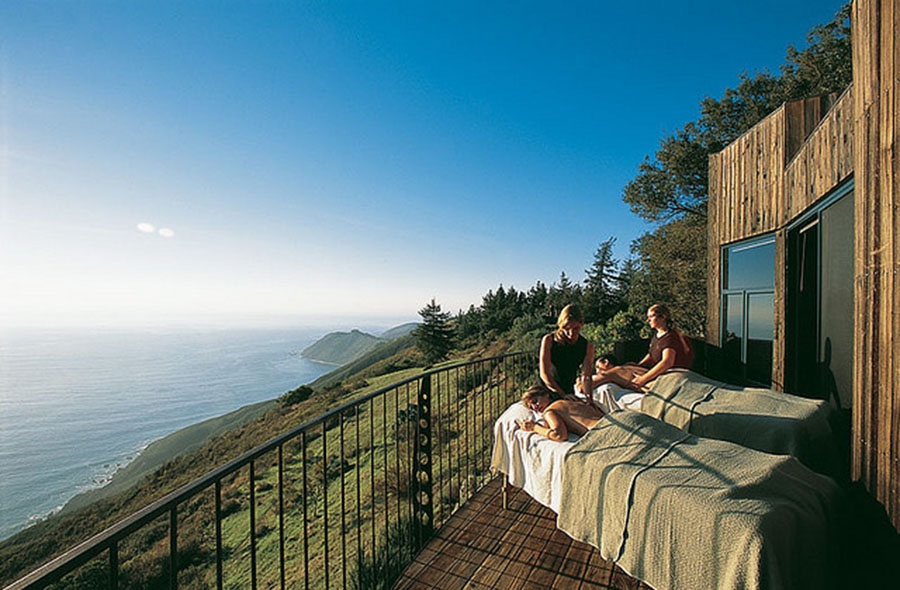 Post Ranch Inn is one of the only spas in Big Sur where the treatment rooms are centrally located on the ridge top where redwoods frame views of Ventana granite peaks.
This inviting setting offers relaxation in the heart of nature. Spa treatments can be enjoyed both in your room and the treatment rooms.
Enjoy experts' therapies by yourself or with your partner in the setting of your choice – your own guestroom, the scenic spa treatment rooms or the couple's Spa Suite.
Please note that the Post Ranch Spa is available for hotel guests only.
SPA SERVICES:
Post Ranch's award-winning Big Sur spa takes relaxation to a new level.
Couples Treatment Rooms
Two inviting couples' treatment rooms offer a private setting and magnificent views of the Ventana Double Cones from which to enjoy our signature spa treatments. One room features a wood-burning fireplace, the other a walk-in couples' shower.
Signature Products
Big Sur flower essences, certified organic or wild-crafted essential oils, are used in our signature spa products. Aromatherapy massage oils, body butters, bath salts, flower essence mist, lip balm and soy travel candles carry the Post Ranch brand.
Private Activities
We offer several activities including private yoga and meditation sessions, couples massage instruction and private guided hikes to be enjoyed individually or as a couple.