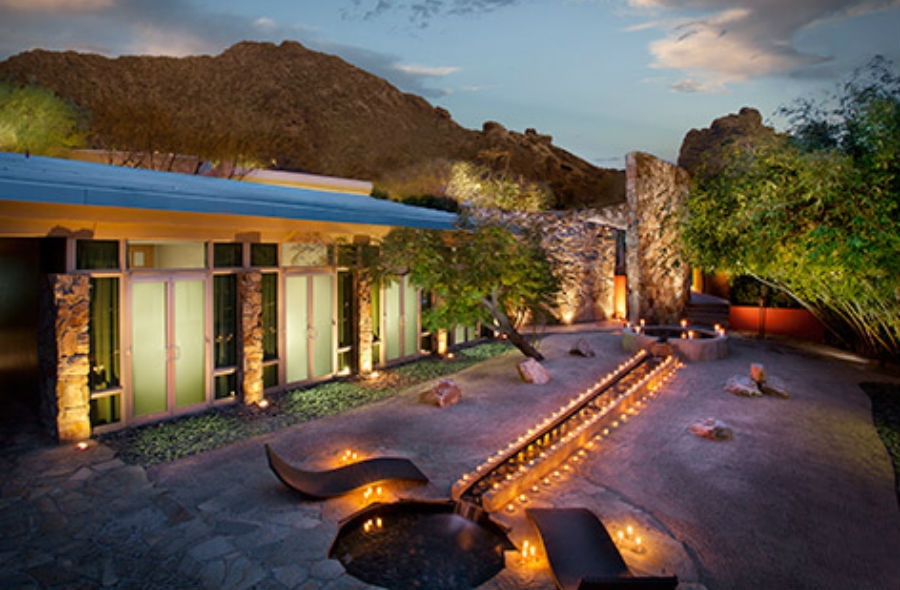 Elevated. You feel it the moment you arrive. Passing through the double-door entranceway, you stop in wonder as a wall of glass, just yards ahead, reveals your altitude – the endless sky stretching out before you and Paradise Valley unfolding below.
Behind you, Camelback Mountain and its tumble of red rocks offer a rugged invitation to adventure, should the desire to hike and explore arise. Ahead, the horizon hints at the endless possibilities in store. But right now, right here, you've found sanctuary.
This is Sanctuary on Camelback Mountain – a rare, elusive retreat high above (yet just minutes from) the bustling city life of Scottsdale. Everything about this resort celebrates its spectacular Arizona setting: Nature's blues, oranges, yellows and greens, so prevalent in the landscape, are repeated in Sanctuary's stylish interiors – from its renowned restaurant and spa to the 105 casitas and seven private homes that stretch across its 53 acres.
Every aspect of Sanctuary's accommodations is designed to elevate the guest experience. Of the 81 mountain casitas, almost half are 1,000-square-foot suites with wood burning fireplaces and outdoor terraces. All offer custom-designed contemporary furnishings and the amenities you have come to expect of a world-class property: spacious baths with oversized tubs and separate stone showers, the finest linens, flat-screen TVs, and internet connectivity. Then there's the unexpected: silk throws on the bed, eye-catching original artwork, and a velvet sand bag that tells housekeeping when you're in residence and when you're not.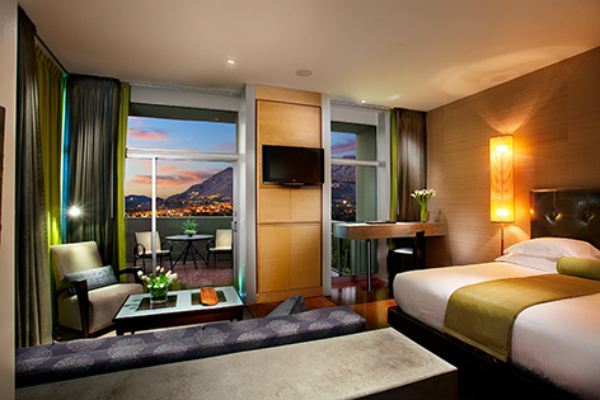 Another 24 spa casitas surround Sanctuary's spectacular infinity-edge pool(the largest in the region) and its intimate, world-acclaimedspa. Here, soothing colors reign and design details depart the norm, from step-down living areas and crystal fireplaces to baths with private outdoor soaking tubs. Whether you choose to take in the dazzling views from your tub or while enjoying a cocktail on your large patio, your spa casita is an oasis of repose that invites you to relax and linger.
For an even more exclusive experience, Mountainside Estates at Sanctuary is a unique collection of private, architecturally distinctive homes that climb the foothills of Camelback Mountain and can be booked for as little as two nights or for as long as a month. These are full-fledged estates – complete with private pools and Jacuzzis, wrap-around terraces, home theaters and game rooms – where a private luxury vehicle is available on request and all of Sanctuary's sought-after resort amenities remain at your disposal.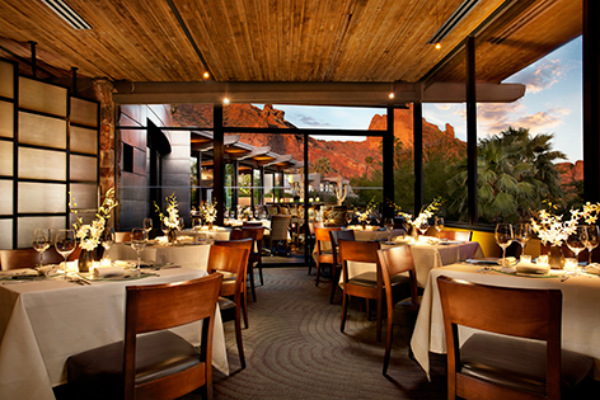 Sophisticated flavorsrival the magnificent views at Sanctuary's signature restaurant, elements, where award-winning Food Network star and Executive Chef Beau MacMillan showcases seasonal farm-fresh American fare with Asian accents.Seating is comfortable and arranged to make the most of the vistas on display through the floor-to-ceiling windows. At dinner, you'll watch spellbound as the magnificent desert sunset gives way to a starry night sky mirrored by the lights of Paradise Valley below. In the mood to socialize? Take a seat at the community-style table that runs down the center of the room. Or, for the ultimate in private dining, book the private room XII, whichopens to the kitchen, offering a window on the workings of a world-class restaurant. Al fresco dining is a memorable experience on thePraying Monk patio, where slide-away glass walls create an inviting, year-round setting.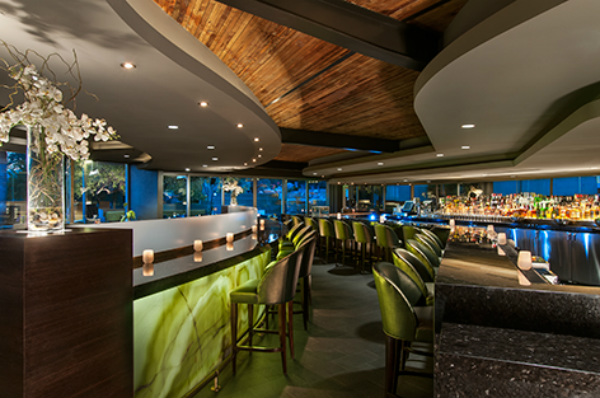 With its spectacular new floor cantilevered over the valley below, the newly redesigned jade bar is a hot gathering spot for locals and Sanctuary guests, thanks to an inspired, only-in-Arizona cocktail concept and exclusive small plates menu by MacMillan. On a cool desert evening, this is the place to savor an Agave Spice or Anejo Manhattan by the dramatic outdoor fireplace to the sounds of live music.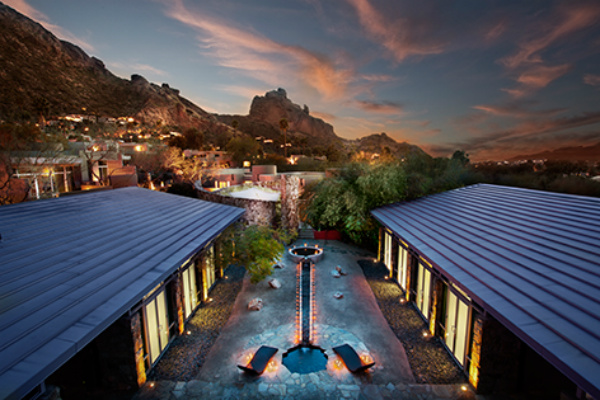 Slip away to the Sanctuary Spa and you may never want to leave. Here, in this serene, Asian-inspired retreat, you'll experience the ultimate in relaxation and renewal during treatments performed by impeccably trained staff.
The spa's design follows an East-West orientation that keeps one view constant: a natural rock formation atop Camelback Mountain called the Praying Monk. From the reception area, a tranquil water feature flows into the reflecting pond of the Zen Meditation Garden, where your spa journey begins. Select from Sanctuary's menu of Asian-inspired facials, massages and body rituals, or book an exclusive three-or-four-day Satori Wellness Retreat, to jumpstart a healthier new lifestyle.
Sanctuary Spa features 12 treatment rooms, aWatsu immersion pool for hydro treatments, indoor Couples Suite, movement studio, fitness center, outdoor lap pool and spa boutique. Yoga, fitness, nutrition, astrology and numerology consultationsare offered, along with complimentary studio classes and access to five championship tennis courts.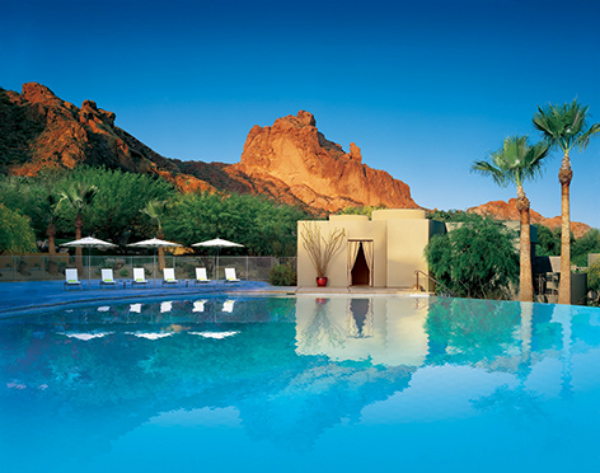 You'll find a perfect end to your day at Sanctuary's expansive infinity-edge pool. Indulge in a refreshing dip in the pool, then relax in a fan-cooled cabana for your own private, poolside retreat stocked with refrigerated refreshments and a television.
Beyond the resort, Sanctuary can connect you to a wealth of outdoor adventures and activities, from hiking and biking to golf at Paradise Valley's renowned courses to world-class shopping, museums and major sports events.
A 20-minute drive from Sky Harbor International and Scottsdale airports, Sanctuary is, in fact, one of the Phoenix/Scottsdale area's most accessible resorts. But you may have a hard time convincing yourself of that as you gaze from your lofty vantage point on the valley below – just minutes away but worlds apart.