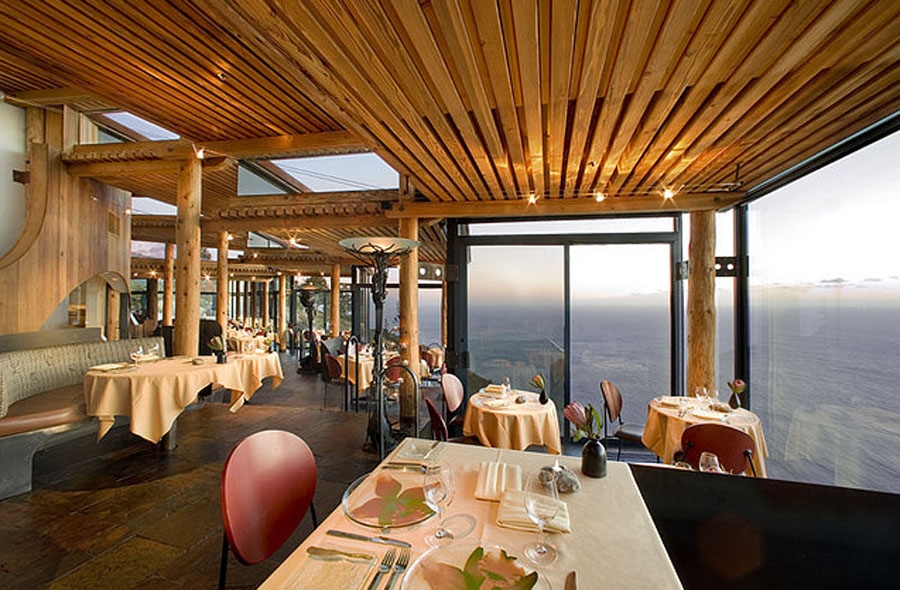 High atop the cliffs, offering breathtaking views is Sierra Mar, winner of Wine Spectator's prestigious Grand Award. Offering an unconventional fine dining experience, Executive Chef John Cox presents inquisitive food creations featuring ingredients highlighted by a sense of place and culture.
Selections from the award-winning wine cellar enhance the innovative, inspired cuisine.
BREAKFAST | 8:00 a.m. – 10:30 a.m.
Complimentary gourmet buffet breakfast is available each morning for guests of Post Ranch.
LUNCH | 12:15 p.m. – 3:00 p.m.
Lunch offers a choice of a three-course prix-fixe menu or a five-course tasting menu, with or without a wine pairing, designed to provide diners with a sense of place. Both options are available everyday for guests and the general public. Reservations are recommended.
DINNER | 5:30 p.m. – 9:00 p.m.
Sierra Mar offers two options for dinner. The traditional four-course, prix fixe dinner menu changes daily (An à la carte option is also available). Or try the nine-course Taste of Big Sur tasting menu, interpreting the Big Sur experience through food, along with an optional wine pairing. Dinner is available for guests and the general public. Reservations are recommended.
ABOUT THE CHEF
Chef John Cox is the Executive Chef at Sierra Mar. Chef Cox's start in July 2012 marked a return to Sierra Mar, where he began his professional career in 2001. He joined us from his position as executive chef at La Bicyclette and Casanova restaurants in nearby Carmel, where he initiated dynamic, daily changing menus focused around locally sourced ingredients. The successful concepts and menus soon earned recognition as some of the finest in Carmel by publications ranging from the San Francisco Chronicle to Food & Wine magazine.
Prior to his time in Carmel, Chef Cox spent time immersing himself in Hawaii's island cuisine and the bold, spicy flavors of the southwest in New Mexico. He trained at the New England Culinary Institute, where he is still a board member.
WINE CELLAR
Wine enthusiasts can spend hours reading the acclaimed wine list from our vast Grand Award-winning wine cellar, with over 14,000 bottles and 2,600 selections, selected personally by Wine Director Dominique DaCruz.