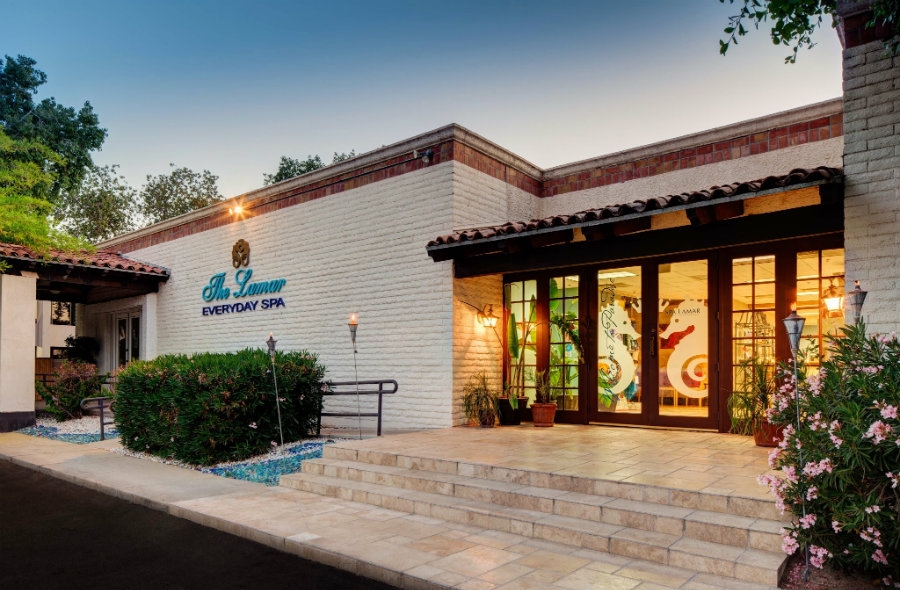 No visit to Scottsdale would be complete without a trip to the spa, but in a city that has more spas per capita than any other in the world, choosing just one can be a daunting task!
Most travelers just book a service at the property where they are staying, so resort-spas can get a little crowded. For a memorable spa experience, adventurous travelers follow the locals to their favorite spa.
Spa Lamar is a real resort-style spa, not a salon that offers massages. Scottsdale residents, that have visited some of the best spas around the world, call this casually elegant oasis home. In addition to world-class services, Spa Lamar guests enjoy a sauna, steam, pool and whirlpool, yoga studio and dining facilities. Why settle for a typical resort massage when you can get an authentic spa day for substantially less, and get the local scoop on the best restaurants and places to shop?
The island inspired ambience of Spa Lamar is an unexpected oasis in the Sonoran Desert. This may be the largest privately owned resort-style spa in the Southwest, but guests say it feels more like a visit to the home of an old trusted friend. A favorite destination for discerning locals and savvy visitors alike, Spa Lamar is not just another trendy place to see and be seen. It is a refreshing escape to a serene world where even the rich and famous can truly relax because every guest is treated like royalty.
Spa Lamar combines exotic therapies from around the world with an award winning team to create an unparalleled place of rejuvenation. This European style spa, where couples can soak, steam, sauna and swim together, was named "One of Phoenix's Most Romantic Places to Take a Date" by City Search.
All-Inclusive Spa Packages include steam, sauna, pool, whirlpool, robes, towels, sandals and lockers. For a complete list of services, please visit SpaLamar.com. The yoga schedule and class descriptions may be viewed at YogaLamar.com. To request an appointment, please call our spa concierge at 480.945.7066.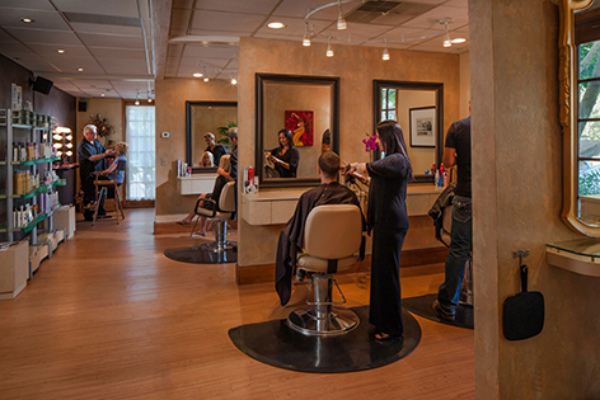 A Perfect Spa Day $325
Enjoy a Spa Lunch & your choice of 3 of our most popular services:
Oasis Facial
Swedish Massage
Tropical Body Scrub
Mud or Algae Wrap
French Mani/Pedi (4 hours)
plus Yoga
Island Hopper Express $225
Like a tropical vacation without the jet lag, this Swedish Relaxation Massage, Refreshing Oasis Spa Facial and Shampoo & Blow Dry are the gateway to Paradise! (2.5 Hours)
A Day At The Beach $375
Escape the Desert heat in our Island Oasis! A Tropical Body Scrub, Swedish Relaxation Massage, refreshing Oasis Spa Facial and Beach Feet Pedicure will quench your thirst for the Islands. (4 hours)
A Trip For Two $500
This celebration-for-two includes a Couple's Paradise Massage in our couple's suite, His & Hers Oasis Spa Facials and two Oasis Pedicures. (3 hrs)
The Pregnant Pause $275
Pamper yourself and your baby-to-be with a day of bliss! Our Pre-natal Massage is designed to help you find peace within your changing body. A Pre-natal Facial, customized just for you and a Shampoo & Blow Dry Style in our salon complete this relax-while-you-still-can retreat. (Add a Just For Men package for Dad and create your own Babymoon get-away!) (3.5 hrs)
Just For Men $275
This half day full-body pit stop includes a Therapeutic Massage, Gentleman's Facial, Gentleman's Manicure & a Balancing Scalp Treatment with Haircut & Style. Repeat every 3 months or 3,000 miles to maintain peak performance. (3.5 hrs)
Conveniently located just blocks from Old Town, The Scottsdale Fashion Square and The Scottsdale Waterfront, Spa Lamar has ample free parking, a steam room, sauna, swimming pool, whirlpool, banquet facilities and full service Hair and Nail Salons. Nestled between the Paradise Valley Double Tree Resort and the Chaparral Suites, on Scottsdale Road, Spa Lamar is large enough to accommodate any group with boutique attention to every detail.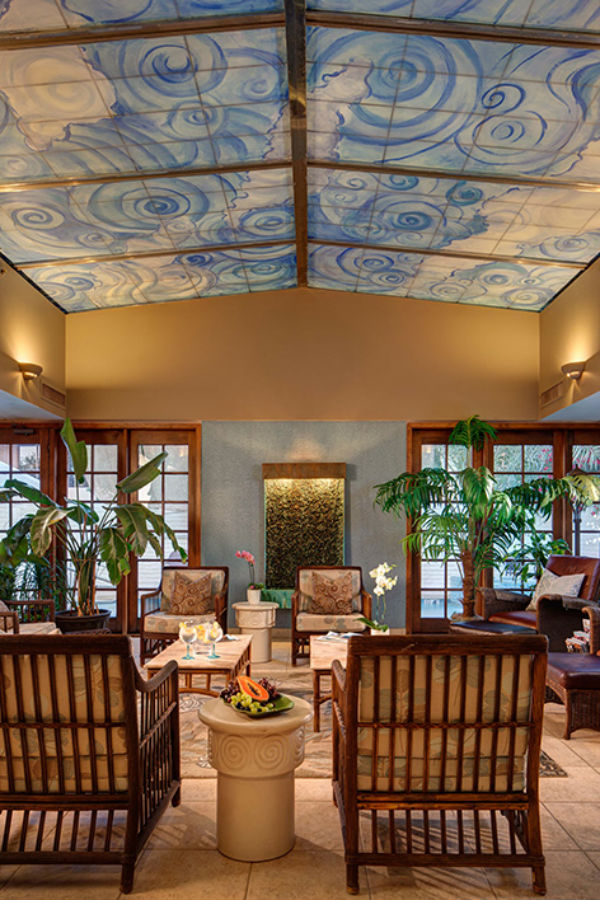 Whether you are planning a romantic escape, corporate incentive trip, team building event, sales meeting, bridal party or girls' spa day, Spa Lamar provides the perfect setting for an unforgettable gathering.
For over 30 years, groups of 10-100+ have been treated like royalty in this casually elegant 14,000 SF resort-style spa. When it is time to celebrate in Scottsdale, corporate clients like IBM, GE and McKesson, come to Spa Lamar. With 2,000 sq ft of event space, banquet seating for 50 and a long list of repeat clients, Spa Lamar is the perfect place for spa-savvy groups to relax and reconnect.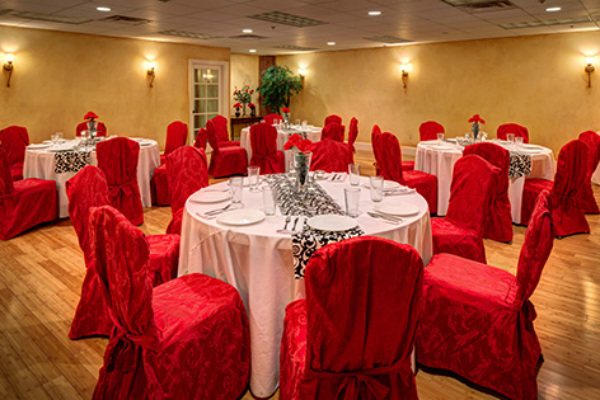 Choose from one of our group packages or let our Event Concierge help you create a customized spa day, that exceeds your expectations, not your budget!
Ultimate VIP Experience
Spa Buyout $10,000/ for 6 hours
Buyouts reward your group with the highest level of appreciation and VIP status – providing the greatest sense of exclusivity and pampering. Everyone in attendance feels a sense of pride at being a valued insider. They know they are playing at the top of their game.
Exclusive use of Spa Facilities and unlimited services, Yoga Class & VIP dining.
Exclusive use of our 14,000 sf pa for 6 hours.
Unlimited Massages, Facials, Pedicures and more.
3 Course meal prepared by a local chef in our Palm Room.
Private Yoga classes tailored to fit your group.
Steam Room, Sauna, Heated Pool, Whirlpool, Robes, Towels & Lockers.
Executive Suite
Each guest chooses one service $120 per person 2 Hrs. Use of Spa Facilities, Palm Room, Hot Buffet & Choice of:
55 minute Swedish Massage
55 minute Oasis Facial
Shampoo, Blow Dry & Make Up Application
Diva For A Day
Three services for each guest & a tiara for the guest of honor $150 pp / 2.5 hrs
Use of Spa Facilities, Palm Room, Gourmet Picnic Lunch, Austrian Crystal tiara for the guest of honor & all of the following Spa services:
25 minute Hydra Flash Facial
25 minute Neck & Shoulder Massage
Choice of Manicure or Shamppo & Blowdry
Spa Tasting
Great for corporate groups (No Spa robes required. Guest wear their own clothes) $150 pr person/2 Hrs
Use of Spa Facilities, Palm Room, Spa Lunch & and "All You Can Spa" sampling of mini Spa services
Chair Massage
Mini-Manis
Paraffin Dips
Mini-Facials
Brow or Lip Wax
Hair Style & Make Up Consultation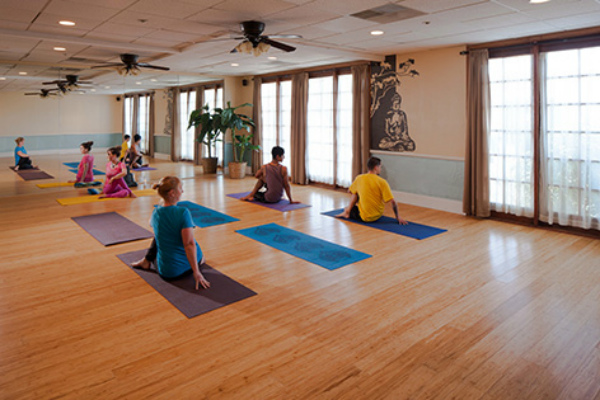 * Spa Facilities includes Steam Room, Sauna, Swimming Pool, Whirlpool, Robes, Towels, Lockers & Fresh Fruit & Tea Bar.
* Hot Buffet includes two gourmet pastas, caesar salad, garlic bread, dessert tray, iced tea & water.
* Picnic lunch includes choice of salad, sandwich, cookie & beverage served in a picnic basket.
* Our Day Spa is co-ed, so bring a bathing suit if you want to enjoy the Sauna, Steam Room, Outdoor Swimming Pool or Whirlpool.
Desert Island Sauna
Our Desert Island sauna is a perfect place to lie back and relax as your body is enfolded in dry heat.
Experience feelings of peace and contentment, relax your mind, lift your mood, fight fatigue, anxiety and depression while your body's knots gently loosen themselves.
There are many physical benefits of a visit to the sauna as well. Stimulating your body's natural ability to eliminate toxins, our sauna will help your sweat glands to cleanse your skin, purge your system and stimulate your circulation.
Blue Lagoon Steam Room
The Blue Lagoon Steam Room will enfold you in moist, penetrating heat, allowing your body to completely relax. Steam also liquefies toxins and impurities hidden in even the smallest body channels. Once liquefied, your body can more easily eliminate these toxins and impurities, allowing your skin to regain its natural youth and softness.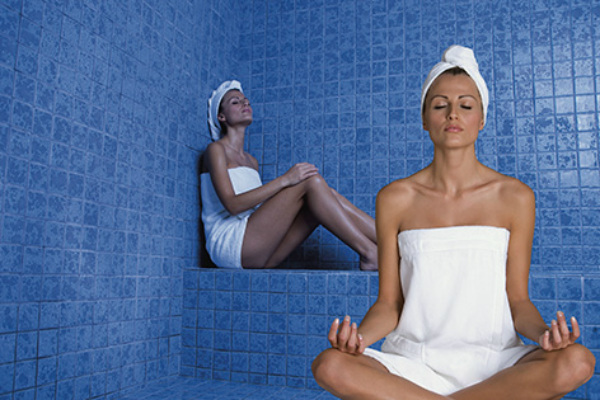 Swimming Pool
The soothing sounds of our waterfall will transport you to island serenity, whether you choose a lounge or refreshing dip. Our outdoor swimming pool provides a refreshing way to cool down after a sauna or steam. During the winter the pool is heated, to provide the perfect year around setting for water aerobics or a lazy float on one of our pool loungers. You may also enjoy sunbathing in the privacy of our Oasis Courtyard.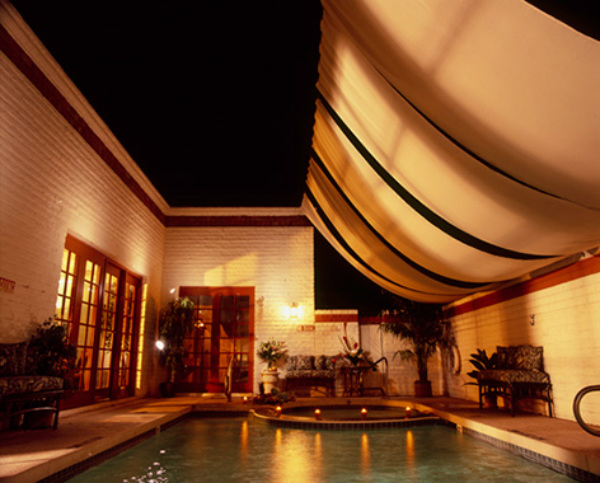 Bermuda Whirlpool
Worries, aches and cares all disappear in the healing vortex of our Bermuda Whirlpool. Physicians and physical therapist regularly prescribe hydrotherapy to relieve pain, increases circulation, reinforce metabolic function and stimulate the body's healing powers. Relax and rejuvenate the way professional athletes do, with a nice long soak in our whirlpool.
Choose from one of our all-inclusive packages or let our Event Concierge help you create a customized spa day, which exceeds your expectations, not your budget. We look forward to sharing our island paradise with you!
Group Packages require a minimum of 10 people, a 50% deposit a 20% gratuity.