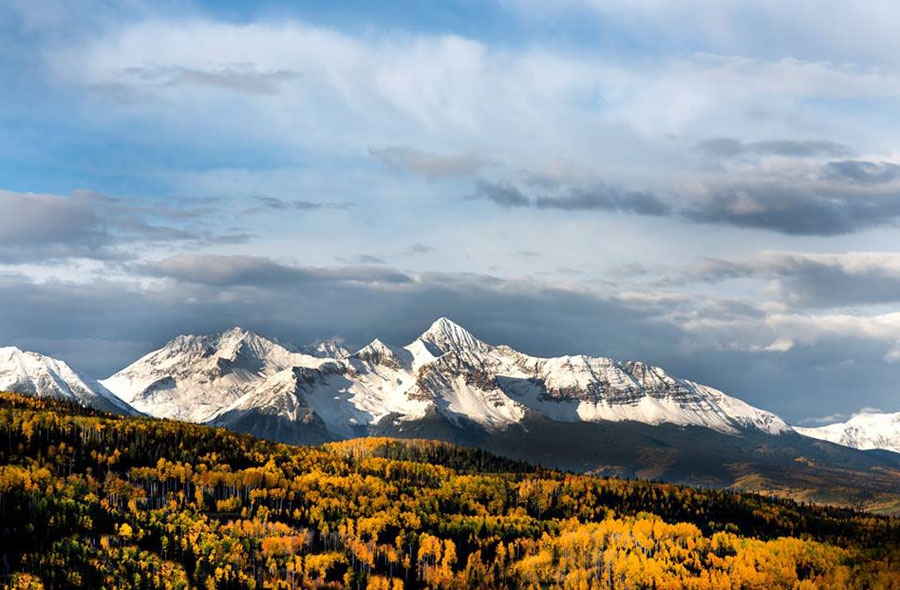 An old adage "live life to the fullest" resonates with members of the Telluride Ski & Golf Club.
This extraordinary club attracts like-minded people; individuals that celebrate their time here as they carve new tracks, summit a neighboring peak or sink a 30-foot putt.
IT IS ABOUT PREMIER SERVICE.
Members get first dibs on the slopes, preferential tee times reserved in advance, private dining, unlimited use of The Spa at The Peaks, and a bountiful social calendar. But membership goes beyond exclusivity. It is about family and creating lifelong friendships.
Skiing in welcomed solitude Is it possible to think of a mountain as an independent state? For more than four decades Telluride loyalists have unofficially believed so. Synonymous with phenomenal snow conditions the resort's uncrowded slopes—and absence of lift lines—make skiing and riding unforgettable.
FIRST TRACKS. LASTING IMPRESSIONS.
Members of the Telluride Ski & Golf Club have numerous privileges on the slopes, including hitting the slopes a full hour before anyone else on select days. Whether making turns on newly groomed corduroy or first tracks in fresh powder, Telluride's more than 2,000 skiable acres feel as if they are all yours.
Golf reaches new heights
Encircled by breathtaking views that include the Sneffels Range, the San Sophia Range and Mt. Wilson, this par 70 masterpiece is as inspiring as it is challenging. Playing 6,546 yards from the tips, fir and aspen forests, wetlands and undulating fairways are woven into its design.
NO COURSE IN THE WORLD HAS THESE VIEWS
A beguiling tapestry of holes—the longest a par 5 that plays 627 yards— test your abilities each time out. Designed to accommodate a variety of skill sets, the course features dramatic elevation changes, forgiving fairways, large, yet well-defended greens and plenty of risk-reward opportunities.
Unwind & Unplug
The Telluride Ski & Golf Club helps you reestablish your natural rhythm. This is a place where you can do as much or as little as you please. Quiet your mind with a soothing spa treatment, a soak in the hot tub or revitalize in a yoga class.
YOU'RE IN TELLURIDE. DISCONNECT.
Just steps from the golf club and ski trails is the fitness center, where cardio and weight training gear, a swimming pool, and squash and tennis courts add to your ways to feel reinvigorated. Let Telluride's cobalt sky and fresh air take you a million miles from business as usual.
Share the Good Times
Community is what turns Telluride from a place on the map to a place to call home. With holiday parties or outdoor excursions, the extensive social calendar at the Telluride Ski & Golf Club will give you life-long friendships and unforgettable memories.
AT THE HEART OF THIS CLUB IS ITS MEMBERS.
An informal retreat, the club is a wonderful venue for sharing stories of the day's adventures on the mountain, in town or down valley. Its members are the fabric for what makes Telluride feel like home, even if your first home is a thousand miles away.
Small town. Big adventures.
Telluride is where you trade your rush hour commute and conference calls for powder days, mountain bike rides and wildflower hikes. An afternoon honing your fly-fishing skills or clearing your head on the back of a horse sounds great as well. You're off the clock.
THIS IS THE GREAT OUTDOORS AT ITS GREATEST.
Time to reconnect with people, explore boutiques and discover what's on the menu in town and at Mountain Village eateries. From Alta Lakes to the San Miguel River, Ajax to Lizard Head, this stunning backdrop awaits. Lace 'em up and get out there.
Time flies. Make it count.
Wouldn't it be great to have a gathering place where time is well spent with family and friends? This is where your family can return to season after season; where traditions are forged and handed down from one generation to the next.
WHERE YOU CAN LET YOUR KIDS BE KIDS.
Letting your children or grandchildren run free is one of the many pleasures of small town life. Acitivities and social events centered around families make membership in the Telluride Ski & Golf Club all the more rewarding.