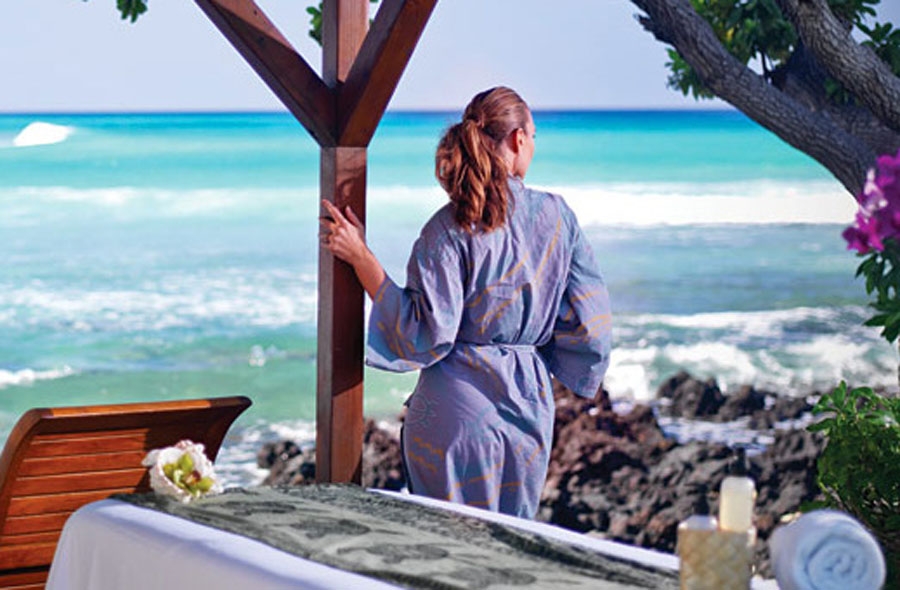 At the Spa Without Walls you can enjoy a signature lomilomi massage in your very own oceanfront treatment hale (hut), or near a cascading waterfall.
The Fairmont Orchid, Hawaii's award-winning Spa Without Walls boasts eight private outdoor waterfall hale (huts), six rejuvenating oceanside hale and four indoor treatment rooms. indulge your senses with the soothing sounds of water, pleasant ocean breezes and the floral scent that fills the air. Our Hawaiian spa treatments integrate Hawaii's natural therapeutic environment and ancient healing arts into every experience.
Ali'i Experience
Let them treat you like Ali'i as you welcome the synergistic healing that begins with a 50-minute Hawaiian lomilomi massage and foot wrap, followed by a compress of specially blended Hawaiian herbs applied to the body, encouraging physical and mental relaxation called Awa, Earth and Fire. Follow that with the Kahinu body treatment using warm coconut oil slowly poured over the hair and scalp, followed by cleansing herbs. Topping off this Polynesian pleasure is a scalp, neck, shoulder, hand and foot massage with essences of sandalwood, frankincense and myrrh.
Hiwahiwa
Big Island wild orchids and gardenias permeate the air in our signature treatment, available only at The Fairmont Orchid. An indigenous Hawaiian mamaki & volcanic foot wrap is applied to draw out tension. Lomilomi energy massage sweeps out old energy and brings in fresh new energy. A one-of-a-kind wild orchid and gardenia flower essence infusion with warm cloths will lift away your cares. The sweet fragrances and deeply soothing essences envelop you in the mana of Hawai'i Island, bringing you into the delight of this present moment.