From the moment you step into your romantic Tickle Pink guest room or suite, you'll begin to settle into the comfort of the tasteful décor and traditional furnishings enhanced by elegant European details.
Relax amid a warm and welcoming palette of soothing botanical hues, including soft sage, emerald, rose, and beige.
Our new Pacific Dreams beds are wrapped in Italian-crafted Egyptian cotton linens for the most luxurious and restful sleep you've ever experienced. From your private balcony, lose yourself in the breathtaking view of the Pacific Ocean.
Luxurious hotel amenities and services abound, including plush terrycloth robes, slippers, freshly ground in-room coffee service, a flat-screen LCD TV with DVD library, daily newspaper delivery, and expanded continental breakfast featuring gourmet coffee, fresh-squeezed juices, egg dishes, and homemade pastries. Family vacation, second honeymoon, or romantic retreat, Tickle Pink will make any occasion unforgettable.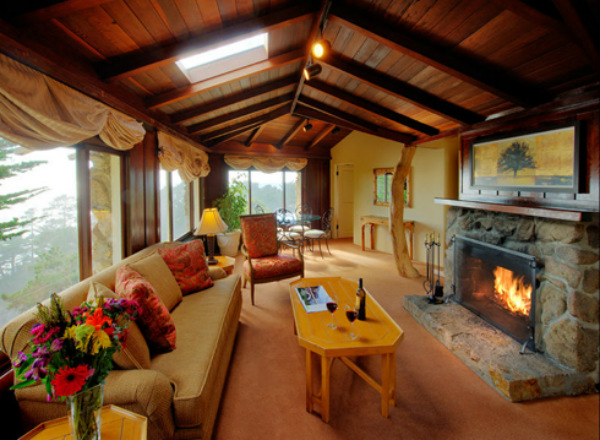 Senator's Cottage – Carmel's Ultimate Vacation Rental
Tucked away in a secluded Cliffside setting, nestled among the pines and flowers, is the charming and rustic Senator's Cottage. Located just 50 yards from the main building, the Cottage is the last remaining structure from the estate of Senator and Mrs. Edward Tickle. One or two couples or a family can savor the tranquil surroundings of a bygone era in this exquisite vacation home by the sea. The Cottage features ocean views, two bedrooms (each with a queen bed), kitchenette, dining room, living room, wood-burning fireplace and private patio. The bath includes a large walk-in shower and over-sized Jacuzzi tub. Daily housekeeping is provided, and all hotel facilities and services are available to our Cottage guests, with breakfast at the Carmel hotel just a short walk away.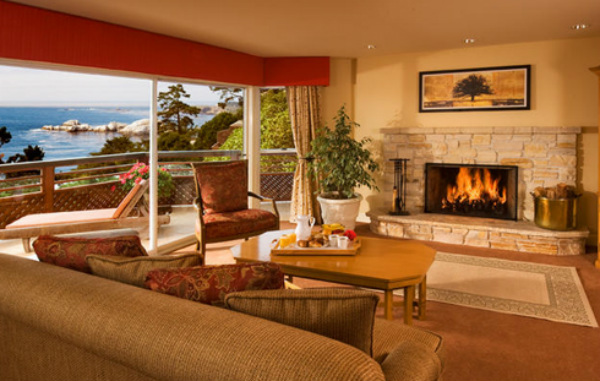 Groups / Meetings
From the comforts of our luxurious bedding to the delights of our complimentary continental breakfast and wine and cheese reception, you'll find that our full attention at Tickle Pink Inn is focused on making your stay truly exceptional.
Conveniently situated on the private grounds of the Tickle Pink Inn, the Terrace Boardroom combines a relaxed, tranquil setting with the convenience and elegance of an executive meeting room. Tastefully appointed in rich, warm paneling, with a handsome walnut conference table and comfortable executive chairs, the Boardroom accommodates up to 10 guests for small meetings or private gatherings. Step from the Boardroom into the open air of the adjacent Terrace Lounge and Cliffside Deck and admire the inspiring ocean views. We'll provide everything you need for a successful meeting, including overhead projectors, a DVD player, a presentation board, continental breakfast, and coffee service. Catered lunch or dinner are available upon request. Set your next small meeting or gathering in our dramatic coastal setting that is certain to enhance your event like no ordinary venue can.
Pacific Dreams Bedding
The Tickle Pink Inn pampers guests with beds as seductive as the breathtaking ocean views. This most welcoming of Carmel romantic hotels delights your eyes and your body with a color palette of soft sage and stylish details such as a plush, Pacific Dreams mattress with Italian-crafted, 100% Egyptian cotton sheets. Cuddle up in warm goose down comforters and fluffy pillows, and let the enchanting view work its magic.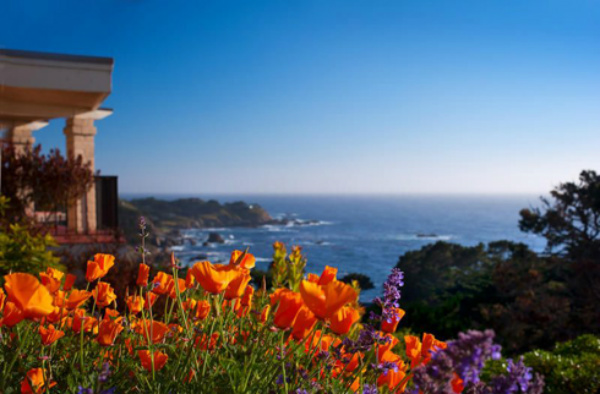 Continental Breakfast
Our complimentary continental breakfast is prepared fresh each morning and served daily from 7:30 to 10 a.m.Delight in the crackling fire of the Terrace Lounge and breathtaking views at the Cliffside Deck as you welcome a new day on the Carmel coast, or allow us to pamper you with room-service delivery. Enjoy a selection of breads, muffins and pastries, Eggs Florentine, ham, a selection of freshly squeezed juices, gourmet fresh ground coffee, herbal tea, dry cereal, a variety of fresh fruit and more – all from Tickle Pink's kitchen.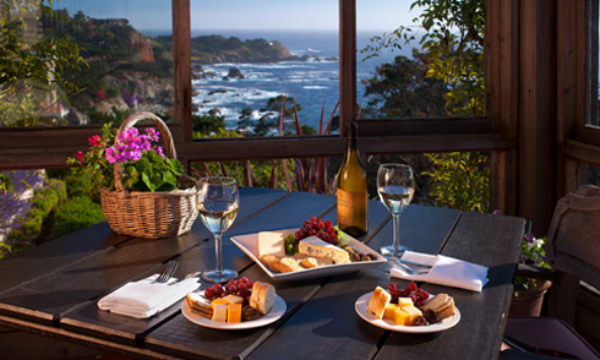 Wine & Cheese Reception
Join us each evening of your visit for a complimentary reception in the Terrace Lounge, featuring red and white California wines and an assortment of cheeses, breads and fruits. Settle in near the crackling wood-burning fireplace, challenge yourself with a leisurely game of chess, or chat with other guests and our friendly staff. Just unwind and let the soothing music carry you away. Step out to the Cliffside Deck and breathe in the crisp ocean air while the lazy sunset paints a picture-perfect setting to toast another beautiful day. Join us from 4:30 to 6 p.m. daily.
Terrace Hot Tub
Our Terrace Park features an outdoor hot tub and gazebo for your enjoyment and relaxation. We encourage the use of your Tickle Pink-embroidered robes and slippers.
For More Information Please Visit TicklePinkInn.com or Call 1 (800) 635-4774