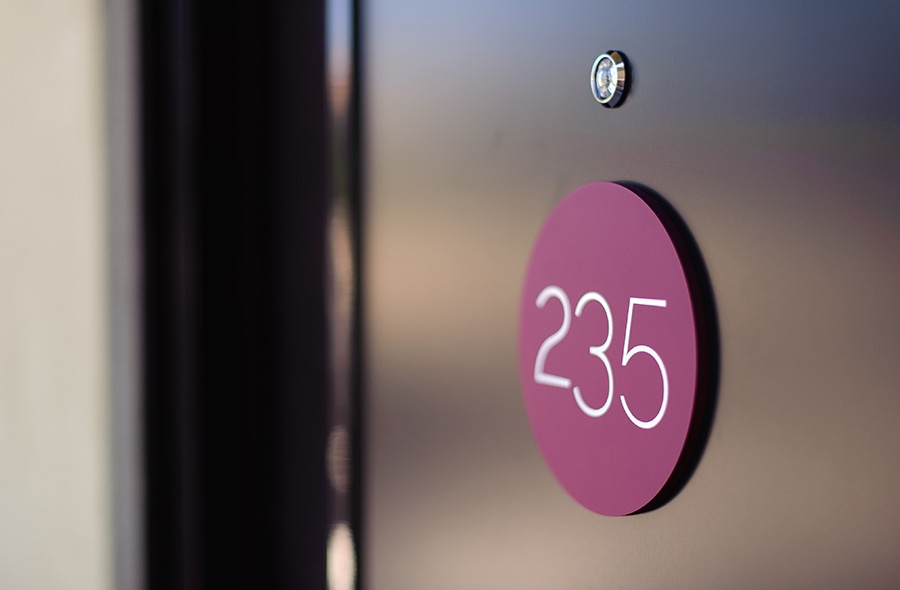 The hotel suites at Two Thirty-Five offer all the comforts of home and then some, and are just steps away from Healdsburg's beautiful historic plaza.
Each suite features three private bedrooms and bathrooms, along with a spacious living room, a kitchen and a dining area.
Whether you're family or a group of friends, everyone can enjoy the relaxing atmosphere and still have a private space of your own.
You can spend the day exploring the vineyards and then head out to a world-class meal or simply come home and take advantage of the suites' full kitchens. 
A Diamond in the Rough
Healdsburg is a small town in rural Sonoma County, renowned for its ability to marry small town charm with the sophistication and luxury that comes of being at the heart of Sonoma County's rich wine region.
Four American Viticulture Areas converge around the town, with Dry Creek Valley's zinfandels to the northwest, cabernet sauvignon grows to the West in Alexander Valley, to the south the Russian River Valley's pinot noir is second-to-none, and throughout the area sauvignon blanc and chardonnay thrive though none so well as in Chalk Hill.
In addition to the bounty of the vineyards, Healdsburg is home to incredible restaurants, bakeries and breweries, most of which are within walking distance in the town's picturesque downtown area. Dozens of art galleries and boutique shopping opportunities also abound in Healdsburg, truly bringing a cosmopolitan air to what was primarily a prune farming town only 50 years ago.
The Perfect Hotel
Two Thirty-Five offers the most comfortable and luxurious accommodations for groups visiting California's Wine Country.
Two Thirty-Five is an independent boutique hotel offering fully-furnished, high-end suites for your stay in Healdsburg. Each of our suites features three bedrooms, three bathrooms, a full-size kitchen, and a spacious living room.
The hotel is located just a half-block from Healdsburg's historic downtown plaza, within walking distance of dozens of restaurants, tasting rooms, and shops.
A Hotel To Match Your Wedding
Let Two Thirty-Five host your V.I.P.s, whether for wedding parties, or important family-members and friends who are in town for the big day
Healdsburg is a lovely setting for a wedding and Two Thirty-Five is the perfect place to get ready for your nuptials. Our spacious suites offer plenty of room for hair and makeup, for champagne toasts and single malt as well as last minute pep talks.
Our three-bedroom suites are perfect for families, groomsmen, bridesmaids or out-of-town guests. It's the perfect way to have everyone in the same place throughout the wedding weekend.